2016 Tokyo Marathon Recap: Feyisa Lilesa (2:06:56) Wins, Denies Dickson Chumba Share of WMM Title; Helah Kiprop Wins First Major in Course-Record 2:21:27, Moves Into Tie Atop AWMM Standings
By LetsRun.com
February 28, 2016
The 2016 Tokyo Marathon was full of drama as Series IX of the Abbott World Marathon Majors (AWMM) concluded in the Japanese capital on Sunday morning and both the men's and women's races had major implications in the race for the $500,000 AWMM grand prize.
On the men's side, course record holder and Chicago Marathon champion Dickson Chumba of Kenya needed to win to tie London/Berlin champ Eliud Kipchoge atop the AWMM standings — any other result and Kipchoge would claim the $500,000 prize. In the end, the race in Tokyo came down to two men, Chumba and Ethiopian Feyisa Lilesa, who had finished in the top four in a major five times but had never won one. Those two traded blows for the last 10 kilometers, Lilesa ultimately prevailed in 2:06:56, denying Chumba a shot at the AWMM title.
In the women's race, three women entered with a shot to claim a share of the AWMM title, and one of those women did just that as World Championship silver medalist Helah Kiprop broke through to win her first major, breaking the tape in 2:21:27. The time, a 2:36 personal best for Kiprop, shaved almost a minute off Tirfi Tsegaye's old course record of 2:22:23. Kiprop is now tied with world champ Mare Dibaba and New York champ Mary Keitany atop the AWMM standings, though it's not clear if she'll receive any of the $500,000 prize as she lost head-to-head to Dibaba at Worlds (we'll explain the full tiebreaker process later in the article).
Article continues below player.
Men's race
The race went out quickly as eight men (plus three rabbits) hit halfway in 1:02:53, just two seconds off course record pace. Seven of the eight men were expected to be there (Lilesa, Chumba, Abel Kirui, Bernard Kipyego, Stephen Kiprotich, Eliud Kiptanui and Emmanuel Mutai), but there was one big surprise: 23-year-old Kenta Murayama of Japan. Murayama, a 60:50 half marathoner and 27:39 10k man (his twin brother Kota is the national record holder at 10k), was making his debut on Sunday and boldly ran with the top Africans rather than the large second pack (around 30 guys) of top Japanese men that came through halfway in 1:04:45.
Predictably, Murayama was the first to falter and fell off the pace shortly after the halfway mark; he would fade badly in the race's late stages, finishing in 2:16:57 for an ugly positive split (1:02:53/1:14:04).
The rest of the leaders stayed together until the rabbits dropped out at 30k (1:29:50). With the leaders having just run their slowest 5k of the race to that point (15:20), the time was ripe for a big move and Chumba provided the impetus charging to the front and lowering the pace dramatically. Lilesa was the only one to match him and after a 14:31 5k split, those two were well out in front of everyone else.
Chumba and Lilesa traded blows for the next 10 kilometers, each moving to the front at different times but never gaining more than a step or two on the other. It looked as if we might be in store for a battle all the way to the finish line, but with a mile to go, Chumba finally broke. Though Lilesa quickly put a ton of ground on Chumba, he wasn't accelerating (it took Lilesa 4:00 to cover the distance from 41k to the finish — that's 5:23/mile pace). Chumba was simply out of gas, and as Lilesa coasted to victory — he began flexing in celebration a kilometer from the finish line — Chumba couldn't even hold on for second as countryman Bernard Kipyego beat him out for second just before the line, 2:07:33 to 2:07:34.
With Lilesa taking the win and Chumba falling out of consideration for the AWMM title, the next most interesting storyline concerned the Japanese runners, as this is one of three selection races for Japan's 2016 men's Olympic marathon squad. Top Japanese honor went to Yuki Takamiya, who PR'd by over four minutes to finish eighth in 2:10:57. But the Japanese performance of the day was turned in by 19-year-old Yuta Shimoda, who took 10th overall in 2:11:34 in his debut marathoner. Only one American bettered that time in all of 2015 — Shimoda, who would be a true sophomore if he were in the NCAA system, did it in his very first race.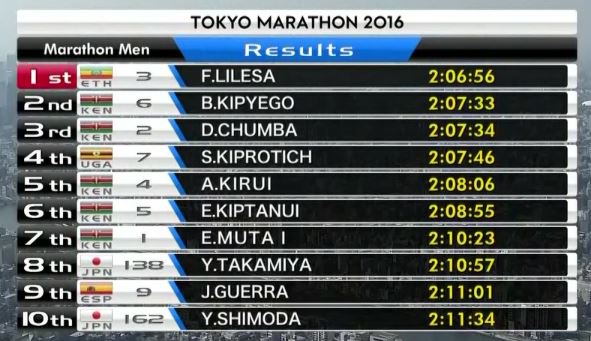 Quick Take #1: Lilesa finally becomes a major champion
In marathons that he finishes (he's DNF'ed three since the start of 2013), Lilesa is usually a factor, and he's racked up a ton of impressive times, breaking 2:08:30 eight times (nine, counting Tokyo) and 2:07 four times (five, counting Tokyo) with a personal best of 2:04:52. But before today, he had never won a major.
He broke the skid by winning a battle of attrition with Chumba to take a well-deserved victory. Now the question becomes whether that was enough to earn him a spot on the Olympic team. If the Ethiopian federation goes strictly by time (as it often does on the track), Lilesa is in trouble as six Ethiopians ran faster in Dubai alone earlier this year. But Lilesa defeated a fine runner in Chumba today, and he's got far more experience than anyone who raced Dubai (Lilesa has a World Championship silver from 2011). Several top Ethiopians will run Boston and London in April (Hayle Lemi, Yemane Tsegay, Lelisa Desisa, Kenenisa Bekele) so Lilesa is by no means a lock for Rio, but he did all he could on this day.
Quick Take #2: A 19-Year-Old Japanese Guy Runs 2:11:34
As noted above 19-year-old Yuta Shimoda ran 2:11:34. The Japanese marathoning depth is so much better than the United States it really is interesting to watch. Today a ton of Japanese (30?) started at 2:06 pace for the first 5k and over 20 of them came through the half marathon at 1:04:45 or faster. They all died, but some like Shimoda still had amazing performances. The sheer joy on Shimoda's face as he came into the finish line was great.
See: 19 Year old Japanese Guy Runs 2:11:34 for the Marathon, What Do You Think a 19 Year Old American Could Do?
Quick Take #3: Everyone gets to break the tape in Tokyo
After Lilesa crossed the line in first, the two finish line officials quickly grabbed the tape (which did not break) and set it up again. When Kipyego came across 37 seconds later, he got to break the tape too. So did Stephen Kiprotich. And Abel Kirui. And pretty much everyone in the top 10. The only man who missed out was Chumba, as he finished just one second behind Kipyego, not enough time for the officials to reset.
Women's race blow by blow
From the start of the race to the men's finish, the broadcast showed the women's race once, perhaps twice. If online splits of the leaders existed they were in Japanese so we can't give you a blow by blow on the women's race. We're going to have a whole article on the broadcast later, but if the Tokyo Marathon tv coverage doesn't even bother to cover the women's race in a professional way, what sort of message does that send?
There were stretches of 30 minutes or more where they didn't even mention the women's race; it would have been easy for a viewer to assume that there was no women's race. Only after the top men had finished did the cameras shift to the women, at which point Helah Kiprop had already broken the field and had just over a mile to go to the finish.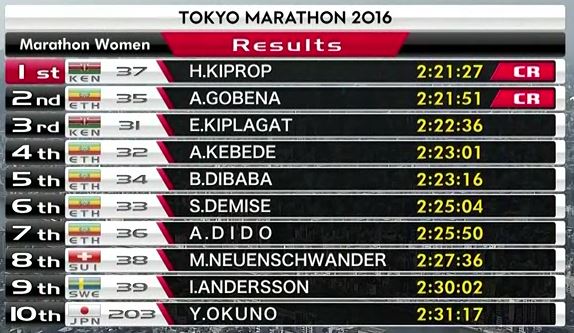 Quick Take #1: Kiprop's 2:21:27 was a tremendous performance, but will it earn her a share of the $500,000 AWMM jackpot?
It seemed a formality that Kiprop would lower her pb as she finished second in Tokyo and at the World Championships last year but had never run faster than 2:24:03. She blew that away today, skipping the 2:23s and 2:22s entirely to set the course record of 2:21:27. It was a big win for Kiprop, and coupled with her World Championship silver, it will be hard for Athletics Kenya to leave her off the Olympic team this summer.
But what's still in doubt is whether Kiprop will see any of AWMM jackpot. Kiprop finished in a three-way tie with Mare Dibaba and Mary Keitany. Here's what each has done during the cycle:
| | | | |
| --- | --- | --- | --- |
| | Helah Kiprop | Mare Dibaba | Mary Keitany |
| Race #1 | 2nd '15 Tokyo (2:24:03)* | 2nd '15 Boston (2:24:59) | 2nd '15 London (2:23:40) |
| Race #2 | 2nd '15 Worlds (2:27:36) | 1st '15 Worlds (2:27:35) | 1st '15 NYC (2:24:25) |
| Race #3 | 1st '16 Tokyo (2:21:27 CR) | N/A | N/A |
*race does not count toward AWMM scoring (athletes may only count two races during cycle)
Per the AWMM website, the first tiebreaker in this scenario is head-to-head record:
The athlete with the best head­-to-­head record in Qualifying Races during the Series period will be declared the winner. Only the fact that one athlete finished ahead of the other will be taken into account and not by how many places. For purposes of clarity, it shall not matter whether or not the athletes scored points towards their Series total when considering head-­to-­head competition.
Keitany did not race Kiprop or Dibaba during this cycle, but Dibaba did beat Kiprop at Worlds (by one second). But the rules don't distinguish between two-way and three-way ties. The next tiebreaker is most victories (all have one victory) and the final tiebreaker is a vote of the AWMM Race Directors:
The athlete whom the majority of the Race Directors of the six Abbott World Marathon Majors determines to be the champion. In such circumstances, the Race Directors may decide to award the title jointly.
We don't know what will happen now. Kiprop may wind up getting nothing by virtue of her loss to Dibaba, or perhaps she gets a reduced share (say $100,000, with Dibaba and Keitany splitting the remaining $400,000). We'll have to wait and see what the AWMM announce.
Update: The AWMM announced that Keitany is the sole champion after winning a vote of the Race Directors. She will earn the entire $500,000 prize.