Rest of Monaco: A Guy You've Never Heard of From Bosnia Runs 1:42.51, Boris Borian Runs 1:43.34, The Clean World Record in the Shot Put by Kovacs? and Ghribi Runs World Leading Steeple
by LetsRun.com
July 17, 2015
The 2015 Herculis Monaco IAAF Diamond League track and field/athletics meeting more than lived up to the hype. The men's and women's 1500 were truly incredible and are recapped separately.
LRC Genzebe Dibaba Runs 3:50.07 To Smash 1,500m World Record!!!
LRC Asbel Kiprop Puts On An Exhibition, Running 3:26.69 To Destroy 1,500 Field And Become Third-Fastest Man In History
Below we recap all of the other events.
Men's 800: Bosnia & Herzegovina's Amel Tuka Wins In His Diamond League Debut
World, it's time to officially meet Amel Tuka.
Those of you that read our weekly recap learned about him earlier this week, but Tuka is now officially a guy all mid-d fans need to be aware of as he shockingly took down Nijel Amos, Mo Aman, Ayanleh Souleiman and many others to win the Monaco 800 tonight in a world-leading 1:42.51 in a race where three guys broke 1:43.
With 200 to go, it seemed as if the race was going exactly according to form as France's 1:42.53 man Pierre-Ambroise Bosse led but he was followed by the reigning world champ Aman, the world leader Souleiman, and the Olympic silver medallist Amos with a gap of a few meters until the fifth-place runner, Borian Berian of the US and a few more meters until Tuka who was in sixth (after hitting 400 in third-to-last).
Article continues below player.
Coming off the final turn, the four leaders were side by side. Bosse cracked first and then Aman. It soon appeared that it was going to be a two-person battle between Amos and Souleiman for the win. Amos, who had moved up the most (and gone the widest) on the turn, started to pull ahead of Souleiman midway through the homestretch.
But Tuka was running a perfectly-judged race and was amazing over the final 200. He was flying up the track on the outside of lane 3/inside of lane 4. Yes, he was that wide. He got by Amos in the final 10 meters and got the win in 1:42.53, with Amos second in 1:42.66 and Souleiman third in 1:42.97. Berian closed well in his first European Diamond League race to finish fourth in 1:43.34 – a new pb by .50. Aman (1:44.09, 8th) and Bosse (1:45.30, 10th) struggled in the last 100m.
800 Metres - Men                                              
                                                            Pts
    1 Tuka , Amel                      BIH    1:42.51 PB/NR          4        
    2 Amos , Nijel                     BOT    1:42.66 SB         2        
    3 Souleiman , Ayanleh              DJI    1:42.97 NR          1        
    4 Berian , Boris                   USA    1:43.34 PB                 
    5 Kszczot , Adam                   POL    1:43.45 SB                   
    6 Lewandowski , Marcin             POL    1:43.72 PB                   
    7 Rotich , Ferguson Cheruiyot      KEN    1:43.92 SB                  
    8 Aman , Mohammed                  ETH    1:44.09                   
    9 Kipketer , Alfred                KEN    1:44.33 SB
   10 Bosse , Pierre-Ambroise          FRA    1:45.30
   11 Etes , Brice                     MON    1:48.22
      Som , Bram                       NED        DNF
Quick Thought #1: An incredible race for Tuka.
As we said earlier this week, the 24-year-old Tuka came into Monaco already having had a breakout year. The Bosnia & Herzegovina national record holder since 2013 (1:46.29 in 2013, 1:46.12 in 2014) had already run 1:43.84 this year as he skipped the 1:44's entirely in his last race when he ran 1:43.84 in Madrid. But to take another full second off of that time tonight and win his Diamond League debut is a whole other level of good.
Shortly after this race was over, commentator Tim Hutchings summed up the thoughts we were having ourselves, "It's almost an unbelievable improvement."
In this day and age, skepticism always meets huge breakthroughs but if he ends up having a long career, that skepticism will fade. Tuka's improvemet this year is less than that of Boris Berian, who started the year with a 1:48 pb.
Tuka afterwards admitted he was shocked, "I don't know what happened. You need to ask my coach why such a big improvement. But I can tell you 20 months ago after European U23 in Tampere I moved from Bosnia to Italy, to train with coach Gianni Ghidini in Verona. I'm in very good group together with Kenyans. My goal for this season was 1:45. Today I felt very good, said to myself lets try in last 100 m but was not thinking I could win the race. You are telling me Im 4th best European ever, that is amazing, I do not have words for that. And best in the World this year? Oh, I need to calm down, go back to Italy for some hard training before Beijing. I started at age of 18 with athletics as 400 m runner in Zenica, Bosnia. In summary, amazing coach now, great training group, superb conditions."
If you didn't see the race, Tuka is basically a faster version of Nick Symmonds.
Unofficially, we timed him at 51.2 for the first lap and 51.3 for the second lap. His last lap was run with the last 200 being the fastest – 26.3, 25.0!!
He was ahead of one person at 200, two people at 400 and then five at 600 and 10 at 800.
Tuka is now the 13th-fastest man in history and knocks Johnny Gray out of the top 15.
1    1:40.91    WR          David Rudisha                  KEN 17 Dec 88 188/71  1        OG           London                     9 Aug 2012
2    1:41.11    AR          Wilson Kipketer                DEN 12 Dec 70 172/62  1        ASV          Köln                     24 Aug 1997
3    1:41.73!   NR          Sebastian Coe                  GBR 29 Sep 56         1                     Firenze                   10 Jun 1981
4    1:41.73    NR WJR      Nijel Amos                     BOT 15 Mar 94         2        OG           London                     9 Aug 2012
5    1:41.77    AR          Joaquim Cruz                   BRA 12 Mar 63 187/73  1        Weltk        Köln                     26 Aug 1984
6    1:42.23    NR          Abubaker Kaki                  SUD 21 Jun 89 176/65  2        Bislett      Oslo                       4 Jun 2010
7    1:42.28                Sammy Koskei                   KEN 14 May 61         2        Weltk        Köln                     26 Aug 1984
8    1:42.34                Wilfred Bungei                 KEN 24 Jul 80 178/64  2        GP II        Rieti                      8 Sep 2002
9    1:42.37    NR NJR      Mohamed Aman                   ETH 10 Jan 94         1        VD           Bruxelles                  6 Sep 2013
10   1:42.47    NR AUR      Yuriy Borzakovskiy             RUS 12 Apr 81 182/73  1        VD           Bruxelles                 24 Aug 2001
11   1:42.53    NJR         Timothy Kitum                  KEN 20 Nov 94         3        OG           London                     9 Aug 2012
12   1:42.53    NR NUR      Pierre-Ambroise Bosse          FRA 11 May 92         2        Herc         Monaco                    18 Jul 2014
13   1:42.54    NR NUR      Amel Tuuka         BIH      9 Jan 91   1        Herc         Monaco                    17 Jul 2015
14   1:42.55    NR          André Bucher                  SUI 19 Oct 76 185/73  1        WK           Zürich                   17 Aug 2001
15   1:42.58    NR          Vebjørn Rodal                 NOR 16 Sep 72 188/78  1        OG           Atlanta GA                31 Jul 1996
16   1:42.60    AR          Johnny Gray                    USA 19 Jun 60 190/76  2                     Koblenz                   28 Aug 1985
Quick Thought #2: Just what Boris Berian needed
Much like Tuka, Boris Berian had started the year as a no-name but came into this race as a 1:43.84 performer (Tuka and Berian had the same pbs). Unlike Tuka, however, Berian came into this race not off of a pb, but off of his worst race of the season, a flame-out in the semifinals of the US champs that kept him off the WC team.
However, he acquitted himself incredibly well tonight and now is the 5th-fastest American in history.
The US' 6 Fastest 800 Men In History
1:42.60 Johnny Gray (Santa Monica TC) 08/28/85
1:42.82 Duane Solomon (Saucony) 08/09/12
1:42.95 Nick Symmonds (Oregon TC) 08/09/12
1:43.20 Mark Everett (Powerade) 07/09/97
1:43.34 Boris Berian (Nike) 7/17/15
1:43.35 David Mack (Santa Monica TC) 08/28/85
Guess how many times Nick Symmonds and Duane Solomon have run faster than 1:43.34 in their lives?
Twice, each.
Quick Thought #3: We wonder what Ayanleh Souleiman is thinking after this one
Souleiman, who is expected to race the 1500 at Worlds, came into this race as the word leader at 1:43.08. He ran a PB and new national record of 1:42.97. Nothing wrong with that. But then, he had to sit and watch most of the top 1500 guys in the world run PR after PR in the 1500.
Is he thinking, "Damn, I wish I ran the 1500. How fast would I have run?" or "I'm glad I PR'd in the 800 and stayed away from Kiprop in the 1500. It would mess with my confidence to get beat."
Women's Steeplechase: Habiba Ghribi Arrives on the Scene with a World Leader
Habiba Ghribi made her 2015 steeple debut in grand form. The silver medallist at Worlds in 2011 and the Olympics in 2012, got the win in a world leading 9:11.28  as the top four all bettered the previous world leading time of 9:15.08 by Hyvin Kiyeng.
Emma Coburn of the US had her second straight subpar race as she was not a factor and finished 10th in 9:23.91. Coburn however was battling an illness as indicated by her tweets afterwards:
Coming into the race sick, I knew it was going to be a tough one out there. Time to get healthy and back to work ?????? #beijing

— emma coburn (@emmajcoburn) July 17, 2015
Gotta show up rain or shine, sick or healthy. Some days are little more fun than others, but it's all part of the game! #thejob #tracklife

— emma coburn (@emmajcoburn) July 17, 2015
She'll now head back to the US and try and regain the form that had her as a medal favorite before this last week in Europe.
QT #1: Ghribi is Your Favorite for Worlds
This had been a slower year of the steeple before tonight, but in one race Ghribi shook things up and showed she is the favorite for Worlds. She had done well at major championships in the past and is now the world leader.
QT#2: Coburn Still Has a Month+ To Get Right for Worlds
Worlds are a long way away and that means Coburn has plenty of time to turn things around.
3000 Metres Steeplechase - Women                              
                                                            Pts
    1 Ghribi , Habiba                  TUN    9:11.28          4        
    2 Jepkemoi , Hyvin Kiyeng          KEN    9:12.51          2        
    3 Nganga , Virginia Nyambura       KEN    9:13.85          1        
    4 Ayalew , Hiwot                   ETH    9:14.98                   
    5 Kirui , Purity Cherotich         KEN    9:17.89                   
    6 Krause , Gesa Felicitas          GER    9:20.15                   
    7 Elouali Alami , Salima           MAR    9:20.64                   
    8 Getnet , Tigist                  ETH    9:20.65                   
    9 Jebet , Ruth                     BRN    9:21.40                   
   10 Coburn , Emma                    USA    9:23.91                   
   11 Fente , Birtukan                 ETH    9:34.42                   
   12 Martín , Diana                   ESP    9:42.14                   
   13 O'Connor , Leah                  USA    9:42.80
   14 LaCaze , Genevieve               AUS    9:46.42
   15 Danois , Maeva                   FRA    9:53.55
      Bettiche , Amina                 ALG        DNF                   
      Gathoni , Ann                    KEN        DNF                   
      Praught , Aisha                  USA        DNF
Men's 3000: Caleb Ndiku Erases Doubts Over His Fitness With A Victory And World Lead As The Americans Hold Their Own
Coming into the Monaco 3,000 on Friday night there was uncertainty over the fitness of Kenya's world indoor 3000 champion Caleb Ndiku. His first race of 2015 was only last week at the Lausanne Diamond League meet, and there he fell and was spiked with 600m to go, so his 11th place finish in 13:32 didn't tell us anything about this fitness. But here, Ndiku showed that he's in fine shape as he ran a world-leading 7:35.13 to win over a competitive field which included 12:48 man Yenew Alamirew, world bronze medalist Isiah Koech and 2008 Olympic bronze medalist Edwin Soi.
Behind Ndiku, Alamriew was second about 2-seconds back, Koech was third, Soi was 4th and Garrett Heath and Ben Blankenship both set PBs taking 5th and 6th.
The Race
The pacers were asked to set a pace of 60-seconds per lap, but even before the race started the commentators were doubting anyone would go with that kind of pace. Not surprisingly, after the first lap the pacers were way, way out in front of the pack who had no interest in following.
In the chase pack, it was Turkey's Ali Kaya who tried to bridge the gap as the pacers dropped back to let the group catch up. After some slower early running — starting with 63-second laps and speeding up to the 61-second range — the final rabbit dropped out as they went through 2,000m in 5:07.46 (2:34.11 for the first 1,000, 2:33.35 for the second).
At this point it was Kaya who lead over Soi, Alamriew, Koech and Ndiku with Blaneknship hanging on and Heath a way back in second to last. For the last 2.5 laps it was just a waiting game as Kaya lead, the big names sat on him, and the spectators and viewers waited to see who would go when.
With 500m to go it was Ndiku who made the move as he went to the lead and was followed by Soi, Koech and Alamriew. On the backstretch he quickly built up a 10-20m lead on the rest of the field and with 100 to go the only question would be, "Did he go too soon?"
He hadn't. Ndiku powered away down the final straight to win in 7:35.13 with a 55.6 final lap. Behind him Alamriew outkicked Koech for 2nd (7:36.39 to 7:37.16). After that, it was Blankenship who stuck his nose in it the most as he was 4th at the top of the final straightaway, but in the end Soi moved back up to get 4th (7:37.85) and Heath had a big kick to grab 5th with Blankenship 6th.
Quick Take #1: Ndiku Is Back, But Not Ready To Challenge Mo Farah
There were questions about where Ndiku's fitness was coming into this meet and since he fell last week in Lausanne, we didn't get to see how he stacked up against Mo Farah. Ndiku showed that he is in good form as he closed well in 2:27.67 for his final 1,000m (and 55.61 for his final lap) to win over a good field. However, we're not ready to say Ndiku is back to where he was last year when he was winning everything in sight and being looked at as the primary person who could challenge Farah at worlds.
Ndiku was happy with the comeback saying post-race, "This is my come back! I was injured with my knee and started to train only in April with help of my physio in Austria. I was ready already in Lausanne, but got spiked. … For Beijing my goal is the podium at 5000m. And on my way I will be ready for any kind of race, slow or fast."
Quick Take #2: Some Improvement For Yenew Alamirew
12:48-man Yenew Alamirew has not been on top of his game in 2015. In the three track races he'd run this year he put up finishes of 10th in the Doha 3000 (7:46), 12th in the Rome 5000 (13:22) and 8th in the Lausanne 5000 (13:22 … although he also fell). This was by far his best result in 2015. Alamirew is a big talent, but in 2012 and 2013 ran fast early to mid-season and then finished way back at the Olympics and worlds. Maybe this year he'll time his peak right?
Quick Take #3: A Solid Day For The Americans
Behind the top 4, Americans Garrett Heath and Ben Blankenship ran well to finish right on the heals of the big name Africans. They didn't get any scalps, but they both got PRs as Heath ran 7:37.97 (previous best 7:44.87, although his 7:37.40 from indoors is still faster) and Blankenship ran 7:38.08 (previous best of 7:47.07). Both these guys were agonizingly close to making the squad for Beijing as they finished as close 4th placers at the trials. After that kind of disappointment, you have two options: sulk and end your season or wipe yourself off and go run fast in Europe. Good to see these two guys taking the latter option. And hey USATF, if we need alternates for Worlds they're ready.
Quick Take #4: "Turkey's" Ali Kaya Shows Why Africans Leave Africa For Europe
Turkey's 21-year-old, Kenyan-born Ali Kaya is very fast. He has a 13:00.31 5000 PR and today he just missed getting his indoor 3000 best of 7:38.42. 2015 has been good to him as he won the 3000 at the European Indoor Championships and dominated the 5000/10,000 double at the Euro Under-23 Championships last week. However, in the two big races he's run this year here and the Rome Diamond League, he's only finished 7th. In today's race alone there were 3-Kenyans in front of him. You get to win a lot more races when you're "European". Even finishing 7th here he set a Turkish national record.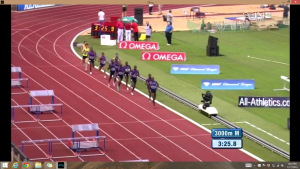 Quick Take #5: All The Purple!
Look at the image on the right. How is a fan of the sport (in the stadium or on the TV) supposed to follow this race? You cannot tell anyone a part at all. Nike, adidas, whoever … please give some of your athletes different color uniforms.
3000 Metres - Men                                             
                                                            Pts
    1 Ndiku , Caleb Mwangangi          KEN    7:35.13          4        
    2 Alamirew , Yenew                 ETH    7:36.39          2        
    3 Koech , Isiah Kiplangat          KEN    7:37.16          1        
    4 Soi , Edwin Cheruiyot            KEN    7:37.85                   
    5 Heath , Garrett                  USA    7:37.97                   
    6 Blankenship  , Ben               USA    7:38.08                   
    7 Kaya , Ali                       TUR    7:38.65                   
    8 Maiyo , Hillary Kipkorir         KEN    7:39.70                   
    9 Haji , Yasin                     ETH    7:41.74                   
   10 España , Jesús                   ESP    7:46.53                   
   11 Gonfa , Dejene                   ETH    8:00.78                   
      Rono , Geoffrey Kipkoech         KEN        DNF
Men's Shot Put: Joe Kovacs Wins with an Absolute Bomb – The Clean WR?
American Joe Kovacs unleashed a monstrous throw of 22.56 meters (74') on his second attempt to record the longest throw in the world in 12 years. The win was Kovacs' third on the DL circuit this year and moved him up to seventh on the all-time world list (third American).
All-time U.S. list, men's shot put
Randy Barnes, 23.12m, 1990
Kevin Toth, 22.67, 2003
Joe Kovacs, 22.56, 2015
Ryan Whiting, who finished fifth in Monaco, was particularly impressed by Kovacs' performance, expressing doubts about the six men ahead of him on the all-time world list.
Congratulations to @JoeKovacsUSA on his #cleanWorldRecord of 22.56m, great job Joe!

— Ryan Whiting (@RyanWhitingUSA) July 17, 2015
Shot Put - Men                                                
                                                            Pts
    1 Kovacs , Joe                     USA      22.56          4        
    2 Cantwell , Christian             USA      21.24          2        
    3 Hoffa , Reese                    USA      21.08          1        
    4 Walsh , Tomas                    NZL      20.73                   
    5 Whiting , Ryan                   USA      20.73                   
    6 Clarke , Jordan                  USA      20.72                   
    7 Majewski , Tomasz                POL      20.28                   
    8 Arnaudov , Tsanko                POR      19.45
Men's 100: The Gatlin Train Keeps On Rolling
Nothing new to see here, folks. Justin Gatlin continued his reign of domination as he won in 9.78, beating Tyson Gay by .19. French national champion Jimmy Vicaut was 3rd in 10.03. The question remains, will anyone be able to touch Gatlin at Worlds in August? Tyson Gay and Asafa Powell are about dead-even and neither are close to Gatlin. It's all down to if Usain Bolt gets healthy and fit in time for Beijing. We'll get a glimpse of that when he competes at the London Anniversary Games Diamond League meet on July 24.
There was some disappointment for American fans as Baylor's USA runner-up Trayvon Bromell was DQ'd for a false start. He wasn't the first to move as France's Emmanuel Biron appeared to shake a bit in lane 8 which might have caused Nickel Ashmeade to move in lane 7 and could have been the cause of Bromell's false start in lane 6. However, Bromell was the only one to leave the blocks and was the one the officials DQ'd.
100 Metres - Men                                              Wind: -0.3 m/s
                                                            Pts
    1 Gatlin , Justin                  USA       9.78          4        
    2 Gay , Tyson                      USA       9.97          2        
    3 Vicaut , Jimmy                   FRA      10.03          1        
    4 Ujah , Chijindu                  GBR      10.08                   
    5 Bledman , Keston                 TTO      10.10                   
    6 Ashmeade , Nickel                JAM      10.11                   
    7 Biron , Emmanuel                 FRA      10.17                   
      Bromell , Trayvon                USA         DQ
Triple Jump Men: Taylor Over Pichardo
Christian Taylor's second-round jump of 17.75m held up for the win as he got his second win of the year over Cuba's Pedro Pablo Pichardo, who went 17.73m in round #4. Taylor also jumped 17.74 in round 5.
Head to head, the two triple jump stars are now tied lifetime with 4 wins each.
Triple Jump - Men                                             
                                                            Pts               Wind
    1 Taylor , Christian               USA      17.75          4              -0.8
    2 Pichardo , Pedro Pablo           CUB      17.73          2              +1.0
    3 Craddock , Omar                  USA      17.35          1              +0.8
    4 Évora , Nelson                   POR      17.11                          0.0
    5 Compaoré , Benjamin              FRA      16.97                         +0.4
    6 Dendy , Marquis                  USA      16.96                         +0.1
    7 Correa , Harold                  FRA      16.58                         +0.2
    8 Reid , Julian                    GBR      15.96                         +0.5
      Douglas , Nathan                 GBR         NM
Men's 400m Hurdles: Jackson Wins Again
Bershawn Jackson's red-hot 2015 continued as he used his trademark strong close to secure his third DL victory of the year in 48.23. 21-year-old Pole Patryk Dobek, the European U-23 champ, PR'd for the third time in four meets in second, running 48.62 to edge out U.S. runner-up Johnny Dutch for second.
400 Metres Hurdles - Men                                      
                                                            Pts
    1 Jackson , Bershawn               USA      48.23          4        
    2 Dobek , Patryk                   POL      48.62          2        
    3 Dutch , Johnny                   USA      48.67          1        
    4 Tinsley , Michael                USA      48.83                   
    5 van Zyl , L.J.                   RSA      48.88                   
    6 Sghaier , Mohamed                TUN      49.53                   
    7 Stigler , Michael                USA      49.80                   
    8 François , Mickaël               FRA      50.01
Women's 100m Hurdles: Nelvis Wins
World leader Sharika Nelvis got the win in a tight race, running 12.46 as five women — all Americans — broke 12.60. World champ Brianna Rollins recorded a season's best of 12.56 for third. Before the race, Dawn Harper-Nelson quite clearly appeared to draw Jasmin Stowers into a false start and Harper-Nelson was initially DQ'ed, but she argued her case in front of the officials and they eventually reversed course.
It was just the third time in history that five women broke 12.60 in the same race. In two of those races (today and the 2013 USA final), all five women were American.
100 Metres Hurdles - Women                                    Wind: -0.3 m/s
                                                            Pts
    1 Nelvis , Sharika                 USA      12.46          4        
    2 Harrison , Kendra                USA      12.52          2        
    3 Rollins , Brianna                USA      12.56          1        
    4 Stowers , Jasmin                 USA      12.56                   
    5 Harper Nelson , Dawn             USA      12.58                   
    6 Porter , Tiffany                 GBR      12.66                   
    7 Talay , Alina                    BLR      13.38                   
      Billaud , Cindy                  FRA        DNS
Long Jump Women: Bartoletta Doesn't Go Over 7 Meters
25-year-old Ivana Španović of Serbia, the 2013 world bronze medallist, got her first DL win on the year as her first round leap of 6.87m held up for the win.US champ Tianna Bartoletta was second as her last jump of 6.76m moved her into second. It was the first time on the year that Bartoletta hasn't broken 7.00m in a long jump competition.
Long Jump - Women                                             
                                                            Pts               Wind
    1 Španovic , Ivana                 SRB       6.87          4              +0.2
    2 Bartoletta , Tianna              USA       6.76          2              +1.9
    3 Ugen , Lorraine                  GBR       6.73          1              +0.5
    4 Nettey , Christabel              CAN       6.68                         +0.5
    5 Proctor , Shara                  GBR       6.65                         +0.4
    6 DeLoach Soukup , Janay           USA       6.65                          0.0
    7 Klishina , Darya                 RUS       6.57                         +0.6
    8 Stuart , Bianca                  BAH       6.49                         -0.2
400m Women: Francena McCorory Runs A New World Leader
Francena McCorory was utterly dominant in the women's 400. She had a massive lead at 300 and held on to win in a seasonal best and new world leader of of 49.93 (previous seasonal best and world leader was 49.95).
Quick Thought #1: How did McCorory not finish in the top 3 at USAs? At USAs, she ran the 49.95 world leader in the semis but bombed the final. Well, she didn't really bomb it as her 50.88 would have placed her 5th tonight. She still could run at Worlds. If Allyson Felix doesn't do the 200/400 double, McCorory will run Worlds and would likely enter it as the favorite.
400 Metres - Women                                            
                                                            Pts
    1 McCorory , Francena              USA      49.83          4        
    2 McPherson , Stephenie Ann        JAM      50.41          2        
    3 Day , Christine                  JAM      50.66          1        
    4 Ohuruogu , Christine             GBR      50.82                   
    5 Guei , Floria                    FRA      50.90                   
    6 Grenot , Libania                 ITA      51.07                   
    7 Francis , Phyllis                USA      51.17                   
    8 Gayot , Marie                    FRA      51.31
Women's High Jump: 2.00m Gets The Win For Russia's Mariya Kuchina
Russia world indoor champion Mariya Kuchina earned her first Diamond League with of the season and tied her PB with a 2.00m clearance on the second attempt. Behind her, Spain's World bronze medalist and European champion Ruth Beitia and Russia's Olympic champ (and the current world leader at 2.03m) Anna Chicherova tied for runner-up with 1.97m. Kuchina did take two attempts at 2.02m, but failed to get over.
High Jump - Women                                             
                                                            Pts
    1 Kuchina , Maria                  RUS       2.00          4        
    2 Beitia , Ruth                    ESP       1.97          2        
    2 Chicherova , Anna                RUS       1.97          2        
    4 Palšyté , Airiné                 LTU       1.91                   
    4 Shkolina , Svetlana              RUS       1.91                   
    6 Licwinko , Kamila                POL       1.91                   
    7 Trost , Alessia                  ITA       1.91                   
    8 Kinsey , Erika                   SWE       1.91                   
    9 Pooley , Isobel                  GBR       1.86
    9 Scheper , Jeanelle               LCA       1.86
Women's Discus: Sandara Perkovic Gets Back To Her Winning Ways
Last week at the Lausanne Diamond League meet, Croatia's Olympic and world discus champion Sandra Perkovic suffered a rare loss as Cuba's 2010 world junior champ Yaime Pérez beat her by .07m. But today Perkovic went unchallenged as she won by over a meter with 66.80m. USA champion Gia Lewis-Smallwood was 3rd with a season's best 63.97m.
Discus Throw - Women                                          
                                                            Pts
    1 Perkovic , Sandra                CRO      66.80          4        
    2 Samuels , Dani                   AUS      65.21          2        
    3 Lewis-Smallwood , Gia            USA      63.97          1        
    4 Robert-Michon , Mélina           FRA      62.39                   
    5 Ashley , Whitney                 USA      61.03                   
    6 Sendriuté , Zinaida              LTU      57.16
Women's 200: American Candyce McGrone Wins A Close Race With A Big PB
USA runner-up Candyce McGrone ran a humongous PB to get the win in 22.08 (previous best the 22.38 she ran at USAs), beating the Netherlands' double European champion Dafne Schippers by .01. McGrone is having quite the season as before 2015 her PB was 22.81 from back in 2011. But now in 2015 she's taken off a ridiculous .73 of a second. Behind the top two, USA 3rd-placer Jeneba Tarmoh was 3rd with a PB of 22.23.
200 Metres - Women                                            Wind: -0.3 m/s
                                                            Pts
    1 McGrone , Candyce                USA      22.08          4        
    2 Schippers , Dafne                NED      22.09          2        
    3 Tarmoh , Jeneba                  USA      22.23          1        
    4 Asher-Smith , Dina               GBR      22.41                   
    5 Whitney , Kaylin                 USA      22.54                   
    6 Bryant , Dezerea                 USA      22.87                   
    7 Miller , Shaunae                 BAH      28.28                   
      Okagbare , Blessing              NGR         DQ
Men's Pole Vault: Renaud Lavillenie Wins
After two disappointing recent showings (fifth in Paris, third in Lausanne), Renaud Lavillenie returned to winning ways, clearing 5.92 meters — his best mark since May — to take the win. U.S. champ Sam Kendricks tied his PR of 5.82 to finish third.
Pole Vault - Men                                              
                                                            Pts
    1 Lavillenie , Renaud              FRA       5.92          4        
    2 Filippídis , Konstadínos         GRE       5.82          2        
    3 Kendricks , Sam                  USA       5.82          1        
    4 Wojciechowski , Pawel            POL       5.82                   
    5 Walker , Brad                    USA       5.72                   
    6 Kudlicka , Jan                   CZE       5.72                   
    7 Holzdeppe , Raphael Marcel       GER       5.72                   
    8 Balner , Michal                  CZE       5.57                   
    9 Lisek , Piotr                    POL       5.57
    9 Paech , Carlo                    GER       5.57
   11 Ménaldo , Kévin                  FRA       5.42
Men's Javelin Throw: Tero Pitkamaki Wins
2007 World champ Tero Pitkamaki of Finland earned his ninth career DL victory as he tossed 88.87 on his fourth attempt to win the competition by over three meters. World leader Julius Yego of Kenya was just sixth, almost 10 meters off his season's best.
Javelin Throw - Men                                           
                                                            Pts
    1 Pitkämäki , Tero                 FIN      88.87          4        
    2 Veselý , Vítezslav               CZE      85.44          2        
    3 Vadlejch , Jakub                 CZE      84.32          1        
    4 Walcott , Keshorn                TTO      83.54                   
    5 Röhler , Thomas                  GER      82.60                   
    6 Yego , Julius                    KEN      81.79                   
    7 Mannio , Ari                     FIN      80.91                   
    8 Peacock , Hamish                 AUS      77.66
Women's 4 x 100
4x100 Metres Relay - Women                                    

    1 United States                    USA      41.96                   
    2 United States "B"                USA      42.27                   
    3 Spain                            ESP      44.48
Men's 4 x 100
4x100 Metres Relay - Men                                      

    1 United States                    USA      37.87                   
    2 Portugal                         POR      39.05                   
    3 France                           FRA      39.64                   
      Italy                            ITA        DNF                   
      International Team               UND        DNS