Silas Kiplagat Wins Shanghai 1,500 As Ben Blankenship Comes Up Just .19 Short
by LetsRun.com
May 17, 2015
World championship silver medallist Silas Kiplagat of Kenya successfully started his 2015 Diamond League season with a win today at the IAAF Diamond League track and field / athletics meeting in Shanghai in a very modest time of 3:35.29. Kiplagat just edged a slew of other contenders, including fourth-placer Ben Blankenship of America, as the top four were separated by just .19.
The race was an odd one to say the least for the Diamond League circuit. Blankenship went from looking like a potential winner with 150 meters left to someone who looked like he was going to be passed by most of the field with 120 meters left to again someone who almost won the race. Nonetheless, fourth in the DL is a career-high finish for Blankenship (this was actually his debut in an 'A' race on the DL circuit) and higher than any American finished in a Diamond League 1500/mile race in all of 2014 (Matthew Centrowitz was 7th in Lausanne).
The Race
Former European 800 champ Bram Som was the lead rabbit in this one and was aiming for 1:52 according to meet organizers. He only hit 1:56.22 but he and the secondary rabbit were way ahead of the field as only Nixon Chepseba was with them. The rest of the racers were close to two seconds back (we had Blankenship in just over 1:58).
The pace would increase until the finish. As the runners approached the bell, Chepseba and the rabbit had about 3-4 meters on the main pack as Blankenship was in fifth amongst the racers (2:41 low at the bell for Ben is our best guess).
On the penultimate turn, Chepseba's lead was close to 5 meters. He hit 1200 in 2:53.56 (Blankenship was roughly 1.1 seconds back) but would ultimately fade to ninth (3:36.37) as Kiplagat, LetsRun.com's 2014 world #2 for the 1500, started to reel him in. Halfway down the backstretch Kiplagat took the lead but others including Blankenship were coming after Kiplagat. Halfway around the final turn, the top six were tightly bunched. Blankenship was in fifth on the rail with little room to go. At first it looked like Blankenship was going to move backwards (maybe he just slowed to avoid stepping on someone in front of him?) but then he started to move up in the final 100, weaving first outside and then back inside. 50 meters from the finish, the top six were still very close, but in the end no one could get by Kiplagat. The final 100 meters is told in pictures below (click for larger image):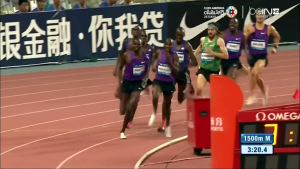 Article continues below player.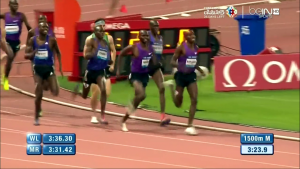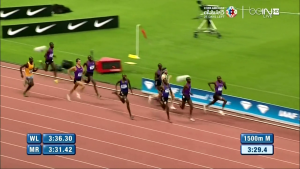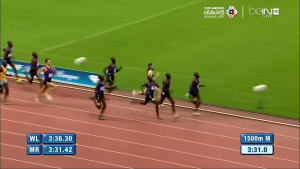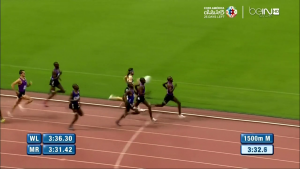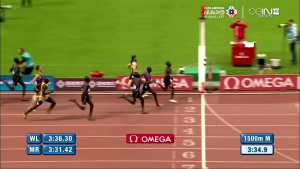 Results and quick take analysis appear below.
Results
Splits: Som 56.87
Som 1:56.22
Chepseba 2:53.56
Quick Thought #1: Silas Kiplagat gets the job done.
Kiplagat is a model of consistencey on the DL circuit. He almost always finishes first or second and he did that yet again tonight. He's now finished 1st or 2nd in 11 of his last 12 DL races.
Quick Thought #2: A great race for Ben Blankenship.
3:35.48 isn't an amazingly fast time on the DL circuit but it's very close to Blankenship's PB (3:35.28 indoors this year) and it was an outdoor pb for him (3:37.03 was his previous best) and fourth place is VERY high for an American to finish in a Diamond League 1500. As mentioned above, no American was higher than 7th all of last year.
We had Blankenship's unofficial splits as follows:
42 mid
1:43 low (1:58 low 800, 2:54.7 1200)
2:41 low (guess)
That means he closed in about 1:52 for his last 800 and just over 54 for his last 400. His last 300 was definitely faster than Kiplagat's as here's how it looked near the 1200 meter mark: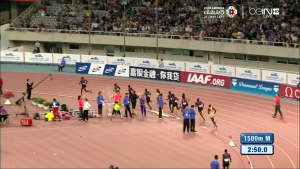 Discuss Ben on our messageboard: Ben Blankenship: What's his story?
Quick Thought #3: Teen Sensation Ronald Kwemoi was a DNS but another teenager was 2nd
2014 Lausanne winner Ronald Kwemoi, who ran 3:28 last year, was a DNS in this one.
However, the guy who ended up in second is a teenager himself. 2012 world junior silver and 2014 world junior bronze medallist Hillary Ngetich, still just 19, was second in 3:35.40.
Quick Thougth #4: Thumbs down to adidas and Nike
People are always wondering why track and field struggles for popularity. The shoe companies certainly aren't helping promote the sport when they dress their athletes in nearly identical outfits. All of the adidas and Nike guys but Blankenship were in purple jerseys. Do you think a shoe company would dress all of its tennis players the same? Of course not. Runners should have a distinctive jersey that they individually wear.
Discuss this meet in our fan forum: Official 2015 Shanghai IAAF Diamond League discussion thread.