Larry Bird's Underwater Treadmill, Why The Slow 4 X Mile At Penn Rocked, Masters Dopers, Tadese's Latest Excuse, And The Annie Leblanc Train Keeps Gathering Steam
by LetsRun.com
April 28, 2015
It's been quite a two weeks. The 2015 Boston and London Marathons have been held as have the 2015 Penn and Drake Relays. We broke down much of the action at those events as they took place so if you missed it, take a look at links above which will take you to our special sections on those events. Now a few more thoughts on the last two weeks of action.
*****
Question To Everyone Who Complains About Tactical Races, Are You Just Bitter Because You Are Never Racing FTW (For The Win) Yourself?
Article continues below player
The anchor tactics at the end of the men's 4 x mile at the Penn Relays last week sure did get people fired up. The messageboard exploded in anger (MB: Oregon and Cheserek should be ashamed and embarrassed) as many people were irate that the two 3:36 runners up front, Jordan Williamsz of Villanova and Edward Cheserek of Oregon, jogged for 1200 and even nearly came to a complete stop some 500 meters into the anchor leg in an effort to try to force someone else to lead. In the end, Williamsz won after a 4:13.6 split and Cheserek was second after a 4:14.5.
We disagreed with the criticism, most of which was directed at Cheserek. Cheserek now knows turning a race into a 300 against Williamsz isn't a good idea if the pace is ridiculously slow but he didn't know that coming in. To us the criticism of Cheserek was unwarranted and clearly a result of "Hindsight is always 20-20."
Throughout his college career, Edward Cheserek has done exactly the same thing, time after time, to win NCAA title after NCAA title — let other people lead, don't worry about the pace at all, and then outkick them for the win. This has worked for him in races as short as the mile and as long as the 10k and cross country.
While we HATE talking about times in regards to cross country, we need to do it here to make a point. Cheserek won the NCAA XC title last fall in 30:19.4. Only three times in the 39 editions of the NCAA Cross Country Championships since it moved to the 10,000 distance in 1976 has a runner won with a slower time.
Anyway, history had shown Cheserek that letting it come down to a kick was a very successful strategy for him. So then why was there was so much vitriol for Cheserek?
We've got a good idea:
There Are Two Types Of People In Every Race
1)  There are people up front in the race who are trying to win it.
2) There is everyone else in the race — most of whom have zero realistic shot of winning the race — who are trying to run as fast as possible.
There are way more people in category #2 than category #1. Additionally, it's worth pointing out that many of the people in category #1 don't have good wheels so they have to push the pace to try to win. Thus there are only a few people in each race that have both the fitness and wheels to let it come down to a sit and kick like Cheserek.
Because races for everyone in category #2 are almost always all-out affairs, many people in category #2 get outraged when they see the super-talented in category #1 not giving it their all as that's what they do in each and every one of their own races.
When LetsRun.com co-founder Robert Johnson was coaching at Cornell, he had a miler/3000 guy with good wheels. This kid once said, "I feel sorry for the guys without a kick. They get irate that I won't lead when I'm the favorite but why would I? It's their job to drop me before the kick."
In team sports, the objective is to outscore your opponent. In championship races in running, the objective is to beat your opponent to the finish line. End of story.
Races were being run on this earth way before timing mechanisms existed. One of the reasons we love the Penn Relays is because it's a rare meet where people are actually competing for titles that mean something. Most of the time no one cares what time you ran at Penn, they care whether you won a wheel.
Now this year, in hindsight, it's clear that the Penn Relays record of 16:04.54 and the collegiate record of 16:03.24 were there for the taking, but Cheserek probably didn't know that when he got the stick. Heading into the race on a somewhat breezy day, we imagine coach Andy Powell didn't think a record set by Andrew Wheating, Galen Rupp, Matthew Centrowitz and Shadrack Biwott at night under the lights would be in play. Powell likely tried to keep things simple for his superstar  — 'Don't lead, unless you get it with a big lead, and then roll.'
An unidentified LRC writer said, "But they nearly came to a complete stop."
We actually liked that aspect of the race. To us, it makes no sense when someone who doesn't want to lead slows it down but then ends up leading anyway as no one else will take it. If you don't want to lead, don't.
Now many of the people in group #2 are still mad. We get it. But hey, we've got a good guy in our camp supporting Cheserek. 2013 World Championship silver medallist Nick Symmonds had this tweet:
Men's 4xMile @pennrelays was one of the most exciting races I've watched in a long time. Tired of rabbits and time trials. LET'S RACE!

— Nick Symmonds (@NickSymmonds) April 26, 2015
Blogger and LetsRun visitor Jon Waldron also has written a piece defending Cheserek: The Leader's Dilemma
"(Waiting until late to kick is) a tactic that has served Cheserek well in his short but spectacular NCAA career. In eight NCAA championship races over the past five seasons of cross country, indoor, and outdoor track, Cheserek has won six titles, and finished second twice. His signature move is a sudden, explosive acceleration late in the race, whether the pace has been fast or slow. It is a tactic that has helped him win titles in the Mile, 3000m, 5000m, 10,000m, and cross country."
More: LRC Villanova's Jordan Williamsz Takes Down Oregon's Edward Cheserek In Riveting But Bizarre Men's 4 X Mile At 2015 Penn Relays The opening legs were hot. The Penn Relays record was within striking distance. A 3:55 would equal a sub-16. The winning time was 16:18. We tell you what happened.
*****
Stat of the Week I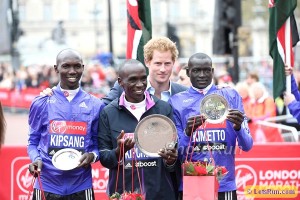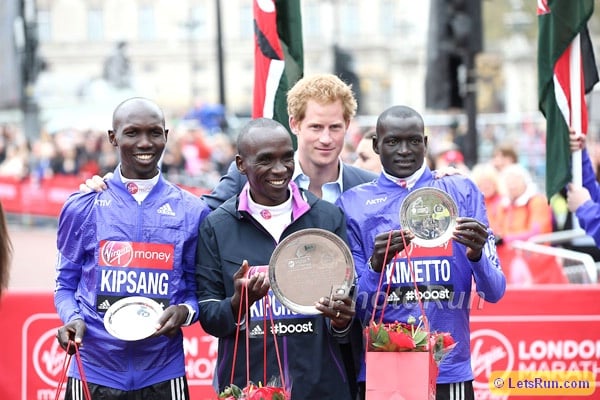 While we are on a rant about how we think way too many people are obsessed with time, instead of racing/competition, we thought this was the perfect time to share this stat:
$384,000 – amount of money that the 2015 Virgin London Marathon paid out in time bonuses in the men's race this year (anyone under 2:11:00).
$156,500 – amount of money that the 2015 Virgin London Marathon paid out in prize money for finishing in the top 12.
And that doesn't even count the appearance fees that are paid out, which dwarf those two numbers by a ton (top stars can get hundreds of thousands of dollars in appearance fees). We'd much rather the money go for place than time or appearance fees. We wonder if one reason the races put so much into appearance fees is if they fear there will be backlash by charity runners if they realized the races are spending more than seven figures on elites.
 London Awards for Place
1 $55,000
2 $30,000
3 $22,500
4 $15,000
5 $10,000
6 $7,500
7 $5,000
8 $4,000
9 $3,000
10 $2,000
11 $1,500
12 $1,000
 Men's Time Bonuses
Sub 2:05:00: $100,000
Sub 2:06:00: $75,000
Sub 2:07:00: $50,000
Sub 2:08:00: $25,000
Sub 2:08:30: $15,000
Sub 2:09:00: $10,000
Sub 2:09:30: $5,000
Sub 2:10:00: $3,000
Sub 2:11:00: $1,000
****
Stat of the Week II
Now that the Abbott World Marathon Majors spring season is over, we thought it would be fun to compare the quality of the fields at the majors as just as is the case in golf, not all majors are created equal. While we were doing the research, we decided to throw in last fall's majors as well so you can compare all six. In an effort to not piss off the race directors, we haven't ranked them 1 through 6 but rather present them in chronological order.
However, there is no doubt that with eight sub-2:05 guys in its field (no one else had more than five), London is the most difficult marathon in the world to win.
| | | | | | | | |
| --- | --- | --- | --- | --- | --- | --- | --- |
| Marathon | Sub 2:04 | Sub 2:05 | Sub 2:06 | Sub 2:07 | Sub 2:08 | Sub 2:09 | Sub 2:10 |
| London 2015 | 4 | 4 (8) | 1 (9) | 0 (9) | 1 (10) | 1 (11) |  0 (11) |
| Boston 2015 | 1 | 4 (5) | 2 (7) | 2 (9) | 1 (10) | 2 (12) | 1 (13) |
| Tokyo 2015 | 0 | 4 | 1 (5) | 3 (8) | 4 (12) | 3 (15) | 3 (18) |
| New York 2014 | 2 | 2 (4) | 0 (4) | 3 (7) | 2 (9) | 3 (12) | 3 (15) |
| Chicago 2014 | 0 | 3 | 3 (6) | 1 (7) | 0 (7) | 1 (8) | 1 (9) |
| Berlin 2014 | 2 | 1 (3) | 2 (5) | 2 (7) | 0 (7) | 3 (10) | 1 (11) |
****
Stat of the Week III
26 minutes, 57 seconds – margin of victory for American Annie Bersagel at the 13th METRO Group Marathon Düsseldorf over the weekend.
That huge margin of victory doesn't mean the win was totally insignificant for Bersagel as she lowered her pb from 2:28:59 to 2:28:29 (yes, second place was 2:55:26).
Bersagel is one of just seven Americans to break 2:29 since the start of 2013 and someone has to earn the third spot on the 2016 US Olympic women's marathon team behind Linden and Flanagan.
America's Sub-2:29 Women Since 2013
1. 2:21:14 Shalane Flanagan – September 2014
2. 2:23:54 Desiree Linden – April 2014
3. 2:27:03 Amy (Hastings) Cragg – October 2014
4. 2:28:01 Serena Burla – Oct 2013
5. 2:28:11 Kara Goucher – April 2013
6. 2:28:40 Kellyn Taylor – January 2015
7. 2:28:48 Lauren Kleppin – March 2013
****
Time To Write Off Zersenay Tadese?
We extensively broke down the 2015 Boston and London marathons as they happened. Here, we quickly wanted to have a section of "Biggest Surprises" and "Biggest Disappointments" from the races.
The biggest surprises were the two women's winners — Caroline Rotich in Boston and Tigist Tufa in London. Both went into their marathons as relative unknowns and left as winners of an Abbott World Marathon Major.
In terms of the biggest disappointment, as we said in our post-race radio show, it's hard not to say "Zersenay Tadese." The world half-marathon record holder had disappointed in his first four career marathons (2:10:41 pb) but his agent had an excuse for all of them (fueling first two, illness in the third and stomach issues in the fourth). There seemingly were no excuses coming at Boston and thus after his DNF in Beantown, we were ready to write him off as a potential force at 26.2.
But then we got this email from a LetsRun.com visitor:
Just wanted to let you know that I saw Zersenay Tadese coming out of the medical tent between mile 18 and the 30K mark.
He was shaking very hard.  Perhaps the cold got to him after he stopped and had no layers?  About one hour into the race, we had a decent rain fall on us for a few minutes.  I just remember coming out of that and being absolutely drenched.  Then came the wind. 
Hope all is well.
That email didn't exactly sway all of us at LRC. Some of us are writing him off. But then at least one of us remembers Hendrick Ramaala.
The South African won major #1 in marathon #11 of his career (New York 2004 in 2:09:28). That win in New York was at the time only his third career sub-2:10. He set his lifetime pb of 2:06:55 in his 15th career attempt at 26.2. That being said, it's a LOT harder to win a major in 2015 than it was in 2004.
****
Most Ridiculous Payday of The Week
In a day and age when a guy could run sub-13:00 in Europe and theoretically lose money, each week, we love to peruse our copy of Race Results Weekly and find the most overpaid road-racer of the week. There can be no doubt that it came from Des Moines in the half-marathon at the 3rd Hy-Vee Road Races.
There, on Sunday, in pretty decent weather conditions according to weatherunderground.com (low 50s for the temp and the wind was just over 10 mph), Kenya's Kimutai Cheruiyot won the half marathon in just 1:04:28.
Guess how much money he won?
$12,000 – more than what you get if you win on the Diamond League.
And it's not like Kimutai is some great runner who was simply running a tactical race. His half marathon pb is 62:57 and his marathon pb is 2:11:30 (to be fair, the runner-up Solomon Desksisa does have a 60:12 pb).
Who knows, maybe this will be a springboard to bigger success for Kimutai. The winner last year in Iowa, Mosinet Geremew of Ethiopia, only won in 63:45 but did go on to run 59:12 later in the year, before winning the RAK Half this year.
On the women's side, Cynthia Limo, who is pretty credentialed (67:02 pb earlier this year) got the win in 71:52.
Thanks to Hy-Vee, Drake has had some serious cash the last few years and the quality of the track races showed that. The highlight for us was Ajee Wilson beating Brenda Martinez for $20,000, but there was a ton of great action you can read about here.
****
Mary Cain's Season Gets Better and She Didn't Even Race
Nike Oregon Project fans, this section is for you as we know morale must be down a little bit.
After sub-par indoor seasons by the team's #1 stars in Galen Rupp and Mary Cain, the NOP's outdoor season got off to a less than auspicious start two weekends ago when Cain and Treniere Moser lost to unheralded collegian Annie Leblanc of Oregon on back-to-back days at the Oregon Relays. LeBlanc has modest pbs of 2:04.28 and 4:16.17.
Over the weekend, word leaked that the NOP won't be running at the Stanford meet as planned this week: NOP pulls out of Payton Jordan. What the hell is going on you say? Armageddon? Time to panic?
Not necessarily. The Stanford pullout may mean the NOP athletes aren't quite where they thought they were or it could just mean NOP realizes its athletes don't need to run Stanford (for free). Stanford is all about athletes chasing qualifying times and qualifying times are not something NOP athletes need. We do have some encouraging news for the NOP. The losses by Cain and Moser to Leblanc look a little bit better now that the 2015 Penn Relays are over.
At Penn, Leblanc didn't run in the Olympic Development mile where she was entered. Instead, after Oregon bombed out of the 4 x 100, they went after the Sprint Medley Relay. On the anchor, Leblanc got the baton dead-even with 2015 NCAA indoor champ Natoya Goule of Clemson. Goule did her normal thing and went out fast (60 flat). Leblanc bided her time in 3rd (60.6 first lap) but in the end ran down Goule in the final 200 as Leblanc split 30.4 and Goule tied up (32.4). The times put up by both were not particularly fast (2:03.80 for Leblanc, 2:03.95 for Goule) but it was cool and windy.
Pics from Flopro broadcast. Click for larger image.
****
Who Needs A Rabbit?
A big thumbs up definitely needs to go to to 30-year-old South African Stephen Mokoka. This weekend at the South African champs, a day after running 28:15.56 to win the 10,000 title, Mokoka ran a virtually solo 13:11.46 to win the 5,000 title (his 20th SA title in XC and track) and break the Shadrack Hoff's 13:14.16 national record which had stood for nearly 20 years, since July 2, 1995. Second place in the 5,000 was just 13:40.97.
Well done, Stephen.
In women's competition, there is a performance of note. Caster Semenya got the win albeit in a very slow time.
800m:
1. Caster Semenya, 24, 2:05.05
2. Lebogang Phalula, 32, 2:05.89
****
Text Of The Month
It's still April so it's not too late for us to share another story of how well our April Fool's edition fooled some people.
Below you will see a text from BYU runner Jason Witt to the director of operations at BYU, Ryan Waite. Witt, who ran 28:36 last year for 10,000 and was 4th at NCAA indoors this winter at 5,000, was clearly very pumped to see the following headline on April 1, 2015 on LetsRun: LRC Oregon Announces Edward Cheserek & Eric Jenkins Will Skip Outdoor NCAAs; Will Run 5,000-Meter Match Race At Prefontaine Classic Instead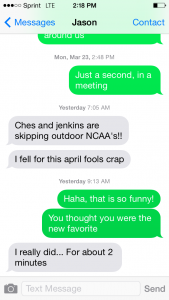 ****
2015 NCAA Leaders So Far
Speaking of NCAA leaders, the end of April is upon us. Now that Penn and Drake are over, it's time to get ready for NCAA conference meets and then the NCAA Championships (although amazingly some conferences (SWAC/SoCon) had their conference meets last week – shameful. Kids running at those schools can't go to Penn or Drake). As a result, we thought it would be a good time for casual fans to look at the NCAA leaders in the mid-d and distance events. Here are your top five according to tfrrs.org:
| | | | | |
| --- | --- | --- | --- | --- |
| 800 | ATHLETE | YEAR | TEAM | TIME |
| 1 | Walker, Shaquille | SO-2 | BYU | 01:45.78 |
| 2 | Amankwah, Alex | SR-4 | Alabama | 01:45.91 |
| 3 | McBride, Brandon | JR-3 | Miss State | 01:46.28 |
| 4 | Kibet, Collins | SO-2 | Arizona | 01:46.87 |
| 5 | Schnulle, Ryan | JR-3 | Florida | 01:46.89 |
| 1500 | ATHLETE | YEAR | TEAM | TIME |
| 1 | Joyce, Thomas | JR-3 | California | 03:39.43 |
| 2 | Williamsz, Jordan | JR-3 | Villanova | 03:39.53 |
| 3 | Soratos, Cristian | SR-4 | Montana State | 3:39.65 @ |
| 4 | Knight, Justyn | FR-1 | Syracuse | 03:39.66 |
| 5 | Engels, Craig | SO-2 | Mississippi | 03:40.28 |
| Steeple | ATHLETE | YEAR | TEAM | TIME |
| 1 | Kebenei, Stanley | SR-4 | Arkansas | 08:31.86 |
| 2 | Hesselbjerg, Ole | SR-4 | Eastern Kentucky | 08:33.78 |
| 3 | Seddon, Zak | JR-3 | Florida State | 08:36.55 |
| 4 | Ferlic, Mason | JR-3 | Michigan | 08:36.82 |
| 5 | Blomberg, Emil | SR-4 | Texas-Arlington | 08:36.98 |
| 5000 | ATHLETE | YEAR | TEAM | TIME |
| 1 | Stabler, Sam | SR-4 | Lamar | 13:30.50 |
| 2 | Rotich, Anthony | SR-4 | UTEP | 13:31.59 |
| 3 | Awad, Thomas | JR-3 | Penn | 13:33.29 |
| 4 | Witt, Jason | SR-4 | BYU | 13:34.96 |
| 5 | Pearson, Morgan | JR-3 | Colorado | 13:36.22 |
| 10,000 | ATHLETE | YEAR | TEAM | TIME |
| 1 | Hehir, Martin | SR-4 | Syracuse | 28:27.70 |
| 2 | Scott, Marc | SO-2 | Tulsa | 28:30.33 |
| 3 | Lutz, Craig | SR-4 | Texas | 28:33.48 |
| 4 | Zienasellassie, Futsum | JR-3 | Northern Arizona | 28:35.76 |
| 5 | McElroy, Matt | SR-4 | Northern Arizona | 28:36.53 |
Women
| | | | | |
| --- | --- | --- | --- | --- |
| 800 | ATHLETE | YEAR | TEAM | TIME |
| 1 | Goule, Natoya | SR-4 | Clemson | 02:01.63 |
| 2 | Houlihan, Shelby | SR-4 | Arizona State | 02:01.92 |
| 3 | Green, Hanna | SO-2 | Virginia Tech | 02:03.27 |
| 4 | Edwards, Kaela | SO-2 | Oklahoma State | 02:03.28 |
| 5 | Williams, Olicia | JR-3 | Baylor | 02:03.32 |
| 1500 | ATHLETE | YEAR | TEAM | TIME |
| 1 | Quigley, Colleen | JR-3 | Florida State | 04:11.61 |
| 2 | Price, Rhianwedd | SO-2 | Miss State | 04:11.67 |
| 3 | Clarke, Rosie | JR-3 | Iona | 04:12.10 |
| 4 | Scott, Dominique | JR-3 | Arkansas | 04:12.16 |
| 5 | Farber, Lianne | SR-4 | North Carolina | 04:13.16 |
| Steeple | ATHLETE | YEAR | TEAM | TIME |
| 1 | O'Connor, Leah | SR-4 | Michigan State | 09:41.88 |
| 2 | Teschuk, Erin | JR-3 | North Dakota State | 09:43.83 |
| 3 | Frerichs, Courtney | JR-3 | UMKC | 09:49.06 |
| 4 | Loevnes, Ingeborg | JR-3 | Oklahoma State | 09:56.30 |
| 5 | Kamilos, Jessica | JR-3 | Arkansas | 09:57.17 |
| 6 | Bird, Elizabeth | SO-2 | Princeton | 09:58.33 |
| 5000 | ATHLETE | YEAR | TEAM | TIME |
| 1 | Avery, Kate | JR-3 | Iona | 15:25.63 |
| 2 | Bates, Emma | SR-4 | Boise State | 15:32.46 |
| 3 | Westphal, Liv | JR-3 | Boston College | 15:33.33 |
| 4 | Kibet, Elvin | SR-4 | Arizona | 15:36.08 |
| 5 | Schulist, Rachele | SO-2 | Michigan State | 15:36.33 |
| 10,000 | ATHLETE | YEAR | TEAM | TIME |
| 1 | Scott, Dominique | JR-3 | Arkansas | 32:11.60 |
| 2 | Blaase, Chelsea | SO-2 | Tennessee | 32:28.39 |
| 3 | Malone, Margo | JR-3 | Syracuse | 32:29.89 |
| 4 | Wright, Alice | FR-1 | New Mexico | 32:56.33 |
| 5 | Kibet, Elvin | SR-4 | Arizona | 32:57.00 |
****
Quote of the Week (that weren't quote of the day)
#1 – Here's what it's like to wake up the day after shocking the world at the Boston Marathon
"Oh my God, I won."
– the first thoughts in Caroline Rotich's head when she woke up on Tuesday morning according to Cathal Dennehy in a piece on Run Blog Run.
The piece also says that Rotich, who attended HS in Japan with Sammy Wanjiru, was often inspired by the late Kenyan star.
#2 – We've always said tall men are at a disadvantage in the marathon, what about women?
"Some people are really made for that course and some people aren't. I would put myself in the category of not necessarily made for that course, to be honest, because of my form and my longer legs. The Boston course kind of beats me up a bit more than others.
"But I remember a few times looking at Desi and how spunky she looked. I was like, 'Shoot, I don't feel like my legs are feeling the way hers are.' Her body was so fluid and I thought, 'Uh oh. I think I'm in a little bit of trouble."'
– Shalane Flanagan talking to Runner's World after the 2015 Boston Marathon.
More: MB: Shalane says her legs are too long to win Boston
#3 – A Shot at Lamine Diack
"I dedicate and I sacrifice my family for sport, I mean sacrifice in a way of dedication, and in my eyes [Diack is] a person who sacrifices sport for his family."
– SportAccord (the umbrella organisation for all (Olympic and non-Olympic) international sports federations) President Marius Vizer taunting IAAF head Lamine Diack after his son, Papa Massata Diack, resigned from the IAAF due to bribery allegations.
More: Vizer taunts Diack over son's bribery allegations following IAAF resignation from SportAccord
#4- NOP Critics, don't bash them for using underwater treadmills – Larry Legend has one as well
"I can't run on the street anymore because of my back, but I still run on an underwater treadmill. I do that four times a week, 48 minutes, about 6.3 mph. It's a pretty good little run for me."
– Former basketball star Larry Bird talking in a Runner's World article about his love of running.
Speaking of Larry, a LetsRun.com visitor saw the article on Larry and emailed us the following:
Hello – I love your website and recently read about Larry Bird and his love for running – I found this picture of Larry running in a race and check out his shoes – they are Velcro tied!
Larry Legend running in some velcros!
Keep up the great work,
Dale Shaw
More: Basketball Legend Larry Bird Talks About His Love For Running And How He'd Run Before Every Practice/Game
****
Thoughts On Eugene 2021
We'll keep this simple.
1) We're very happy that Worlds is coming to the US.
2) We're not happy that the usual bid process was totally ignored.
David Woods of the Indianapolis Star said it best, "Should bidding have been open? Yes. Should a bigger city be holding the first outdoor worlds on U.S. soil? Yes. But Eugene and USATF, you should apologize for nothing."
The president of the Swedish athletic federation had good reason to be outraged (although we think it's ridiculous to compare the intelligence of Lamine Diack to that of a child) that the bidding process wasn't followed. Having Worlds again in Gothenburg in 2021 makes a lot of sense as the city was bound to support the event due to 2021 being the 400th anniversary of the city's founding.
Gothenburg in 2021, Eugene in 2023 would have made sense to us.
3) Since Eugene is hosting Worlds in 2021, can we please get the 2020 US Olympic Trials in a city not named Eugene?
We've long believed that Eugene is the best place in America to have a meet but there can be too much of a good thing. Putting every big US meet in Eugene is bound to eventually hurt attendance as the novelty wears off (families making a trip to USAs as a vacation aren't going to want to go Eugene every year). Our fear of track fatigue in Eugene seems to becoming reality as Oregon recently had its lowest-attended Pepsi home meet in 20 years.
USATF, please don't think, "We're hosting Worlds in Eugene in 2021 so we want to have a trial run in Eugene in 2020." Do the opposite. Make it special. Grow the sport by giving the US's crown jewel – the Olympic Trials – to another city in 2020.
Keep the unveiling of the enlarged and renovated Hayward Field for 2021.
More: LRC Eugene Worlds 2021: Details and Three Quick Takes – USATF Thriving Under 'Old School' Way of Doing Business  In a special vote, the IAAF decided to bypass the normal bidding process to give the 2021 championships to TrackTown USA. We break it down.
****
A Doper Wins $10,000 At The 2015 Boston Marathon
Many LetsRunners were irate that a convicted drug cheat Liza Hunter-Galvan won the masters title and $10,000 in Boston this year.
Shameful: Drug cheat Liza Hunter-Galvan wins $10,000 at 2015 Boston Marathon.
We reached out to Boston and they made it clear that Hunter-Galvan was far from an invited athlete. Here is a statement from Jack Fleming of the BAA:
This participant was not invited or given accommodations, travel, stipend, per diem, preferred status, etc….She entered on her own as a qualifier and as part of the open registration process. We did know of her intention to run.
Because she is not subject to any current sanction or penalty, the prize money payment will be paid, pending adjudication of final results.
One thing the BAA statement doesn't say is "We screwed up." As
Texas Running Post points out
, after
Rita Jeptoo
tested positive this past fall the BAA
issued a statement saying,
"No athlete who is found to have tested positive may run in an Abbott World Marathon Majors race." Clearly, Galvan ran a World Marathon Majors race and was given a preferential bib (she had #119 in the photo above and likely that is done automatically based on her qualifying time). No doubt Boston didn't mean to let a drug cheat into their race but they did. Next time, just turn over the list of the top 200 athletes to the LRC boards and we'll make sure there are no cheats on the start line.
****
Recommended Reads
Basketball Legend Larry Bird Talks About His Love For Running And How He'd Run Before Every Practice/Game
Paula Radcliffe's Long Goodbye
Fascinating Talk With The Woman Who Invented The Jogbra 38 Years Ago The prototype was two jockstraps sewn together. The Jockbra soon became the Jogbra.
*MB: Jogbra was invented 38 years ago, what the hell did women do before then?
Pre-London: Eliud Kipchoge, remains faithful to the "old school mentality"
Learn about Dale Greig who set the 1st women's world record of 3:27:45 51 years ago She was followed around the Isle of Wight course by an ambulance as many expected her not to finish. 28% of the men abandoned the race on the 80 degree day but it wasn't hard for her as she'd done several 50 milers for fun.
Fernando Cabada Profile in NY Times: "A Marathoner Outruns a Childhood of Poverty" Cabada "I've done a lot more than I was ever meant to, and I know I'm supposed to be happy, and I know just coming where I came from, I've already won. But I keep wanting more."
****
Quotes Of The Day And Last Week's Home Pages
To see the actual quotes of the day from last week or last week's home page or any home page, go to our archive page.
Questions, comments, please email us or post them in our running fan forum.