Molly Huddle's Lucrative Year, Shame on Duke, Please Ignore Gerry Lindgren and Female Stars on The Comeback Trail
by LetsRun.com
November 19, 2014
Previous versions of the Week That Was can be found here.
Questions? Comments? Email us.
****
A Few Thoughts on the NCAA Regionals – Shame on Duke, Kudos to Maksim Korolev, And The Current Rankings Are Absurd
Article continues below player.
There's no need to say a whole lot about the NCAA cross Regional races since nationals are this Saturday, but a few thoughts.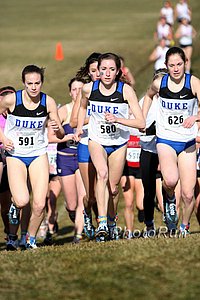 Thumbs Down to Duke
The decision by the Duke to not run full teams, just individuals, and essentially forfeit the team races at the NCAA Regional last week is indefensible in our minds.
At one point in time, collegiate sports were started with an educational component. A key part of life is understanding there are ups and downs, winners and losers. For a school of Duke's pedigree to say in essence, "We can't do well so we aren't going to try," is flat out embarrassing. But hey, they've got good company. Countries like Canada and the UK have similar unofficial mottos when it comes to track and field/cross country.
How the Duke women could go from being ranked #4 in the country at one point last year to not even wanting to bother running a team at regionals is another story.
But we've got a way for Duke to redeem itself.
Duke isn't the only school that is going to skip Regionals.
According to the messageboard. D2 Queens College isn't going to be running in its Regional meet this weekend. Not because the athletes don't want to. Far from it. No, apparently, the Queens runners have been told their athletic department doesn't have the money in the budget.
"Just get in a car and go," you say. Well the runners have apparently been told that would be an NCAA violation (if you know what rule this would be a violation of please email us as we don't know how that would be a violation).
So Duke, redeem yourselves by sending a couple thousand of the more than $75 million you had in athletic department in revenues last year (or from your $6 billion endowment) to tiny Queens so those who truly value being on a cross country team in good times and bad can go compete.
For the record, Duke won't have to worry about anyone running at NCAAs this weekend and interfering with a basketball game, as no Blue Devils came close to advancing.
*More From the MB: Duke Men and Women Forfeit Regional – will run only individuals.
*Queens Can't Afford To Go To Regionals
###
Thumbs Up to Maksim Korolev for outkicking Edward Cheserek for the 'win' in the Regional meet. We always love it when the underdog wins a heat or a prelim (which is what Regionals are) against a huge favorite to shake things up a bit.
That being said, thumbs down to all the LetsRunners who now think Cheserek is vulnerable. Take "Dedicated Runner" who wrote: "It appeared to me that for the most part he took it easy, but just didn't have the leg speed to outrun Korelev in a sprint."
Cheserek has 3:36 1500 speed. Korolev has a mile pb of 4:02. Cheserek repeatedly displayed amazing speed on the track in finishing off race after race last year. Remember, this is a guy who ran a 24.8 final 200 to win the NCAA 10,000 last year (Four for Four! Edward Cheserek Runs 24.8 Last 200 to Blow Away Field in NCAA 10,000 Final).
(That being said, it's quite possible after tempoing the race for most of it that Cheserek found himself unable to switch gears to outkick Korolev).
This photo shows you perfectly what Cheserek thought of Regionals:
Edward Cheserek @KingCheserek @OregonTF #GoDucks 29:35.0 2nd 8K #NcaaXc #NCAAWestRegionals 14 Nov 2014 pic.twitter.com/VFJJbBMEeq

— TrackAndFieldPhoto (@TnFphoto) November 15, 2014
More from the Messageboard:
###
Thumbs down to the USTFCCCA – the NCAA coaches' association – for mandating that only the teams going to NCAAs can be ranked in the top 30 (at least we think that it's a mandate as only the teams going to NCAAs are ranked. If not, shame on the coaches for voting that way in the rankings). Rankings are supposed to be a list of the best teams in the country based on their season accomplishments. In basketball, the teams in the final 16 in the rankings aren't just the teams that make the Sweet 16.
The rankings got a huge readjustment after Regionals which is a mistake if you ask us. For example, on the men's side, Michigan State is now ranked ahead of Michigan, presumably because Michigan State beat Michigan at Regionals, ignoring the fact that Michigan spanked them at Wisconsin (10th for Michigan, 15th for M State) and Big 10s (2nd for Michigan, 5th for Michigan State). When someone beats someone else a prelim and both advance, you don't drastically alter the rankings.
****
Stat of the Week I
$128,000 – amount in official prize money that American Molly Huddle won in 2014.
Huddle finished off an incredible 2014 campaign last week by becoming the first American woman to win four US road titles in a given year as she won the second .US 12k national title in Alexandria, Virginia, in 38:08. Huddle had previously this year won US titles on the road at 5k, 7 miles and 20k and on the track at 5000. This year Huddle also set personal bests at 5000 (14:42.64), 10,000 (30:47.59), 20k (68:34 debut) and half marathon (69:04 debut), with the 14:42.64 of course being an American record.
An agent we spoke to last week said Huddle's AR would most likely result in a nice shoe contract bonus in the $25,000-$50,000 range that would roll into her base salary for 2015 .The same agent also thought the US titles on the road would garner bonuses of around $3,000 each so throw in some appearance fees and it's possible that Huddle won around $200,000 from her races alone in 2014 – not counting her base Saucony contract.
Molly Huddle's Lucrative 2014
March 2 – BU Indoor meet – 1st place – 15:13.86 – no prize money
March 16 – NYC Half – 3rd place – 1:09:04 debut –  $5,500
April 9 – B.A.A. 5-K – 1st place – 15:12 PB/CR – $7,500
June 5 – Rome Diamond League 5000 – 7th place – $1,500
June 14 – Oakley New York Mini 10-K  – 1st place –  31:37 NR* – $10,000 + $5,000a
June 28 – 2014 USA Outdoor Track & Field Championships 5000 – 1st place – 5:01.56 – $7,000
July 18 – Monaco Diamond League 5000 – 6th place –  14:42.64 NR  – $2,000
July 26 – Quad-City Times Bix 7 Miler (US Champs) – 1st place – 36:14  – $12,500
August 17 – New Balance Falmouth Road Race – 3rd place – 36:15 – $5,000 + $5,000a
September 1- Faxon Law New Haven Road Race (US Champs) – 1st place – 1:08:34 debut – $10,000
September 21 – CVS Health Downtown 5-K (US Champs) – 1st place – 15:10.0 PB – $3000 + $5000a
October 12 – BAA Half Marathon – 3rd place – 1:09:23 – $4,000
November 16 – .US National Road Racing Championships (12k US Champs ) – 1st place – 38:07.1 – $20,000 + $25,000#
a = American only bonus.
# = series bonus
$89,500 of the prize money came from American only prize money/American bonuses.
###
Brian Shrader a Collegian Wins the .US 12k Championships
The winner of the men's race in Alexandria was a collegian – Northern Arizona's Brian Shrader ,who is out of cross country eligibility but still getting ready for the track season.
After the win, we know many of you were asking — who the hell is Brian Shrader? — albeit in a slightly nicer way, as the actual messageboard thread is titled: MB: What can you tell me about Brian Shrader? Just won US 12K Champs.
Here is a brief bio on Shrader. Shrader was very good as a prep in Arizona where he ran for the recently arrested Bo Reed. As a junior he was 11th at Foot Lockers, as a senior, he won the West Regional and was fifth before departing for Oregon where he struggled for two years. He dropped out of NCAAs as a frosh and only garnered a 14:33 pb as a sophomore. Then he transferred to NAU, and he's flourished in Flagstaff as he was 15th at NCAAs as a junior and 28th last year. On the track, he improved to 14:15 in year one and 13:44 last year.
We imagine given his great 12k run, he'll be running a 10,000 this year on the track.
Another rarity for Shrader is that he was born and grew up in the 7,000 feet of altitude of Flagstaff. Very few Western runners are born and grow up at such a high altitude.
More: : Molly Huddle Dominates As Unknown Brian Shrader Wins Men's Race
*MB: What can you tell me about Brian Shrader? Just won US 12K Champs.
****
Priscah Jeptoo Deserves Praise for Not Taking New York's Money
At the 31st ABN-AMRO Zevenheuvelenloop 15-K in the Netherlands last week, better known as the Seven Hills Run, 2013 New York City Marathon champ Priscah Jeptoo returned to racing and scored a dominant victory in 46:59, 33 seconds ahead of second-placer Emily Chebet, the two-time world champion in cross country.
Given that run, Jeptoo, who is on the comeback trail from an injury in London, deserves big props for pulling out of the 2014 TCS New York City Marathon. A 46:59 15k is equivalent to 2:22:17 in the marathon according to McMillan. Clearly, Jeptoo could have come to New York, picked up a six-figure appearance fee, and not totally embarrassed herself. But she felt she wasn't in good enough shape to defend her title in proper fashion.
Hopefully, race organizers will realize Jeptoo's honesty as we're not sure how many other athletes would have passed up such a big payday.
###
Jeptoo wasn't the only female star on the comeback trail last week after an injury in London. Ethiopian Tiki Gelana, the 2012 Olympic champ who was hit by a wheelchair racer at the London Marathon in 2013, raced last week in the final Yokohoma Women's Marathon. Her struggles continued as she was just sixth in an very even 2:29:13 [1:14:15 / 1:14:58]. Since going down in London last year, Gelana, who has a 2:18:58 pb, hasn't run faster than 2:26:58 (London this year).
More: Jeptoo back in form in Nijmegen
****
Bad Sports Journalism
We like to highlight bad track and field journalism when we see it. South African officials said the Daily Mail exclusive shown below simply isn't true:
****
Stat of the Week II
35.3 pounds – amount of weight that 4-time world champ Vivian Cheruiyot has lost (16kgs) since giving birth two years ago.
39.6 pounds – amount of weight that Vivian Cheruiyot gained during pregnancy (she said she still wants to lose two more kgs).
Cheruiyot's return from a two-year maternity leave will take place in December.
More: On Comeback After 2-Year Maternity Leave, 4-Time World Champ Vivian Cheruiyot Has Lost 35 Pounds, Will Return To Action Next Month, Aiming For 2016 Gold
More Maternity news: Women's Running Q&A With Stephanie Rothstein-Bruce Talking About Her New Baby And Future Racing Plans 
****
Free Coaching Advice
We've often thought that it's very difficult for a great runner to be a great coach. Obviously there are some great runners that are great coaches but they normally have to go through a lot of 'on the job training.' A great runner is more often than not a genetic freak so many of them don't learn while competing how to train properly. They are so talented they can get away with mistakes in training, and then when they start coaching, they teach those mistakes to their athletes.
In that light, please ignore the advice given out by Gerry Lindgren last week. Here is the advice he gave out last week on Facebook to guys and girls expected to finish in the middle of the pack guy at NCAAs on how they can win the race:
So, Next week in Terre Haute is the big race, yes? Would you like to know a move that a middle-of-the-pack runner could use to win the whole thing?? Can you run with the front runners through just HALF of the race? After the half way point, everyone will be tired. Trust me, I know! After the half, sprint! Not just a gentle pick up but and all-out-end-of-the-race-final-100-meters super sprint. Pass everybody and jet into the lead. Sprint like crazy (which everyone else will think you are) for at least a quarter mile. At that point you will be either well away from everyone or with just a few surprised runners who were stupid enough to go with your sprint. They will fade. Trust me. I know! Keep going. Relax a bit but keep your leg turnover constant. In no time the finish will be just a quarter mile away and YOU will be the only one. Sprint in to victory and try to act surprised like you didn't know you are the best.
We're all for not limiting yourself in a race and not expecting to lose, but the simple fact of the matter is middle-of-the-pack guys don't win cross country races in the modern era. It's a bell curve.
Last year, Edward Cheserek finished 36.1 seconds ahead of the 10th-placer, who was just 28.2 seconds away from 40th.
So the 10th-placer was closer to not being an All-American than they are to winning.
On the women's side, the 2013 NCAA cross country women's results reveal that Abbey D'Agostino was 21.4 seconds ahead of 10th, who was 25.3  seconds ahead of 40th. The last All-Americans, people who are far from middle-of-the-pack runners, were 54.3 seconds on the men's side and 46.4 seconds on the women's side away from winning. A mid-race sprint certainly isn't going to do anything about that.
More: MB: Gerry Lindgren's advice to middle of the pack runners
****
Quotes of the Week (that weren't quote of the day)
I – "I think he may have shot once and then he had to go on and kill her because she would have been able to tell the world what really happened, what he is really like.
"I believe their relationship was coming to an end. In her heart of hearts she didn't think it was making either of them happy."
– June Steenkamp, mother or Reeva, giving her account of what she thinks happened with her daughter and Oscar Pistorius, in a new book: Reeva: A Mother's Story.
Steenkamp also revealed she was basically forced to accept £340 each month from Oscar – 'blood money' in her mind – as her husband suffered a stroke after his daughter's death and they were evicted from their home. She vows to pay back every last red cent.
II – "Now it does feel like all Kenyan runners are being tarnished with the same brush. And even for me, yes. It makes me feel, after all my years with St Patrick's, is this how it's going to end up? Everyone doubting Kenyan athletics?"
 – Brother Colm O'Connell, talking to the Irish Times about how doping in Kenya impacts his legacy. O'Connell said he's never personally seen any doping.
III – "My buildup for 2016 has already started and everything is geared toward the Olympic Trials because it is not that far away. This year I tried to get rid of the aches and pains I've had the past couple of years as we put our bodies through so much. The training is so brutal at times that we need time to recover which I did this year. I've been training real well this year and am ahead of where I was before the last Olympic Trials. I've trained strong and am real healthy so I am excited for what the future holds for me in the next year-and-a-half and in the next two years. I'm excited."
– Abdi Abdirahman talking to Gary Cohen about his attempt to become the first US runner to make five Olympic teams. Before you write him off, Abdi says the best shape he was ever in was in 2012 when an injury forced him to drop out of the Olympic marathon:
"When I'm home or when I finish a training run I wonder what I would have done on that day if everything had went well as I was the fittest I've ever been in my life. The workouts I was doing were the best I'd done in my whole life. I was doing twelve times one kilometer in 2:45 with a one minute jog recovery. A few weeks before that I did a 20-mile progression run. I started with 5:10s and worked down to 4:40s the last couple miles. I did some amazing workouts, but they just didn't pay off."
And to everyone who thinks the African-born runners are better because they start running at a young age, please realize that Abdi didn't start running until age 19 when he watched the Olympics on TV.
More: Extensive Gary Cohen Q&A With Abdi Abdirahman.
****
Fun Fact of The Week
Last week, we read a column by Len Johnson on Runner's Tribe that taught us something we didn't know.
Chicago is the 'Windy City' because it's windy as hell right off of Lake Michigan right? Nope.
According to Johnson, Chicago is known as the Windy City because it's politicians are full of it. As Johnson wrote, "An 1892 newspaper column noted: 'Chicago has been called the "windy" city, the term being used metaphorically to make out that Chicagoans were braggarts.'"
In actuality, Chicago is less windy than New York (and even Boston, but in Boston the wind is normally a tailwind).
The average wind speed in Chicago is 10.3 mph. In New York, it's 12.2 mph according to the National Climatic Data Center.
****
Time For A Coaching Change
We were pleased to see Caster Semenya switch coaches and move to the tutelage of  Jean Verster who has nice group that includes Nijel Amos and Andre Olivier. Personally, we think Semenya's rise to fame was clearly the result of hormones (the same is probably true of Pamela Jelimo) and now we'll find out if she can be competitive without that advantage.  You don't go from 1:55 to 2:02 because of coaching. But if she can get back to the 1:57-8 level she was at from 2010-2013, she'll still be competitive.
****
Doping News
A thumbs up to Germany for taking a step towards the criminilization of doping in professional sports.
More Doping News: *Michael Johnson Urges WADA To Introduce Life Bans For Drug Cheats
*Stats From 2014 USADA Drug Testing: Galen Rupp The Second Most Tested US Athlete Behind Michael Phelps
****
Other News of Note
***
Recommended Reads
Brother Colm O'Connell Talks About The Dark Cloud Of Doping Hanging Over Kenyan Athletics
Eastern Michigan men aren't likely to make it, but they still are dreaming big
****
Quotes Of The Day & Last Week's Homepages:
Note: To see a particular day's homepage, click on the hyperlink of the date. The hyperlink below the date on the quotes will take you to that particular article – not that day's homepage.
---
– NAU All-American Brian Shrader talking after getting a surprise victory a the .US 12K Championships yesterday in Alexandria, VA. Looking at TFRRS, the last win we found for Shrader was from May 2013 in an 800 at the Big Sky Conference Championships where he ran 1:51.84. A little less prestigious than a national title that pays out $20,000. *MB: If you're Brian Shrader, do you take the $20k and skip senior track season?
---
– Molly Huddle talking ahead of her title defense at Sunday's .US 12K Champs. Huddle has had an amazing year with an American record and US title at 5,000m on the track and three US road titles. If she wins Sunday, she'll become the first to win four US road titles in one year. *Live Stream Starts At 7:05AM
---
---
– Iowa State's Crystal Nelson talking prior to today's NCAA regionals. Follow the action live on LetsRun.com here. If you are onsite, tweet using the hashtag #LRC or #NCAAXC.
---
– Richard Casey, a member of the 1968 Ole Miss cross-country team which finished a program's best 2nd at SECs, talking about the squad which was very inexperienced. The 1968 squad's runner-up finish was equaled this year by Ole Miss under the guidance of 27-year-old Ryan Vanhoy, who guided Eric Jenkins to a 13:18 during his 7 months at Northeastern.
---
"I think of the old phrase, 'tell me it isn't so,' but it is so. Like a lot of people, I would always have considered the elite Kenyan distance runners to be clean. That image has been shattered. And as a coach, it definitely knocks a bit of the wind out of your sails. … Initially you're shocked, or maybe in denial. But then there is a level of acceptance, and with that some anger."
"… This is not a case of someone slipping something into their drink. With EPO, we know, it has to be more sophisticated, so the athlete must realise there is something going on here, and not just the coach, or the manager. … the Kenyan athletics federation has to sit up now, take notice, stop saying to themselves there is no problem, stop blaming foreign coaches and managers … make sure a testing centre is built. … With time, hopefully, Kenya can rebuild that reputation, of competing with great honesty, and integrity."
– Coaching legend Brother Colm O'Connell talking about the damage done to Kenya's reputation after Rita Jeptoo's doping positive and calling on Athletics Kenya to stop ignoring the problem.
---
– Nick Symmonds talking about stepping up in distance this year from the 800 to the 1,500. He also plans on racing the 5,000 at Payton Jordan (May 2nd) and wants to run under 14 minutes.
---
Questions? Comments? Email us.