Ayanleh Souleiman Runs 3:47; Manzano Returns To Winner's Circle – 9 Takes From 2 Great Miles At 2014 Pre Classic
Race Recap by David Monti, Quick Takes by LetsRun.com
(c) 2014 Race Results Weekly, all rights reserved
EUGENE (31-May) — On the second and final day of the 40th Prefontaine Classic at Hayward Field here, a sold-out crowd of 13,150 saw six world-leading times in the middle and long distance events, including five meeting records.  Four of those marks in this IAAF Diamond League meeting –led by Ayanleh Souleiman's spectacular 3:47.32 mile, the fastest mile run in the world since 2007– were the quickest ever recorded on U.S. soil.
The record party got started with the International Mile, probably the most competitive "B" race in the world.  Olympic silver medalist Leo Manzano, running for the first time in Hayward Field for his new sponsor Hoka One One, closed with an explosive sprint to win in a world-leading 3:52.41, the third-fastest time of his career.  He narrowly beat a fast-closing Jordan McNamara of the Oregon Track Club Elite, who ran a career best of 3:52.89, and American steeplechase record-holder Evan Jager who finished third in 3:53.33, also a personal best.
Article continues below player
"You know, I've had some fantastic workouts," Manzano told reporters.  "I didn't know what I could do."  He continued: "Today was just amazing. I feel so great, so blessed."
But Manzano's world leader would only hold up for two hours and 16 minutes, when 16 men lined up for the meet's closing event, the Bowerman Mile.  Behind the strong pacemaking of Kenyans Hillary Kipkorir Maiyo and Andrew Kiptoo Rotich, the pack strung out quickly, hitting 440 yards in 53.8 and half-way in 1:53-flat.  After the pacemakers retired, reigning world champion Asbel Kiprop of Kenya was on the front, followed by Souleiman of Djibouti, Silas Kiplagat of Kenya and Aman Wote of Ethiopia.
International Mile Results
1 Manzano , Leonel USA 3:52.41
2 McNamara , Jordan USA 3:52.89
3

Jager

, Evan USA 3:53.33
4 Casey , Patrick USA 3:53.71
5 Heath , Garrett USA 3:53.76
6 Gregson , Ryan AUS 3:53.85
7 Torrence , David USA 3:53.95
8

Elkaam

,

Fouad

MAR 3:54.21
9

Lomong

, Lopez USA 3:54.28
10

Grice

, Charlie

GBR

3:56.94
11 O'Lionaird ,

Ciaran

IRL 3:57.99
12 Bayer , Andrew USA 3:59.76
13 Haney , Blake USA 4:10.41
Miner , Matt USA DNF
Robinson , Paul IRL DNF


Komen

, Daniel Kipchirchir KEN DNSBowerman Mile Results
1 Souleiman , Ayanleh

DJI

3:47.32
2 Kiplagat , Silas KEN 3:47.88
3

Wote

, Aman ETH 3:48.60
4

Iguider

,

Abdalaati

MAR 3:49.09
5

Magut

, James Kiplagat KEN 3:49.43
6

Cheboi

, Collins KEN 3:49.56
7 Kiprop , Asbel KEN 3:50.26
8 Centrowitz , Matthew USA 3:50.53
9

Cronje

, Johan RSA 3:50.70
10

Birgen

,

Bethwell

KEN 3:51.12
11 Makhloufi , Taoufik

ALG

3:52.16
12

Gebremedhin

,

Mekonnen

ETH 3:53.22
13

Ingebrigtsen

, Henrik NOR 3:53.62
14 Leer , Will USA 3:56.72


Rotich

, Andrew

Kiptoo

KEN DNF


Maiyo

, Hillary

Kipkorir

KEN DNF
Kiprop hit the three-quarter mark in 2:51.9, but the tall and lanky two-time world champion couldn't respond when Souleiman and Kiplagat surged with about 250 meters to go.  Explaining later that "it wasn't his day," Kiprop faded to finish seventh in "only" 3:50.26.
With Kiprop out of the frame, Souleiman and Kiplagat quickly hit top speed, and duked it out down the homestretch as the Hayward fans rose to their feet.  Souleiman, the reigning world indoor 1500m champion, got the upper had in the final 50 meters to get the win.  Kiplagat had to settle for a 3:47.88 personal best in second; Wote set an Ethiopian record in third (3:48.60). Ten men ran under 3:52.
"It was a good race; I'm happy to win," a smiling Soulieman told reporters in English.  "This is my dream.  "I am running the Doha 1500 in 3:30 (May 9th).  At that time I told myself I'm running mile in 3:47, 3:48.  That's my goal."
Down the finish order, American Matthew Centrowitz ran a career best 3:50.53, good for eighth place.  London Olympic 1500m champion Taoufik Makhloufi of Algeria finished 11th in 3:52.15.  Nonetheless, he set a personal best.
Quick Take #1: The Bowerman mile was a historically deep mile race.
We explained that fact in detail in another piece: 5 Quick Takeaways from the 2014 Pre Classic
Quick Take #2: Though Matt Centrowitz ran a PB, he wasn't happy with the performance.
Centrowitz explained that in races like this where everyone is really fast, it's important to get up front and be in good position early. He said that he's had trouble doing that and today was more of the same. He added that ideally he would have been under 3:50 but that he's going to take another crack at the mile in Oslo on June 11.
We also got some clarification about why Centrowitz missed the indoor season. He said that he came down with a virus ahead of his first indoor meet in January and that knocked him out for a month. By the time he had started training again the indoor season was almost done, so he decided to forget it and focus on outdoors instead.
QT #3: Asbel Kiprop said he was caught off guard when Souleiman struck with 300 left.
Kiprop said he was expecting everyone to come after him with 200 left, not 300 and couldn't respond. He didn't seem all that upset by the loss. "(It was) not my day today, but this is sports," said Kiprop.
QT #4: Taoufik Makhloufi doesn't like the mile, he much prefers the 1500.
Off camera, the Olympic 1500 champ ran 3:52.16 but only beat three people. Afterwards, we caught up with him and he wasn't too upset by the run. He said his goal is to break 3:30 for 1500 this year but the extra 109 meters in the mile messes him up in the head (with the splits he's used to thinking about). "The mile is tough. In the 1500, I feel good, but the mile the 100 (extra meters is tough)."
Below on video, Makhloufi talks about his famous early celebration in Shanghai:
QT #5:Will Leer was last in the Bowerman mile, but he had a good excuse: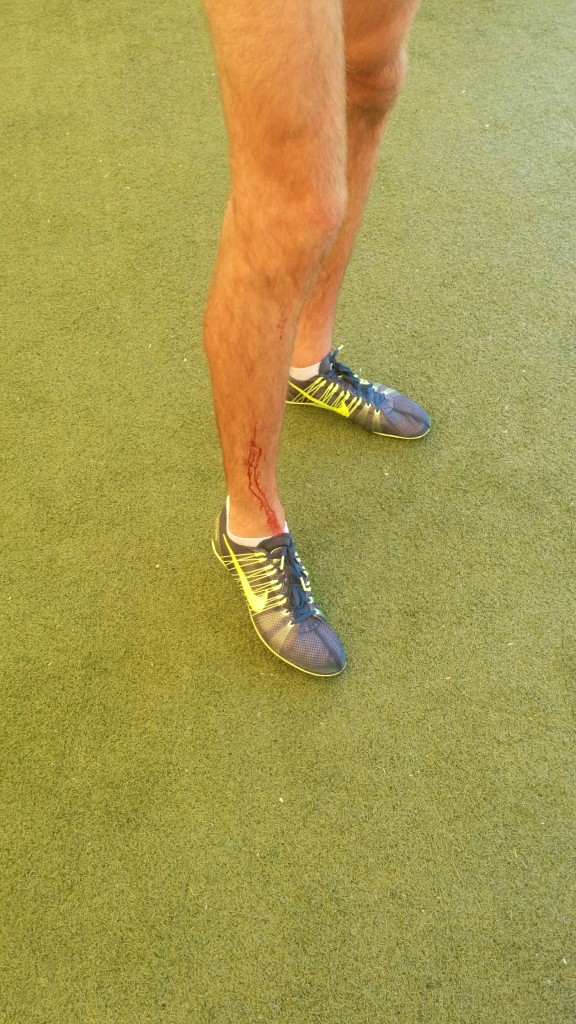 Leer was off the back just two laps into the race and when we saw him limping through the mixed zone after the race we found out why. Leer said he got spiked in the first 200. He still managed to run 3:56.72. Pretty darn good considering he only had one good leg.
QT #6:Leo Manzano revealed today that he considered giving up the sport this winter.
Without a sponsor for over a year, the Olympic silver medalist was growing more and more frustrated but finally signed on with Hoka One One in April. Manzano was  grateful to the fans and Hoka One One for keeping him in the sport and said that he felt extremely blessed to be back in the winner's circle on Saturday. The respect that runners such as Jordan McNamara and David Torrence have for Manzano was clear from their post-race interviews and they both added when he's on his game, Leo is extremely difficult to beat. That was certainly the case today.
QT #7: Pat Casey, who was 4th in 3:53.71 in the International Mile, said he didn't feel as good as he did last week when he surprisingly won the first leg of the 4 x 1500.
QT #8: Ryan Gregson is happy to be healthy
We caught up with Aussie national record holder Ryan Gregson, who contended for the lead 200 from the finish and ran 3:53.85. Gregson, who has struggled with injuries the last 4 years, is happy to be healthy and said his goal is to make it to the 5th Avenue Mile at the end of the season healthy and with a series of consistent high level races behind him. Speaking of high-level races, he said that the Bowerman Mile is better than the Olympic final and we 100% agree with him.
QT #9: From here, David Torrence now heads to Barcelona where he'll be training under the guidance of new coach Jama Aden.
Torrence (3:53.95) didn't run as well as he did last week at the World Relays last week but the consolation prize is he'll soon be training in Barcelona with the best miler in Eugene today, Ayanleh Souleiman.