Evan Jager Runs Bravely, Just Misses American Record In Steeplechase by .16
By LetsRun.com
June 11, 2014
Evan Jager made a brave run for the American record men's steeplechase tonight in Oslo, going out at sub-8:00 pace, but couldn't quite hold on. Jager's gutsy run wasn't all for naught as he ended with a career-best second place finish on the Diamond League circuit in 8:06.97, just .16 seconds off his American record. Kenyan Jairus Birech claimed his second Diamond League win in a week with a world-leading 8:02.37. with a gap to Hillary Yego in third (8:10.93).
The Race
Article continues below player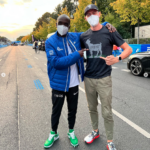 Kipchoge loves the 1:59:40 Shirt Get Yours Today
What a legend!
From the gun, it was clear that Jager meant business. The rabbit, Haron Lagat, was tasked with running 2:40 per kilometer (8:00 pace) and Jager got right on his heels after running in the pack for just the first 200+ meters (from the start line to the finish). They ran the first kilometer in 2:38.9. At that point, Birech was right behind Jager, with a gap between them and the rest of the field.
By the time the rabbit stepped off at the 4:15 mark, it was still Jager and Birech leading the rest of the field. They hit 4:49 with three laps to go, and it was then that Birech made his move, just like he did last week in Rome. Birech upped the pace and Jager couldn't match it.
With 800 to go, Birech had a lead of 1.5 seconds and though Jager still had a gap over the rest of the field, his shot at the win was fading. Jager ran 65 seconds for his penultimate lap, hitting the bell in 7:00.6.
He needed to run his last lap in faster than 66 seconds to break his American record of 8:06.81. Jager was at 7:33 high with half-lap to go, but he was struggling, the strain evident on his face. He'd end up just short of his record, running a 66 low final lap. Birech pulled away for the win, running a world leading 8:02.37. After running 63s and 64s for the first mile or so, the fast pace took its toll on Jager at the end of the race. His final four laps were 64 low, 65 mid, 65 mid, 66 low.
Quick Take #1: This was a great run and step forward for Jager, even though he fell short of the American record.
Jager didn't win and he didn't PR, but he did get his highest Diamond League finish (he was third in Monaco in 2012 and fourth at Pre last year). He'll be disappointed to miss his PR by just .18, but with the top Kenyans from the past few years off their game (Paul Koech was fourth in 8:14.29, Brimin Kipruto was only 10th in 8:20.93) or MIA (world champ Ezekiel Kemboi was a mysterious DNF in Rome last week, world silver medalist Conseslus Kipruto has yet to race in '14), Jager has to be considered as one of the top five, if not top three, steeplers in the world right now.
Moreover, as we said in the live discussion thread on the messagebaord just after the race, there is a big difference between running 8:10 pace and kicking it in and running 8:06 and trying to run 8:00 and ending up with an 8:06.
When Jager ran his American record in the steeple, his split at 2k was 5:26-7. Today his split at 2k was 5:21 high.
Quick Take #2: What a week plus for Jairus Birech.
One week ago, Birech was relatively unknown 21-year old on the global stage, with just one Diamond League win and no World Championship/Olympic appearances. But his profile is a lot higher now, after wins in Rome (last Thursday), the Kenyan Commonwealth Games trials (on Saturday) and Oslo. What's even more impressive is that every one of those wins came in dominating fashion — he won in Rome by over four seconds, won the Kenyan trials by 3+ seconds and was over 4 seconds ahead of Jager in Oslo. He's got to be considered the world's top steepler at the moment.
Quick Take #3: Jager's teammate Dan Huling was in the race as well and ran an 8:15.87 seasonal best (previous seasonal best was 8:17.00), not too far off his 8:13.29.
Results and more screen shots from the race below.
RANK
ATHLETE
NATION
RESULT
DIAMOND POINTS
DIAMOND RANKING

1

KEN

8:02.37

WL

8

1

2

USA

8:06.97

2

5

3

KEN

8:10.93

1

6

4

KEN

8:14.29

3

3

5

KEN

8:15.32

6

MAR

8:15.48

SB

7

USA

8:15.87

SB

8

KEN

8:18.22

9

KEN

8:19.28

10

KEN

8:20.93

3

3

11

POL

8:35.56

MAR

DNF

KEN

DNF
1000m 
LAGAT
, 
Haron
 (KEN) 2:38.88
 2000m 
BIRECH
, 
Jairus
Kipchoge
 (KEN) 5:21.44