The 2012 NCAA Cross Country Championships That Were
The Week That Was In Running: November 19 – 25, 2012
By LetsRun.com
November 28, 2012
Pretty soon it will be time or Santa to give out gifts to people based on who has been naughty and who had been nice. Well the people in charge of weekly recap have been naughty of late as our Week That Was has been spotty at best since the Olympics. To get us back into the habit, or recapping the week that was, we bring it back with some insight into the 2013 NCAA cross country championships which actually happened two weeks ago.
Article continues below player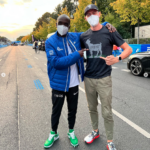 Kipchoge loves the 1:59:40 Shirt Get Yours Today
What a legend!
****
Those That Had A Good Day At NCAAs
UConn Women – The Huskies had never made NCAAs before. They certainly weren't overwhelmed by the occasion as they came in ranked #14 and finished 8th and completed an incredible season in incredible fashion.
Abbey D'Agostino and Jordan Hasay – We know that 2nd and 3rd place finishes aren't what the top two Americans wanted in the women's race, and we know that there is no real surprise that 15:19 woman (D'Agostino) was runner-up and a woman who had been top 3 each of the last two years (Hasay) was top 3 for a third time, but we still think D'Agostino and Hasay deserve some props. D'Agostino deserve props as she didn't race at all in the month of October and still contended for the title. Hasay deserves props for having an incredible career amidst a ton of pressure. The much hyped prep was 18th, third, second and third in her four years at NCAA cross.
NAU Men – The pre-season #17 team in the land ended up on the podium with a 4th-place finish.
LetsRun.com – Our NCAA previews were pretty amazing if we don't say so ourselves.
On the women's side, we said Betsy Saina was the woman to beat as was #2 Oregon and not #1 FSU. We also said if you were looking for a dark-horse contender for the team title then – #8 Providence was your team. What happened? Saina and Oregon won and #8 Providence finished 2nd.
On the men's side, we said that the top men's team's were #1 OSU, #4 Oklahoma State Wisconsin and #7 Colorado. What happened? Those teams went 1-2-3. We also said Oklahoma State's Girma Mecheso would be the top American and he was.
Admittedly, we weren't perfect (we had Lawi Lalang winning the individual men's title) but at least you don't have to feel too bad about spending hours on LetsRun each month – hopefully you are learning at least a little bit.
****
Those That Didn't Have A Good Day at NCAAs
#2 Iona & #3 Stanford Men – The #2 Iona men finished third to last (19th) and the #3 Stanford men finished 16th. We're not sure if there has ever been two top three teams to finish so far down.
The American men – Going into NCAAs, everyone thought the individual race would be dominated by non-Americans and that certainly proved to be the case.
The American men equaled the worse best finish for an American in the history for the NCAAs as Oklahoma State's Girma Mecheso was 6th (Penn State's Alan Scharsu was also 6th in 1981).
In terms of American born runners, none finished in the top 10 and only one, Wisconsin's Maverick Darling who was 11th, finished within a minute of the race winner Kennedy Kithuka.
The results caused some to wonder: Will an American man ever win NCAA XC again? We think we will see one eventually but people need to realize how competitive NCAAs were this year individually. Look at the three guys who finished ahead of Wico's Darling. They are all total studs.
8th place went to Canada's (and Wisco's) Mo Ahmed – He's a 27:34 guy.
9th place went to Britain's (and OSU's) Tom Farrell – He's a 13:15 guy.
10th place wen to Kenya's (and UNC Greensboro's) Paul Chelimo – He's a 13:21 guy.
There is absolutely no shame in the 13:36 guy Darling finishing 11th.
Delta Timing  – The fact that the Oregon women were announced as the champs, then Providence, then Oregon is simply inexcusable and a huge embarrassment. We're not sure who deserves the majority of the blame but know a lot of it has to go to the timers. Apparently, they also had some problems at the NCAA D3 meet as well.
Our fear now is that the NCAA will wait in releasing all results next year. That's not the solution – the solution is to get a timing company that gets it right.
More: MB: So WTF happened what was the official word on the Women race?
****
Stat Of The Week
5th,  21st, and DNQ (did not qualify) – the places at NCAAs that Oregon men's cross country finished in Martin Smith's final three years at Oregon before he was shown the door in the middle of the 2005 track season for not having a distance oriented squad and for his failure to embrace track town USA.
6th, DNQ and 20th –the places at NCAAs of the Oregon men's cross country season the last three seasons.
****
Thought Of The Week – Where You Finish at NCAAs As A Sophomore Is Where You'll Finish As A Senior (On The Men's Side)
When we are working on our various previews, we often reach out to people in the know. With NCAAs it was no different as we reached out and spoke to a few top NCAA coaches to get their insight. It's important that we do this for while we follow the sport pretty closely – we don't follow the NCAA level down to the minutiae like NCAA coaches do – those guys and gals obsess over it.
We are glad we did as we learned a lot. One women's coach told us to take a look at the Providence women – and we then did our homework and called them a dark-horse candidate to win it all.
On the men's side, we did a little homework on our own before reaching out for some outside help.
Considering #3 Stanford was relying on two American born sophomores, who should probably be red-shirt freshmen, we pretty quickly determined that we thought they had no chance to contend. Just to make sure, when we were talking to one top 20 men's coach, we asked him "We don't hink Stanford contend – how can they when their top two are American born sophomores? Are we wrong?"
He replied with something to the effect of"
"I think you are right to discount them. Not only that but they are relying on upperclassmen who have never done it before either. For them to do well, they'll have to have someone like Miles Unterreiner do really well and he's never done much at NCAAs – no offense to him he seems like a great kid with the Rhodes scholarship stuff and all.
 I'm pretty much under the belief that whatever type of runner you are at NCAAs as a sophomore – that's what you are as a senior. So many people think you'll move up to another level because they get older and others graduate but that doesn't normally happen. A guy who is say 20th as a sophomore thinks he'll contend for the title as a senior – but that's not normally the case. He's just an All-American type guy – not a contender. It works for others as well – a guy who is 100th is a top half type guy – not normally an All-American – and so on."
We'd never really had this sentiment expressed to us so directly but the more we thoguht about it, the more it makes sense to us.
The logic behind the coach's thinking is pretty solid. By sophomore year (which is year three for many red-shirts), the big improvements for a runner are pretty much over. Runners sometimes improve a ton in the first year or two of college because their training improves by a ton. As LetsRun.com co-founder Robert Johnson always likes to say, the easiest way to progress your PRs is to progress in your training.
In your first year or two of college, when you go from running maybe 50 miles a week in HS to 100 mpw in college, it kind of make sense that you'll improve a lot. But once you are training at a high level, it's hard to improve a lot.
And improve a lot is what someone has to do if they want to jump to the next level.
For example, let's take NC State junior Andrew Colley. Colley is very, very good. He was 15th in 2010 and 16th in 2011. But the difficulty of him making that next jump and going for top 5 let alone first is significant.
Colley in 2012: 23 seconds from 5th. 66 seconds from first.
Colley in 2011: 34 seconds form 5th. 56 seconds from 1st
Someone who is say 100th, faces a similar difficult task to move into the 50 and then into the top 25.
100th place this year was 25 seconds from 50th and 53 seconds from 25th.
We're not saying improvements don't happen – they are just very hard to come by. Research on this matter reminded us of a chart David Graham came up with last year after NCAAs where we showed the NCAA finishes of some of the top Americans from the high class of 2008. We re-present it here and it shows – most guys aren't drastically different runners in year 4 than they were in year 2.
                               2008    2009    2010    2011
Chris Derrick:          7th     3rd      5th      2nd
Luke Puskedra:       5th      21st    3rd      6th
Colby Lowe:           80th    10th    9th      10th
German Fernandez   DNF     97th    8th    11th
Diego Estrada:         76th     DNS     16th    7th
Ryan Hill:              104th    23rd    22nd   12th
Elliot Krause:         DNS      75th    137th    17th
****
Looking Ahead To 2013 – And The Favorites Are….
Since big breakthroughs may be less common than you may have thought, we'd thought we'd take a look at next year's championships by looking at who has the most returning firepower from this year. The best way to think about what is going to happen next year is probably to look at what happened this year.
On the men's side, the big early favorite for 2013 is none other than Oklahoma State. They only ran one senior at NCAAs this year – #1 man Gimma Mecheso. Yes losing your #1 man never helps one's cause but Oklahoma State is still very powerful without him. If Mecheso had dropped out, they still would have finished 2nd at NCAAs this year.
Oklahoma State At NCAAs Without Any Seniors
Girma Mecheso – Sr – 1
Tom Farrell – JR – 3
Shadrack Kipchirir – Jr – 11
Joseph Manilafasha -Jr – 17
Shane Moskowitz – So – 40
Kirubel Erassa – So – 79
Total – 150 points
Oklahoma State returns three from the top 20 and four from top 50 in the team scoring for next year. No one else comes close as shown by the following chart.
| | | |
| --- | --- | --- |
| Team | # Returners from Top 20 (team scoring) | #Returners From Top 50 (team scoring) |
| Oklahoma State | 3 | 4 |
| Wisconsin | 0 | 0 |
| Colorado | 0 | 4 |
| NAU | 1 | 2 |
Oklahoma State certainly is the team to beat in 2013 followed by perhaps Colorado, which will be greatly helped if they get back Joe Boshhard back from injury (24th in 2011) and NAU. But there is a reason why they hold the season. It should be pointed out that in 2010, Oklahoma State won NCAAs with no seniors running – yet they weren't able to defend their crown last year (it would have been a 3-peat). Wisconsin is going to be decimated by graduation as there top 4 were all seniors.
On the women's side, #1 Oregon loses it's top three runners to graduation, leaving the door wide open for Providence and perhaps Stanford.
| | | |
| --- | --- | --- |
| Team | # Returners from Top 20 (team scoring) | #Returners From Top 50 (team scoring) |
| Oregon | 0 | 2 |
| Providence | 2 | 3 |
| Stanford | 1 | 3 |
| FSU | 1 | 0 |
More: LRC's 2012 NCAA Cross Country Championship Coverage Can Be Found Here
*LRC Photos Here (on right column)
****
4 Quotes Of The Week That Weren't Quotes of The Day
#1 A Double Olympic Gold Medallist Talking About The Women's 800 World Record of 1:53.28 Which Will Celebrate Its 30th BDay in 2013:
"(1:53.28 for an 800) is very fast, it's impossible for women to run so fast. It will last for 100 years."
-1996 Olympic 800 and 1,500 champ, Svetlana Masterkova, talking to Reuters about the Jarmila Kratochvílová's world record in the women's 800 which will turn 30 years old on July 26, 2013.
We tend to agree and wonder if the IAAF should eliminate all world records, or at least all of the women's, and just start over and say no record will be ratified unless blood and urine samples are stored and re-tested 10 years after the fact. For more on this topic, you can read Slate.com's article form last year: Unbreakable: The women's track and field record book needs to be expunged.
(Editor's Update at 10:53 am on 11/29: We got an email this morning from a LRC visitor who loves the site but says our strong anti-doping thoughts are outdated and that all drugs should be legalized. Our response was simple. We urged him to take a look at a picture of Kratochvílová – would you want your daughter to be forced to look like that to be any good?)
#2 Speaking Of Records That Are Going To Hard To Break, Tirunesh Dibaba Answer's Whether Wang Junxia's 29:31.78 (Which Will Turn 20 Years Old in 2013) Is On Her Mind:
Before I got injured I was hoping and I had the belief I could beat that World record, but after my injury I don't really think of breaking the record.
Dibaba's quote comes from an IAAF Q&A.
#3 Did The Olympic Euphoria In The UK Result In A Baby Boom?
"In the Telegraph offices alone, three of us are due within a week of one another – in mid- to late April. … It seems that it wasn't only the athletes who needed to be provided with condoms, as they were before the Games started – it was the spectators, too."
– The Telegraph's Bryony Gordon writing about her pregnancy which apparently was initiated during the 2012 Olympics.
#4 At Least One Coach Remembers That In 2012, The Athlete Makes The Coach & Not Vice Versa
"I don't have a magic wand like Harry Potter. The truth is, as a coach you're only as good as the material you're given. The day I met Jessica Ennis it was like being dealt four aces in a hand of poker."
– Toni Minichiello, coach of Jessica Ennis talking in a Telegraph article.
****
News Of Note From Last Week
Usain Bolt, Allyson Felix: 2012 IAAF Athletes Of The Year Bolt won out over Aries Merritt and David Rudisha and of course Mo Farah (who was not a finalist, which means he didn't finish in the top 3). Jessica Ennis and Valerie Adams were the other women's finalists. LRC cast its ballot for Rudisha and Felix. The IAAF should release the vote tallies.
*David Rudisha Wins IAAF Performance Of The Year Award
Pro XC News
Cam Levins Wins 3rd Straight Canadian Cross-Country Championships He won with 29:41 just ahead of Wisconsin's NCAA 8th placer Mohammed Ahmed (29:42) *Men's Race Video
*Full Men's Results *Women's Results *Meet Site

HS XC News
MileSplit Foot Locker/NXN Regional Coverage: Edward Cheserek Wins Foot Locker Northeast At VCP In 15:20 Mary Cain won the NXN NY Regional as FM boys and girls won the team races.
Good Region-By-Region Foot Locker Recaps
MB Talk: The McGorty (FL South winner) conundrum, what would you do? *ASHLEY ERBA NOT EVEN IN TOP 30 AT FL – TODAY WHAT HAPPEND *NE Footlocker Times Very Slow? *Footlocker Regionals – news, play by play and results *SARAH BAXTER 16:40 Woodward Park Record!!! *NXN At-Large bids? Who get?
With State Meet Saturday, NJ MOC Wednesday & NXN Saturday, CBA Sits Top 5 – Runs JV – And Still Wins New Jersey Meet Of Champs Three sophomores, two freshman, a junior and a senior pulled off one of the most remarkable feats in HS XC history. MB: CBA that good or NJ bad?
Thanksgiving Day Races
Manchester: Aaron Braun Equals Course Record & Wins 2012 Manchester Road Race

Delilah DiCrescenzo Comes From Behind & Guns Down Lisa Uhl To Win 2012 Manchester Road Race Down with 400 to go, Delilah got the win as Amby Burfoot finished for the 50th straight year.

Silicon Valley: Sambu (13:28) & Kim Conley (15:40) Break Silicon Valley CRs *MB: Discuss
*Manchester Road Race results … Top 25 Aaron Braun and Hey Delilah were the winners. *Thread Discussig Race Here
*Alan Webb 23:10 8k On Thanksgiving Morning
Chiba Ekiden: Galen Rupp Wins His Leg With 28:20 10k Split (28:46 Was 2nd) As Kenya Edges Japan The most impressive running by a male may have come from New Zealand's Zane Robertson, who ran 13:29 on leg #1. His twin Jake also won his leg. *MB: On Chiba Ekiden
****
Recommended Reads

Famed Coach Bill Squires Is Turning 80 & Toni Reavis Celebrates His Life Squires is a legend to many. Squires: "Oh, I can figure out anyone. I figured out Shorter. I know your tendencies. I know what you do. And all you have to do is put it into reading, or whatever, and I can do – I can!"

Profile Of Toni Minichiello, The Man Who Coached Jessica Ennis To Olympic Gold
Article On Male Ultamarathoner Who Almost Died Due To Health Issues From An Eating Disorder In a relatively short time he went from 170 pounds to 118. Not surprisingly, he also eventually got injured. *Part 2
Great Q&A With OK State's 13:15 #2 Man Tom Farrell
****
Quotes Of The Day From The Week & Last Week's Homepages:
Note: To see a particular day's homepage, click on the hyperlink of the date on the left. The quote's hyperlink will take you to that particular article – not that day's homepage.
Monday 11/26: "Back in the day, road races were just that – races. You got a bunch of guys in short shorts lined up, they ran fast, they got in their cars, and they went home. There wasn't a band, and a beer garden, and a post-race concert, and a two-day health and fitness expo, and people didn't travel across the country to run a half-marathon. What you're seeing now is what the market has dictated, what the market has [borne]. If you're going to tell the full scale of the story, you need to tell how races are also forced to provide value in a way that was never done before."
"Runners are demanding more from their events, more of an experience. They're demanding technical t-shirts and entertainment. [Many] don't even consider themselves runners, they consider [finishing a marathon] crossing something off their bucket list."
– Competitor's Rock 'n' Roll Marathon Series spokesperson, Dan Cruz, talking about the changing demands of today's road races and how that has made race registration prices skyrocket over the years.
---
Sunday 11/25: "It's hard to bet against a 22-year-old who is running 9.69 (100m) and 19.26 (200m). I actually think Blake is going to run Bolt out of the 100m; I think Blake is going to make Bolt a 400m and 200m guy in the next two to three years."
"People look at 9.58 and 19.19 and they think that's going to be there forever. I think we have to look beyond and if you look beyond, you see Yohan Blake, who is very hungry and determined right now. From all reports, he has a great work ethic and, at 22 years of age, he is actually right where Bolt was at 22, so I don't see any reason why – if Blake continues in this trajectory, I don't see why he cannot eclipse Bolt."
– Ato Boldon talking about the future of Usain Bolt's and Yohan Blake's sprint rivalry.
---
Saturday 11/24: "First of all, I always felt I was going to be the Olympic champion. I said to myself at the top of the runaway ahead of my first jump, 'This will be my day.'"
– Bob Beamon talking about the 1968 Olympics where he smashed the world record to win Olympic gold. Beamon and many of the other sports stars are in Barcelona for the 100th anniversary celebration of the IAAF.
---
Friday 11/23: "The fact that I'm able to even be here means so much more to me. I've never appreciated something like life. I always thought about the small things – the racing and the training and all of that. That was all that mattered to me. Now I see the wide spectrum and the big picture. For me this is the most thankful Thanksgiving I've had."
– Lukas Verzbicas after running 5:25 pace for 2.5 miles in the local Turkey Trot just 4 months after nearly dying in a bike accident. A truly stunning turnaround as in August, he was still learning to walk again and using a walker.
---
Thursday 11/22: "As soon as we heard the meet was gonna change, we basically told this group it's in their hands and no matter what happens, they're gonna gain experience and its gonna be exciting … As we're getting on the bus, they were completely white, they were scared out of their freaking minds and I told them if they do bad, I'm gonna take all the blame because I put them in there."
– Christian Brothers Academy coach Tom Heath talking after he ran a JV team of three sophomores, two freshman, a junior and senior and they incredibly won the New Jersey meet of champions on Wednesday. The top 5 sat out as after Hurricane Sandy the regular state meet was last weekend and the Nike qualifier is this weekend. Truly unbelievable.
---
Wednesday 11/21: "My most surreal moment since the Olympics was attending the GQ Men of the Year awards and then afterwards being invited back to Matthew Freud's house. I noticed Bono hanging out in the kitchen before somebody beckoned me to go downstairs. I was with Louis Smith at the time and when we got down there we saw Matthew playing table tennis with Sacha Baron Cohen, Damian Lewis and another man. I was just standing there in awe of all these superstars when Damian put his bat down and said, 'Stop guys. Let's give the Olympians a round of applause.' I just thought, 'What on earth is going on here? This is the weirdest moment of my life.' I was so shocked that I don't think I even said anything in reply. You never expect that kind of thing when you're an athlete, especially in track and field."
– UK's Olympic long jump champion Greg Rutherford, talking about how his life has changed since he won gold in London 2012.
---
Tuesday 11/20: "It's immensely embarrassing to the UCI that the people who are running the sport, who were there every day, seeing these athletes and teams for years and years couldn't seem to find it. And so now they are, in quotation marks, 'shocked.'"
and
"Well I think the IOC has sort of punted to some degree to WADA. They don't really do any anti-doping tests. They do tests on occasion for the Olympics, but that's about it. They've been very good at amending their charter to say that you need to become compliant or you can't take part but they're reluctant to use that power."

– Former WADA head Dick Pound, re-invigorated after the Lance Armstrong bust.