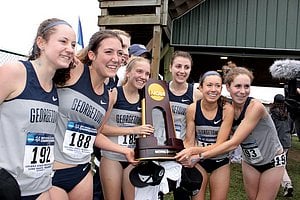 LRC Women's Team Preview: Oregon Or Florida State? What About Darkhorse Providence? It should be a fierce battle in Kentucky for the NCAA crown. Florida State is favored, but should they be? Last year they choked it big time.


LRC Women's Individual Preview: Can Jordan Hasay Do It? Or Will Betsy Saina Or Abbey D'Agostino Prevent The Fairy Tale Ending?
*LRC Fan Polls Individual Predictions

More NCAA News:
Beautiful People: NCAA Banquet Photos (Click on photo)
Weekend Action That Isn't Happening In The Midwest
Non-NCAA Weekend Action
If You're Not Cheating Part 2: Jon Rankin Wonders How Cheating In Sports Can Be Stopped
International News
When Life Gives You Lemons, Go Race A Marathon In Japan
This Weekend: A Look At The Elite Field For The Yokohama International Women's Marathon Top internationals include Lydia Cheromei (2:21:30), Amy Hastings, Kim Smith and Jo Pavey, while the Japanese women will try to hit Japan's new strict sub-2:24 standard to qualify for their Moscow World Champs team.
Dec. 2nd: Martin Lel, Scott Overall, Ryan Vail, Tim Nelson, Brent Vaughn Added To Fukuoka Marathon Field After Missing Out On NYC Field already includes Haile Gebrselassie, Martin Mathathi, Mo Trafeh, Reid Coolsaet, Ryan Bak and Japan runners Arata Fujiwara and Yuki Kawauchi.
*MB: Martin Lel, Nelson, Bairu, Vaughn, Vail to run FUKUOKA Marathon
Yet Another Great Dies Too Young
Former 10k WR Holder Joseph Kimani Has Died At Age 40 The former road superstar took down the world's best in the 10k by a ridiculous 30 seconds in the summer of 1996 as he ran a still unthinkable 27:04 at Peachtree. He won virtually every big road race in the US at least once, also set a 12k WR, and is still the CR holder at Boilermaker.

More: *LRC MB Remembrances of Kimani
*RRW Article On Kimani
*Utica Observer Dispatch: Joseph Kimani, Boilermaker all-time great, dies at age 40
*Kimani's Death Getting Mentioned In Slovenia (Translated)
*AJC: Peachtree record holder passes away
UK Administrative Stuff: Olympic Stadium Situation Still A Mess
Quick Work: 2008 & 2012 Olympic Javelin Champion (And Former UMinn Gopher) Barbora Spotakova Is Pregnant And Will Not Compete In 2013 "I don't fear losing my appetite for sport - it's in my blood. My partner and I have been really hoping for this, we've allowed things to take their course and we've succeeded."
A Case That Makes The Caster Semenya Situation Seem Like A Fairy Tale
MB: Indian Female Gold Medallist, Pinki Pramanik, Formally Charged With Rape After Being Determined To Be Male - She Says No, It's Just Result Of Drugs I Took

*Asian Games Gold Medallist Pinki Pramanik Charged With Rape After Medical Reports Confirm Her As Male
*Pinki Pramanik Blames Injections For Her "Masculine" Physique
*Pinki Pramanik Plans Defamation Case Against Cops, Prosecutor
*Medical Reports Confirm Pinki Is A Male
*Police Forcing Me To Commit Suicide, Says Pinki Praminik
Laughable: Cycling Head Pat McQuaid Says UCI Will Establish Confidential Doping Hotline To Build Trust & Says Releases Open Letter to Peloton That Says He's Been A Leader In Anti-Doping Movement It's a little too late for gestures and false statements like this: "The UCI has always been a pioneer in the fight against doping, a fact recognised by WADA (World Anti-Doping Agency) and the IOC (International Olympic Committee) among others," wrote McQuaid in his letter addressed "Dear rider."
More Weekend Results
Richmond Marathon, Half & 8k + Athens, Beirut & Istanbul Marathons *Richmond Photos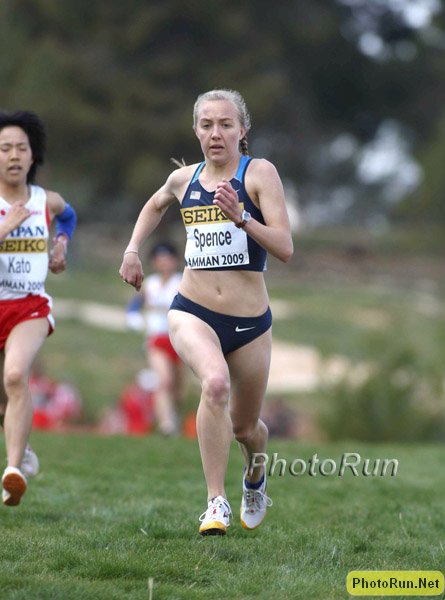 Neely Spence Runs With Dad Steve For 3 Miles Then Smashes 8k Course Record With 25:22 Win Steve ran 25:45. Ethiopians won the half marathons. Mengstu Nebsi set a CR at 1:03:21 as Hirut Beyen ran 1:15.14. *Discuss

Kenya's Kipkoech Ruto Wins Richmond Marathon In 2:15 As American Christo Landry Debuts In 2:17 After Pushing Pace Early Hoping For 2:12

Aziza Aliyu Of Ethiopia - Who Was Going To Run In New York - Blows Away Women's Field In 2:40:21 A pretty easy run for Aliyu, who has a 2:36 PR.

Pre-Race: Richmond Marathon Acquires A New York Accent Not too much of one as the first place prize was only $2,500.

Istanbul: Tortoise Beats The Hare Stephan Chebogut Picks up $50,000 & Wins Istanbul Marathon By 4+ Minutes In 2:11:05 As Leaders Blow Up After Going Out In 62:47 (new link) Koren Jelela won the women's title in 2:28:05.

Athens: Marathon Record Is Now 2:11:35 Thanks To Raymond Bett That's a long way from the 2:58:50 that won the 1896 Olympics. The women's race was won in 2:40:00.
*59-Year-Old Man Running 10k As Part Of Athens Marathon Dies From Heart Attack After Finishing

Beirut: 33,000 Run As Ethiopia's Kedir Fekadu Wins In 2:12:57 Saeda Kedir won the women's race in 2:35:08 as American Mary Akor was third in 2:37:32.

Other Marathon News: Great News: Philly Takes 1,360 NY Would-Be Marathoners - Says They'll Donate $100 Hurricane Sandy Relief
*Ridiculous: New York Marathon Giving Out Finisher Medals Even Though No One Finished The Race
Kenyan XC Meet
Kenyan News
US News: Lolo Jones Wins Bobsled World Cup Silver Medal
International News: CAS Going Out Of It's Way To Help Dopers
High School
Previous NCAA News
US All-Time Greats In The News
Assorted News From The UK
Kenyan News: Paul Tergat Is On The IOC
Pro Track/Road News
Previous NCAA News
Recommended Reads And Seb Coe News
Pro News: Galen Rupp Will Be Back At It November 23rd In Japan
Japan And China Go To War Over A Marathon?