Dreams Become Reality: Unheralded Katie Nageotte Upsets Sandi Morris AND Jenn Suhr, Takes WR Attempts, Sharika Nelvis Sets American Record in Hurdles
by LetsRun.com
February 18, 2018
ALBUQUERQUE, N.M. — Who says dreams don't become reality?
There were two shocking upsets on the final day of the 2018 USATF Indoor Championships with unheralded athletes having stunning performances as Katie Nageotte upset Olympic gold and silver medallists Jenn Suhr and Sandi Morris in the pole vault by clearing 4.91 and then took three attempts at the world record. Then, in the hurdles Sharika Nelvis upset Keni Harrison and broke the American record in the process.
Article continues below player
Coming into the meet, Nageotte of adidas/NYAC had a PR of 4.76. Today she had no misses through 4.76, then she cleared 4.81, 4.86, and 4.91 without any misses. That made her the national champion (Morris and Suhr both went out at 4.91 with Morris finishing in 2nd ahead of Suhr) and a 16 foot vaulter (4.91 is 16' 1.25"). Nageotte then decided to take three attempts at a new world record (5.04). She came up short but what a fairy tale day.
The attempts at the world record weren't fairy tale pie in the sky attempts. "I'm proud of myself that I gave it three good attempts… I was really able to give it a shot," Nageotte said.
During the competition Nageotte tried not to think of the PRs she was setting, but just making the worlds team.  "I had to place top two to make the team so I kept it focused on that," she said.
"It's surreal. I'm going to cry a lot later.  I know it seems out of nowhere, but I knew I was ready for it."
Nageotte went to Ashland University, the same DII school Drew Windle attended, and now is the volunteer assistant track coach at Washington State where she is coached by American record holder in the vault Brad Walker. Two years ago Nageotte set a PR at the Olympic Trials and was barely a 15 foot vaulter, now she's one of the best in the world.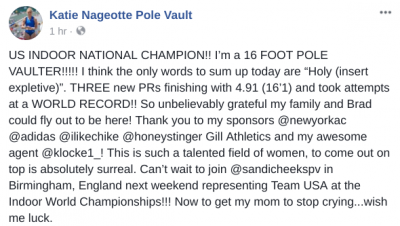 Women's 60 hurdles: Sharika Nelvis breaks American record to win tight race
With the three best 60-meter hurdlers in the world right now, it was probably going to take an American record to win this race, and that proved to be the case. Christina Manning ran a PR of 7.73, .01 off the American record, and finished third. Keni Harrison tied her old American record by running 7.72 for second. But the winner was Sharika Nelvis, who clocked 7.70 to to win her first national title.
Not surprisingly, all-time marks for place were set by Harrison in second and Manning in third (Nelvis was .02 off Susanna Kallur's 7.68 world record). All three women should be at Worlds as either Nelvis or Manning will likely win the IAAF World Indoor Tour, giving the USA three spots. A podium sweep is certainly a possibility; remember, the US swept the 100 hurdles podium at the 2016 Olympics. And just as it took an American record to win today, it may take a world record to take the gold at Worlds.
Sharika Nelvis interview
Men's 60m Hurdles Jarret Eaton upsets Merritt and Allen
Jarret Eaton doesn't have the resume that Aries Merritt (World record in the 110m hurdles) or Devon Allen has (Olympian) , but he had the race of his life to win the hurdles in 7.43 ahead of Merrit's 7.46 and Allen's 7.49. Eaton and Allen's runs were PRs and it was a seasonal best for Merritt.
Women's 60: Javianne Oliver gets huge PR and world leading win
Oliver was a good 60m sprinter at Kentucky (7.14, NCAA runner-up) but she crushed the field today running a big PR and world leading 7.02.
Men's 60m: Christian Coleman breaks world record (that gets its own story)
Men's 400: Michael Cherry wins as Fred Kerley only finishes 5th after contact
Kerley ran 45.18 in the prelims yesterday but he did not get out well today and it wound up costing him. There was a lot of contact as the men in the second section of the final (Kerley, Michael Cherry, Vernon Norwood, and Dontavius Wright) broke in at the bell and the result was that Kerley was bumped. He lost momentum and briefly looked to have given up on the race before refocusing and almost coming from inside to take the win in the home stretch. But in a tight finish, that was only good for third in the heat and fifth overall as Cherry won heat 2 — and the title — with a 45.53 PR. The top five finishers were separated by just .10 of a second.
Women's 400 World outdoor champ Phyllis Francis runs world leader but doesn't qualify for worlds
World outdoor champ Phyllis Francis ran a world leading 51.19 (previous world leader 51.28) to win the "slower" heat #1. Shakima Wimbley was on her way to topping that in heat #2 until Courtney Okolo but on a late charge to get the win in 51.16 ahead of Wimbley's 51.17. Francis ran a world leader, is the world outdoor champ, but won't be at worlds as an individual. Fortunately, there is the relay.
Women's long jump: Brittney Reese blasts a 6.88 world leader
Reese, the reigning world champ indoors and outdoors, took advantage of the altitude to become the first woman to jump over 6.80 meters this year. In fact, she did it twice, as she hit 6.88 in the third and fifth rounds.
Women's high jump: Vashti Cunningham three-peats
Reigning World Indoor champ Vashti Cunningham showed that she will be a medal threat in Birmingham by clearing a season's best of 1.97. But gold remains a monumental task as world outdoor champ Maria Lasitskene hasn't lost since June 2016.
Men's shot put: Ryan Whiting beats out Diamond League champ Darrell Hill
Whiting, a two-time World Indoor champ, trailed Darrell Hill through four rounds but took the lead with a 20.34 in the fifth round and closed out the win with a 20.65 heave in the final round.
Men's triple jump: Will Claye wins it in his first meet of the year
Claye, a two-time Olympic silver medalist who won silver at Worlds last year too, had not competed at all in 2018, but that did not matter today as he got the win with a best leap of 17.28 meters in round four. Chris Carter set a PR of 17.20 meters but that was only good for second.
Women's weight throw: DeAnna Price wins
Price hit 24.51 in the third round, which held up for the victory. World record holder Gwen Berry was third with a best heave of 23.93.
Complete 2018 USATF Indoor Coverage Here