Some idiot scheduled it so the meets go on at exactly the same time.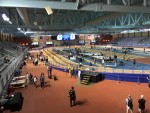 There is a buzz in the air in Birmingham as several collegiate marks could fall this weekend.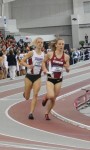 Stanford and Georgetown already raced once this year and just .19 separated. They are the class of the field and should battle it out again on Friday.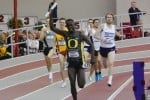 Six of the 12 fastest men's teams in NCAA history will compete on Friday. Will they be good enough to hold off Stanford and Washington and their 3:53 anchor legs, Sean McGorty and Izaic Yorks? Will Oregon dare to run Edward Cheserek just 30 minutes after the 5k?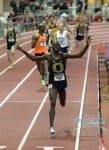 Cheserek ran the #2 collegiate 3k time ever at Millrose (7:40.51) and is the heavy favorite in the 5k. He's favored to sweep both, but could be vulnerable if he runs the DMR as well on Friday. Syracuse's Justyn Knight, Villanova's Patrick Tiernan, Stanford's Sean McGorty and Washington's Izaic Yorks will all be looking to take him down in the 3k.
Notre Dame's Molly Seidel and true freshman Allie Ostrander of Boise State went 1-2 at NCAA XC in November; now both will attempt to pull off the 3k-5k double at NCAA Indoors. Can anyone break them up?
Haney is the top seed after running 3:56.36 to break Edward Cheserek's school record at Millrose. Boise State's David Elliott, UTEP's Jonah Koech and Virginia's Henry Wynne are among his top competition.
Purrier's 4:29.71 is over two seconds faster than anyone else in the NCAA this year. Can Oklahoma State's Kaela Edwards, Villanova's Angel Piccirillo or North Dakota State's Erin Teschuk challenge her?
The only doubts we have about Oregon's Raevyn Rogers is whether she breaks the collegiate and meet records in the event.
Seven men under 1:47. Two true freshman phenoms. World Championship semifinalist Clayton Murphy, 1:45 man Donavan Brazier and so many more. The men's 800 may be the race of the meet at NCAA Indoors.
Find out what it will take to get into NCAAs and who is running what here.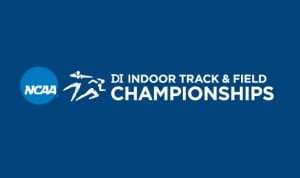 Birmingham, AL
March 11, 2016 to March 12, 2016
*Schedule/start lists/results * Entries *Men's team projections & analysis *Women's team projections & analysis *Event website
Outside Letsrun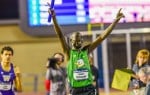 1659 photos from the galleries from both days.
This piece is excellent as you learn all about what makes Ostrander tick.
The HS indoor and outdoor national record was 2 for 2 last year at NCAAs.
It is predicted to be a close team battle with Arkansas and Florida.
They have a slight edge on Oregon and Georgia.
He also asks if the Oregon men and women could sweep the team titles at NCAA Indoors.
On The Boards
Navigate
Photos
Race Results
Analysis
Event Recaps
Event Previews
In The Past
Related Events