NCAA 3,000s: Molly Seidel And Edward Cheserek Remain Utterly Dominant
by LetsRun.com
March 12, 2016
BIRMINGHAM, Ala. – Stars Edward Cheserek and Oregon and Molly Seidel of Notre Dame continued their domination of the distance events at the NCAA level as tonight both picked up their second individual titles of the 2016 NCAA Indoor Track and Field Championships by capturing the 3,000s with ease.
Men's Race: Edward Cheserek Broke It Open With Three Laps To Go
Article continues below player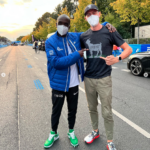 Kipchoge loves the 1:59:40 Shirt Get Yours Today
What a legend!
Saturday night in Birmingham, Alabama, was the coronation of Edward Cheserek's historic triple as he became just the second runner in NCAA history to complete the 5K-DMR-3K triple, joining fellow Oregon Duck Galen Rupp (2009). Such is his dominance in the NCAA, it might have been tempting to hand him the title before the race was even run, but pre-race, his victory here wasn't an absolute certainty – at least on paper.
After all, Cheserek was coming back from the 5,000 and DMR on Friday night, where he was forced to run a fast opening 1,600 in the 5,000 (4:17) and a super-fast 3:52.84 1,600 split in the DMR and the level of his competition in this race was much higher than in the 5,000. Moreover, his top competition in Syracuse's Justyn Knight, Stanford's Sean McGorty and Washington's Izaic Yorks were all fresher as they only had to run the DMR on day one or in Knight's case, no races at all. Those are also guys with good kicks, so on paper one might have thought Cheserek would have to fight for the 11th individual NCAA title of his career.
It turned out Cheserek won rather easily as he completely blew away the field with a final 1k of 2:28.40, with most of the damage coming in the last 600 as he blew the race open with a 28.22 third to last lap and then almost coasted home in 29.16 and 29.83 to get his third victory of the weekend in 8:00.40. Behind him, McGorty won the race for second place in 8:01.55, beating out Knight by .30 seconds. Yorks took fourth with Colorado's Pierce Murphy fifth.
The Race
Wisconsin's Morgan McDonald and Eastern Michigan's Willy Fink took on the early pacing duties as the race started in a very tactical 2:18 first 800 and then sped up so the field went through the mile in 4:26. Cheserek, McGorty and Knight all sat in the pack, never leaving the 3rd to 5th positions. Then a bit before the 2K mark McGorty went to the lead and started pushing and was immediately followed by Cheserek, who was followed by Knight. The real race had begun.
For another 400m the race continued in that fashion with McGorty leading Cheserek and Knight, but then with three laps to go, Cheserek made a huge surge to the front and took off. Such was Cheserek's gear change that he made the rest of the field look like they were standing still. He instantly gapped McGorty and Knight and while they made an effort to react, the race for first was pretty much over and they were fighting for second. Knight was stuck in third for a moment and by the time he got around McGorty into second, Cheserek was gone with over a second on the field with two laps to go and then more than two seconds of cushion going into his victory lap. Cheserek powered home to win the race in 8:00.40 while McGorty just got around Knight in the final straight to nab second place in 8:01.55 to Knight's 8:01.85.
Results, quick-take analysis and post-race interviews appear below.  
Results *Lap-by-lap splits here.
| | | | | |
| --- | --- | --- | --- | --- |
| Place | Athlete | | Affiliation | Time |
| 1 | Edward Cheserek | JR | Oregon | 8:00.40 |
| 2 | Sean McGorty | SO | Stanford | 8:01.55 |
| 3 | Justyn Knight | FR | Syracuse | 8:01.85 |
| 4 | Izaic Yorks | SR | Washington | 8:02.24 |
| 5 | Pierce Murphy | SR | Colorado | 8:02.40 |
| 6 | Jefferson Abbey | JR | Colorado St. | 8:02.43 (8:02.422) |
| 7 | Luis Vargas | SR | NC State | 8:02.43 (8:02.426) |
| 8 | Colby Gilbert | SO | Washington | 8:02.83 |
| 9 | Patrick Corona | SR | Air Force | 8:03.12 |
| 10 | Connor Winter | SR | Colorado | 8:04.23 |
| 11 | Willy Fink | JR | Eastern Michigan | 8:07.81 |
| 12 | Morgan McDonald | SO | Wisconsin | 8:12.92 |
| 13 | David Elliott | SR | Boise State | 8:16.63 |
| 14 | Ahmed Bile | SR | Georgetown | 8:24.15 |
| 15 | Reid Buchanan | SR | Portland | 8:36.41 |
| | Patrick Tiernan | SR | Villanova | DNS |
Quick Take #1: Putting Edward Cheserek's Triple In Perspective
We explained in our men's 5,000 recap yesterday that Cheserek's probably wasn't the most impressive double in NCAA history. Well, what about triple? In our preview we said that if Cheserek did the triple it would be "even more impressive" than what Galen Rupp did in 2009. Now that he's done it and we are analyzing the stats, we're not sure.
At first glance, Cheserek gets the nod because when Rupp ran his epic triple, he had a lot more time between the 5,000 and DMR (70 minutes of rest compared to Cheserek's 30 minutes). So that made Cheserek's double on Friday night more impressive and why some on the message board were asking if it was the greatest double in track and field history. Cheserek also ran a similar time in the 5,000 on Friday (13:47.89 compared to Rupp's 13:41.45), but had his insanely fast 3:52.84 DMR split while Rupp "only" split 3:57.08.
So there's little question that Cheserek's double was better than Rupp's as he ran better with less time, but then you have to factor in Saturday's 3Ks. Cheserek ran 8:00.40 (a modest time by his and top NCAA standards) while Rupp ran an extremely gutsy race breaking the field by going out in 2:02 for the first 800 and finishing in 7:48 when his PR was only 7:44. So Rupp's 3,000 was clearly better.
So who's triple was better overall? We're not going to make a call on that right now, but feel free to discuss it on our forums.
Quick Take #2: Cheserek Knew He Couldn't Leave It Too Late In This One
Post-race, Cheserek admitted that he was "feeling" his double from Friday and actually had a lot of trouble sleeping, staying up until 3 a.m. Talking about making his move earlier in this race than he normally does, he said he knew the guys in the field had great kicks so he couldn't wait too long. On completing the epic triple, "It feels good to keep momentum going and write my name up there like [Galen Rupp]."
Quick Take #3: Sean McGorty: "I'm thrilled to get 2nd. Obviously Cheserek is very hard to beat."
McGorty said that when Cheserek made his move he tried to go with him, but "he's really good at the gear change so a gap forms really quickly." After Cheserek got that quick gap he said he wasn't really worried about him anymore and was just focused on beating Justyn Knight. On Cheserek dominating these races, McGorty said that it takes a lot of pressure off since Cheserek is always expected to win, but you "still want to do everything you can to beat him." McGorty thinks Cheserek raises the level of competition in the NCAA and brings the best out of everyone else.
Quick Take #3: We weren't the only ones who thought Cheserek would be pushed more than he was in this one.
After the race was over and we were waiting for the runners to enter the mixed zone, we chatted with Syracuse coach Chris Fox. He said Knight definitely was running for the win but thought he probably wasn't on top of his game as he was a little surprised that Knight and no one in the field could respond to the 28 third-to-last lap. He wondered if the great effort Knight and the Orange put up at ACCs to win their historic first team title two weeks ago caught up to Knight as he said Knight is talented enough that he should be able to handle a 58 at any point in an 8-flat type race (in reality Cheserek ran 57.38 from 600 to 200 out).
When we spoke to Knight he said he wanted to stay in 3rd or 4th so he could keep his eye on Cheserek, but he just didn't have it when Cheserek made his move. He was ready for the move as he figured Cheserek wouldn't wait until the final 200 in this race.
Talking about Thomas Curtin's hard from-the-front run in the 5,000, Knight said he never considered running that type of race because he's confident in his kick. On the decision to run the 3,000 vs. the mile here, Knight said he was comfortable running the mile or the 3K, but he had teammates trying to get into the meet in the mile, so if he could help them get in by running the 3,000 instead he was fine with that.
Women's Race – Seidel Leads From Start To Finish (Almost)
Molly Seidel was simply way better than everyone else in this race and utterly dominant in the women's 3,000. How did she win? Well, this table pretty much sums up her race perfectly:
| | | |
| --- | --- | --- |
| Split | Intermediate Leader | Time |
| 200m | Katrina Coogan | 0:35.25 |
| 400m | Molly Seidel | 1:12.15 |
| 600m | Molly Seidel | 1:48.16 |
| 800m | Molly Seidel | 2:24.23 |
| 1,000m | Molly Seidel | 2:59.96 |
| 1,200m | Molly Seidel | 3:35.60 |
| 1,400m | Molly Seidel | 4:11.58 |
| 1,600m | Molly Seidel | 4:47.65 |
| 1,800m | Molly Seidel | 5:23.52 |
| 2,000m | Molly Seidel | 5:59.72 |
| 2,200m | Molly Seidel | 6:35.97 |
| 2,400m | Molly Seidel | 7:12.07 |
| 2,600m | Molly Seidel | 7:47.86 |
| 2,800m | Molly Seidel | 8:23.41 |
| 3,000m | Molly Seidel | 8:57.86 |
Seidel went out and pretty much led from start to finish (she was down by .09 at 200) by running 35 or 36 for every single lap of the race until the final one (34.45). By 1,200, she and the eventual second placer Erin Finn of Michigan (9:04.40) and third-placer Katrina Coogan of Georgetown (9:07.74) had more than a second on the rest of the field. By 1,600, it was a two-person race as Coogan had cracked.
Finn, who was also second last night in the 3,000, stayed with Seidel for 2k but on the final 5 laps she lost at least half a second as Seidel's dominance grew with each lap.
Results and post-race interviews appear below.
Results *Lap-by-lap splits here.
| | | | | |
| --- | --- | --- | --- | --- |
| Place | Athlete | | Affiliation | Time |
| 1 | Molly Seidel | JR | Notre Dame | 8:57.86 |
| 2 | Erin Finn | SO | Michigan | 9:04.40 |
| 3 | Katrina Coogan | SR | Georgetown | 9:07.74 |
| 4 | Erin Teschuk | SR | ND State | 9:08.45 |
| 5 | Erin Clark | SO | Colorado | 9:08.63 |
| 6 | Calli Thackery | JR | New Mexico | 9:09.35 |
| 7 | Alli Cash | SO | Oregon | 9:09.46 |
| 8 | Kaitlyn Benner | SO | Colorado | 9:09.66 |
| 9 | Bethan Knights | SO | California | 9:09.79 |
| 10 | Vanessa Fraser | SO | Stanford | 9:15.09 |
| 11 | Erika Kemp | SO | NC State | 9:19.88 |
| 12 | Regan Rome | SO | William and Mary | 9:22.60 |
| 13 | Angel Piccirillo | SR | Villanova | 9:25.12 |
| | Anna Rohrer | FR | Notre Dame | DNS |
| | Aisling Cuffe | SR | Stanford | DNS |
| | Allie Ostrander | FR | Boise State | DNS |
Post-Race Interview With Notre Dame Coach Matt Sparks, Who Says Seidel Will Run A 10k In 3 Weeks And Then Take A Break Before Gearing Up For The Important Meets
Post-Race Interview With Molly Seidel
Post-Race Interview With Erin Finn