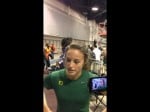 The women's 800 has probably one of the biggest favorites in any of the distance events in Oregon's Laura Roesler and she made it through the heats comfortably here as Andrew Keklak won the first heat and Savannah Camacho the second. Roesler is an even bigger favorite in the final as the #2-4 seeds coming into the meet went out.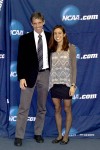 Last year, Abbey D became the first American to ever win NCAA indoor crowns in the 3,000 and 5,000 in a career, let alone the same meet. She looks to repeat that feat as Laura Roesler looks to move out of Jordan Hasay's shadow. And a wide-open women's mile is there for the taking; might a steepler like Colleen Quigley win it?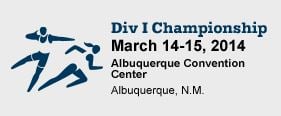 Albuquerque, NM
March 14, 2014 to March 15, 2014
*Start Lists and Accepted Entries By Time/Mark
*Schedule and TV/Streaming Info
Outside Letsrun
Detailed stats for all the meet entries including PRs and place in the meet last year.
Laura Roesler: "My sophomore year was a little different. We had Brianne (Theisen), English, Jordan, Anne, Becca — people who would score just a lot of big points. Whereas this year we're going to have to nickel and dime and scrap." *Photos: Ducks Land In Albuquerque
On The Boards
Navigate
Photos
Race Results
Analysis
Event Recaps
Interviews
Event Previews
In The Past
Related Events