Women's 3,000: Abbey D'Agostino Completes The Distance Double Again, But Arkansas' Dominque Scott Makes Her Work For It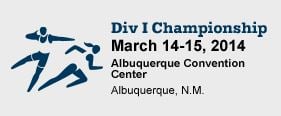 March 14, 2014 to March 15, 2014
By LetsRun.com
March 15, 2014
Albuquerque, NM – In the final distance event of the 2014 NCAA Indoor Track and Field Championships, the women's 3,000, Dartmouth's Abbey D'Agostino came through as the favorite once again and won, meaning she repeated her distance double from last year, winning both the 3,000 and 5,000.
D'Agostino won the 3,000 in 9:14.47 in a race where Arkansas' Dominque Scott stayed right on her until a lap to go, finishing second in 9:16.05. Behind them UAB's Elinor Kirk closed hard to grab 3rd in 9:17.00 over Boise State's Emma Bates (9:17.37) and Georgetown's Katrina Coogan (9:17.38), the daughter of D'Agostino's coach Mark Coogan.
Article continues below player
---
The Race – A Very Slow Race Ends With A Tight Finish
Looking at the notes we took during the women's 3,000, we see that for most of the race, the pecking order and position changes were just too hard to describe. It was simply a mass of bodies running at a very slow pace as Emma Bates lead the first 7 laps at a bit slower than 5 minute mile pace. No one seemed to want to take the lead and as a result the pack was extremely bunched up and a lot of the runners were out in lane 3.
Then a little before they reached the mile Iona's Kate Avery moved into the lead and started ramping up the pace as she was followed by Bates, D'Agostino and the rest of the field.
Avery continued to lead until 800m to go when D'Agostino finally made her move and started pulling away from the pack. She quickly separated herself over the next lap from everyone except for Dominque Scott who hooked right on. D'Agostino ran the penultimate 400m in just over 70 seconds, but still couldn't shake Scott, who was only a step behind with 400 to go.
It wasn't until they were going into the final 200m that D'Agostino was finally able to put a small gap on Scott and then she powered away the final 200m to win in 9:14.47 to Scott's 9:16.05. Behind them it was a desperate fight for 3rd as only .87 seconds separated 3rd from 7th. Elinor Kirk had the fastest last lap of anyone in the race (33.13) to get 3rd in 9:17.00 over Bates, Katrina Coogan, Grace Heymsfield and Aisling Cuffe.
Quick Thought #1: Only one other person had ever won the NCAA indoor 5,000 and 3,000 crowns in the same year indoors (Sally Kipyego 2007). D'Agostino has now done it twice. No American besides D'Agostino has ever even won the 5,000 and 3,000 in a career, let alone at the same meet.
With today's 3k victory, D'Agostino joins Vicki Huber and Carrie Tollefson as the only multiple-time winners of the women's 3,000:
1987 Vicki Huber, Villanova, 9:06.45
1988 Vicki Huber, Villanova, 9:05.67
1989 Vicki Huber, Villanova, 8:55.29
1999 Carrie Tollefson, Villanova, 9:15.05
2000 Carrie Tollefson, Villanova, 9:13.68
D'Agostino definitely deserves respect as pulling off the double 2 years in a row takes a lot of consistency.
QT #2: In her post-race interview we asked D'Agostino if she was worried at all when she wasn't shaking Scott. D'Agostino admitted she was getting a little worried when Scott was still right on her with 400 to go and that she was peaking up at the video screen in the arena to see how close she was. She was confident she'd able to outkick her though as she said, "I trusted in my kick; I knew I could run a 63 400 at the end of a hard workout and that really helps in those moments. I had made a decision before racing that that's what it was going to come down to and I was going to push through it and suck it up today."
D'Agostino also touched on how indoor racing can be strange and talked about how runners were doing a lot of surging in the race today, but didn't want to take the lead. We agree and think that it was poor tactics by a lot of women in the field. No one wanted to be at the front of the pack, but they were okay making surges and jostling for position, while running out in lane 3 around the turns. Leading indoors isn't as bad as outdoors since there is no wind and sometimes it can even be an advantage as it's hard to get around people indoors with the shorter straightaways. Brandon McBride led the entire men's 800 and it didn't seem to hurt him.
QT #3: A very impressive weekend for Dominque Scott. Last night she anchored the Arkansas DMR team to victory by outkicking 2:00.97 800 woman Justine Fedronic and here she doubled back and was the last one hanging on D'Agostino, staying with her until 200 to go.
Since we asked D'Agostino if she was worried if Scott could beat her, we also made sure to ask Scott if she thought she had a chance to beat D'Agostino at the end. She responded, "I don't think anyone is unbeatable and especially after knowing that she'd run the 5k last night at altitude I know that had to take quite a sting out of her even though she is Abbey. … Unfortunately, I wasn't able to stay with her on that little bit of a last kick she had, that little 5th gear she had, but I'm still happy with the outcome of my race and to come second in a national championship, I'm over the moon."
QT #4: Emma Bates was very happy to finish 4th as she only just got into the meet with her last race of the year. She said, "If you asked me 3 or 4 weeks ago if I would be out here I would have said no way … it was not going well for me at all at the beginning of the season, so the last 3 weeks have been awesome."
QT #5: Katrina Coogan was happy with her 5th place finish as it was an improvement on her 7th place finish from last year. We asked her to comment on the situation having her father coaching one of her competitors and she said it was really fun having her dad at meets, but that he didn't coach her at all so theirs was just a father-daughter relationship.
QT #6: Arizona State's Shelby Houlihan had a tough double here as she placed 3rd in the mile and came back about an hour later in the 3,000. She said originally she was going to make the meet in the 3k, but then got in the mile at the last minute when enough people scratched and decided that was her better shot to place well so figured she'd do both (she was probably right as she placed 3rd in the mile). She was very dedicated in her preparation for NCAAs being altitude as she said she was pretty much traveling to race or train at altitude almost every weekend for the whole indoor season.
QT #7: We got an interview with Abbey D'Agostino's coach (and Katrina Coogan's father) Mark Coogan talking to him about NCAAs as well as Ben True and Sam Chalenga. Coogan was very happy with all of their performances and said they predicted almost exactly what D'Agostino would need to run the last 1k in to get the win (they predicted 2:55 and she ran 2:55.90).
Event 22  Women 3000 Meter Run
=======================================================================
    Name                    Year School                  Finals  Points
=======================================================================
Finals
  1 Abbey D'Agostino          SR Dartmouth              9:14.47   10
       36.226 (36.226)       1:14.005 (37.780)       1:52.651 (38.646)
     2:31.927 (39.276)       3:10.949 (39.022)       3:49.492 (38.544)
     4:28.184 (38.692)       5:06.212 (38.029)       5:42.753 (36.541)
     6:18.562 (35.810)       6:54.558 (35.996)       7:29.870 (35.313)
     8:05.031 (35.161)       8:40.182 (35.151)       9:14.470 (34.289)
  2 Dominique Scott           JR Arkansas               9:16.05    8
       36.188 (36.188)       1:14.105 (37.917)       1:52.785 (38.680)
     2:32.066 (39.282)       3:11.031 (38.965)       3:49.585 (38.554)
     4:28.295 (38.710)       5:06.353 (38.059)       5:42.916 (36.564)
     6:18.807 (35.891)       6:54.747 (35.940)       7:30.095 (35.349)
     8:05.332 (35.237)       8:40.717 (35.385)       9:16.042 (35.325)
  3 Elinor Kirk               SR UAB                    9:17.00    6
       37.067 (37.067)       1:15.030 (37.963)       1:53.221 (38.192)
     2:32.479 (39.258)       3:11.394 (38.915)       3:49.968 (38.575)
     4:28.707 (38.740)       5:06.857 (38.150)       5:43.995 (37.138)
     6:20.633 (36.639)       6:57.213 (36.580)       7:32.528 (35.315)
     8:08.619 (36.091)       8:43.865 (35.247)       9:16.991 (33.126)
  4 Emma Bates                SR Boise State            9:17.37    5
       35.862 (35.862)       1:13.673 (37.811)       1:52.306 (38.634)
     2:31.529 (39.223)       3:10.535 (39.007)       3:49.194 (38.659)
     4:27.950 (38.757)       5:06.037 (38.087)       5:42.690 (36.653)
     6:18.738 (36.049)       6:54.980 (36.243)       7:31.067 (36.087)
     8:07.405 (36.338)       8:43.739 (36.335)       9:17.361 (33.623)
  5 Katrina Coogan            SO Georgetown             9:17.38    4
       36.254 (36.254)       1:13.871 (37.618)       1:52.493 (38.622)
     2:31.737 (39.245)       3:10.751 (39.015)       3:49.373 (38.622)
     4:28.138 (38.765)       5:06.250 (38.112)       5:42.855 (36.606)
     6:19.116 (36.261)       6:55.275 (36.160)       7:31.350 (36.075)
     8:07.605 (36.255)       8:43.930 (36.325)       9:17.377 (33.448)
  6 Grace Heymsfield          SR Arkansas               9:17.83    3
       36.455 (36.455)       1:14.067 (37.612)       1:52.725 (38.659)
     2:31.983 (39.258)       3:10.993 (39.010)       3:49.640 (38.648)
     4:28.354 (38.714)       5:06.480 (38.127)       5:43.113 (36.633)
     6:19.313 (36.200)       6:55.505 (36.192)       7:31.674 (36.170)
     8:07.787 (36.114)       8:44.125 (36.338)       9:17.829 (33.705)
  7 Aisling Cuffe             JR Stanford               9:17.87    2
       36.857 (36.857)       1:14.787 (37.930)       1:53.299 (38.512)
     2:32.564 (39.265)       3:11.475 (38.912)       3:50.075 (38.600)
     4:28.796 (38.722)       5:06.995 (38.200)       5:43.274 (36.279)
     6:19.168 (35.895)       6:55.371 (36.204)       7:31.005 (35.634)
     8:07.159 (36.155)       8:43.220 (36.062)       9:17.867 (34.647)
  8 Rachel Johnson            JR Baylor                 9:20.23    1
       36.971 (36.971)       1:15.265 (38.294)       1:53.540 (38.275)
     2:32.731 (39.192)       3:11.684 (38.953)       3:50.250 (38.566)
     4:28.966 (38.717)       5:07.151 (38.185)       5:43.528 (36.377)
     6:19.273 (35.745)       6:55.651 (36.379)       7:31.570 (35.919)
     8:07.961 (36.392)       8:44.387 (36.426)       9:20.221 (35.835)
  9 Kate Avery                SO Iona                   9:21.73
       36.804 (36.804)       1:14.637 (37.834)       1:53.181 (38.545)
     2:32.547 (39.366)       3:10.730 (38.183)       3:49.354 (38.625)
     4:28.070 (38.716)       5:06.011 (37.942)       5:42.432 (36.421)
     6:18.465 (36.033)       6:54.829 (36.365)       7:30.524 (35.695)
     8:06.716 (36.193)       8:43.989 (37.273)       9:21.730 (37.741)
 10 Mara Olson                JR Butler                 9:24.86
       35.970 (35.970)       1:13.767 (37.798)       1:52.367 (38.600)
     2:31.634 (39.267)       3:10.606 (38.973)       3:49.250 (38.645)
     4:27.992 (38.742)       5:06.105 (38.114)       5:42.702 (36.597)
     6:18.963 (36.261)       6:55.110 (36.148)       7:30.886 (35.776)
     8:07.527 (36.641)       8:44.838 (37.311)       9:24.855 (40.018)
 11 Megan Patrignelli         SR Oregon                 9:25.84
       36.671 (36.671)       1:14.866 (38.195)       1:53.681 (38.815)
     2:33.030 (39.349)       3:11.925 (38.896)       3:50.432 (38.507)
     4:29.115 (38.684)       5:07.268 (38.153)       5:44.007 (36.740)
     6:20.371 (36.365)       6:57.675 (37.304)       7:36.004 (38.330)
     8:14.300 (38.297)       8:51.372 (37.072)       9:25.838 (34.466)
 12 Kathy Kroeger             SR Stanford               9:27.53
       36.435 (36.435)       1:14.260 (37.825)       1:52.966 (38.706)
     2:32.251 (39.285)       3:11.271 (39.020)       3:49.843 (38.572)
     4:28.534 (38.691)       5:06.794 (38.260)       5:43.353 (36.560)
     6:19.415 (36.062)       6:55.875 (36.461)       7:32.910 (37.035)
     8:10.445 (37.535)       8:49.169 (38.725)       9:27.525 (38.357)
 13 Laura Nagel               JR Providence             9:37.84
       36.600 (36.600)       1:14.230 (37.630)       1:52.799 (38.570)
     2:32.190 (39.392)       3:11.168 (38.978)       3:49.744 (38.576)
     4:28.462 (38.719)       5:06.649 (38.187)       5:43.765 (37.117)
     6:21.141 (37.376)       6:59.631 (38.490)       7:39.921 (40.290)
     8:21.075 (41.154)       9:01.270 (40.196)       9:37.835 (36.565)
 14 Shelby Houlihan           JR Arizona St.            9:39.07
       36.064 (36.064)       1:13.937 (37.874)       1:52.570 (38.634)
     2:31.850 (39.280)       3:10.804 (38.955)       3:49.520 (38.716)
     4:28.224 (38.705)       5:06.288 (38.065)       5:43.171 (36.884)
     6:20.020 (36.850)       6:58.371 (38.351)       7:38.322 (39.951)
     8:20.331 (42.010)       9:01.597 (41.266)       9:39.064 (37.467)
 15 Rachele Schulist          FR Michigan State         9:42.71
       36.575 (36.575)       1:14.490 (37.915)       1:53.050 (38.560)
     2:32.410 (39.360)       3:11.233 (38.824)       3:49.554 (38.321)
     4:28.309 (38.755)       5:06.429 (38.120)       5:43.375 (36.947)
     6:20.410 (37.035)       6:58.084 (37.674)       7:37.030 (38.946)
     8:17.455 (40.426)       8:59.399 (41.944)       9:42.710 (43.311)
 16 Kelsey Smith              JR UCLA                   9:44.91
       36.359 (36.359)       1:14.192 (37.834)       1:52.766 (38.575)
     2:32.122 (39.356)       3:11.003 (38.881)       3:49.720 (38.718)
     4:28.417 (38.697)       5:06.549 (38.132)       5:43.184 (36.635)
     6:19.889 (36.705)       6:57.912 (38.024)       7:38.115 (40.203)
     8:20.474 (42.360)       9:02.579 (42.105)       9:44.910 (42.332)