Women's 5,000: Abbey D'Agostino Is Halfway To Repeating The Double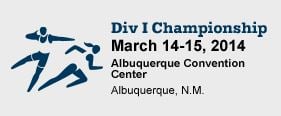 March 14, 2014 to March 15, 2014
by LetsRun.com
March 14, 2014
Albuquerque, NM – The women's 5,000 at the 2014 NCAA Indoor Track and Field Championships came only minutes after the men's race, but it couldn't have been more different. Rather than a fast, honest race, it was extremely tactical and in place of a huge upset, the favorite came through as Dartmouth's Abbey D'Agostino defended her title in 16:20.39 and is halfway to repeating her 5k/3K double. Behind her however, the results were less expected as the 2nd-5th places went to runners ranked farther down the 2014 list with Stanford's Aisling Cuffe and Kathy Kroger going 2-3, Boise State's Emma Bates taking 4th and Duke's Juliet Bottorff finishing 5th.
The Race: A Slow Start, A Breakaway Middle And A Close Finish
Article continues below player
The pace for this one started out extremely slow as no one wanted to lead and Emma Bates took the field through an 83 first 400. Then during the 3rd lap Michigan's Erin Finn went to the front and started pushing accelerating the pace to 38-second laps, but still no one wanted to touch an honest pace and soon Finn had gapped the field. By the time she went through 1,600 in 5:18.27 she had a 9-second lead over D'Agostino, who led the chase pack in second.
However, after the mile, Finn's lead started to gradually shrink and before they even hit the 3K mark the rest of the field was right on her again. Finn would still continue to lead though as the pack went through 3,200 in 10:37.31 and it wasn't until a bit before 4K that she was finally passed as Juliet Bottorff took the lead and Finn started to fade hard.
For the next few laps, Bottorff continued to lead and with 800 to go there were 5 women in the lead pack as D'Agostino sat in 2nd, Bates in 3rd and the two Stanford runners Aisling Cuffe and Kathy Kroger were right behind. Just before 2 laps to go, D'Agostino briefly took the lead from Bottorff, but Bottorff reacted and took it right back as the two Stanford runners had moved past Bates into 3rd and 4th and Bates started to drop back. With 1 lap to go, D'Agostino finally made a decisive move and took the lead, putting 2 seconds on the field in the last 200m as she closed in 31.79 to win in 16:20.39. Behind her, Cuffe and Kroger passed Bottorff and battled it out for runner-up honors with Cuffe just beating Kroger by .86 seconds. Bottorff faded in the last lap and was passed by Bates right before the line.
Quick Thought #1 – D'Agostino becomes 4th woman to repeat as NCAA Indoor 5K champ. With today's win, she is the fourth woman to win two or more NCAA indoor 5,000 titles in a career (the 5,000 started in 1989). The multiple winners before D'Agostino:
1992 Tracy Dahl, Iowa, 15:56.27
1993 Tracy Dahl Morris, Iowa, 15:49.52
1997 Amy Skieresz, Arizona, 15:39.75
1998 Amy Skieresz, Arizona, 15:54.58
2007 Sally Kipyego, Texas Tech, 15:27.42
2008 Sally Kipyego, Texas Tech, 15:31.91
2009 Sally Kipyego, Texas Tech, 15:51.14
Tomorrow she'll look to join Vicki Huber and Carrie Tollefson as the only multiple time winners of the women's 3,000:
1987 Vicki Huber, Villanova, 9:06.45
1988 Vicki Huber, Villanova, 9:05.67
1989 Vicki Huber, Villanova, 8:55.29
1999 Carrie Tollefson, Villanova, 9:15.05
2000 Carrie Tollefson, Villanova, 9:13.68
QT #2: D'Agostino was not as dominant in this race as you might have expected. That's not to say she wasn't dominant as it was no question in the final lap who was the best runner, but compared to last year's race it was closer, which is the opposite of what you might have expected coming in. Last year's field was much more loaded with the likes of Jordan Hasay and Betsy Saina, but D'Agostino pushed the pace over the last mile and won by over 5 seconds. Here she only won by 2 seconds and only took over the race with 200 to go, despite trying to make a move at 400. Will Saturday's 3,000 be more of a fight than we expected, especially if you factor in the athletes who are fresh? Or was D'Agostino simply being smart here and playing it safe at altitude?
Today's race was very tactical so it won't take as much out of her and we still have our money on D'Agostino for the win. Looking at NCAA altitude conversions, the 16:20 today is still only 15:54.46, so much slower than her 15:28 (indoor) PR.
Speaking to D'Agostino after the race, she said that it didn't go at all like they expected and she was very confused as to what she should do when Finn made her move. She said another way she could have handled it was to go with her, but she thought Finn would come back to the group and she trusted her own ability to close the gap. She felt good about her race though and how fast she was able to close after leading (the chase pack) for a lot of the race.
QT #3: Just out of curiosity we asked D'Agostino if she had been tempted to try the triple at all like Lawi Lalang, given the fact that she was the fastest collegiate miler this year, as well as the fastest in the 3k/5K. She laughed and said she definitely hadn't considered it, saying, "That would have been fun, but really hard."
QT #5: Cuffe and Kroger (who apparently have been roommates for 3 years) were very excited about their 2-3 finish and definitely came across as two teammates who enjoyed sharing in each other's success.
QT #6: Talking about her race, Bottorff said she considers herself more of a 10K runner stepping down and took the lead and started pushing towards the end because she didn't want it to come down to the last lap as she knows she doesn't have the fastest kick. She was right as she had the slowest last lap of anyone who finished in the top 7 and went from first to 5th in just over 200 meters. However, her move to the front probably did still help her final place as it was what created the gap between the top 5 and the rest of the field. So while she lost to everyone who went with her move, she was able to break away from the rest.
Asked if she thought she had a shot at the win when she was still leading D'Agostino with just over 200m to go, Bottorff admitted, "I'm not going to lie; I don't think I ever really thought I could beat her."
QT #7: Emma Bates said that towards the end she was feeling like she had a shot to win and had too much left at the end and thought she should have kicked sooner. She let the top-4 gap her as she wasn't feeling good, but was happy with the way she closed the last 100m.
Results (full lap splits for each athlete here):
| Place | Name | | Affiliation | Time | | | Heat (Pl) |
| --- | --- | --- | --- | --- | --- | --- | --- |
| 1 | Abbey D'Agostino | SR | DART | 16:20.39 | | | 1 (1) |
| 2 | Aisling Cuffe | JR | STAN | 16:22.48 | | | 1 (2) |
| 3 | Kathy Kroeger | SR | STAN | 16:23.34 | | | 1 (3) |
| 4 | Emma Bates | SR | BOIS | 16:25.66 | | | 1 (4) |
| 5 | Juliet Bottorff | SR | DUKE | 16:26.53 | | | 1 (5) |
| 6 | Emily Stites | SO | WAM | 16:27.99 | | | 1 (6) |
| 7 | Shalaya Kipp | SR | UCO | 16:32.03 | | | 1 (7) |
| 8 | Emily Sisson | JR | PROV | 16:34.18 | | | 1 (8) |
| 9 | Hannah Walker | JR | FSU | 16:35.01 | | | 1 (9) |
| 10 | Elinor Kirk | SR | UAB | 16:36.12 | | | 1 (10) |
| 11 | Chelsea Blaase | SO | TENN | 16:38.34 | | | 1 (11) |
| 12 | Erin Finn | FR | MICH | 16:51.10 | | | 1 (12) |
| 13 | Pippa Woolven | SO | FSU | 17:04.09 | | | 1 (13) |
| 14 | Elaina Balouris | SR | WAM | 17:05.30 | | | 1 (14) |
| 15 | Meghan McGlinchey | SR | LAS | 17:07.87 | | | 1 (15) |
| 16 | Molly Grabill | SO | UO | 17:27.51 | | | 1 (16) |