Super-Frosh: Georgia Freshman Kendell Williams Smashes NCAA And World Junior Record In Women's Pentathlon
by LetsRun.com
March 15, 2014
Georgia freshman Kendell Williams smashed both the collegiate and NCAA meet records today in the women's pentathlon at the 2014 NCAA Indoor Track and Field Championships in Albuquerque, NM. In the process, the 18-year old also set a new junior world record in the event.
Over the five disciplines that make up the pentathlon of 50 hurdles (8.21 seconds), high jump (1.88 meters), shot put (12.05 meters), long jump (6.32 meters) and 800 (2:17.31), Williams scored 4635 points to crush Arkansas' Makeba Alcide's collegiate record of 4569 set on February 22, 2013. She also eclipsed Brianne Theisen's NCAA meet record of 4540 from 2011. The world junior record was 4535 held by Sweden's Carolina Klüft, who won the 2004 Olympic heptathlon gold medal, although Belgium's Nafissatou Thiam scored 4558 last year but that record has yet to be ratified. The American record for the event is 4753.
    ---------------------------------------------------------------------------
  1 Kendell Williams                   8.21    1.88m   12.05m    6.32m  2:17.31
    Georgia                                     6-02  39-06.5    20-09         
    FR Team Points: 10        4635   (1082)   (1080)    (664)    (949)    (860)
Article continues below player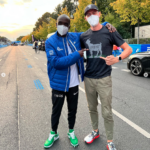 Kipchoge loves the 1:59:40 Shirt Get Yours Today
What a legend!
Williams went to Georgia as a much-heralded recruit as she set the US hs pentathlon record last year at the New Balance Indoor Nationals. She's also the US junior record holder in the heptathlon and won three events last year at the Georgia state meet (100 meter hurdles, long jump, high jump), 11 total in her career.
Discuss this achievement in our messageboard: While on the women's side Kendell Williams destroys the NCAA record.
*Williams Georgia Bio
Full Pentathlon results from Flashresults.com.
                          Women Indoor Pentathlon
                            Points      60H       HJ       SP       LJ      800
    ---------------------------------------------------------------------------
  1 Kendell Williams                   8.21    1.88m   12.05m    6.32m  2:17.31
    Georgia                                     6-02  39-06.5    20-09
    FR Team Points: 10        4635   (1082)   (1080)    (664)    (949)    (860)
                              -------------------------------------------------
  2 Erica Bougard                      8.31    1.79m   12.51m    6.29m  2:12.63
    Miss State                                5-10.5  41-00.5 20-07.75
    JR Team Points: 8         4586   (1059)    (966)    (695)    (940)    (926)
                              -------------------------------------------------
  3 Brittany Harrell                   8.54    1.76m   11.22m    6.02m  2:15.53
    Florida                                  5-09.25 36-09.75    19-09
    JR Team Points: 6         4287   (1008)    (928)    (610)    (856)    (885)
                              -------------------------------------------------
  4 Lucie Ondraschkova                 8.49    1.76m   11.30m    5.94m  2:16.23
    Georgia                                  5-09.25    37-01    19-06
    SR Team Points: 5         4268   (1019)    (928)    (615)    (831)    (875)
                              -------------------------------------------------
  5 Deanna Latham                      8.34    1.70m   11.99m    5.98m  2:18.55
    Wisconsin                                   5-07    39-04  19-07.5
    JR Team Points: 4         4253   (1052)    (855)    (660)    (843)    (843)
                              -------------------------------------------------
  6 Sarah Chauchard                    8.73    1.70m   13.32m    5.87m  2:18.23
    Eastern Michigan                            5-07  43-08.5 19-03.25
    SR Team Points: 3         4229    (967)    (855)    (749)    (810)    (848)
                              -------------------------------------------------
  7 Brittney Howell                    8.31    1.73m   11.56m    6.21m  2:29.06
    Penn State                                  5-08 37-11.25  20-04.5
    SR Team Points: 2         4202   (1059)    (891)    (632)    (915)    (705)
                              -------------------------------------------------
  8 Jena Hemann                        8.63    1.73m   13.22m    5.82m  2:23.58
    Texas A&M                                   5-08  43-04.5 19-01.25
    JR Team Points: 1         4193    (989)    (891)    (742)    (795)    (776)
                              -------------------------------------------------
  9 Jess Herauf                        8.81    1.70m   12.67m    5.90m  2:18.66
    Minnesota                                   5-07    41-07 19-04.25
    SO                        4172    (950)    (855)    (706)    (819)    (842)
                              -------------------------------------------------
 10 Erica Twiss                        8.26    1.76m    9.33m    6.00m  2:20.50
    Kansas State                             5-09.25  30-07.5 19-08.25
    JR                        4151   (1070)    (928)    (486)    (850)    (817)
                              -------------------------------------------------
 11 Thea LaFond                        8.58    1.85m   10.02m    5.79m  2:24.63
    Maryland                                 6-00.75  32-10.5    19-00
    JR                        4120   (1000)   (1041)    (531)    (786)    (762)
                              -------------------------------------------------
 12 Quintunya Chapman                  8.49    1.61m   12.90m    5.87m  2:20.99
    Georgia                                  5-03.25    42-04 19-03.25
    JR                        4107   (1019)    (747)    (721)    (810)    (810)
                              -------------------------------------------------
 13 Alex Gochenour                     8.43    1.70m   12.48m    5.80m  2:31.59
    Arkansas                                    5-07  40-11.5  19-00.5
    SO                        4042   (1032)    (855)    (693)    (789)    (673)
                              -------------------------------------------------
 14 Chari Hawkins                      8.33    1.79m   11.48m    5.67m  2:35.36
    Utah State                                5-10.5    37-08 18-07.25
    JR                        4025   (1055)    (966)    (627)    (750)    (627)
                              -------------------------------------------------
 15 Allison Reaser                     8.32    1.58m   11.10m    5.86m  2:20.37
    San Diego St.                            5-02.25    36-05 19-02.75
    SR                        3996   (1057)    (712)    (602)    (807)    (818)
                              -------------------------------------------------
 16 Sarah Graham                       8.61    1.73m   11.75m    5.45m  2:25.29
    South Carolina                              5-08 38-06.75 17-10.75
    SO                        3968    (993)    (891)    (645)    (686)    (753)
                              -------------------------------------------------