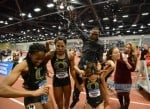 This week we introduce you to Oregon's two newest female stars, take a look back and show you how Oregon of all schools somehow went into NCAAs under-hyped on the men's side, tell super-frosh Edward Cheserek to stay in school, talk about Ben True's sweet revenge on Chris Derrick and heap praise on Shalane Flanagan. Plus  a world record attempt in New Orleans that you didn't hear anything about just misses, high school nationals with big wins by Foot Locker stars Barrett and Fisher. And finally, why can't American 14:03 collegians run 2:06 like they can in Kenya?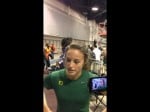 The women's 800 has probably one of the biggest favorites in any of the distance events in Oregon's Laura Roesler and she made it through the heats comfortably here as Andrew Keklak won the first heat and Savannah Camacho the second. Roesler is an even bigger favorite in the final as the #2-4 seeds coming into the meet went out.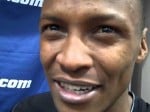 The men's 800 saw the only big casualties in the distance heats as one of our top picks, Penn State's Brannon Kidder, as well as the top returner from last year, Sean Obinwa (4th in 2013), didn't make the final. The favorite to win though is Edward Kemboi and he made it through just fine as he won his the first heat and Ryan Schnulle won the second.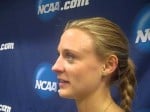 No big surprises after round 1. The race was wide open coming in, but anyone who could have been considered a contender made it through.  Leah O'Connor won the first heat and Florida's 2013 World Championships runner Cory McGee took the second.
No big surprises as all the big names were through comfortably. Oregon's Mac Fleet and Arizona's Lawi Lalang were 1-2 in the first heat and BU's Rich Peters won the second.
The topics for discussion at the press conference were largely distance-based as the top coaches in the NCAA talked about racing at altitude, the men's DMR, and Lawi Lalang's triple (and whether Arizona could win the meet with just two guys). We also had a one-on-one conversation with Coach Franklin on his guys in the 5,000 and got an update on Princeton alum Peter Callahan.
Last year, Abbey D became the first American to ever win NCAA indoor crowns in the 3,000 and 5,000 in a career, let alone the same meet. She looks to repeat that feat as Laura Roesler looks to move out of Jordan Hasay's shadow. And a wide-open women's mile is there for the taking; might a steepler like Colleen Quigley win it?
Outside Letsrun
On The Boards
Navigate
Photos
Race Results
Analysis
Event Recaps
Interviews
Event Previews
In The Past
Related Events