Are you ready for track's opening day and Nike sub-2 attempt? If you don't have time to read our previews, download our podcast and listen to it while you run/drive: LRC LetsRun.com's Pre-Doha, Pre Sub-2 and Pre-Payton Jordan Track Podcast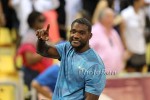 LRC Track & Field's Opening Day In Doha Is Going To Be Incredible – Dibaba vs Semenya at 800, Stacked Steeple with Entire US Olympic Team, Loaded Men's 3k With Chelimo and True, De Grasse vs. Gatlin at 100 & More We hope you can take a long lunch break on Friday as track and field's season opener is certainly worth two hours of your time. Seriously, some of the matchups in this meet are absurd and it includes many American stars like Emma Coburn, Paul Chelimo and Ben True. *IAAF Preview of Doha: 16 World and Olympic champs will compete
Payton Jordan Is Also Late Friday Night LRC 2017 Payton Jordan Preview: Cheserek Goes for a Fast 5K; Centro & Sifan Hassan Step Up to the 5K; Deep Battles in the 10K Sorry to kill your buzz but the Olympic champion Matthew Centrowitz is in the B heat of the 5000 proving that this meet is practice for many pros but there are lots of them entered including Eric Jenkins (800/1500), Evan Jager (1500), Edward Cheserek (5k), Justyn Knight (5k), Kyle Merber (5k), Mo Ahmed (10k), Diego Estrada (10k), Callum Hawkins (10k), Shadrack Kipchirchir (10k), Hassan Mead (10k), Patrick Tiernan (10k), Marielle Hall (5k), Sifan Hassan (5k), Allie Ostrander (5k), Kim Conley (10k), Amy Cragg (10k), Emily Infeld (10k) and Emily Sisson (10k).
*Stanford U's Guide to the 2017 Payton Jordan Meet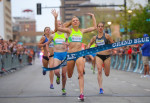 We take quick look at last week as we're really busy getting busy for a big week this weekend.
Previous Sub-2 News
Former Boston Marathon Winner Amby Burfoot "Here's Why The Sub-2 Marathon Guys WIll Bonk "The Nike Sub-2 runners are going to start way too fast. They pretty much have to. … Hence, according to the laws of human physiology, they will bonk badly."
Citus Mag: Evaluating Nike's Sub-2 Project Vs Other High Profile Pop-Cultural Promises Talking about the pre-race hype, Paul Snyder writes, "Nike is pretending to rest its hopes on one of these three men [can run] 1:59:59 or faster. … But sub-two or not, Nike's already won."
From Nike.com: Meet The Man Behind The Breaking2 Project Nike's VP of Special Projects, Sandy Bodecker, actually has 1:59:59 tattooed on the inside of his wrist.
The Irish Examiner Explains Why Even If Eliud Kipchoge Does Break 2-Hours, It Won't Count As A WR It won't be because of Nike's new 4% shoes as the IAAF technical committee apparently ruled that the shoes are legal.
MB: Nike Sub-2 Attempt Will Have Some High Profile Pacers The lineup of 18-pacers includes Bernard Lagat, Chris Derrick, Andrew Bumbalough, Sam Chelanga and Collis Birmingham.
The Rosas Speak To LRC

LRC Agents Federico And Gabriele Rosa Answer Our Questions About Doping In Kenya After Jemima Sumgong's "A" Positive Test The Rosas have suspended everyone in their women's marathon group (Olympic, Tokyo and Paris champs). They say they are fighting the scourge of doping in Kenya and before Sumgong's bust had started blood testing their own athletes, and kicked two out for suspicious values.
Non-Penn/Drake Weekend Action
Want a Better Running Shoe?
Beta Better Running Shoe Site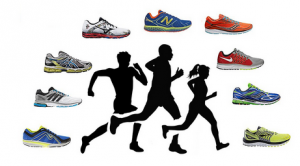 It's Time to Change How We Find Running Shoes