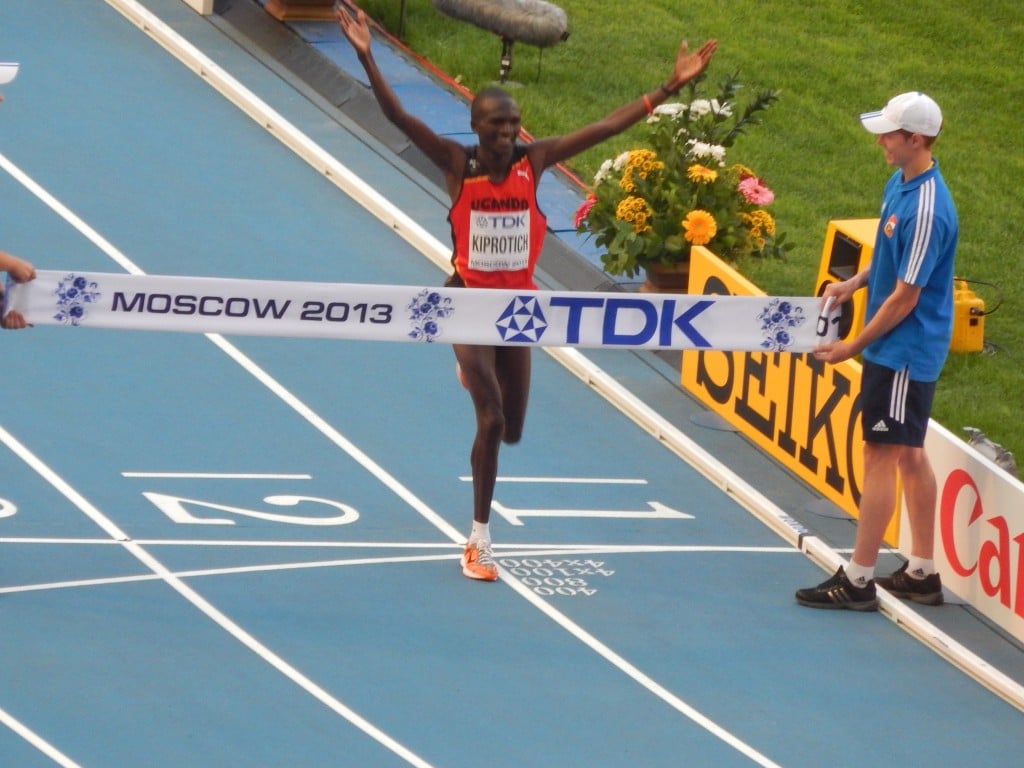 Friday Night (ET): LRC Worlds Start with a Bang – A Clash Of The Titans in the Marathon Prime Time Friday Night in USA The 2015 World Championships start with a bang as world beater Wilson Kipsang, WR holder Dennis Kimetto and Olympic/World champ Stephen Kiprotich lead a field that includes six 2:05 or faster runners and 24 men with sub-2:10 PRs. The race should be LIVE on Universal Sports in the USA (7:30pm eastern).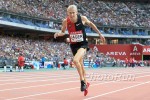 LRC Can Evan Jager Do the Unthinkable and Win Gold: Worlds Men's Steeplechase Preview It's Jager vs the Kenyans in the USA-Kenyan dual meet as Kenya and the USA have the top 7 entrants.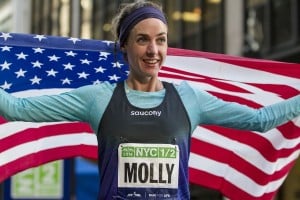 Monday Morning: LRC 2015 World Women's 10,000 Preview: Can Anyone Stop Vivian Cheruiyot From Returning To The Winner's Circle And Winning A 4th Track Gold? Will Molly Huddle Medal? An American man has never medaled in the 10,000 at Worlds but Molly Huddle has a real shot at joining Kara Goucher and Shalane Flanagan as a global medalist. Vivian Cheruiyot is back from maternity leave and seems like a near lock for gold given Tirunesh Dibaba's absence.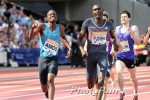 LRC M800 Preview: A Classic: Amos vs Aman v Rudisha The 3 titans at 800 are ready to battle once again. Should be a great one.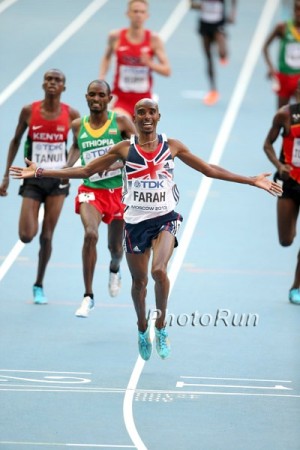 Saturday Morning: LRC 2015 World Men's 10,000 Preview: Can Geoffrey Kamworor (Or Anyone) Stop Mo Farah? Can Galen Rupp Medal? This year, in the span of 118 days, Mo Farah ran 59:32 for 13.1 and 3:28 for 1,500. How does that combination of strength and speed possibly lose? World XC champ Geoffrey Kamworor hopes he has the answer – be in shape to run 27:11 for 10,000 at 5,500 feet of altitude. *Discuss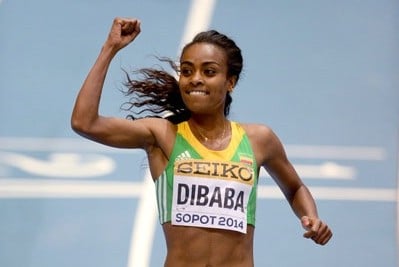 LRC 2015 Worlds Women's 1,500 Preview – "On paper, this isn't a race; it's a coronation." – Can Americans Jenny Simpson And Shannon Rowbury Somehow Take Down Genzebe Dibaba? What a race. This race has it all. The returning champ. The European champ who has run 3:56.05. Two historically fast Americans. And, oh yeah, the world record holder. We break it down for you in 3,300 words. This preview is so good we feel guilty not charging you for it. *Discuss
*LRC The Lauren Johnson Story: From Over 2:20 For 800 In HS To The U.S. World Championships Team At 1,500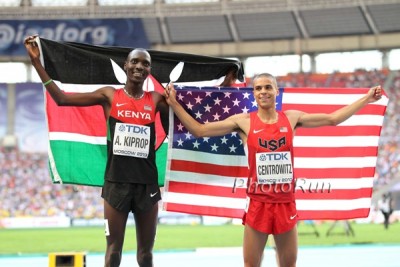 LRC 2015 Worlds Men's 1,500 Preview – Can Favored Asbel Kiprop Win His 4th Global Gold Against This Historically Loaded Field? Asbel Kiprop looks to join Hicham El Guerrouj and Noureddine Morceli in the history books as a 3-time World Champ but he's got his hands full as Matthew Centrowitz, Silas Kiplagat, Ayanleh Souleiman and Taoufik Makhloufi all could strike gold or go home without a medal as this field is LOADED. We break it down for you in nearly 4,000 words. *Discuss
IAAF: Event-By-Event Previews
*Men: *100 *200 *400 *110H *400H *HJ *PV *LJ *TJ *SP *Discus *Javelin *Hammer *Decathlon
*Women: *100 *200 *400 *100H *400H *HJ *PV *LJ *TJ *SP *Discus *Javelin *Hammer *Heptathlon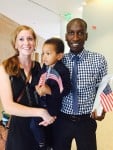 Sam Chelanga always vowed he'd bring change to his totally impoverished village where his mother died when he was young. At age 20, he was told by marathon world record holder Paul Tergat he should become a runner if he wanted to go to college. Chelanga's first thought was no way. "I went home and I had made up my mind. This dream of helping people, trying to get a higher education, it's too much. It's hurting me," said Chelanga, but in the end, he gave it a try and now a 27:08 collegiate record, 4 NCAA titles and favorite status for the 2016 US Olympic team are his reality - as is clean drinking water for his village.
The Answer To Doping Is Not Legalizing It
Looks Like Nick Won't Be There: Nick Symmonds Gets Huge Profile In New York Times – A Sidelined Track Star, Continues To Break From The Pack Little LetsRun.com, our editorial on this issue, and our message board get a prominent mention. Doesn't sound like there will be legal action, so it looks like we all won't get to see Nick at Worlds, which is a huge bummer. Shame on USATF.
Sports Illustrated Catches Up With Soon-To-Be Silver Medalists Kara Goucher & Shalane Flanagan Flanagan had always thought she was the silver medalist and joked about it to her family as it was widely thought on the circuit that Elvan Abeylegesse was dirty. Goucher also says she raced 100% clean under Alberto Salazar. "I trained very well under Alberto," Goucher said. "I believe that he can train people to great races clean, but what I witnessed in 2011 was different."
Conseslus Kipruto Fires Warning Shot Ahead Of Beijing Steeple – "I feel this is the year for me to make a breakthrough."
Outdoor Glory Finally Beckons For Genzebe Dibaba, Who Is Feeling Some Pressure "I have to do it, especially after what my sister has achieved. I have to do the same, if not better," said Dibaba. But she's dreaming really big down the road. "Now I want them all (world records): the 1,500, the 5,000, even the 800."
Jenny Simpson/Shannon Rowbury, Pay Attention: Swedish Coach Is Optimistic About Abeba Aregawi's Chances In Beijing – "She really believes in this 100 per cent and I feel incredibly good vibes from (her)."
Allyson Felix Explains Why She's Doing The 400, Not 200, At Worlds – She Wants The Challenge "If I am going to try something different, and put a little bit of athletic pressure on myself, moving up to the 400 will be the bigger challenge versus saying I got everything to win or everything to lose by running the 200."
Shelly-Ann Fraser-Pryce Is Entered In Both 100 And 200m For Jamaica, But She Insists She's Not Doing 200m She sent a text from her training camp in Italy.
American Coach Randy Huntingdon Is Leading China's Jumpers And Sprinters And Thinks They Can Excel A long jump gold isn't out of the question for "Sonny" Li Jinzhe.
Rabah Yousif: "My life was saved by coming (to the UK), now I want to repay Britain." Learn all about the inspiring story of Britain's 400m champ (45.01 PR), who defected from Sudan at age 14.
19-Year-Old Dina Asher-Smith Isn't Just Britain's Fastest Woman – She's Also A Student Of Chinese History "I know this sounds really nerdy but you see what we would define as medieval traditions carried through to society today when in a Western world we have eradicated that. They have continued it and I really want to know why."
Record Number Of Countries (207) Will Compete At Worlds And Possible Record Number Of Individuals 1,936 people have entered.
5 Must-Watch Events In Beijing 1. M100 2. W1,500 3. M800 4. MTJ 5. M800
The Cost Of Some Sporting Events Is Too Much For Some
Death Threat At USAs Unveiled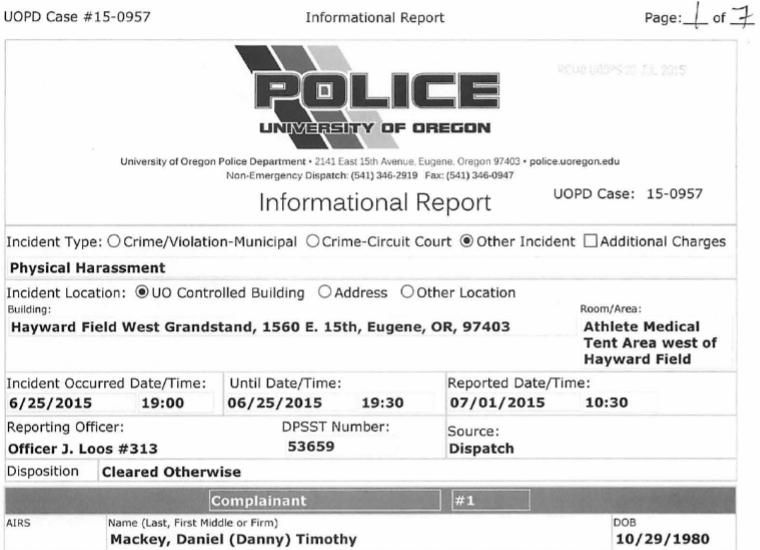 LRC Police Report: Nike Global Director Of Athletics John Capriotti Threatened To Kill Brooks Beasts Head Coach And Former Nike Employee Danny Mackey At 2015 USAs At USAs, it was stated that people had been threatened at the meet but the details were missing – until now. LetsRun.com has obtained a police report stating that Nike's John Capriotti threatened the life of the Brooks Beasts coach Danny Mackey. Witnesses interviewed by LetsRun.com support Mackey's claim.
*MB: Nike's Global Director of Athletics John Capriotti Threatened To Kill Brooks Beasts Head Coach Danny Mackey At 2015 USAs
Want a Better Running Shoe?
Beta Better Running Shoe Site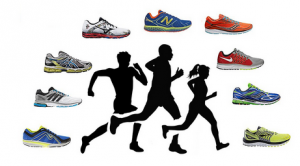 It's Time to Change How We Find Running Shoes