Sifan Hassan Outkicks Abeba Aregawi to Win 2014 European Athletics Championship Women's 1500
By LetsRun.com
August 15, 2014
The Netherlands' Sifan Hassan staked her claim as the best 1500 runner in the world with a 3:57.00 world-leading win in Paris on July 5, and her claim got even stronger on Friday as she defeated defending world indoor/outdoor champ Abeba Aregawi of Sweden to win the European Championships in 4:04.18 in Zurich. Aregawi took the silver in 4:05.08 while Great Britain's Laura Weightman claimed bronze to go with her Commonwealth Games silver.
Coming in, it appeared that the race would be a battle between the two former Ethiopians Hassan and Aregawi, with a gap to Weightman (the only other runner under 4:04 on the year) and another gap to the rest of the field. That's essentially what happened, and though the field did gain on Weightman at the end, it wasn't enough to seize the bronze.
Article continues below player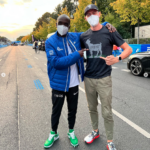 Kipchoge loves the 1:59:40 Shirt Get Yours Today
What a legend!
The Race
The race went out in a fairly honest 65.95, with Russians Anna Shchagina and Svetlana Karamasheva 1-2 at 400. Aregawi was tucked in on the inside in fourth while Hassan sat at the back of the pack in last place.
The field slowed down for the second lap, hitting 800 at 2:15.12, and that was the signal for Weightman to move to the front. She began to push the pace and easily moved away from the Russians with Aregawi and Serbia's Amela Terzic going with her. With 600 to go, Hassan was still in last but knew she had to move up quickly before the race got away from her. She passed a couple runners on the turn and then accelerated past the rest of the field from 500 to go to 400 to go, seizing the lead at the bell.
A 62.88 third lap brought the leaders through 1200 at 3:18.00. By that time, Aregawi had retaken the lead, with Hassan behind her and a gap starting to form between them and Weightman and another gap from Weightman to the rest of the field. Those gaps would grow over the back stretch, and Aregawi still lead into the final turn.
As they prepared to enter the home stretch, Hassan swung wide and made her bid for glory, passing Aregawi. The Swede could not respond and Hassan would end up winning by almost a second as Aregawi had to settle for silver. Hassan covered the final 400 in a quick 60.81 seconds, which was ultimately too much for Aregawi. Poland's Renata Plis made a brave effort for bronze, but Weightman ultimately held her off by .33.
Race video, results and quick take analysis all appear below.
Race video:
https://www.youtube.com/watch?v=qJwCn91LRls
Results:
1 HASSAN Sifan NED 1 JAN 1993 1 4:04.18
2 AREGAWI Abeba SWE 5 JUL 1990 4 4:05.08
3 WEIGHTMAN Laura GBR 1 JUL 1991 12 4:06.32
4 PLIS Renata POL 5 FEB 1985 5 4:06.65
5 DEL BUONO Federica ITA 12 DEC 1994 11 4:07.49 PB
6 ENGLAND Hannah GBR 6 MAR 1987 9 4:07.80
7 SHCHAGINA Anna RUS 7 DEC 1991 8 4:08.05
8 SUJEW Diana GER 2 NOV 1990 2 4:08.63
9 MÅKESTAD BOVIM Ingvill NOR 7 AUG 1981 3 4:08.85
10 PRYSHCHEPA Nataliya UKR 11 SEP 1994 10 4:08.89 PB
11 KARAMASHEVA Svetlana RUS 24 MAY 1988 6 4:11.35
12 TERZIC Amela SRB 2 JAN 1993 7 4:19.11
Quick Take #1: This race was almost identical to Hassan's win at the Glasgow DL meet on July 11.
Hassan went out very slowly to begin that one, but by the end it was Hassan and Aregawi clear of the field, with Hassan outkicking Aregawi over the final 100. She closed in 60.87 in Glasgow and 60.81 today in Zurich. We've embedded the race video below if you need a reminder.
Quick Take #2: Given that, wouldn't it have made more sense for Aregawi to push the pace earlier in the race?
It's hard to be critical of Aregawi since she's clearly one of the top-3 1500 runners in the world and has experience winning big races, but if she saw this was going to be similar to the Glasgow race, wouldn't it have made sense to push the pace with Hassan stuck in the back? Yes, Hassan would have countered the move quickly, but if Aregawi tried to break away at the right point, she may have been able to gap Hassan rather than risk it coming down to a kick as it did when she lost in Glasgow.
A perfect spot to move would have been with 600 to go. Hassan was still in last and would have had to run a lot of extra distance on the turn if she wanted to counter the move immediately. Perhaps Aregawi figured that, a month later, she would have a better chance at outkicking Hassan, but making a hard move with 600 to go may have been her best chance at gold today.
Quick Take #3: Can Hassan and Aregawi help push Jenny Simpson to an American record?
With two straight DL wins and now the European title, Hassan is the hottest 1500 runner on the planet right now. Aregawi is still very good, however, and all three are entered in the Stockholm DL 1500 on August 21. Each has run 3:57 this season and it would be great to see a fast race to give Simpson a crack at drug cheat Mary Slaney's American record of 3:57.12 (Simpson ran 3:57.22 in Paris).
As we saw in the Monaco men's 1500, the best runners plus a fast pace can equal a very fast time. The question is, will any one of those three be willing to do the work and risk getting outkicked, as Asbel Kiprop did in Monaco? Ideally Aregawi would try and get the pace going once the rabbits dropped to give her home fans a show, but Simpson might end up being the one to do it. Simpson did most of the work in Paris and was rewarded with a PR, so she may find it worthwhile to do the same in Stockholm.
Discuss this race in our fan forum: *MB: Sifan Hissan taked down Abeba Aregawi for 2014 European 1500 title, Laura Weigthman gets bronze