2013 Husky Classic Is Friday/Saturday The stacked men's mile is Saturday at 6:35 pm ET.
Arkansas: NCAA XC Champ Kennedy Kithuka Runs 13:26 And Wins By 1 Minute +
UW: Jordan Hasay Destroys Field And Wins By 6+ Seconds In 15:46
Arkansas: Patrick Rono (1:47.66) Spanks Elijah Greer (1:48.42)
UW: Kevin Williams' 13:38 Wins Men's 5k As 22 Guys Break 14:00
Arkansas: Cross, Rono Win Titles On Day One Of Tyson Invite
2013 UK Champs/European Trials Are Saturday/Sunday *Free Live Stream (Starts 9:10am ET Sat. And 9:00 On Sunday)
Other Weekend Action
Random
Doping News From Australia
A Lot Of Interesting US News
Daring To Ask The PED Question
A Must Read: Daring To Ask The PED Question: "If everyone is secretly suspicious of so many athletic achievements, why aren't we talking about it?" In our last Week That Was, we said, "There are two types of runners - those that either 'get' letsrun.com or don't." Well, sports writer Bill Simmons might not be talking about running, but he definitely "gets" LRC as he explains why questioning today's professional athletic performances in is not only okay, but has become part of sports. As he says, "There is no such thing as 'the benefit of the doubt' anymore. Not in sports. Too many people took advantage. All the benefits are gone." It is for this reason that we allow threads like this one to exist: MB: Solomon suddenly world class and Rupp soloing 3.50 indoor miles - Come on Letsun, ask the questions!
Random US News
African News
Doping And Crime
Random International
LRC Photo Gallery


LRC Chris Derrick!?! - National Champion! link fixed The wait is over. Arguably the greatest American collegiate distance runner not to win an NCAA title, Derrick pulled away from Dathan Ritzenhein and Matt Tegenkamp to win his first national title in his first race as a sponsored pro. It was a good day for Jerry Schumacher's crew as they had 3 of the top 4 in the men's race plus Shalane Flanagan winning the women's.


LRC Shalane Flanagan Wins 2013 Women's US Cross-Country Championships Flanagan was the class of the field (World XC bronze in 2011), but Olympian Kim Conley put up a brave fight. Afterwards, Flanagan said she will not run World XC as she prepares for the Boston marathon.

Jr. Races: *LRC 2013 Jr. Girls Results - William & Mary's Emily Stites Dominates
*LRC 2013 Jr. Boys Results - Ok. State's Craig Nowak Wins
*USATF Athlete Quotes
Great Sunday Action In Japan
US Pros In The News
Random International Stuff
Other US News
Kenyan News: Doping And Vivian Cheruiyot Sitting Out World XC
Other Drug Related News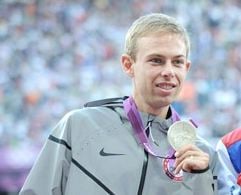 LRC Galen Rupp Runs 3:50.92 Mile To Become Fifth-Fastest Indoor Miler Who said Galen Rupp has no speed? The endurance king has become the speed king the last two years and Rupp showed it on Saturday by running 3:50.92 in Boston to become the 2nd-fastest American indoor miler ever behind Bernard Lagat. *Videos
On The Boards: *Rupp runs 3:50!!
*any updates on the BU elite mile?
*Rupp is the 5th fastest indoor miler in history


updated Mary Cain Smashes High School Mile Record By Running 4:32.78 Cain breaking the record may have been expected considering she ran 4:11 last year outdoors for 1,500 (roughly 4:31 for a mile), but Debbie Heald's old record (4:38.5) was the longest record on the books for high school women (from 1971) and Cain absolutely crushed it - and we use that term knowing it is way over-used in track but well-deserved here. In the men's mile, Robby Andrews faded to 4:11.
*What's Better Than Having An Olympian For A Coach? Having Two: With Salazar Living On The Other Side Of The Country, NZ 2004 Olympian John Henwood Has Been Administering Her Workouts In NY
*Video Interview With Mary Cain
OTB: Mary Cain 4:32.78
*Robbie Andrews
*Other HS: MileSplit Weekend HS Coverage: Edward Cheserek Wins NB Invite Mile In 4:10.92
*Q&A With Edward Cheserek Asking A Lot About His Move To The US From Kenya
*Sarah Baxter Named Gatorade Runner Of The Year For XC, Presented To Her By Allyson Felix

Oregonian's Ken Goe Against High Price Pay-Per-View Track Broadcasts
London Does It Again
LRC 2013 Virgin London Marathon Field Released - Is This The Greatest Men's Marathon Field In History? All we can say is - Wow! The course record holders of all five majors, the Olympic champ, the WR holder - you name it, they got it. And one the women's side? How about the debut of Tirunesh Dibaba plus 4 of the 5 non-pregnant sub-2:20 runners from last year? So sick.
*Reuters: Dibaba To Race In London Marathon *Discuss


LRC Mary Keitany Is Pregnant With Second Child, Will Miss 2013 London Marathon And Season
Usain Bolt The Republican? London Diamond League Meet Will Be So Stacked It Will Be Held At Olympic Stadium But Yet Again, Bolt Will Boycott Due To Taxes
Oregon Indoor Mile Record Holder Mac Fleet Is Pumped To Be back On Track After 2 Years Of Injuries Things were so bad last year, he started drinking heavily and tried to tear his plantar on purpose.
Rest In Peace Will Steele - aka "The Cancer Guy"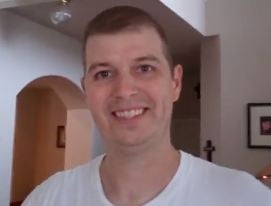 LRC Celebrating The Life Of "The Cancer Guy" Will Steele Will Steele was running 18 minute miles last year. And never has there been a more inspirational runner on LetsRun.com. We pay our respects to this great man who contributed so much to the LetsRun.com community and lost his battle with cancer one month ago on Christmas eve.
Want To Watch A Live Stream Of The New Balance Games Or The Armory Collegiate Invitational? It Will Cost You $20 And just think many of you complained that the entire Diamond League Series on UniversalSports.com was too much at $25 with individual meets just $1.99. In our book this doesn't seem to be about track fans, but about getting parents to pay.
Dying Too Young
LRC 4-Time World Marathon Majors Runner-Up Abderrahim Goumri Has Died At Age 36 The former MAR national record holder at 2:05:30, who once ran 12:50 for 5k and was twice the runner-up in New York, has been killed in a car accident. Goumri was busted for drugs due to the biological passport last summer.

Former 10k World Record Holder Samson Kimobwa, Who Ran 27:30.47 On June 30, 1977 In Helsinki, Has Died Suddenly At Age 58 Interesting fact - he coached Boaz Cheboiywo in Kenya and went to Washington State. *Wikipedia Page
*IAAF Tribute To Samson Kimobwa And Abderahim Goumri
Great Idea: 2004 Olympic Hurdles Champ Joanna Hayes Wants Runners To Have Customized Jerseys
Houston Marathon/Half Was Sunday
LRC Ethiopians Feyisa Lilesa And Mamitu Daska Win 2013 Aramco Houston Half Marathon The performance of the day belonged to Daska, who was dominant on US soil just as she was in all of 2012. Shadrack Biwott (62:23) and Lisa Uhl (73:28) were the top Americans as Luke Puskedra and Aaron Braun also broke 63.

LRC Bazuk Worku (2:10:17) And Merima Mohammed (2:23:27) Win 2013 Chevron Houston Marathon Titles The former WJr. record holder picked up marathon win #1 as Andrew Carlson (2:17:16) and Tera Moody (2:39:10) took top American honors.

RRW: Ethiopians Sweep Titles At Cold, Wet 2013 Chevron Houston Marathon & Aramco Half Marathon Includes quotes from Biwott, Carlson, Uhl.
Unbelievable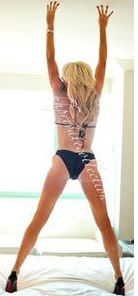 The Smoking Gun.com: Suzy Favor Hamilton Has Been Working As $600/Hour Escort For Last Year SFH, the 3-time Olympian, has been one of the hottest commodities in the escort business over the last year as she jumped up to a #3 ranking and got rave reviews for her runner's body and for providing the "full GFE (girlfriend experience)." One client raved, "I would do anything to protect her. ... She is worth every penny. I will go bankrupt before I stop seeing her. I hope no one else goes to see her, because I want her all to myself. ... I never thought I would find anyone in this hobby like her."
*Definitely Not Politcally Correct: Chicago Sun-Times Columnist: SFH isn't alone - lots of female distance runners are total nut jobs SFH had "a glint of ferocity in her eyes, of suppressed danger. I saw the look in many of the Wisconsin middle-distance and long-distance female runners. In my book, I made special note of them, of their lapses into near insanity, of their successes and crashes and eating disorders and dependence on their controlling German head coach, Peter Tegen."
*Suzy Favor Hamilton Issues A Statement
*MB: Suzy Favor-Hamilton: Vegas Escort