Jessica Ennis Getting The Post-BBC Sports Personality Award Show Headlines
Kenyans Making News
Weekend Results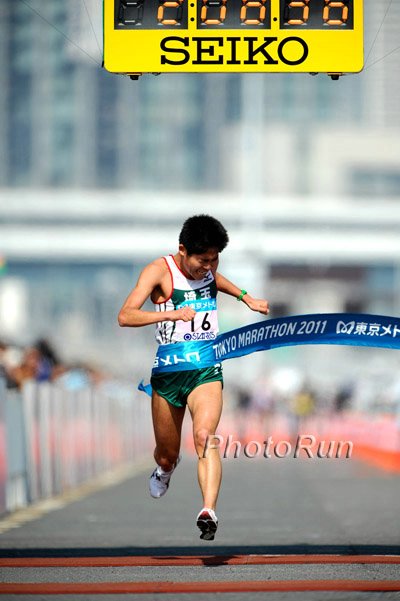 Amazing: Two Weeks After Running 2:10:29 At Fukuoka, Yuki Kawauchi Wins Hofu Marathon In 2:10:46 This was a WR for the shortest-ever time between sub-2:11 performances. The 63-year-old age record also went down as Yoshihisa Hosaka ran 2:46:30. Watch out, Ed Whitlock.
*World XC Bronze Medalist Vincent Chepkok And Mercy Cherono Take The Wins At Spanish Venta de Banos XC Meet Sub 27-10k runner Kenneth Kipkemoi was 2nd.
*Former Amsterdam Marathon Champ Magdalene Chemjor Wins Kisumu International Marathon In 2:31:12 Daniel Kipkorir Kilimo won the men's race in 2:14:48 as last year's champ, Joseph Biwot, finished outside the top 10.
*IAAF Recap: Universal Entertainment Wins Japan Corporate Women's Ekiden
*Jackson Limo Wins Independent Electoral And Boundaries Commission 10k In 29:09 This is the race you had to be registered to vote in order to compete.
Track Starts Soon
A MUST Read - One Of The Greatest Races Ever Run - The US Women's Version Of The Billy Mills 10,000 Win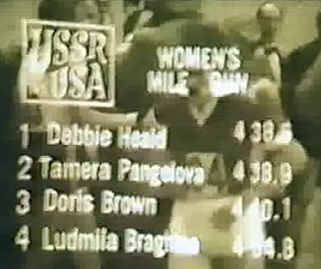 RWorld Reintroduces The World To Debbie Heald, Who 40 Years Ago Incredibly Ran The US HS Indoor Mile Record Of 4:38.5 Steve Friedman's piece on Heald is moving to say the least. Heald, whose father had committed suicide, who had been molested and who was always battling injury (13 different running-related surgeries), somehow at the US vs. USSR meet at age 16 in 1972 beat the greatest runners in the world, including the indoor 1,500 record holder and that year's eventual Olympic 1,500 champion, by running an a 8.5-second PR of 4:38.5. She came from way back to win thanks to a ferocious kick and she was known for having no kick. Her life since then has been full of struggles with schizophrenia but her HS indoor record still stands.
MB: Debbie Heald article in RW

Heald's Incredible 1972 Race

More On Heald:
*2002 LA Times Feature
*1972 Sports Illustrated
*1967 Faces In The Crowd At Age 11
From The MB:
*16-year-old Debbie Heald takes down the Russians, sets AR in 1972
*No wikipedia entry for Debbie Heald ...
*1972 USA vs. USSR: 16-year-old wins the women's mile in a national record. (still standing)
*1972 Video Of Debbie Heald
Did You Know? Sunday's Marathon In Kenya Costs $3.32 To Enter & Features $2,322 1st Prize The 1st prize is 699 times the entry fee so it would be like the New York City marathon paying out $178,346 for 1st place ($255 fee), which is about right, as the winner of NY likely gets more than that if you factor in an appearance fee.
Not Very Good At Running? Maybe There Is Hope
NCAA Champ Kennedy Kithuka Says He Sucked As A Jr. In HS "When I was a junior in high school, running was not fun. It was hard for me. I was slow."

Of Course It Helps If You Run 8:47 In HS The IAAF Looks At Evan Jager's Meteoric Rise In The Steeple
Former Stanford Runners In The News

More Charity News

*"Bolt Gold" Nissan GT-R Sells For $187,100 At Charity Auction The price was twice what was expected and goes to the Usain Bolt Foundation. Besides the color, it includes his signature on the dash.
Oscar P Versus The Horse
International: Abel Kirui Wants A Three-Peat At World Champs
The Running Event Is In The Books *Photos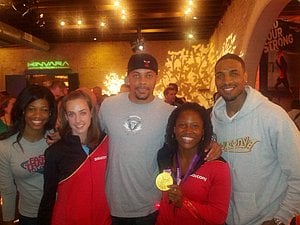 LRC The 2012 Running Event Is In The Books: Five Takeaways On The Industry Shark Tank's Daymond John Speaks The trade show for specialty running shops was last week in Austin, Texas and LRC's Wejo was there plus Ryan Hall, Meb Keflezighi, and most of Saucony's top athletes. The running industry should be renamed the "how to not get injured" industry. Some take-aways from the convention.
*Press Release: The Running Event 2012 Attracts 2,100 To Austin
Boys: Edward Cheserek Repeats After Battle With Sean McGorty McGorty, the South champ, and Jake Leingang, the Midwest champ, didn't make it easy for Cheserek, but there is a reason Cheserek doesn't lose - he's the best in the US high school ranks. The four Regional winners went 1-2-3-4. *Results *Milesplit Recap *Edward Cheserek Interview

Girls: Anna Rohrer Overcomes Fall To Win Rohrer pulled away for the win after falling after the start. Her Midwest teammates dominated the race with 6 in the top 10. Catarina Rocha of the Northeast was the runner-up, with both runner-ups having a least one Foot Locker finalist parent. *Results *Steve U's Recap *Anna Rohrer Interview
*OTB: Sarah Baxter 2016 Olympics? *wow footlocker, get your cameras fixed. learn how to cover a national race *Has Foot Locker gone too far?
UK News: Paula Hasn't Given Up Yet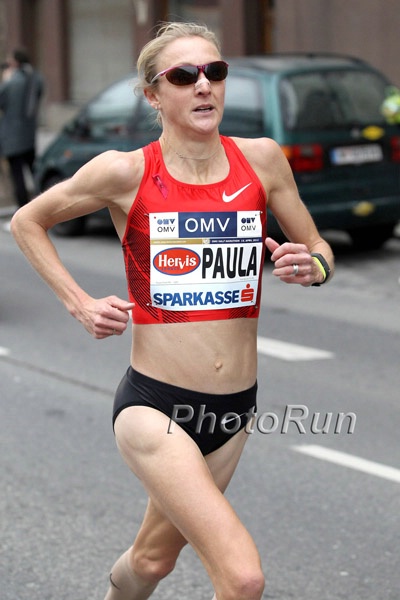 RR: Paula Radcliffe: "I'm kind of at that crossroads coming off a big surgery and I desperately don't want my career to be finished." The plan is to be back running by Christmas and then start racing next year with a 10k or half in the spring and a marathon in the fall.
*UKA Chairman Ed Warner Says Retractable Seating Is Key To The Success Of The Olympic Stadium And Says They Should Have Been Installed From The Start He said retractable seating "allows us to use the stadium for all the athletics we need each summer, big rock concerts, and for a full football season" and be used 52 weeks a year.
*Jessica Ennis Talks About How She Hated Weight Training When She Was Younger Because She Didn't Want To Get Bigger
Ryan Hall To Be Coached By Renato Canova America's 2:04:58 man, who just turned 30 in Oct., blogged today that he'll be coached by famed coach Renato Canova - the famed LRC poster who in the past has coached/advised many Kenyan stars. We wonder if the relationship will be a traditional coaching one or more of an advisor role.
*Canova: Hall is "such a great talent."
*MB Discussion On Ryan Hall's Decision

More On Canova From The MB:
MB: Part 1 Of Canova Profile *Part 2
*Summary Of Renato Canova Principles
More HS News: Dyestat Name & Archives Move Over To Runnerspace.com
*2nd Release On Dyestat
*MB: Dyestat is BACK
Kenenisa Bekele Finishes His Track
Kenenisa Bekele Builds His Own Track/Runner's Paradise In Ethiopia And Hotel For Athletes Wishing To Use It It is in an area with 20 miles of forest trails in the mountains as well as flat woods right behind the hotel. He says he spent $1.5 million on the track, which currently has 6 lanes, but he plans on adding 2 more and adding seating so they can host elite track meets.
Reigning World Cross-Country Champ Imane Merga And 2012 Berlin Marathon Champ Aberu Kebede Won Sunday's Ethiopan Club XC Titles

Lolo Jones Has Survived Her First Bobsled Crash And she even jokes about it: "God is real. I saw him today and he said come back later."
In Case You Were Gone Over The Weekend: IAAF Gala Awarding Athlete Of Year And Celebrating 100 Years Of IAAF
Usain Bolt, Allyson Felix: 2012 IAAF Athletes Of The Year Bolt won out over Aries Merritt and David Rudisha and of course Mo Farah (who was not a finalist, which means he didn't finish in the top 3). Jessica Ennis and Valerie Adams were the other women's finalists. LRC cast its ballot for Rudisha and Felix. The IAAF should release the vote tallies.
Thanksgiving Day Action
And To Think, Unlike Lance, He's Actually Clean

Unbelievable 4 Months After Nearly Dying In Bike Crash, Lukas V Runs 5:25 Pace For 2.5 Miles The phenom who went sub-4 in HS is truly thankful to be second in his age group. *MB Thread On Lukas V's Comeback

Chiba Ekiden: Galen Rupp Wins His Leg With 28:20 10k Split (28:46 Was 2nd) As Kenya Edges Japan The most impressive running by a male may have come from New Zealand's Zane Robertson, who ran 13:29 on leg #1. His twin Jake also won his leg. *MB: On Chiba Ekiden
Recommended Read: Update On Twin NZ Runners Jake And Zane Robertson, Who Moved To Kenya On Their Own At 17 Years Old To Pursue Their Running Dreams Zane: "Without Jake I wouldn't have survived. I would have given up. Having each other, when the other one was sick or down, you raise him up. In the concrete cell that kept us going. ... I'm so thankful we went through those hardships for one or two years, because going through them, the way Kenyans do, if you survive you can go through anything."
Track And Field's Male Fans Are Thankful For This
Fit Again & Recovered From Achilles Surgery & Bacterial Infection, Blanka Vlasic Is Ready To Compete Again
Christmas Comes Early To LetsRun.com: LetsRun.com T-Shirts $5 + $5 Shipping Per Order The first batch of LRC shirts sold like hotcakes. We took them offline and now want to get rid of the few remaining sizes before Christmas. Happy Holidays!
Q&A With 2012 US Road Mile Champ Heather Kampf Who Fell & Got Up & Did Great Yet Again The woman who famously fell in college but won fell again at club xcs and got up and her Team USA Minnesota team won the title as a result.
Taking a fish oil supplement in the two months before a marathon might help you avoid post-race illness
We Agree Benita Willis says the biggest benefits from altitude training may be the fact you get away from peer pressure to drink and party
The Next Usain Bolt is White?
Aussies are wondering if 12-year old prodigy is the next Usain Bolt Judge for yourself below but based on the color of his skin we'd say no. He has run 11.72.


Usain Bolt News
*German mag estimates Usain Bolt made 22.3 million this year
*Usain Bolt wants to go sub-19 "I want to be the first man under 19 at the 200 m so that people wille remember it. This is not a joke."
Post Irish XC Victory News
Sports Bureaucrats Making News
US News
Random But Interesting
Irish News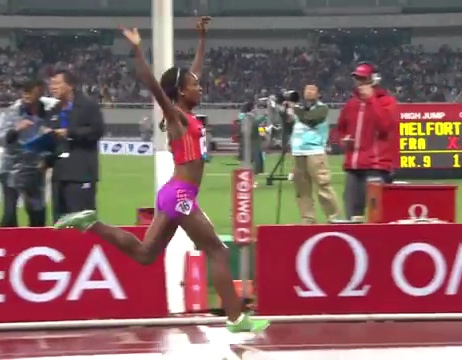 2012 World's Fastest 1,500 Runner - The 3:56 Abeba Aregawi - Is Now Competing For Sweden And Is Eyeing European Indoor Gold She has lived there since 2009 and is married to a Swede but some would says was bullied into running for Ethiopia at the Olympics. We're not sure how she doesn't have to sit out. Under normal situations, rules for, say, Worlds would require a 3-year sit-out (see page 25).
House Of Run's Podcast With Our Favorite Track Announcer Ato Boldon
RTribe Says LRC Is Wrong And Kiprotich Should Be World #1 LRC wrong? Never.
Doping News
Update: 9.88 Man Michael Frater Has Left MVP Club But Hasn't Joined Usain Bolt's Club He's focused on knee surgery rehab and will find a training group later.
For 4th Straight Year, Nut-Job Man Breaks Record For Most Marathons In A Year 67-year-old Larry Macon has run at least 139 marathons this year after doing 113 last year. Pretty inspiring and crazy all at the same time.
Aussie 1,500 Record Holder Ryan Gregson Is Fan Of O.C. And Twenty20 Cricket
Britain Gets Ready To Name Its BBC Sports Personality Of The Year
Don't Let Racial Stereotypes Hold You Back: Jamaican Breaststroker Wins Country's 1st-Ever Medal At The FINA World Swimming Short Course Championships
US News
Spikes Magazine Interviews Morgan Uceny From Her New Training Base In Loughborough, England She says that coach Terrence Mahon said she did nothing wrong in London, she thinks men are better at running tactically then women, and ends by saying, "I just need to get on the podium. I've had my goals for several years and I just need to make it happen."
Sports Science: Viagra Improves Performance In More Ways Than One
2013 Dubai Marathon Is Set For Record Registration, Including One From Moses Mosop The 2:03:06 man hasn't been seen since "disappointing" with a 2:05:03 in Rotterdam in April.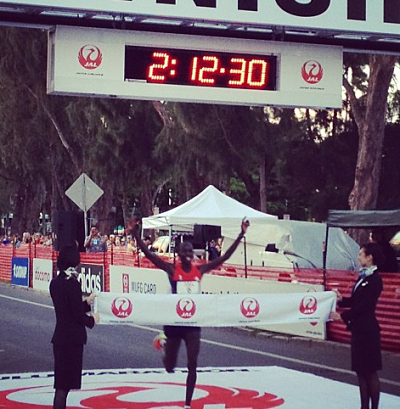 Honolulu Marathon: Wilson Kipsang Solidifies World #1 Ranking With Negative Split Win 2:04:54 man Markos Geneti was 37 seconds back in second. 2008 Olympic decathlon champ Bryan Clay ran 4:46:31.
Women: Russia's Valentina Galimova Comes From Behind To Win In 2:31:23 American Stephanie Rothstein Bruce was third in 2:32:47.
*Bryan Clay Ran The Honolulu Marathon With His Wife Only 8 Weeks After Having Surgery For Five Hernias Clay: "It was a beast. The decathlon is a completely different animal."

On The Boards: Is Wilson Kipsang the #1 Marathoner in the world in 2012 regardless of what happens in Honolulu? *Honolulu Live Talk

USATF Club Nationals: Hansons-Brooks Distance Project's Jacob Riley And Boulder Running Company's Mattie Suver Win Club XC Titles Hansons-Brooks men and Team USA Minnesota women won the team titles. On the men's side, brothers Craig and Matthew Forys were second and fourth. US mile record holder Alan Webb was 7th.
*Team USA Minnesota Press Release
*USATF Club XC Recap
*More Results/Discussion In This Thread

Zatopek 10k: Neely Spence Runs 32:16 In 10,000 Debut As Ben St. Lawrence Tries To Run With Emmanuel Bett But Bett Wins By 36+ Seconds Difficult conditions made the times slow (27:59 for the men's win). *2012 Zatopek Results *IAAF Recap *Photos *Discuss

European XC Champs: Fionnuala Britton Defends Her Title While Leading Irish Women To First-Ever Team Victory; Italy's Andrea Lalli Wins Men's Race Men: Spain wins team title as OSU's Tom Farrell was 4th, Ukraine's 9-time champ Sergey Lebid 15th, and Belgium's defending champ Atewlaw Bekele back in 57th (for the best, since he's likely to be suspended after missing 3 drug tests). Women, Portugal's Dulce Felix was 2nd as Ireland won the team race by one point over France. *Full Results

Other Weekend Results: Jesse Squire At T&F Superfan Reviews Weekend College Marks North Carolina State's Ryan Hill led weekend performances, winning the 5,000 at Indiana's Hoosier Open in 13:43.52 over IU's Zachary Mayhew (13:51.79).
*World Half Marathon bronze Medallist John Mwangangi And Pauline Njeru Win 15Km race honours during Safaricom Imenti South Road Race 15k Patrick Makau was present and said he was preparing for London 2013, but decided to offer himself for team selection to the Kenyan Moscow 2013 team instead.
*Lawi Lalang Opens Indoor Season With A 3-Race Workout He won the 1,000m (2:30.16), 600m (1:22.18) and 3,000m (8:51.09).
*USATF: Junior Olympic Cross-Country Champions Crowned In Albuquerque
Recommended Read: Emil Zatopek - An Incredible Runner (4 Olympic Golds), But An Even Better Man You may know about his legendary workouts like 60 x 400 in army boots but may not know he was a very kind man.
3:37.23 Man Ben Blankenship Is On Comeback Trail Now As Part Of OTC Has a 3:37/3:54 collegiate miler ever gotten less pub than this guy? He was the 3k runner-up to Heath in 2011.

Despite Gold & WR, David Rudisha Still Dreaming Big On & Off Track He wants another Olympic title in 4 years and hopes the youth are used to promote peace in Kenya, instead of being used as props by politicians. "One would say I have it all ... a World title, Olympic title and the world record but I always have something to motivate me."
Weekly Recap
LRC The Week That Was: November 26 - December 2, 2012 This week we start with praise for Bill Aris, who has built the greatest dynasty in US cross-country history. We then tell you why the 2012 Fukuoka Marathon will be remembered for what didn't happen rather than what did. Along the way we talk about 10 greatest half marathoners in history and wonder if anyone running more than 25 mpw or faster than 7:30 miles is killing themselves. Plus talk of Adam Nelson, Haile G, Paula Radcliffe and Martin Lel.
Some Of The Few Remaining Track & Field Journalists Weigh In On Adam Nelson
US News: Adam Nelson On His Way To Becoming An Olympic Champion
The World Is A Corrupt Place - Doping/Corruption News
Sad News: Two-Time Foot Locker Finalist Arrested For Murder Eric Kweder, who has popped up in a number of threads over the years, was 9th in 1995 as an 11th grader - one spot ahead of eventual Olympian Jonathan Riley.
Weekend Results: Fukuoka Marathon: Results *Cal International: Flash Results
BBC Sports Personality Of The Year Award *Full List Of Winners
Doping News: Comrades Marathon Winner Ludwick Mamabolo Could Get Off On A Technicality After Failing Drug Test Apparently there were a few protocol mistakes in the testing process, however none of them seem like they would actually have any effect on the result of the test.
Wetmore-Simpson Round II
LRC Jenny Simpson Coaching Switch Update Former CU Buff Stephen Kasica has some details on Simpson training in Boulder last week. Plus there is a cool multimedia timeline on Simpson's career and some perspective. Simpson won Worlds under Juli Benson, yet never ran within 3.5 seconds of her 1,500m PR. Fascinating.
More Post-European XC News
LRC Meet The 2012 European Cross-Country Champions LetsRun prides itself on promoting the sport's stars as individuals and not just as a group. Normally our efforts are devoted to "the Africans" but today we do the same for "the Europeans." Meet the junior woman who destroyed Mary Cain, meet the "Viking version of Centro" and potentially Italy and Ireland's next marathon stars.

*After A Silver And Bronze The Last Two Years, Serbia's Amela Terzic Finally Got Gold At Euro XC Champs The 1,500 runner was 5 meters down with 500 to go but unelased a sick kick that got her a 9-second win.
*Italian Who Dominated European XC, Andrea Lalli , Has Been Living In Kenya Training With Gianni Di Madonna's Group For Two Years
*Don't Give Up: Both Silver Medallists At European Cross Overcame Mid-Race Struggles Hassan Chahdi of France and Ana Dulce Félix of Portugal showed there is a reason why you run the whole race.
The Week That Was
LRC The Week That Was In Running: December 3 - December 9, 2012 This week we tell you why Wilson Kipsang is the best marathoner in the world, show you how Foot Locker CC is still > NXN, tell you how to PR in 13 straight marathons, talk about how some say EPO doesn't help you and give you our opinion on Ryan Hall's new coach. All of that plus talk of Manny Pacquiao and the Tour de France.
2012 Foot Locker Boys Photo Gallery (Updated)
Ryan Hall Talks About Being Coached By Renato Canova
2012 Foot Locker Legends Pre-Race Photo Gallery
Sports That Are For People Who Can't Cut It In Track: 1) Bobsled 2) Triathlon
After Failing To Make 2012 Olympic Sprint Team, Craig Pickering Is Now Focusing On Boblsed Pickering is a European indoor 60 silver medallist, so he's perfectly suited for the bobsled.
Pickering: Decision Is For The Long Term
Senior Men's European Preview

LetsRun Investigates "Dewey Beats Truman" Providence Beats Oregon
LRC An Examination Of The Timing/Scoring Screw-Ups At The 2012 NCAA XC Championships At the NCAA D1 champs, the wrong national champion was official declared. What the heck happened, could it have been prevented and what needs to be done in the future? At the D3 champs, scores counting all seven runners were displayed. At the D1 South Regional, a wrong qualifying team was announced as well. Did you know the same timing company was involved in all 3 instances? An email from a coach who saw the chaos unfold first hand in Louisville is what motivated us to look into this:
*LRC An Insider Coach's Account Of The "Colossal" Scoring Screw-Up At The 2012 NCAA Cross-Country Champs
Good Read: RunBlogRun Asks What Lies Ahead For Jordan Hasay? "There is an unspoken uneasiness around the fact that Hasay's phenomenal record as a young high schooler is not being fully replicated at the collegiate level ... Hasay's impressive record while at Oregon is nonetheless viewed by some as falling somewhat short of what might have been expected from an athlete who totally dominated her events as a prep."
Our Weekly Analysis Returns At Last
LRC The 2012 NCAA Cross Country Champs That Were We bring back our weekly recap by looking back two weeks to the 2012 NCAA Cross Country Championships. We start by praising the UConn women, Jordan Hasay, Abbey D'Agostino and ourselves before telling who flopped (Iona/Stanford), comparing Vin Lananna and Martin Smith, and telling you who the favorite is for 2013. Along the way, we crush the dreams of all college runners by telling them they likely won't improve (much) after their sophomore year before ending with talk about unbreakable women's world records.
IAAF Gala Photos: The Stars Of Track And Field Are Beautiful People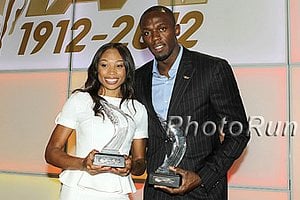 NCAA Cross Photo Galleries (Captions Now Added)
Beautiful People: NCAA Banquet Photos (Click On Photo)
D3 Beautiful People: NCAA Banquet Photos (Click On Photo)