An Insider Coach's Account Of The "Colossal" Scoring Screw-Up At The 2012 NCAA Cross-Country Championships
By LetsRun.com
December 4, 2012
After the scoring screw-up at the 2012 NCAA D1 Cross-Country Championships, we got the feedback of a top 25 NCAA women's coach who saw much of the screw-up first hand. Below is his or her's take on what happened. He or she asked to remain anonymous.
For more, see: LRC An Examination Of The Timing/Scoring Screw-Ups At The 2012 NCAA Cross-Country Championships
Article continues below player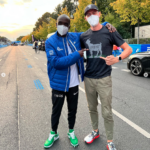 Kipchoge loves the 1:59:40 Shirt Get Yours Today
What a legend!
Actually, it was a colossal screw-up after the finish of the women's race. At least two athletes were left out of the results, Pappas and Winslow.
The electronic scoreboard had scores fluctuating all over the place. After the girls went off for their warm-down, the top 4 teams were announced as Providence, Oregon, Stanford, Michigan. This was announced as the "official" results and Providence was called back to the awards area to do interviews for TV. Oregon women were in tears thinking they lost. I was standing with (Michigan coach) McGuire back in "Tent City" when the Michigan girls ran by elated because they were on the podium. McGuire said to me he didn't understand how that was right.
At that time, I was told that someone had just tweeted that runner(s) had been disqualified; I then began hearing multiple people speaking of runner(s) being disqualified. I went back to the awards are to look at results and, if need be, file a protest. 
There was complete disarray at the finish line. There were no NCAA officials in either the results area or the protest tent to get any sort of explanation from. The posted results were missing both Pappas and Winslow, but there was no listing of a DQ. When I finally flagged an official down to ask how I could find out if any athletes had been DQed they simply shrugged their shoulders and told me the results had been posted and to look at those.
It was a completely unfair situation that many teams had to endure until the real "official results" were finally posted AFTER the conclusion of the men's race. 
Several schools filed appeals to "find" the missing runners within minutes of each other. There was still no NCAA official in the protest tent. A photographer had to show the coaches where the protest forms were and where to borrow a pen from someone else.
Prior to the start of the men's race, "official" results were announced again, this time, only stating Oregon as the winner, but the podium teams still weren't correct. An NCAA official was tracked down and said the tape would not be reviewed until after the men's race. The official then said that no podium teams had not been announced other than the winners so this official either didn't know or blatantly lied about what was going on.