Big Money (and Wilson Kipsang) on the Line at Sunday's Honolulu Marathon
By David Monti
December 8, 2012
(c) 2012 Race Results Weekly, all rights reserved
HONOLULU (08-Dec) — Tomorrow's Honolulu Marathon men's winner has a good chance to walk away from this island paradise with USD 81,000 in prize money and bonuses if he wins the race in under 2:10:00.  The race, from Ala Moana to Kapiolani Park, will be held here for the 40th time.
On top of the $40,000 winner's check, the Honolulu Marathon Association is offering a $15,000 bonus for breaking Jimmy Muindi's 2004 course record of 2:11:12, plus cumulative time bonuses beginning at sub-2:15:00 which would add another $16,000 to the winner's payday for a sub-2:10 clocking.  The high humidity, warm temperatures and hilly course make running fast times difficult here.
Article continues below player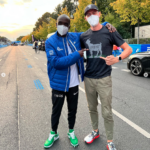 Kipchoge loves the 1:59:40 Shirt Get Yours Today
What a legend!
The race's elite men's field boasts seven men with sub-2:08 career best times, led by Kenya's Wilson Kipsang and Ethiopia's Markos Geneti who have run 2:03:42 and 2:04:54, respectively.  The others in the sub-2:08 club are Kenyans Nicholas Manza (2:06:34), Nicholas Chelimo (2:07:38), Patrick Ivuti (2:07:46), Jimmy Muindi (2:07:50), and Moroccan Abderrahime Bouramdane (2:07:33).
The men's field here is probably its strongest, ever.  Kipsang is the reigning Virgin London Marathon champion and Olympic Marathon bronze medalist, while Geneti was one of just seven Ethiopians who broke 2:05 this year.  Chelimo and Ivuti have both won Honolulu twice, Muindi has won six times (he's running the race for the 20th time), and Bouramdane was fourth at both the 2010 London and 2011 World Championships Marathons.
The women's contest is more of a battle for place than time.  Defending champion Woynishet Girma of Ethiopia (2:27:51 PB), should get her biggest challenge from compatriot Misiker Mekonnin Demissie (2:25:20) who was supposed to run the cancelled ING New York City Marathon.  Russia's Svetlana Zakharova, 42, a three-time champion here, is running her last competitive marathon (she was inducted into the Honolulu Marathon Hall of Fame earlier this week), and Kenya's Hellen Mugo (2:27:00 PB) and Emma Muthoni (2:29:52), Russia's Valentina Galimova (2:30:30) and Flagstaff, Arizona's Stephanie Rothstein Bruce (2:29:35) are all well-matched.
The women's course record is 2:27:19 by Russia's Lyubov Denisova set in 2006.  There is a $15,000 bonus for that record, plus another $26,000 in cumulative time bonuses for sub-2:26:00.
Tomorrow's race begins at 5:00 a.m.  Nearly 32,000 runners have registered, the most at this event in ten years.