The Week That Was In Running - July 4-10, 2011
To read any 2010 LRC Week That Was, click Here.
To read last week's The Week That Was, click Here.
By LetsRun.com
July 7, 2011
With two Diamond League meets, last week was certainly exciting one for fans of professional track and field. The big stories from an American distance perspective were Galen Rupp's PR and defeat of Imane Merga at 5,000 and Morgan Uceny's second straight Diamond League 1,500 win.
We've been trying to offer a lot of our insight into the action the day it takes place in our Diamond League recaps, which you can find for last week at the following links:
LRC Birmingham Recap: Morgan Uceny (& Mo Farah) Do It Again As Rupp Takes Merga's Scalp!!!
LRC Paris Recap: American Men Get It Done In 1,500, Semenya Wins Bizarre 800, Flanagan Just Misses American Record, Bolt Entertains And Can A Frenchman Win Worlds In The Steeple?
But we can't get to everything the day it happens, so below we add more insight into last week's action.
We analyze Morgan Uceny's win a little bit more, wonder if Matt Centrowitz will ever run faster, praise Tyler Mulder, take a trip down memory lane and relive Alan Webb's Paris victory from 2007, and along the way in light of Alberto Salazar's comments about Mo Farah's training, we try to defend the LetsRun.com training philosophy. Plus we introduce you to the most amazing HS track and field coaching staff in the country - one that features 3 Olympic gold medallists.
****
Morgan Uceny Wins Again & The Crazy Thing Is She Thinks She's Not Good At Tactical 1,500s
"In Lausanne, I felt a little dead. I was just happy to come away with a victory, the way I felt. And then (in Paris), I felt antsy the whole time, I just really wanted to go after it. But I'm learning some patience."
"It's a good (confidence boost to win two tactical races), because usually that's the kind of strategy I'm bad at. The kind of race that goes out fast and stays hard, that's more my comfort zone. Being able to do these type of (tactical) races, I don't feel I have the weaknesses that I used to. Any race situation, I feel I can handle."
- Morgan Uceny as quoted in a South Bend Tribune article (via a flotrack interview) on her two Diamond League victories at 1,500. The #1 story for US distance fans last week was Uceny's win in Paris, which made her in our minds the #1 1,500m runner on the planet. Uceny has proven herself to be virtually unbeatable over the last few weeks in tactical 1,500s. If she ends up being correct in that tactical 1,500s are her weak point, then the rest of the world should consider raising the white flag.
It's interesting that the former 800-meter runner thinks she's better in fast-paced 1,500s as her PR for 1,500 is a modest (by world class standards) 4:02.40.
It could be that she's actually not better in fast 1,500s - she just thinks she is - as fast 1,500s is really what she is used to running. Uceny was basically a pure 800 meter runner up until the very end of her collegiate career, so her only experience with the event was largely professional, rabbitted 1,500s.
Consider this - Uceny ran three 1,500s in all of college - a 4:30 1,500 win to qualify her for ECACs, and the two rounds of ECACs, which she won as a senior in 4:17.18 in 2007.
In 2008, Uceny finished 4th in the 1,500 at the 2008 US Olympic Trials. That finish didn't garner her a ton of publicity but it should have, as it was the 7th 1,500 event (an event with many rounds counts as one) of her life.
Even now, Uceny still has run less than 30 1,500 events for her career. By our count, her next 1,500 will be the 30th of her career - and that counts indoors.
****
Alberto Salazar Talks About Mo Farah's Training And Seemingly Invalidates The Whole LetsRun.com Training Mantra - We Try To Save It With A 5-Point Defense
"The good thing about Mo is that often he's only doing two-thirds that Galen is doing today."
"To me thatís very exciting. He's running so fast but I'm still being very careful with him in terms of speed work. I just tell him, 'Wait till next year and then we're going to see how fast you can close.'"
"He used to run all his mileage very slowly. His average pace was probably 6min 45sec per mile. Now the average pace that he and Galen run is about 5-45, and that's 17 to 20 miles a day. They sometimes do 20 miles and go 5-30 pace, and that isn't a particularly hard day."
- Alberto Salazar talking in The Telegraph about his coaching of Mo Farah, who last week laid claim to being the #1 distance runner on the planet by winning the 5,000 in Birmingham.
For the people (including the starter of this thread, who may have been a troll "I'm thinking of altering my weekly running by switching from a steady diet of 10-12 milers at 7:30/mile to 5-7 milers @ 6:45/mile") who think the above quotes go counter to the LetsRun.com training mantra, which everyone seems to incorrectly believe is just lots of slow/junk miles, we will offer the following points:
1) This doesn't contradict our advice at all. If anything, it shows that speedwork is overrated, as Farah has outkicked the world's best at Pre and in Birmingham without a ton of speedwork. Mo is faster because he's stronger than in the past.
2) We have never advocated running "slow" for the sake of running slow. A functionally comfortable easy day pace - allowing recovery while also providing a training effect - doesn't have to be "slow." Recovery should be the first priority. We've just always realized that one should make the per-mile pace of their easy days as the very last aspect of their training and that way too many people run too fast on their easy days and don't recover. The bigger point is Mo Farah appears to be doing a good deal of mileage, which we do advocate.
Or as malmo said in a great message board post:

"'Easy' is a feel, not a pace. Comparing your easy pace to someone else's easy pace is pointless. Some run easy runs slower than others. Some run them faster. No news here."
3) We've always been huge, huge proponents of high/low training and have argued that proper altitude training can be worth as much as one second per lap. Farah had trained at altitude before but we aren't sure if he had access to altitude tents (which simulate the high/low effect) before, so a big portion of his improvement could simply be the high/low training. LetsRun.com Wejo "Sucked in College" and went on to be 4th in the US twice by doing high/low training.
****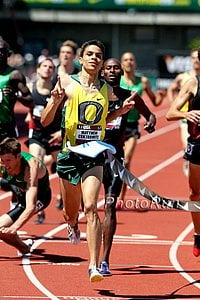 Is Matt Centrowitz Now Jinxed?
One of the big stories of last week was that the four Americans in the Paris 1,500 all eclipsed the Olympic and World Championships A standard of 3:35.00, as Bernard Lagat ran 3:33.11, Leo Manzano ran 3:33.66, Andrew Wheating ran 3:34.39 and 2011 US champion Matt Centrowitz ran 3:34.69.
After the race, the Oregon website had the following to say about Centrowitz:
According to USA Track & Field records, Centrowitz's time is the 11th fastest ever by a collegian, and the fourth-best by an American collegian. Among Americans, only Jim Ryun of Kansas (3:33.1/1967), Seneca Lassiter of Arkansas (3:33.72/1999) and Paul McMullen of Eastern Michigan (3:34.45/1995) have run faster times as collegian.
That's the good news. Centrowitz's performance clearly was special. The bad news is we did some investigating and found some crazy stats on the guys who ran faster than Centro in college and what they did afterwards. Here's what the LRC research revealed:
Jim Ryun of Kansas (3:33.1/1967) - never ran faster.
Seneca Lassiter of Arkansas (3:33.72/1999) - never ran faster.
Paul McMullen of Eastern Michigan (3:34.45/1995) - didn't PR until 6 years later, when he ran 3:33:89 in 2001.
One of the problems with running is that people often take it for granted that they'll keep improving with each passing season. Sometimes that doesn't happen.
When people rip the US collegiate system, we always defend it, as the structure of a college team is something that is very hard to replicate (of course, we guess critics could argue that the college system "ruined" Ryun, Lassiter and McMullen, whereas we'd disagree and say it helped produce their great times).
That being said, anyone who actually watched the Paris race is probably convinced like we are that Centrowitz can and will run faster, as due to traffic, he ran way more than 1,500 meters in Paris. For the entire last 400 meters, we don't think Centrowitz put a single step in lane 1. He ran it all in lane 2 before finishing in lane 3. And this is after running the first turn of the race three-wide and much of the race at the very outside of lane 1. If he got a perfect race right now, he might be able to run 3:32. We think he has a bright future, but we still remember thinking Seneca Lassiter was going to be the next great American miler.
****
Quote Of The Week That Wasn't Quote Of The Day
Caster Semenya Explaining How You Don't Have To Be Fit To Be Good At 800m
"But even if I'm not back to the top shape I can still retain the title. The 800 - anybody can win it, whether you are super fit or not."
- Caster Semenya being quoted in The Independent prior to her Paris win last week.
Undoubtedly, the lack of respect many cross-country runners give to mid-d runners will only grow after they read that quote.
****
Overlooked Performance(s) Of The Week
2008 NCAA indoor champion Tyler Mulder finished in the most agonizing of spots at USAs this year, as he was 4th. That being said, it was by far his best showing at USAs and he's been having a great year, as he's lowered his PR from 1:46.32 to 1:44.83 this year. Well, Mulder's magical 2011 campaign got a little better last week as in his first race since USAs, he took the scalp of 2004 Olympic champion Yuriy Borzakovskiy in Madrid, runnbing 1:45.10 to Borzakovskiy's 1:45.57. And it's not like Borzakovskiy is washed up, as the Russian had run 1:43.99 the week before.
Another performance that largely got lost in the shuffle last week was the PR and Olympic A standard that Delilah DiCrescenzo got in Birmingham when she ran 9:40.63 (previous PR of 9:41.68 from 2008).
More: *Madrid Results
****
2011 World Youth Champs: Burchman, Wilson And Weissenbach Impress
Given the fact that age cheating is rampant and, given the fact that we're not sure what the societal value is in over-hyping 16-year-olds, we don't normally have a lot to say about the World Youth Championships.
However, we know the Americans' ages are legit, so kudos to Ajee Wilson for taking home the girls 800 title as well as for West Virginia sophomore Jacob Burchman running 3:46.55 for 1,500, which equates to a 4:04-ish mile, which is way faster than any other 16-year-old American has ever run.
Having mentioned that, there was one overlooked performance from World Youths that we'd like to point out. While Wilson won gold, her teammate Amy Weissenbach, who had defeated Wilson at USAs, ended up 4th. For those of you that think 4th is the first "loser" as they are shut out of the medals, you'd better rethink what sports are all about.
The effort that Weissenbach gave in diving at the line trying to get bronze was truly remarkable. Watch for yourself. Video #1 of The Week:

Let Us Introduce You To The Most Credentialed Coaching Staff In America
While we're on the subject of Weissenbach, we have to point out that Cami Chapus, who ran 4:17.12 for 1,500 at the World Youth Champs, is her high school teammate at Harvard-Westlake. Yes, they both are on the same high school team and both have a year of high school left. Incredible.
We then went to look up who their coach was or see if we could find an interesting story on the school. The head coach, Jonas Koolsbergen, and the distance coach, Tim Sharpe, are two guys we've never heard of. Then we saw the list of assistant coaches. Holy [email protected]#[email protected] Olympic 400m gold medalist Quincy Watts is the sprints coach, but he's not good enough to handle the hurdlers, as Felix Sanchez (the 2004 Olympic gold medallist in the 400m hurdles) is the hurdles coach. But wait - he's not good enough to coach the short hurdles, as Joanna Hayes (the 2004 Olympic gold medallist in the 100m hurldes) is the short hurdles/sprint coach. And American 800m record holder Johnny Gray used to be a coach as well.
If anyone knows more about the H-W program and the involvement of the Olympic champions, feel free to email us.

*Thanks to visitor John Nepolitan who directed us to this Dyestat article on Harvard-Westlake's Olympic coaches (we're still hoping someone does an article no Chapus and Weissenbach and their coach)
****
If you believe the age of everyone, there were some truly ridiculous performances in the distance and mid-d races at World Youths which you can read about below.
More World Youth Coverage:
*World Youth Results *US's Ajee' Wilson Wins 800 In 2:02.64 *MB: Ajee Wilson dominates 800m for GOLD, Amy Weissenbach 4th *Video Of Race
*IAAF Article On Kenya's Leonard Kirwa Konsecha, Who Set World Youth Best With 1:44.08 Will he break the "jinx" that no World Youth 800m champ has ever gone on to win a global medal in the senior division?
*IAAF Recap Last Day: Kenya's William Malel Sitonik Wins 3k In 7:40.10 He led from gun to tape and shattered Isiah Koech's previous Championship record of 7:51.51.
*Talk About Moxie: Kenyan Youth 3,000 Champ William Malel Wants World Youth Record And Gold And Talks About Arguably The #1 Record On The Books - Komen's 3,000 WR Of 7:20
*World Youths: "16"-Year-Old Runs World Youth Best 1:44.08 800m To Grab Gold, 2 Others Under 1:45 *MB Thread
****
A Trip Down Memory Lane / Video #2 Of The Week
In doing some research for Paris last week, we realized that Paris is where Olympic silver medallist Nick Willis set his personal best of 3:32.17 in 2006.
It's also where American mile record holder Alan Webb set his 1,500 PR of 3:30.54. Anyone remember this race from 2007?
****
Looking Ahead (Time To Start Getting Excited For ...)
This Weekend: Kenyan Trials
July 22: Monaco Diamond League
July 29: Stockholm Diamond League
July 29-31: UK Trials
August 5-6: London Diamond League
August 27- September 4: 2011 World Championships

****
Recommended Reads
*Craig Mottram: Back In Business (In A More Balanced Way)
*Like Mottram, Zola Budd Loves Competing But Says Maintaining Balance Is Key
*USA Today: Trevor Barron Is A U.S. Racewalker Who Once Gave It Up Because Strangers Mocked Him
*Like Mottram, Zola Budd Loves Competing But Says Maintaining Balance Is Key
****
Quotes Of The Day From Last Week
Monday: "American Morgan Uceny is currently the best women's 1,500-meter runner on the planet. Let us repeat that again: American Morgan Uceny is currently the best women's 1,500-meter runner on the planet."
- From our Birmingham recap, talking about Morgan Uceny's 2nd straight Diamond League 1,500m victory in 4:05.64. It's been a long, long time since that could be said about an American.
---
Sunday: "The monkey's off the back. Now, it's time to start running what I'm capable of. Run intimidating, not intimidated."
- Andrew Wheating after running 3:34.39 to hit the World Championships "A" qualifying standard in Paris. All four Americans - Bernard Lagat (3rd - 3:33.11), Leo Manzano (6th - 3:33.66) and Matt Centrowitz Jr. (11th - 3:34.69) - were under the 3:35.00 qualifying standard. LetsRun.com recap here.
---
Saturday: "I come from - allegedly - that golden era of (British) distance running, and I say to people: 'It wasn't actually that good. And I was there!'"
- 1972 Olympic bronze medallist and Birmingham Diamond League meet director Ian Stewart. All we know is British mid-distance running was awesome in the 1980s.
---
Friday: "I needed the challenge (of going back to university to get my degree while I was hurt), I needed to get it done. Balance in life is crucial to performance in anything. You don't realise how single minded you have been until something goes wrong and how much of the other aspects of your life you've let go ..."
"Running at an international level shouldn't stop you from being a good person, friend, or family member. I may have been lacking it (before), but now I think I'm in a good spot. ... This time around I have other things that I enjoy doing that take me away from worrying about how my running is going all the time."
- A more balanced Craig Mottram talking in a fantastic profile on his comeback from the Australian site Runners Tribe.
---
Thursday: "I don't even remember the last time I ate KFC. I once went without it for a long time and in the end I just couldn't take it. I was yearning so bad for the hot wings that I went down late at night and got a box ...

I haven't had Guinness for about three months. I party less. I'm allowed out sometimes, but it's no alcohol and then back home early to bed. It's the way it has to be - but it sucks."

- Usain Bolt, who is trying to not be "lazy" this year and is back in Europe to race Christophe LeMaitre in Paris at 200m on Friday. Reminds us of the time we saw Bolt chow down on 20 Chicken McNuggets AND an Extra Value Meal at McDonald's.
---
Wednesday: "He made you believe and he believed in his athletes," Quigley said. "That's the best thing a coach could do."
- 13:27/28:03 man Sean Quigley, talking about his coach Charles Torpey of LaSalle, who died doing what he loved - coaching - over the weekend at the age of 58. A staggering number of Torpey's ex-athletes are now coaches in the college or high school ranks, so his impact on the sport will live on for generations to come. Torpey was one of LetsRun.com co-founder Robert Johnson's favorite coaches and Rojo was very lucky to get to watch Torpey hold court on the bike path at the 1st round of the NCAA regionals in Indiana in late May.
---
Tuesday:
"I accept the fact that were I running today, I wouldn't be breaking world records. I just happened to be there at a crucial time."

- Roger Bannister, admitting that even though he ran the first sub-4 mile 57 years ago, he doesn't think he would have been able to be competitive with modern milers. In this SI interview, Bannister talks mostly about some of the interesting things he has done with his life since his running career ended (including overseeing the first urine test for steroids) and where he is now. *Podcast
****
Last Week's Homepages
*Mon (July 11) *Sun (July 10) *Sat (July 9) *Fri (July 8) *Thu (July 7) *Wed (July 6) *Tue (July 5)
---
Runner's World &
Running Times



Combined Only $22
a Year
Save $87

---

Running & Track and Field Posters
---

Great Offer: Nike Lunar Glide Sale Multiple colors of this shoe available.

*Nike Air Max Moto 7 Get 2 Pairs for a Crazy $112
---