The Week That Was In Running - June 27 - July 4, 2011
To read any 2010 LRC Week That Was, click Here.
By LetsRun.com
July 7, 2011
With trips to NCAAs, USAs, and Kenya all in the last month, it's been hard for Letsrun.com to skip to a regular schedule. This week "The Week That Was" is back in its normal format, albeit abbreviated as post USAs their wasn't a ton of action of note last week(Peachtree and Lausanne). Quotes from Lukas V, Nick Willis, Scott Baughs, Ray Flynn, Mike Powell, and Molly Huddle.
****
6 Quotes Of The Week That Weren't Quote Of The Day
#1 Lukas Verzbicas On Why He's Returning To The Triathlon
"I made the decision right away (to return to the triathlon). I feel like Kevin would have definitely won that medal, and it's really not fair what happened. If I could bring it to him, I have to do it...."
"Anything can happen, that's true. I'm not guaranteed a win. Everyone wants to win just as much, if not more, than I do. But I think I have an advantage, because I'm doing it for someone else."
-high school running phenom (and sub-4 miler) Lukas Verzbicas talking in an AP article that revealed he's returning to the triathlon to attempt to win the world championships this September in honor of his friend Kevin McDowell who would have been one of the favorites but was diagnosed with cancer this spring. Undoubtedly, the championships will interrupt his freshmen year of cross country at Oregon.
More: *Lukas Verzbicas Returns To Triathlon To Honor His Friend With Cancer *MB: Verzbicas to Triathlon World Champs in Sept.
#2 Nick Willis On How Difficult It Is For The Kenyans To Balance Making A Living And Making The Kenyan World Championship Team
"(The Kenyans') dilemma is that only three go to the world championships. It becomes a crapshoot because so many are trying to get on that team, especially running trials on a worn track at altitude in Nairobi. They also tend to treat each Grand Prix event as equally important to any other race because their livelihoods are at stake.
"The world championships are just nine weeks away so the better they do now, the more challenging it's going to be to sustain that standard later in the year. It might seem odd cheering your rivals but I hope they run world-record times."
- Olympic 1,500 silver medallist Nick Willis revealing that he understands the difficulties elite track runners in Kenya face much better than most people. The Kenyan stars often don't have big sponsorship deals like Western-based athletes and thus need to thus race early in the season to make a living but if they get going too hot early in the season, they likely will be toast come their trials.
More: Athletics: History on Willis' side
#3 Scott Bauhs Talking About How Hard It's Been To Deal With His 1 Perfect Race
"I just got so lucky finding the perfect race on that day that it's been hard. You don't get the perfect race very often, if ever. As a result, I haven't had a race that has lived up to what I had built up for myself. I've been fairly disappointed with everything after that."
- American 10,000 meter runner Scott Bauhs talking to the Contra Costa Times about the difficulty he had with competing and living up to the hype after he had the 'perfect race' in 2008 when he dropped his 10,000 meter time from 28:54.55 to 27:48.06. Well now that Bauhs has made the 2011 world championship team, we hope he can just focus on training and improving from here on out and not be burdened by expectations.
More: Making the track and field world championships a boost for San Ramon Valley graduate Scott Bauhs
#4 Ray Flynn Talking About People's (Ill-Advised) Obsession With Times
"Was I hung up on Madison Square Garden when I was a kid? Yes. I was. But it's a new generation. Today's kids want to run quick. Was it wonderful in the Garden? Yes. It was. But that was a long time ago."
- new Millrose Games TMFKATMG meet director Ray Flynn (we refuse to call a track meet not in Madison Square Garden the Millrose Games so from now on we'll refer to it as TMFKAMG - short for "the meet formerly known as the Millrose Games") talking about how there will be a focus on times at the new meet this year in the Armory.
We're all for people deciding to have a new meet in the Armory but please don't call it the Millrose Games. Also, has anyone realized that as track has slowly become obsessed with time, its popularity has continually declined? Imagine if every time someone went to the Masters or Kentucky Derby, they left disappointed every time there wasn't a record score or time?
More: New-look Millrose Games remains committed to high school participation
#5 Mike Powell On How Rivlaries Are Great For The Sport
"Carl should have had the (long jump) world record. He just didn't jump enough. He only jumped three-four times a season.
"Today Carl and I are very friendly. For me he was a blessing and at the same time he was a curse," Powell said of his former rival, who turned 50 last Friday.
The 47-year-old credited Lewis with helping him scale new heights and said he was disappointed with the lack of consistent rivalries in present day athletics.
"Usain Bolt and Tyson Gay, it rarely happens that they cross paths. It's unfortunate," he said. "When I was competing, we felt that it was our responsibility to promote the sport.
-excerpt of a Reuters story quoting long jump world record holder Mike Powell, talking about his rivalry with Carl Lewis and the need for rivalries in the sport.
More: Powell rues lack of top-flight rivalry
#6 Molly Huddle Talking About A Weird Coincidence Between Her And US 1,500 Meter Champ Morgan Uceny
"It's weird. Morgan (Uceny) went to Cornell University, which is only a few miles from where I grew up, and I went to Notre Dame, which is close to the place she grew up. We just kind of traded places."

-American 5,000 meter record holder Molly Huddle talking in an article about her and 2011 US 1,500 meter champ Morgan Uceny in a South Bend, Indiana paper.
More: Huddle's time has arrived
****
Happenings Of Note From Last Week
Lausanne Diamond League *Results *Photos *Recap/Videos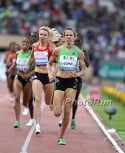 LRC USA's Morgan Uceny Dominates 1,500 Asafa Powell winning the 100m in a world-leading 9.78 is almost expected (video here), but maybe Americans should get used to Morgan Uceny winning Diamond League races, as the newly-minted US champ easily ran away from the field in Lausanne the last 100m to get the biggest international win of her career. David Rudisha dominated the men's 800 and the men's 5k came down to a sprint. Distance recap, results, and video. *IAAF Recap Of Lausanne Meet
*Asafa Powell Runs Fastest 100m Of Year Guardian
*Brit Dai Greene Gets Big Win In 400m Hurdles In Lausanne BBC
*Teddy Tamgho Jumps World Leader And Farther Than Phillips Idowu Ever Has to Win Triple Jump I
Peachtree Monday: Sammy Kitwara (28:05) Wins In Sprint Finish As Ben True (28:28) Is Top American *AJC Recap In really hot conditions, Matthew Kisorio took the race out in a crazy 8:38 only to be outkicked by Kitwara who picked up $25,000 as he got a $10,000 PRRO bonus. Werknesh Kidane won the women's race in 31:22. Ryan Hall was way back at 29:16. *MB Thread *More MB: Ryan Hall's 29:15 at Peachtree?*American Results *On-Demand Race Video Is Here *USATF Recap
Russia Sunday: Borzakovskiy Is Back Yuriy Borzakovskiy ran 1:43.99 to get the win over 1:42 guy Boaz Lalang. It was the first 1:43 for Yuriy since 2009 and the first sub-1:45 for Lalang this year.*Results

Japan: World Half Marathon Champ Florence Kiplagat Wins Sapporo Half In 70:29 In Tough Conditions Meanwhile, a Japan-based Kenyan won the men's race for the 17th consecutive year - Cyrus Njui (61:47). *Japan Running News Recap Of Hot Sapporo Half

Victoria TC: Khadevis Robinson Wins 800 In 1:45.85 As Loxsom Is 2nd (1:46.71) And Brannen Is 3rd (1:46.89) Sac State's Lea Wallace PRs at 4:10.77. C. Smith in 800 as well. *Victoria Results

Ireland: Nick Willis Tunes Up For Paris With 1-Second Victory (3:40.0) Over Will Leer At 60th Cork City Games (Results Only)

Harry Jerome: Former NCAA Champ Andrew Ellerton Goes 1:45 For First Time To Defeat Cas Loxsom The 1:45.09 was a PR by over a second. Props to Ellerton for sticking with it.
*Results Nate Brannen 3:36 1,500 Win, Malindi Elmore 4:07 1,500 (Kara Goucher 4:11),

*University Of Florida All-American Andries Dumisane Hlaselo Accused Of Sexual Assault *MB: Dumiani Hlaselo 5th in NCAA 1500 thrown off team, rape charges
*Nike Faces Anti-Drug Backlash To Their New Line Of T-Shirts Slogans on T-shirts include: "Dope," "Get High" and "Ride Pipe."
****
Looking Ahead (Time To Start Getting Excited For ...)
Friday: Diamond League Paris - Meeting Areva
Sunday: Diamond League Birmingham - Aviva Birmingham Grand Prix After Sunday, there are no Diamond League meetings until July 22nd in Monaco as some countries - say Kenya for example - will hold their national championships - including Kenya.
Next Weekend: Kenyan Trials
July 29-31: UK Trials
****
Recommended Reads
*LRC 2011 USATF Women's Nationals (Distance) In Review
*LRC USA Men's Nationals In Review
*LRC USA's Morgan Uceny Dominates 1,500
*Austin Mudd Has Run 4:01.83 Mile And 1:48.09 This Year And 2 Months Ago He Was A 4:20 Miler Nice profile in the Indianapolis Star by friend of LetsRun David Woods.
*Lukas Verzbicas Returns To Triathlon To Honor His Friend With Cancer
Youngest: 10-Year-Old Girl In Britian Wins Her Field Day Race And Then Chases Down Some Thieves And Says, "Best of all, they didn't have a gun or a knife."
*Can Allyson Felix Save Track And Field?
*Wilson Kipketer Talks About How He Got Started In Running
****
Quotes Of The Day From Last Week
Tuesday: "I accept the fact that were I running today, I wouldn't be breaking world records. I just happened to be there at a crucial time."

- Roger Bannister, admitting that even though he ran the first sub-4 mile 57 years ago, he doesn't think he would have been able to be competitive with modern milers. In this SI interview, Bannister talks mostly about some of the interesting things he has done with his life since his running career ended (including overseeing the first urine test for steroids) and where he is now. *Podcast
---
Monday: "By the summer of 1956, it (being banned from athletics for having accepted £17 as a boxer) was a hell he could no longer live in. Arriving alone in Liverpool on a warm, August Saturday he calmly stepped unannounced into a crack field of international marathon runners, wearing moth-eaten plimsolls and a shirt with no number. For over 20 miles no one could touch him; then, just as suddenly, he was gone ... How many - when outlawed by their sport - would run 5,000 miles a year without one penny paid into their trust funds?"

- Bill Jones, writing about John Edward Tarrant, a British running star who was banned from the Olympics for violating amateur rules when he admitted he took £17 as a boxer but then captured the public's imagination by dominating as the "Ghost Runner." In the day and age of A-Fraud, Bonds, Clemens, Marion, Regina (and Lance?), all we can say is Tarrant certainly deserved to be called "the most honest man I have ever met" in his obituary. A book by Jones about Tarrant comes out this week.
---
Sunday: "Like a lot of elite athletes I've been training three times a day since I was nine, and you get used to that as a way of life but sometimes you become jaded without knowing it, so it definitely helps to take a step back sometimes. All this time off has made me feel refreshed. I've got my hunger back and am really enjoying training."

- 21-year-old British phenom Stephanie Twell on taking a break from the sport after breaking her ankle while leading an XC race. Twell resumes running this weekend on an Alter G.
---
Saturday: "The athletes, in my era, were more focused on building the sport. Now they just want to take from it. They're part of this culture that we live in now of the social media. It's about 'me,' and I think the athletes should say it's about 'we.'"

- Carl Lewis, who turned 50 today. Yesterday, the quote of the day was SI's Brian Cazeneuve talking about the demise of Millrose and what it means for our sport.
---
Friday: "The problem isn't the decision to move the showcase event of the indoor track season (the Millrose Games)to a fine place like the Armory; it's the reality of having to move it away from an iconic showplace such as MSG. Simply put, this was the last of the marquee indoor meets on a circuit that once held buzz and grandeur, and it's one more sign that a sport I grew up loving has grown old, tired and, most of all, lazy before my eyes. You don't see the Kentucky Derby leaving Churchill Downs or the Indy 500 leaving the motor speedway, do you?"

- Sports Illustrated's Brian Cazeneuve writing about the demise of the Millrose Games and what it means for our sport. Cazeneuve gets it out how everyone in the sport needs to work on revitalizing the sport - and that means creating rivalries, having athletes race each other, and having agents think long-term, not short-term.
---
Thursday: "Whatever I can do to prove I'm clean, I'm willing do it. No matter what time I have to wake up or drive or whatever."

- Allyson Felix, talking about drug testing and how she is willing to do anything to help keep the integrity of the sport, where "almost every remarkable performance is surrounded by doubts and whispers" about whether the athlete is clean. Felix is part of a group started by the US Anti-Doping Agency called Project Believe. The athletes agree to take extensive doping tests besides what WADA requires in order to prove they're not doping.
---
Wednesday: "He's gone from being on top of the world to being under the bridge," said Mark Steward, who ran in that 1981 race and was Martinez's teammate and roommate at New Mexico. "He's lost everything."

- Mark Steward, talking about his University of New Mexico teammate/roommate, Rich Martinez. Martinez holds the 30-year-old Colorado HS 1,600 record (4:10) and just missed making the 1988 Olympic Team, but now is homeless, an alcoholic, and living on the street. The story is from 5 years ago, but five years later, he is still in trouble. MB thread here.
---
Tuesday: "Let me put it this way ... If he doesn't medal there (in Daegu), or run in the 43s, I don't think he'll medal or run in the 43s again."

- Michael Johnson talking tough about Jeremy Wariner (the article also wonders what MJ could run for 400 now at age 42).
****
Last Week's Homepages
*Mon (July 4) *Sun (July 3) *Sat (July 2) *Fri (July 1) *Thu (June 30) *Wed (June 29) *Tue (June 28)