It's Time To Vote
LRC NCAA Cross Country Super Poll Voting With last week's hot XC action in the books and in advance of next week's conference action, the LetsRun.com NCAA XC Super Polls are back where we let you, the educated fan, show up the coaches. Top 10 voting nationally and for the major conferences now open. Get your votes in!!! Note to athletes: Your coach will probably turn a blind eye to you being on LetsRun.com if you vote for your own team.
Recommended Read Fantastic Profile Of Josphat Menjo - The Man Who Soloed 12:55 And 26:56 This Summer Some old schoolers may be horrified to realize their hero credits much of his breakthrough to a weight and stretching regimen.
Detailed Look At Chilean Miner Who Ran Up To 8k A Day To Improve his fitness, he pulled a cart behind him.
Great South Run Is This Weekend
Trackfocus: Don't Underestimate Portland - They May Be Nearly As Good As Oregon And Stanford They didn't race one of their studs at Pre-NCAAs.
A Record 12,500 Will Compete In Marathon That Traces Pheidippides' Steps On 2,500th Anniversary Of Battle Of Marathon
Thank Goodness
Court Rules Triathlon Wasn't Responsible For Athlete's Death A guy tragically died in the swim portion of the race and in typical American fashion, his family sued.
Good News Berlin Marathon Is Now The BMW Berlin Marathon
Honoring Some Legends Of The Sport
More On Some Of This Past Weekend's Marathons
Weekend Marathons
Largely Unknown Ethiopian Getu Feleke Runs 2:05:44 In Amsterdam In ideal conditions, Feleke lowered his PR from 2:08:04 to 2:05:44. Wilson Chebet, who was the runner-up at Falmouth in August, was the runner-up on Sunday with the 2nd-fastest debut in history at 2:06:12. Finishing 4th in his debut at 2:07:29 was Abreham Cherkos Feleke, who ran 12:54 at age 16.
*Bib #3294 Pulls Stunner In Baltimore Declined travel expenses by the race organizers, David Rutoh stunned himself by winning first and $23,000 with a 2:13 win.
*2:10/2:27 Wins In Istanbul
*2:09:13/2:32:09 Wins In Korea
*Michael Aish Wins In Denver In 2:30
Congrats To Alan And Julia
NCAA XC Pre-Nats
Pre-NCAAs Pre-NCAAs is all about one thing: at-large points for teams and with its 4 races, it is super-confusing for XC fans out there. The one thing we're taking away this year is that the top 3 on the Stanford men are very, very good. If you want to know how things stand in NCAA XC after Pre-Nats try this thread or this one. Results below. More Pre-Nats coverage here.
Results:
Men Blue Team: #1 Stanford Crushes Iona, FSU, Depleted NAU Team
Individual: Stanford's Top 3 Finish Together 1-2-3 Faster Than Anyone Else On The Day

Men White Team: Martin Smith's #16 Oklahoma Chocks #4 Colorado, #8 Portland
Individual: Sam Chelanga Cruises As Expected

Women Blue Team: #3 Florida State Over #6 Arizona
Individual: Risper Kimaiyo Of UTEP Wins By 5 Seconds Over Alex Banfich Of Princeton

Women White Team: #5 Georgetown Over #9 Colorado
Individual: Lucy Van Dalen Of Stony Brook Over Laura Tremblay Of Colorado

Oregon Bill Dellinger *Results And Message Board Thread The Oregon women dominated. The men beat Wisconsin but Wisconsin sat their #1 runner.
*Oregonian Recap

Chile Pepper
LRC Message Board: OSU wins Chile Pepper Invite with first 4 going 1-4! Arkansas and Indiana, both in the top 10, were present.

Penn State: #1 Villanova Women Win *Men's Results
NYC Is 3 Weeks Away
WSJ: It's Time For Women To Run Faster The article looks at how the Boston qualifying times are way softer for women than men.
Have An Extra $3,215 Lying Around? Then Maybe You Should Consider Buying The Best Seat To The Opening Ceremonies At The 2012 Games Ticket prices came out yesterday.
*AP Article: 25% Of Tickets Go To Bigwig Sponsors
Better Late Than Never
LRC Week In Review: Geb Vs. Wanjiru This week saw one of the greatest marathons we've ever witnessed with Sammy Wanjiru battling mano-a-mano with Tsegaye Kebede at Chicago for not only the Chicago title but also the $500,000 prize for the World Marathon Majors title. Wanjiru is the best marathoner in the world in our book and we compare his performances to Haile Gebrselassie's. Plus a look at the Commonwealth Games and more.
New York City Marathon News (Or No News)
RIP Antonio
Antonio Pettigrew's Death Ruled A Suicide He reportedly took a bottle of sleeping pills. He also reportedly told his wife to pray for him the day before his body was found. Our thoughts and prayers are with his family.
NYC News
Can USATF Be Trusted To Get It Right?
USATF Set To Name Man Whose Team Was Next To Last At ACCs As Olympic Coach 18 points over 21 events at ACCs is apparently enough to get Andrew Valmon the Olympic head job. We guess it's not that big of a deal since the US coach does little more than babysit, but it's certainly surprising. In 2009, Maryland scored 21 points, in 2008, they had 54 and in 2007 they had 30.
Distance News
Monday's US 10k Road Champs *Results
Molly Huddle Wins Third Straight US Road 10k Title At Tufts Health Plan 10k For Women Huddle capped a great 2010 with the the overall win by 5 seconds over Genoveva Kigen. Jen Rhines was 16 seconds back.
LRC Wanjiru Wins Epic Battle With Kebede, Shobukhova Dominates
In a epic, late-race, back-and-forth battle of attrition between the world's two greatest marathoners for $500,000, Sammy Wanjiru stamped his career as legendary with his 2nd straight Bank of America Chicago Marathon victory. This time Wanjiru had to dig deep to come back repeatedly against London and Fukuoka champ Tsegaye Kebede. In the women's race, front-running Atsede Baysa blew up in the final 10km as Liliya Shobukhova motored steadily to her 3rd consecutive World Marathon Major win, sealing a $575,000 $615,000 payday in the process. Americans Jason Hartmann and Desiree Davila impressed with PRs of 2:11 and 2:26 and 53-year-old Joan Benoit-Samuelson ran sub-2:50 for the 5th consecutive decade with a 2:47.

More: *Philip Hersh Chicago Tribune Article On Shobukhova Winning And Picking Up $615,000
*Joan Benoit Samuelson Runs 2:47:50, Just Missing Olympic Marathon Trials At 53 Runnersworld
*Chicago Tribune Article Top Americans Jason Hartmann And Desiree Davila
*Desiree Davila Leads US Women At Chicago As 3 Get In Top 10
*Sammy Wanjiru Outlasts Kebede To Win Chicago (And $615,000)
*US Men Take 11 Of Top 20

Recommended Read: Because Of $$$, Marathon Getting Younger & Younger Phil Hersh talks about how so many of the top contenders in Chicago are very young. There is a reason for that - $$$. Nowadays a 2:09 debut will get you $20,000 but a 13:00 will get you $250.
He Said / She Said: Question Now Is Will Merritt Be Eligible In 2012?
More NYC News
Merritt
Different Type Of Running News
NYC Is Less Than 3 Weeks Away
Interesting Distance News
Commonwealth Games Wrap-Up
Oregon Related News
Random US News
Drug News - We Swear These Aren't Jokes
Previous Commonwealths News
European News
Final Minute Of Battle At World Half Marathon Champs (Rewind The Video Below If You Want The Final 10 Minutes)
NCAA XC On The Boards
Menjo On Video! Winning One Of The Coolest Races We've Seen (Race Through History In Belgrade)
The Chicago Finish Was Epic, But This Was The Closest Finish Of The Weekend (3-Way Sprint At Eindhoven Marathon)
Jared Training For NYC Gets Subway Commercial
2 World Championship Golds, 2 Olympic Silvers - There May Never Be A Championship Marathoner Like Her. She talks about her career and how Joan Benoit was a hero: "That was my dream that came true that day. I remember meeting Joanie Benoit before that race. Back when I was in high school my coach had told me about a lady from the United States who did a fantastic job one month after surgery at the 1984 Olympic Trials Marathon, then she got a Gold Medal in Los Angeles and her name is Joanie Benoit. So when I met her in 1996 I thought, 'So this is the person my coach always talks about - Wow!'"
Finish Of Leonard Komon's 10k WR And Interview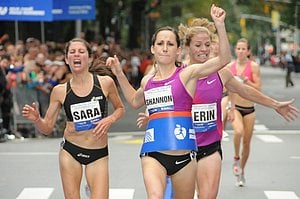 LRC Recap: Shannon Rowbury Caps Season With Win In NY Many people expected Shannon Rowbury to repeat on Sunday on the streets of New York but she had a tough brawl with New Jersey's finest, Erin Donohue. Rowbury won last year and used her road skills to time her kick perfectly.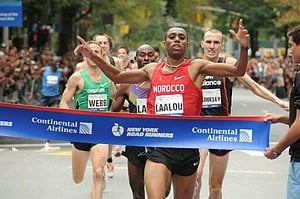 Men: Amine Laalou Earns Some American Respect Amine Laalou had the top 800 and 1,500m times coming in, but everyone was focused on the strong American contingent. All the main contenders, including Bernard Lagat, were there with 100m remaining, but Laalou got the win.
*Photo Gallery *Race Videos
Learn From The Greats
Train Smarter
Last Lap (Or Full Race) Of Lagat's 3k American Record (It's Super-Impressive)
Recent Photo Gallery: Milan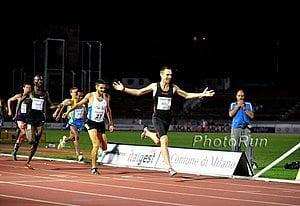 Great Deals

Rudisha's 1:41.01!!!!!
Great Deals