Latest Commonwealth News
The New Head of USATF?
Bill Schmidt, Former VP of Gatorade, Javelin Bronze Medallist in 1972, Would Accept USATF Job The board want someone who knows something about the sport and has sports marketing experience. Schmidt meets the criteria.
3 Recommended Reads
Is Meb In Shape? We'll Start To Find Out Sunday As He Defends His San José Title
Financial/TV News
Fifth Avenue Mile Behind The Scenes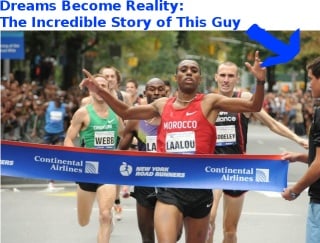 Story Of The Week!!! 4 college cross-country teammates from UMBC went up to NY to watch the 5th Avenue Mile. Before the day was over, they were holding the finishing tape and hanging out with some of their heroes. How did it happen? A GREAT read.

More Post-5th Avenue News:
*US Olympic Committee Profiles Shannon Rowbury
*Bernard Lagat Looking Forward To Big Marathon Payday In 2013
Commonwealths Getting Lots Of Press
Say It Ain't So
Ryan Hall Pulls Out Of Chicago Marathon Philip Hersh of the Chicago Tribune broke this story. Hall isn't injuried; he's just had some subpar training and is out after his subpar race in Philly. We're surprised.
Pat Butcher: Patrick Makau Is Now The Man To Beat In The Marathon He's certainly the #1 in the world in our minds so far for 2010.
LetsRun.com's Endorses This Guy As Doug Logan's Replacement
South African Olympic Head Says He's Willing To Personally Clean Toilets To Insure India's Commonwealth Games Go On This guy clearly isn't afraid of getting his hands dirty and doing the grunt work. Certainly much better than what could be said of the old AAU guys.
*USOC Might Intervene If USATF Appoints Board Member CEO
Commonwealth Games Start Sunday
In Case You Don't Want To Know The Results
The Last Minute Of The 2010 Berlin Marathon:

***** **** Wins Berlin Marathon In Sprint Finish In 2:05:06 (Warning: We're about to reveal the winner's name) Despite rain, Patrick Makau won the race in a sprint finish in 2:05:06 over Geoffrey Mutai as Bazu Worku was close behind. The rain prevented a world record attempt, but Makau has established himself as a marathon star. Aberu Kebede won the women's race by over a minute in a slow 2.23.58.

Toronto Waterfront Marathon: Kenneth Mungara (2:07:57) And Sharon Cherop (2:22:42) Both Break Kenyan All-Comers Record At Scotiabank Toronto Waterfront Marathon Canadian Reid Coolsaet ran 2:11:23 to make the Canadian Olympic standard by 6 seconds. Sharon Cherop got the women's winby 1 second over Tirfi Beyene with 2:22:43, which was faster than the winning time in Berlin.
*Message Board Discussion

Stop The Presses: Say it Ain't So: Menjo Loses At Lisbon Half Marathon, Mary Keitany Romps Races need to do a better job of promoting Menjo. We had no idea the LetsRun.com superhero was running. In case you have no idea what we're talking about, Menjo earlier this year soloed a 3:53 mile, a 12:55 5k, and the world-leading 10k.
Big Family News
Kara Goucher Gives Birth To Colton Mirko Goucher Congrats to Kara and Adam. Mom and baby are doing well after the baby was face up during delivery. The baby was 5 days early, which means Paula Radcliffe's second child is due in 5 days.

Galen Rupp Gets Married We can't believe no one has posted on it yet, but the wedding was yesterday according to the wedding website. Congrats to Galen and Keara.
Unbelievable
USATF Board Gave Logan $140,000-A-Year Pay Raise 9 Days Before Starting Termination Process If you're thinking of terminating someone, it's probably not a good idea to bump their base pay which their severance is calculated off of. The AP article above is excellent and has the 3 criteria the board wanted to see more from Logan on.
"The only amateurs left in the Olympic movement are the people running it." That's what Philip Hersh, the pre-eminent Olympic writer in the US, commented after hearing about the Logan raise.
Update: USATF Communications Director Jill Geer Writes To Clarify Our Comments Above
Previous Berlin News: From Bored With Running As A Child To Berlin Marathon Contender This IAAF piece has an interesting look at Germany's top contender for Sunday's Berlin Marathon, Sabrina Mockenhaupt.
*Patrick Makau And Geoffery Mutai Hope To Take Up Where Haile G Left Off The two 2:04 guys certainly should like Berlin's super-fast course.
*Joe Battaglia Preview
*Mzungo.org Has Lots Of Berlin Info

Also This Weekend: Toronto $2 Million Budget For This Weekend's Toronto Marathon
Lisbon: Mary Keitany Headlines This Weekend's Lisbon Half Marathon
Commonwealth Games Start Next Sunday
Doug Logan Doesn't Go Quietly
Week In Review
LRC Week That Was: Haile G, Ryan Hall, Dathan Ritzenhein, Shalane Flanagan, Andrew Wheating, Bernard Lagat's Brother And 79-Year-Old Chris Chataway It was a busy week on the roads and the board rooms (Doug Logan's sacking) and we give you our insight. Is something wrong with Ryan Hall? How amazing is Haile G?
The Son Of Teachers, World Record Holder David Rudisha Once Thought He'd Be A Geography Teacher
More Weekend Action
Haile G Remains Undefeated As Adere Repeats! *LRC Thread On Race Haile G still has got the goods as he put on a great show and crushed the field in poor conditions in England. He remained undefeated in 2010 and won by almost 2 minutes in 59:33 as American Dathan Ritzenhein was 4th in 62:34.
*Everyone In Britain Would Love To See Haile Win Olympic Marathon In 2012
More From Britain: Craig Mottram & Hannah England Win Distance Races At Great North CityGames Craig Mottram won the 2-mile by 1 second in 8:31. *LRC MB: Mottram wins 2 mile over Birms...Bads...Thompson...and No Farah
*In Commonwealths Tune-Up, England Beats Australia 5-4 At Great North CityGames
*Special Portable Track Makes CityGames Possible
Former NAIA Star Aaron Rono (3:58.18) & Carmen Douma-Hussar (4:35.60) Win Grandma's Minnesota Mile *Minnesota native Garrett Heath and Amy Mortimer were the runners-up.
Friday:
Notre Dame: Women Results: #1 Villanova Over #5 Oregon, #2 Florida State

Men: Oregon and and Puskedra Win at Notre Dame. #5 Alabama Only 8th
*Recap of Oregon Win from Ducks Website Vin was pleased with the performances.
*Puskedra, Centro Interview
On the boards: Notre Dame Results

Paul Short: Men: UVA Over Georgetown at Paul Short
Women: Georgetown Women Dominate Paul Short
*Post-Race Interviews
Post Ryan Hall Dropout News
Commonwealth News
Other News
Congrats, Ladies!
Paula Radcliffe Has Her 2nd Baby *Photos Of Kara Goucher's Baby
4:45 Marathons In The News
Random Distance News
It's Time To Start Paying Attention To NCAA D1 XC Action
3 Big Meets This Weekend: *Paul Short *Notre Dame *Wisconsin
*Oregon XC Teams Head To Notre Dame
Latest Commonwealth Games News (They Start Next Sunday)
Caster Semenya Out Of Commonwealth Games With Back Injury, World Champ Mbulaeni Mulaudzi Likely Out As Well, As He's Battling Back Injury The games have lost a ton of high-profile athletes for various reasons, but these 2 appear to have legitimate injuries.
*Indian Government May Snub Prince Charles From Opening Games Because Queen Didn't Come For First Time Since 1966 The Queen is 84 and decided not to come and the Indians feel snubbed.
53-Year-Old Joan Benoit Samuelson Hoping To Qualify For Olympic Trials In Chicago 2:47 is going to be very hard for her and her #1 goal is to break 2:50 for the third time as a 50-year-old.
Distance News
Catching Up With Four Top Milers
It's Official - European Marathon Champ Viktor Röthlin Is Running ING New York City Marathon We reported that Röthlin was running two weeks ago but it's official now. He leads the European charge which also includes French national record holder Christelle Daunay.
Random/Interesting Links
Jeremy Roff Completes 800/1,500 Double At Oceania Champs
3 Good Pre-Race 5th Avenue Mile Profiles:
*Alan Webb In The NY Times
*Recommended: Great NY Times Profile On Leo Manzano Leo talks about turning around his 2010 season and growing up very poor (his parents didn't really understand what it meant to go to college).
*Lengthy Profile On Nick Willis, His Upbringing In New Zealand And This Sunday's 5th Avenue Mile Written by a Kiwi who saw Nick run a race at age 7 (the article talks about Nick's family and how his mother died when he was 5).
New World Road 10k Record
Leonard Komon Runs 26:44 WR He smashed the old record but famed coach Renato Canova tried to put it in perspective, as the 10k on the track and roads has become much less of a priority recently.
*Message Board Thread On Record
College XC Season Heating Up
Stanford: Recap
*Men's Results: Stanford Men Defeat Arkansas, NAU NCAA 5k champ David McNeill got the win as NAU sat 3 guys.
*Women: Stanford Women Defeat Cal
*Message Board Thread: Stanford Results

OSU: OSU Men And Women Win Cowboy Jamboree (German Fernandez 6th) The Cowboys ran as a team except for ringer transfer Girma Mecheso, who won the meet (Mecheso won the SEC as a freshman 2 years ago at Auburn before transferring last year).
*Message Board Thread: Girma

Roy Griak: Men: Duke Men Defeat NC State, New Mexico, BYU At Roy Griak New Mexico had 3 before Duke's 1st but could only finish 3rd.
Women: Arizona Women Win Roy Griak
Pro Distance News
Previous 5th Avenue News
Newsweek: The Case Against College Athletic Recruiting We must admit we don't get why totally obscure sports get supported at the Ivy League level, but then again, some might say track is obscure. No mention though of how athletes might succeed better after college.
US Distance News
Doping News
International News
Most Read Running Story Of The Week
Front Page Of Wall Street Journal: Men Who Run Women's Only Races Technically, most of the races aren't women's only. Some even invite men, like the Nike Women's Half Marathon, but then when a dude won it he was heckled.
Some Runners Aren't Happy That Competitor Group/Corporate Entities Are Taking Over Running Events
Max King & Lauren Fleshman Win 2010 XTERRA Trail Run National Championship
Marathons For The Masses
British News
Philly Half & US 5k
Philly: LRC Matthew Kisorio Slays Gebre Gebremariam As Ryan Hall Struggles 5k man Matthew Kisorio showed that Gebremariam is beatable after all, but it takes a 4:24 3rd mile to do it. Ryan Hall was never a factor and struggled mightily (63:55) as Brett Gotcher (62:50) was the top American, but he was beaten by former NCAA runners Simon Bairu, Alistair Cragg, Wesley Korir and Shawn Forrest.
Pre-Race: Hall Very Confident: "I wasn't totally in top-notch shape last year, but I think I'm in better shape this year."
LRC Meseret Defar Wins As Shalane Flanagan Runs 68:36 2004 Olympic 5,000-meter champ Meseret Defar's move up to the half marathon was a successful one as she defeated the hottest road racer on the planet in a sprint finish to get the win, as Shalane Flanagan became the 4th-fastest American in history.
More: Defar Wins As Heat Bothers Flanagan
Pre-Race: *defar VS flanagan....who ya got?

Providence/USA 5k: LRC Molly Huddle And Robert Cheseret Win 5k Titles American record holder Molly Huddle got a comfortable win on the women's side but on the men's side, it was newly-naturalized US citizen Robert Cheseret who got a surprise win. Don't know Cheseret? He's Bernard Lagat's brother as well as the guy who was able to beat Dathan Ritzenhein for the NCAA title even though he fell down in the middle of the race.
A Brief Chat With Shannon Rowbury The 1,500 star will end her season in New York on Sunday.
Weird: Pro Meet In Kawasaki, Japan Has No Distance Races You'd think given the Japanese love of distance running that would be the highlight. Instead, it was highlighted by Christophe Lemaitre in the 100m.
Sprint News
Villanova And The Ducks Go To Washington
Recommended Watch: How the Toronto Marathon Was Won
Week That Was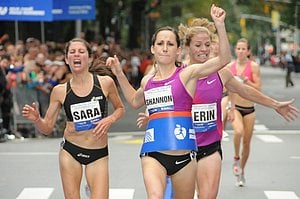 LRC Week That Was: Amine Laalou Vs. Bernard Lagat, Alan Webb Vs. Nick Willis, Sara Hall, Joan Benoit, Menjo And Makau We've got it all covered. Alan Webb gave himself a C+ for his performance this weekend. We're giving our Week That was an A-.
This Weekend (Or Next Year): Freedom Run: Great Historic Scenery, A Race Director Who Is A LetsRun Fan, 1+ Hour From DC (Sponsored Post)
Freedom Run 5k, 10k, Half And Marathon

Freedom Run 5k, 10k, Half And Marathon This race has been doing some local advertising with us and today we were checking out the race website. We knew race director Mark Cucuzzella was a LetsRun.com fan and the race is in some incredible beautiful and historic scenery (the marathon goes through 4 national parks: Harper's Ferry, C+O Canal, Antietam and Potomac Heritage Trail Park. LetsRun.com foreign visitors - think Civil War sites). We didn't know Mark has run at least a 2:35 for the marathon 22 of the last 24 years, including a 2:34 in Boston this year. Pretty damn impressive. As for the race, there is a kid's run, 5k, 10k, half marathon, and full marathon, but everything is sold out this year except the full marathon. And the prices are super reasonable. $25 for the 10k, $40 for the half, and $70 for the marathon. The marathon is $75 now and there are a few spots left, but you'd better be ready as the race is this Saturday, October 2nd. If you can't make it this year, it seems like a race to consider next year. Short youtube clip on the race to the left, more info here. Race director Mark is an MD, a Lt. Col in the Air Force, and also has a minimalist shoe store. We think that really is a first (the race didn't pay us for or approve this post, but they are one of our advertisers).
Finish Of Leonard Komon's 10k WR And Interview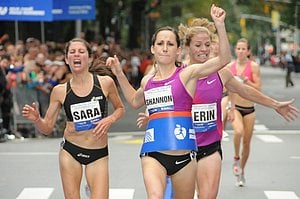 LRC Recap: Shannon Rowbury Caps Season With Win In NY Many people expected Shannon Rowbury to repeat on Sunday on the streets of New York but she had a tough brawl with New Jersey's finest, Erin Donohue. Rowbury won last year and used her road skills to time her kick perfectly.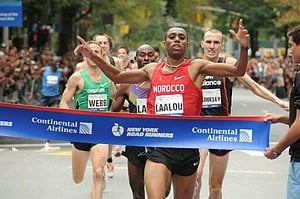 Men: Amine Laalou Earns Some American Respect Amine Laalou had the top 800 and 1,500m times coming in, but everyone was focused on the strong American contingent. All the main contenders, including Bernard Lagat, were there with 100m remaining, but Laalou got the win.
*Photo Gallery *Race Videos
College XC Season Heating Up
Stanford: Recap
*Men's Results: Stanford Men Defeat Arkansas, NAU NCAA 5k champ David McNeill got the win as NAU sat 3 guys.
*Women: Stanford Women Defeat Cal
*Message Board Thread: Stanford Results

OSU: OSU Men And Women Win Cowboy Jamboree (German Fernandez 6th) The Cowboys ran as a team except for ringer transfer Girma Mecheso, who won the meet (Mecheso won the SEC as a freshman 2 years ago at Auburn before transferring last year).
*Message Board Thread: Girma

Roy Griak: Men: Duke Men Defeat NC State, New Mexico, BYU At Roy Griak New Mexico had 3 before Duke's 1st but could only finish 3rd.
Women: Arizona Women Win Roy Griak
LRC Poll
Powered By