LRC The Week That Was In Running - Chris Solinsky And The Epic Stanford 10k Normally we cover the wide world of running, but this week we focus almost exclusively on the Stanford 10k and Chris Solinsky's 26:59. Thanks to our hard-working research elves, we analyze Solinsky's unusual dimensions, debate whether an American will ever medal at worlds in the 10,000, ask for a USA "Dream 10,000" and even predict when an American will break 26:00.
Recommended Read: Excellent Track Announcer, World Champion Sprinter Ato Boldon Continues adidas Grand Prix Series Boldon dishes candidly on what Bolt will run in the 100/200/400, why he thinks he's clean, and a reminder that Bolt's 200 time as a 17-year-old was fast enough to win Olympics.

Funniest News Of Last Week
Malawi National Team Arrives For African Championships 3 Months Early Unfortunately, this is not a joke.
Mike Hurst Updates Caster Semenya Saga With Interesting Info Insider says IAAF gobbling up time and money to shore up rules to prevent another question mark like Semenya from competing before test results are final. Also - why would Caster say she's going to quit the sport when 1 race in Europe earned her $60k?
Boston Marathon Champ Teyba Erkesso Will Return For Albany's Freihofer's 5k Run For Women
Marathoner Tera Moody Writes For The NY Times About Her Sleep Deprivation
Ndambiri And Mathathi Run 13:09 (WL) And 13:10 At Shizuoka International
Landmark hGH Study Published
WADA-Sponsored Study Claims hGH Makes Difference Between Last And First In Olympic 100m Final
Research led scientists to make this conclusion: 2 months of daily hGH injections makes a 0.4 second difference for a 10.0 sprinter. Until 2010, there had never been a reported positive hGH drug test in sport.
Great Contributor To The Sport Passes
Former Athlete And USATF President Patricia Rico Dies USATF
Geb Opens Hotel Resort In Ethiopia
Wittenberg Travels To Opening Of New Haile Gebrselassie Resort In Ethiopia NYRR CEO Mary Wittenberg offers words of praise for Ethiopian businessman Haile Gebrselassie, who is still undecided on a fall marathon.

Ethiopian Track National Championships Results - Bigger Names At Haile's Resort Grand Opening
Pro Track Circuit 2010 - No Worlds, No Olympics ...
Lauryn Williams Compares 2010 To Year Without A Super Bowl "Why would you want to play the other 17 games if there's no Super Bowl at the end?"

Picture Of Usain Bolt Surrounded By Eager Fans In Jamaica

Play On ... Jamaica Intenational Recap - 40,000 Watch Bolt, Gay, Jeter, Howard Run And Jump To Top Performances Track is popular, just not in rich countries.
Message Board Thread: Tyson Gay 45.05 1st place
*Usain Bolt Runs 19.56 Into Stiff Headwind To Please Jamaican Crowd Wallace Spearmon also broke 20.

Yetwale Kinde Wins Ethiopian 10,000 Champs With Tilahun Regassa Third
*Wheating Wins 800 At Oregon Relays After a 3:37 win on Friday night, Andrew Wheating came back for a 1:47 win on Saturday.

*Trojans Sweep USC-UCLA Dual Bryshon Nellum's comeback from gunshot wounds continues as USC men win dual at UCLA's Drake Stadium for 1st time in 33 years.
*Recommended Read: USC's Ahmad Rashad Fulfilling Promise To Mother And Town

*Notre Dame Men Win 3rd Straight Big East In Squeaker Over Louisville
Big Easts *Men's Results *Women's Results
Louisville women edged Villanova thanks to 70 points from discus, shot and hammer.

*Bucknell Men And Women Sweep Patriot League Meet At Home Rob Arent scored 3rd in the 110s, won the 400 and 400 hurdles and anchored the 2nd-place 4 x 4 team to lead the Bison to a 3 point victory, their first since 1991. *Patriot Results
Road Racing - Africans Dominate Buzz
Friday News
Oregon Relays Friday Distance Recap
Andrew Wheating erased some of the disappointment of Penn with a come-from-behind 3:37.8 win over Lee Emanuel with Will Leer in 2nd. OTC's Lauren Fleshman and Jemma Simpson picked up wins in the women's 5k and 1,500. The men's 10,000? Moved to Saturday 10am.
*Wheating Photo And More Quotes Vin Lananna on tactics: "I would have gotten furious" if Wheating led early.
*Tired Hasay Falls To Simpson And Bowman
On The Boards: Wheating runs last 100m in 11.5

*Boards: Weather not Rupp-certified
LRC Chris Solinsky Is The Tallest And Heaviest Sub-27 Man In History The results are in as LetsRun.com has looked up the height and weight of every sub-27 man in history ... talk about busting a stereotype!

LRC Solinsky Teleconference And Live Chat Top 10 In a Tuesday live web chat, Solinsky answered 10 questions that many LetsRunners have been asking on the message boards, including some training talk and of course compression socks.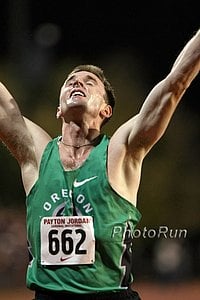 Solinsky Will Race Loaded Prefontaine 5,000 Field - Go For 1st American 12:xx On Home Soil He hasn't set a PR over 5,000 since NCAA senior year, 2007.

Alberto Salazar Talks About Disappointing Stanford 10k Salazar set it up perfectly.

Updated: LRC Full Men's 10,000 Photo Gallery Bairu Canadian record, Rupp 27:10, Chelanga NCAA record 27:08, Solinsky photos, more.

LRC Other Payton Jordan Top Winners Vessey 400m win, Cas Loxsom 1:46 win, Rowbury over Shalane, Huddle 10,000 win, Barringer over Uceny.

Stats Geek Ken Nakamura On Track 10,000 Debuts, All-Time:
1. Eliud Kipchoge 26:49
2. Kenenisa Bekele 26:53
3. Leonard Patrick Komon 26:57
4. Chris Solinsky 26:59

Sub-27 American Record For Chris Solinsky The race was billed as a Galen Rupp American record attempt, but Chris Solinsky had something up his sleeve in his 10k debut. Solinsky went to the front with 900m to go and powered home the last 800 in 1:56 to smash the American record and break the magical 27-minute barrier. Rupp? He did get under the old record, running 27:10 for 4th. Sam Chelanga beat Rupp in 27:08 to get the collegiate record by 20 seconds.
*Video Evidence
*Splits, Discussion, Play-By-Play: Men's 10,000 Splits
*LRC 10k Photos *More Photos

2 Weeks Ago: Solinsky Running the 10K at Stanford Read what people were predicting for Solinsky 12 days ago when he announced his planned "glorified tempo" at Stanford that had more people interested in whether teammate Matt Tegenkamp would run.

*Chris Thompson Now #3 All Time On Great Britain List After 27:29 Debut
*Simon Bairu Sets Canadian Record Great night for Schumacher's men.
*More Stanford Photos
Interesting Odds And Ends
French Athletics Federation Supports World Champ Eunice Barber As She Faces Court In 2006 Altercation With Police (article in French) Barber, 35, is a 5-time Worlds medalist born in Sierra Leone. She had a physical altercation with French police in 2006.

Wesley Korir To Throw Out First Pitch At LA Dodgers Game In June 2-time L.A. Marathon Champion Korir follows in the footsteps of Pamela Anderson and Victoria Beckham.

British PM Gordon Brown Promises More Medals If Elected A big if.

Good Read: London Marathon Digested - Dave Bedford Praised, Transportation Worrisome As 2012 Olympics Approach
American Distance Women Speak
*In-Depth Jenny Barringer Interview Pre-Boston interview with newly-situated Barringer.
*Lauren Fleshman Getting Back On Track
Stanford Payton Jordan Previewed
LRC Fans' Guide To Stanford's Payton Jordan Invitational: Will The Men's 10k AR Fall? What About The Women's 5k?
We preview Saturday's top distance events. Everyone is talking about Galen Rupp's attempt at the 10k American record, but the women's 5k is pretty hot as well and another possible American record attempt by Shalane Flanagan (it's got Shalane Flanagan, Shannon Rowbury, Amy Begley and Lisa Koll).

*Boards: Weather not Rupp-certified
*Rupp 10,000 meter prediction thread
*Rupp 100% Running Stanford: Weather Update
Training, Racing, Sport News
Thursday's Collegiate Action
VMI's Felix Kitur Almost Outkicks Robby Andrews At Liberty Twilight Qualifier Using a rabbited twilight meet as an opportunity to get an NCAA time, Robby Andrews ran under 1:48 in an open race for the first time and fought off a determined sprint challenge from 1:46 runner Felix Kitur of VMI. *Download Video *Results