Chris Solinsky Teleconference And Live Chat Notes
LetsRun.com
May 4, 2010
Teammates Chris Solinsky and Simon Bairu chatted with fans and media on Tuesday after their American and Canadian national record 10,000m performances late Saturday night in Stanford, CA.
Solinsky, who has ignited a huge surge of enthusiasm on the LetsRun.com site with his 26:59.60 American record at Stanford, answered a broad range of questions of interest to LetsRun.com readers.
First came a live web chat facilitated by Kimbia.net, partial sponsors of the former Wisconsin Badger duo. Below we have our top 10 Solinsky responses. We only have time to recap Solinsky's most interesting answers (sorry, Simon), so if you would like to read the whole chat, please click here.
After the KIMbia chat, Solinsky participated in a teleconference organized by USA Track and Field. Below are some highlights from that talk as well.
---
Top 10 Solinsky Live Web Chat Answers:
1. Solinsky on his weight: Well, I guess I don't know what the numbers are that are out there for view, but I am, to be exact, 6' 3/4'' and I weigh anywhere between 164-166. I have lost a lot of the excess fat, and replaced it with well-proportioned muscle. I credit my wife Amy's cooking, along with Pascal Dobert's core sessions, for this great transformation.
2. On compression socks: I think we (Simon and I) started wearing them at the same time. It all started in practice as Alberto (Salazar) gave them to us to test out and we noticed that it helped us recover faster from the workouts and we felt more composed during the workouts, so we tried them out in races and liked them ever since. I have always had trouble coming off of races and these help with the days following races. Also, they prevent a lot of calf tightness and Achilles tenderness.
3. On whether Rupp was sportsmanlike: Galen (Rupp) came back to shake my hand and if anyone was not sportsmanlike you could say it was me because I did not get the chance to congratulate him on his race as it was very good as well. It was tough because I was being thrown around like a rag doll, which probably made it that much tougher for him. He still broke the American Record and did a lot of work. He ran a great race and should be applauded for it. Galen is a great athlete and sportsman, and I would not be doing this if it were not for him getting after the record.
4. On Prefontaine Classic 5,000: I have heard that (Kenenisa) Bekele may be running it and that alone almost guarantees a fast pace. It goes without saying that I would be thrilled to go under 13 mins on US soil, you know I think that would be something great for US distance running and something that could really get the fans excited and motivated in their own training, which further ignites the US resurgence.
5. Solinsky on 10k Plans: I am not sure when my next 10K will be, but I am pretty confident that it will not be until next year. The rest of this year will be spent doing 1500s, 3ks and 5ks.
6. On his favorite track workout: It actually is not a track workout at all. I feel the best afterward and gain the most confidence after a tempo effort, whether it be a 4-10 mile tempo run or an 18-mile threshold run, I just love getting out there and pushing my body at it's limit. Track work beats me up, but if I had to choose I would say mile repeats is my favorite workout on the track.
7. On Mileage: Consistently in the range of 100-120 miles a week.
8. On Steeplechase: Well you know I cannot answer that because I do not know. Jerry (Schumacher) has been wanting me to do the steeple for a long time as both he and Pascal (former Olympic steepler) have thought that would be my best medal hope. I guess we'll have to wait and see, since Jerry is the man with the master plan.
9. On fitness coming into race: I think we may have surprised Jerry a little bit. He and we knew we were quite fit coming into this weekend, but I don't think we knew just how fit we were. Workouts pointed to being very strong. All along Jerry just told me to do whatever it took to win, and I'm sure he gave Simon similar advice.
10. On Wisconsin "Entourage": Well, for some reason everyone says I would be the Johnny Drama of the group, and Matt (Tegenkamp) would be Vince. I think then Nelly (Tim Nelson) would be the best Turtle, and Simon would be E, and Jager would be Sloan (totally kidding). Jager would make a great E, too.
---
USATF/Chris Solinsky Teleconference (Thanks to USATF for setting up call and transcribing highlights)
Q: Chris, you surprised a lot of people with your record-setting performance on Saturday. Did you surprise yourself?
A: I would say definitely. Going into it we went in just to race, and we figured we were in good shape. I guess we had no barometer. With it being my first 25 laps is was kind of hold on for dear life and whatever happens, happens. It definitely surprised me. I joked around that I could either run 26:55 or 28 minutes, and honestly I felt that 26:55 was a joke, but there was a little bit of a thought in the back of my head thinking that I could possibly be serious, but obviously everything would have to go perfectly and it kind of did.
Q: Why did you decide to make this your first 10,000m race?
A: I've been thinking about running a 10k in the spring for quite a while. I've always felt that I've been a strength runner and a lot of my training from high school on there was no structured workouts and I'd kind of get out there and just hammer myself into the ground. It wasn't the smartest thing at times, but it got me to where I am to be lucky enough to be durable and get away with some not so smart training. We were going to run a steeple actually at this meet until after one of my tempo-runs when Jerry (Coach Jerry Schumacher) decided that we'd switch it to a 10,000.
Q: The later part of the race was unchartered territory for you in a competitive race. How did you manage to keep running so well?
A: With eight laps to go or so I thought it was a possibility that I could win the race, and that was the only thing that was going through my head. Midway through the race I had a pain in my abdomen right under my ribs right in front and it ticked me off because I was feeling good. I felt in control, my legs felt comfortable and not too fatigued, and I was starting to worry that if anything was going to screw me up it was going to be this. With about six laps to go it went away and that just fired me up. The last 800 to 900 meters I was running scared because I just wanted to win the race.
Q: Word traveled fast about your accomplishment and your friends and family knew about it before you had the chance to contact them. What was that like?
A: Yeah it was crazy. I don't think I've ever had my phone blow up the way it did that night and the few days since. It's been unbelievable how much support and well wishes I've gotten. Obviously with the internet and the way everything is now word gets out quick. We had a chance to have my wife come down to watch the race, but unfortunately we thought the ticket prices were too expensive so we just passed it up. In hindsight I wish we would've just paid whatever it cost to have her come down because it would've been pretty awesome having her there.
Q: Since you had never run this race before, did it help you psychologically that there were no pre-race expectations on you?
A: Oh yeah, definitely. I said to Jerry before the race that I'm in a win-win situation. I could even have a bad race of what I thought I can do, and I would've been happy with anything under 27:30, but if I would've been at 28 minutes or 27:50 I would've been disappointed, but in the grand scheme of things I think anyone on the outside would've thought I did okay. I had no pressure and all the talk was about Galen (Rupp) going for the record and this is my first one, and there were zero expectations. I had nothing to lose and I think that helped.
Q: There are pundits out there that say you're too big to be a good distance runner. What do you think?
A: I've kind of gotten used to it because I was bigger in high school and college. Even my teammates would tease me about being a fatty, and the first thing they'd say after a race is that's probably a fatty world record (laughter). It's okay. I told my dad that nobody ever told a bumblebee he isn't supposed to fly. It's almost been a blessing because it's allowed me to be durable, being bigger and sturdier. It's been my frame that has allowed me to get away with putting in a lot of miles when someone a little more frail might fall apart.
Q: What's been the difference in your training that has brought you your recent success?
A: The biggest thing I think has been being able to run a faster tempo for a longer time. In college the longest we would do any tempo or rhythm run would be ten miles. Now we've pushed it to 15. I think kind of pushing the envelope has made me so much stronger, and being able to do it consistently and for a long period of time. Moving here to Portland (Ore.) has made it easier to log higher quality consistent mileage during winter, which has been a huge key for us.
Q: Are you in the best shape of your life?
A: Yeah, I would say that. I thought I was going to be pretty far behind coming into this winter because I was home preparing for my wedding and seeing family before Amy and I moved out here to Portland. Right now I am in the best shape of my life and I really hope to keep building on that. I don't want to rest on my laurels with this 10,000, I want to keep pushing the envelope and keep logging the miles because what I'm doing now isn't just for this year, it's for 2011 and 2012.
Q: What are your plans for the near future?
A: I think this year we'll run some 1,500s and 5ks and try to get in as many high quality races as possible. Jerry and I have discussed briefly the future in 2011 and 2012 and the 10,000, trying that for the global championships. To be honest, my heart is still is with the 5,000, and I'm going to try to accomplish what I think I can accomplish with the 5,000. I feel like I have unfinished business and I want to cap that off before I fully put my heart into the 10,000.
---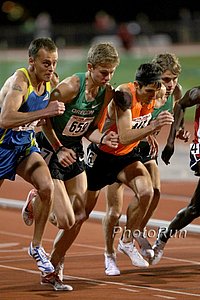 More Stanford 10,000 Coverage:

*LRC The Week That Was In Running - Chris Solinsky And The Epic Stanford 10k

*LRC Chris Solinsky Is The Tallest And Heaviest Sub-27 Man In History

*LRC 10k Photos

*Alberto Salazar Talks About Disappointing Stanford 10k

*Solinsky Will Race Loaded Prefontaine 5,000 Field - Go For 1st American 12:xx On Home Soil

---
Runner's World &
Running Times



Combined Only $22
a Year
Save $87

---

Running & Track and Field Posters
---

Great Offer: Nike Lunar Glide Sale Multiple colors of this shoe available.

*Nike Air Max Moto 7 Get 2 Pairs for a Crazy $112
---