The Week That Was In Running - The 26:59.60 That Shocked The World
Week Of April 26 - May 2, 2010
By LetsRun.com
May 4, 2010
To read last week's LRC Week That Was, click Here.
To read any 2010 LRC Week That Was, click Here.
Last week will be remembered in fifty years for one thing and one thing only: American Chris Solinsky became the first non-African-born runner to break 27:00 in the 10,000 as he stunned the track and field world by running a 26.59.60 in his 10k debut at Stanford. As a result, we'll devote a huge portion of The Week That Was to breaking down Solinsky's performance for you.
Where Did The 26:59.60 Come From?
Nearly everyone in the running world was stunned by Solinsky's performance. We were as well. But in reality, maybe we shouldn't have been.
The fact of the matter is, for the last few years the world has been waiting for a white guy to break 27:00. Way back in 2004, LetsRun.com co-founder Robert Johnson predicted Dathan Ritzenhein would be the first white guy under 27:00. Given Ritz's 12:56 American record last year and the way Galen Rupp had been running of late, it was a matter of when, not if, someone would break 27:00. The real question heading into 2010 was who would get there first - Rupp or Ritz?
But the fact that Solinsky is the first one there is a surprise. In many ways, it reminds us of last August. It seemed likely that Matt Tegenkamp would be the first of the current US runners to break 13:00 for 5,000, but Ritzenhein beat him to the punch by getting there a week earlier.
Going back to Stanford on Saturday - if the one to crack 27 had been named Rupp and not Solinsky, few would have been totally shocked. Well, take a look at the following stats:
| | | |
| --- | --- | --- |
| Runner A | 1,500 PR: 3:37.27 | 5,000 PR: 13:12.24 |
| Runner B | 1,500 PR: 3:39.14 | 5,000 PR: 13:14.21 |
| Advantage | Runner A | Runner A |
Runner A is Chris Solinsky and Runner B is Galen Rupp. Solinsky's credentials at the shorter distances are slightly better than Rupp's at least in terms of PRs and many thought a sub-27 was possible for Rupp. So it shouldn't be that surprising that Solinsky did it.
But He's Only Run 13:12 And He's Too Big (Conventional Wisdom Was Wrong)
Much of the shock regarding Solinsky's 26:59 comes from the fact that he is a "big" distance runner. Solinsky is by no means big when compared to most American male athletes, but he is bigger (and particularly heavier) than your average elite male distance runner. According to www.tilastopaja.org, Solinsky tips the scales at 73 kg and stands 185 cm tall. What does that mean to Americans? Well that's basically 160.9 pounds and that is 6 feet .83 inches, or basically 6'1" (in an online chat on May 4, 2010, Solinsky reported that his height was 6'3/4'' and he said he weighs "anywhere between 164-166").
That may not sound heavy to you, but there is a reason that the IAAF recap of his record-breaking race referred to Solinsky as "barrel-chested 25-year-old Wisconsin native," as by distance running standards he is significantly heavier than your average 6'1" distance runner and most distance runners aren't 6'1".
We've done some research and looked up the height and weight of every sub-27 man in history (full article here). We also looked at their 5,000-meter PRs.
Solinsky is the heaviest and tallest sub-27 guy in history. He also is the 2nd-slowest at 5,000 meters. Solinsky is the first 6-foot-tall man to have broken 27. The 2nd tallest? None other than Paul Tergat, who was 5'11.65" (182 cm). Not only is Solinsky the first 160-pound sub-27 man, he's also the first guy over 150 lbs to do it. In fact, prior to Solinsky, only two men had done it who were over 140 pounds. We've written a whole article on Solinsky's weight and the other guys who have gone sub 27. We also have a quote and video from Solinsky's dad on how even back in high school people were saying Solinsky - a Foot Locker XC champion by 20 seconds - was too big to be any good. Clearly, he proved them and the stereotype wrong.
More: Chris Solinsky Is The Tallest And Heaviest Sub-27 Man In History
Message Board Post Of The Week
Now is the perfect time for our Message Board Post Of The Week. It comes from the anonymous jjjjjjj, who wrote the following about Solinsky's big frame:
If you set a paradigm concerning who will excel at some endeavor by reference only to those who have done well in the past and then enforce the paradigm by coaches or talent scouts or even the athletes themselves, then you never even test your paradigm and you will not know what human limits exist.

Give a shot to the tall sprinter (Bolt) at 100m, the slow twitch marathoner at 5000m(Ritz), the heavy middle distance runner (Solinsky) at 10000m, and if they fail, they fail. Like JFK said, "let them come to Berlin." Let them try it out on the world stage and see what happens.
More: *Height & Weight Of All Sub-27 10k Runners In History *How heavy is Solinsky? *SOLINSKY'S muscles vs WEBB'S muscles *The Official "Solinsky: Admit you were shocked" thread *Weight of Chris Solinsky and Matt Tegenkamp
How Did He Do It?
Solinsky did it by running a classic slight negative split. If you were looking for a textbook way on how to run a perfect all-out 10,000, Solinsky gave it to you. His first 5k was 13:34-high or maybe 13:35-low. His last 5k was 13:24. Solinsky's approximate 1,600 splits were as follows:

4:25, 4:21 (8:46), 4:17 (13:03), 4:22, (17:25), 4:17 (26:02). Hammer the last lap in 57 and all is set.
The first 1,600 of the race was the slowest (4:25 for Solinsky). The last 1,600 was the fastest. His last 1,600 was covered in 4:08.
A Lot Of Credit Goes To The Rabbits, Alberto Salazar And Galen Rupp
Much of the credit for the record has to go to Galen Rupp's coach, Alberto Salazar. Salazar did a masterful job of securing rabbits in Kenyans Matthew Kisorio and Simon Ndaringu and orchestrating them in turn to a near-perfect rabbitting job. The ironic thing is that while the race was billed as Galen Rupp's 10k record attempt, had it not been for Rupp (and his rabbits) there is no way that Solinsky would have broken the 27:00 barrier.
Rupp wanted the record and he quite honestly was the one doing all of the work to ensure it happened. After the rabbits dropped out at 6,400, Rupp is the one that led until 900 meters to go when Solinsky unleashed an unreal 1:56 last 800 finish. Some people are making a lot of the fact that Solinsky did none of the work. Our response: That's life. The point is to win the race. Rupp led 1,700m 2,700m, Solinsky led the most important 900m.
In an ideal world that doesn't exist, everyone would share the lead, but this was Solinsky's 10,000-meter debut and the whole race had been billed as Galen Rupp's AR attempt. Solinsky deserves all the credit in the world for being fit enough to hang with the pace before unleashing his lethal finish.
And it's only fitting that Solinsky got to benefit a bit off of someone else's work, because at the 2008 US Olympic Trials, Solinsky stuck to the game plan of leading late in the race and was left out to dry by his teammate Matt Tegenkamp, who never did his own share of the leading. Solinsky learned the hard way that sometimes one has to be a bit selfish in this sport. The point is to win the race.
A False Rupp/Solinsky Controversy
There should be no controversy in our minds between Rupp and Solinsky. If one watches the race and Solinsky's finish, it's clear in our minds that had the rabbit stayed in the race all the way to say the last lap and then Rupp and Solinsky raced it out, that Solinsky would have won every time the race was run. Solinsky was the better runner last Saturday.
That being said, Rupp fans are correct that if Solinsky had been forced to do as much leading as Rupp did, then Solinsky might not have won. It certainly is a very interesting hypothetical for one to ask themselves: "If Solinsky had to lead from 4 to 6 miles, would he still have won?" We're not sure of the answer, but in the end it is just a hypothetical.

We also think those that are trying to say Galen Rupp wasn't sportsmanlike after the race to Solinsky are totally barking up the wrong tree. Rupp went up to Solinsky and congratulated him. That's all he needed to do. What do you want him to do? Go and give him a kiss and hold his hand as he runs a victory lap? Solinsky confirmed Rupp's sportsmanship in this online chat saying, "Galen came back to shake my hand and if anyone was not sportsmanlike you could say it was me because I did not get the chance to congratulate him on his race as it was very good as well ... He still broke the American Record and did a lot of work. He ran a great race and should be applauded for it. Galen is a great athlete and sportsman, and I would not be doing this if it were not for him getting after the record."
Imagine if Lebron James scores 40 points a game in the NBA Finals this year and yet loses on a last-second shot in Game 7 to Kobe Bryant - do you expect the two be all buddy-buddy with each other for a half hour before the victory ceremony?
Of course not.
Can Solinsky Medal?
Solinsky's 26:59 and his 1:56 last 800 with a 56+ last lap have Americans dreaming of their first male World Championships or Olympic medal at 10,000 since Billy Mills. Is this dream a possibility?
We'll analyze that, but before we start, we here at LetsRun.com want to state publicly something that we've thought for a long time and may have not mentioned before in writing. Last year, we seriously considered writing a column entitled, "We'll never see a white guy medal in the 10,000 at a global championship in our lifetime." Solinsky's run certainly makes us rethink that position, but please understand the odds are against him.
We decided to go back and look at the last few global championships and see what it's taken to medal in the 10,000. It's certainly a daunting task.

2009 Worlds (2009 Worlds 10k Recap *Results)
The 2009 Worlds are the perfect example of how difficult it's going to be. World Championships aren't rabbitted affairs in ideal cool conditions and yet the three medallists all ran 26:57 or faster. Thus there would have been no chance for Solinsky to medal in Berlin.
In hindsight, nearly everyone would say that American Dathan Ritzenhein was in excellent shape at the 2009 Worlds, as 11 days later, he'd smash the American 5k record. Well, Ritz ended up 6th in 27:22 - some 25 seconds behind the bronze.
2008 Olympics (2008 10k Recap & Results)
The 2008 Olympics was a bit of a tactical affair, as it came down to the last lap. The race was won in 27:01.17 and the top 7 guys all ran 27:08.25 or better. Thus, this is the dream tactical race that one thinks Solinsky's big finish at Stanford might play out well in.
In this race, Bekele ran a 53.42 last lap. The silver medallist Sileshi Sihine was 1.6 seconds back, so one can assume his last lap was just over 55 seconds. The 3rd- and 4th-place finishers in Micah Kogo and Moses Masai both finished 2.94 seconds behind Bekele; thus, one can assume their last laps were a bit slower than 56.3, which puts them in the Solinsky - Stanford race. Thus, it's conceivable to think Solinsky would have been close.
The problem is he likely wouldn't have stayed in the hunt that long. Remember, people were running in the smog and heat of Beijing and the first 5k was only covered in 13:48. Thus, the last 5k was rammed home in 13:15 by the bronze medallist as compared to Solinsky's 13:25 last 5k in ideal conditions at Stanford.
Looking at the last 1600, the edge is to the Africans once again. Solinsky covered his last 1600 in Stanford in 4:08 and change. Bekele was 4:02 and change in Beijing. If one puts Solinsky six seconds behind Bekele in Beijing, he finishes a very respectable 7th - just behind the legendary Haile Gebrselassie.
2007 Worlds (2007 Worlds Recap & Results)
This race also was won in over 27:00, as Kenenisa Bekele got the gold in 27:05.90, Sileshi Sihine the silver in 27:09.03 and Martin Mathathi the bronze in 27:12.17. Solinsky fans take heart. While Bekele's last 1,600 was 4:05 and change, Sihine only ran 4:08 to get silver with a 59-point last 400 and that clearly is in Solinsky range. Mathathi was just in the 4:11 range for the last 1,600 and his last lap was well over 60.
That's the good news. The bad news is the race was run in 84-degree heat and was a death march. The fact of the matter is top African runners can run 27-low in very hot weather. That is incredibly impressive. Don't take our word for it. Take Ritzenhein's, as he said the following after 2007 Worlds: "I didn't think anybody would take it out hard tonight. I was pretty shocked that it went out that way."

2003 Worlds: Bekele Closes In 12:57
We'll try not go back much further, but if we didn't mention the 2003 Worlds, something would be wrong. Bekele went 12:57.25 for the 2nd 5k to get the gold and Geb was less than a second behind him. The good news is Shihine (27:01.44) was more than 10 seconds behind Geb for bronze. It was after this race that Meb and Culpepper seemed to focus a lot more on the marathon.
We'll Try To Stay Positive
The above analysis should have most realizing it's incredibly hard to medal at 10,000 as a non-African. However, we'll try to stay positive and point out that only 30 men in history have broken 27:00.
The better news is that only 20 men have done it in the last 5 years prior to this year. The following men are those who have broken 27:00 since 2005: Chris Solinsky, Kenenisa Bekele, Zersenay Tadese, Josphat Ndambiri, Moses Masai, Martin Mathathi, Sileshi Sihine, Haile Gebrselassie, Eliud Kipchoge, Leonard Komon, Moses Mosop, Gebre Gebremariam, Micah Kogo, Bernard Kipyego, Boniface Kiprop, Abebe Dinkesa, Sammy Wanjiru, Nicholas Kemboi, Sammy Kipketer and Mark Kipkinyor.
Some will probably be even more encouraged that only a handful of guys break 27:00 each year, as shown by the following stat:
# Of Sub-27s Last 5 Years
2009 -6 times by 5 people
2008 - 5 times by 5 people
2007 - 9 times by 9 people
2006 - 3 times by 3 people
2005 - 9 times by 8 people
Even more encouraging for those dreaming of an American medal at 10,000 is the fact that if one looks at the list of sub-27 guys from the last five years, all of those names except for Boniface Kiprop are names of runners that are from Kenya or Ethiopia. In fact, Kiprop, who is from Uganda, is one of just five men (not counting Solinsky) who have broken 27 that aren't from Ethiopia or Kenya. The others are Salah Hissou of Morocco, Zersenay Tadese of Eritrea, Abdullah Ahmad Hassan of Qatar (who was born in Kenya) and Belgian drug cheat Mohammed Mourhit (who was born in Morocco).
Thus, in practical terms, for an American to medal at the Olympics, all they need to do is beat four guys from Kenya/Ethiopia (assuming the mass exodus of Kenyans/Ethiopians to other countries doesn't continue). That conceivably could happen, particularly if one of the top guys has an off day. Solinsky's (or any American's) best bet would be to get in the race, run a bit conservatively and hope that he could steal third as the Africans who were running up front for the win tired and blew up. At 2007 Worlds for example, 4th place was another 9 seconds back of 3rd in 27:21. Coming within 16 seconds of Bekele seems more realistic than coming within 7 (ignoring the fact that the top American, African-born Abdi Abidrahman, was more than 50 seconds behind).
The Economics Of The Sport May Help Solinsky
The changing economics of the sport may help as well. The fact of the matter is that track 10,000s are a dying breed on the European circuit. There are no major 10ks planned that we know of in 2010. There is a reason why only 5 people have broken 27-flat each of the last two years. The race is rarely run for time anymore.

There have to be at least 20 runners from Africa that could break 27-flat each year if they trained for it, even though only five did it in 2010. Don't believe us? Well, a 27:00 is equivalent to about 59:43 for the half marathon in our book and the IAAF stats show that 15 guys ran that fast in 2009. 15 + 5 = 20.
But the runners from Africa need to earn a living and more of them are turning to half marathons and marathons to do it. Generally, the top guys end up running the World Championships on the track, but if more and more end up on the roads, then the odds of a non-African sneaking in for a bronze at Worlds goes way up.
This message board thread lists the top 10k performances of all-time. A ton of them are from Brussels, Belgium. A message board poster then says, "Someone get the americans to belgium." He's got it backwards. The vast majority of fast 10ks are run in Brussels because that is often the one race a year the pro runners from Africa get to run a 10k not at altitude and with rabbits, not because the summer Brussels weather is any better than weather normally is at Stanford in early May. The better statement might be, "Get Bekele to Stanford." In perfect weather, he might have run even closer to 26:00.
Behind Solinsky - A Slew Of Fine Performances
There were some amazing performances right behind Solinksy that shouldn't be totally ignored. 19-year-old Kenyan David Salel was 2nd in 27:07.85. Liberty's Sam Chelanga destroyed the collegiate record with a 27:08.39 third-place showing. Galen Rupp dipped under the old American record with a 27:10.74 clocking. Solinsky's training partner, Simon Bairu, set a new Canadian national record with his 27:23.63.
Brit Chris Thompson did his best Chris Solinksy impersonation, as his 10,000 meter debut was shockingly successful, as the 13:24 5k-er surprised wtih a 27:29.61 - #3 all time for Britain.
American Tim Nelson moved into the top 10 all-time in the US with his 27:31.56 clocking, while former NCAA champ Bobby Curtis took 33 seconds off his personal best to run 27:33.38. Curtis now sits at #11 all-time in the US.
For comparison's sake, please realize that Tim Nelson and Todd Williams basically have the same personal best at 10,000. Williams owned the 10k for the US in the mid-1990s and yet in 2010, Nelson is basically someone who almost has to hope the top guys don't show up at USAs or he won't even make a Worlds team, as he probably loses handily to Solinsky, Rupp, and Ritzenhein on their best days.
Looking Ahead - The Dream 10,000
Since Solinsky's 10,000-meter debut was so successful, we think his training partner Matt Tegenkamp, who has run 14 seconds faster than Solinsky for 5,000, should move up to the 10,000. This year is the perfect year to do it, as there are no World Championships.
With Teg in the 10k, we propose getting all of the top US runners in one race. How much fun would it be to see the following guys competing against each other?

Chris Solinsky, Galen Rupp, Matt Tegenkamp and Dathan Ritzenhein.
It's a stretch, but America could conceivably have 4 sub-27s in one race. If Bernard Lagat would try the event, which we highly doubt he'd do, maybe America could match the entire annual world output of sub-27s in one race (we doubt Lagat would break 27 even with more mileage).
So no one could complain about people mooching off of each other, we'd propose that the very best in the world be solicited to rabbit. Get two World Championship medalists to rabbit the thing 21 laps at 27-flat pace and then let the Americans battle it out over the final mile. The Americans now need to set the bar higher. 26:30 is definitely doable under the right conditions.
And The First American Sub-26 10,000 Will Occur In ...
The 29-minute barrier was first broken in America in 1960. The 28-minute barrier was first broken in 1972. The 27-minute barrier went in 2010. So it took 12 years to break the 28-minute barrier and 28 38 years to break the 27-minute barrier. Thus, the record lasted 2.333 3.166 times as long (we had a little trouble with our fuzzy math). Well ... 38 times 3.166 is 120. So you heard it here first. An American will break 26:00-flat in the year 2075 2130.
Email Of The Week - Running With A Small Gun
Instead of doing our normal weekly recap, we've devoted the whole thing to an analysis of the Stanford men's 10,000. We wish we'd been able to talk about some of the women's action, including Shannon Rowbury's win over Shalane Flanagan at 5,000, as well as Jenny Barringer's near loss to Morgan Uceny at 1,500. Clearly questions as to whether Flanagan and Barringer ever should have switched coaches are high in our mind. But unfortunately we don't have time for that. We only have time for one non-Stanford 10,000 thought for the week - and that's our Email of The Week, which came into our inbox after a lot of talk was occurring on the message board about how the Texas Governor runs with a pistol.
The email of the week comes from none other than former NCAA 1,000-meter record holder Doug Consiglio. Consiglio, a 1988 Olympian who once held the Canadian 1,500 record at 3:35.82 and was the winner of the Pre Mile in 1991, is maybe best known for having the collegiate 1,000 record for 20 years as he ran 2:19.64 to win the NCAA D1 title (although, interestingly enough, he finsihed behind a DII guy Freddie Williams in the race).
Despite those lofty accomplishments, Consiglio said he'd best prefer to be referred to as follows:
"Of the the top-4 Canadian 1,500m runners, he is considered not as good looking as Nate Brannen, but much better looking than both Kevin Sullivan and Graham Hood."
or
"Doug Consiglio - taller, faster PR, better kick and much better looking than Andrew Wheating ... ( but no where near as good looking, or fast kicking as Robbie Andrews ...)"
Regardless of how we refer to the legend otherwise knjown as Mr. Consiglio, we thought his succinct email was pure genius. It came in under the subject matter of "running with a gun":
On the lines of running with a gun, apparently Mr.Merritt thought he was running with too small a gun.
As for running with a real gun, we've asked you to email us if you're ever done it or heard anyone doing it. So far we've only gotten two people who have heard of anyone ever doing it.
LetsRun.com Quotes Of The Day - Day-By-Day:
Sunday/Monday: 26:59.60 . . .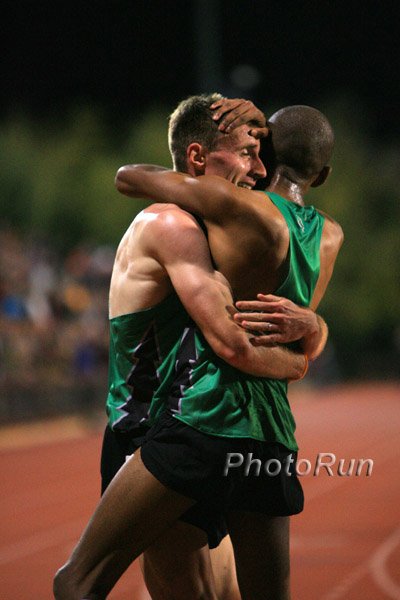 "I can't even put it into words," Solinsky said haltingly. "You know, I don't know. It still hasn't sunk in what I just ran because, honestly, we come in here hearing all about Galen was going to make a record. We just wanted to come in and have a fast race."
- Chris Solinsky after setting the American 10,000 record Saturday night at Stanford. Solinsky got the win, the American record, and the first sub-27 clocking by a white guy in his 10k debut.
*Photo Evidence *Video Evidence
Friday: "Dude. Your mom is so nice."
Reply: "She Loves You."
- exchange between Andrew Wheating and Robby Andrews prior to the 4 x 800 at Penn Relays according to a great article by Ken Goe of The Oregonian. The article reveals that Wheating, who will go for the collegiate record tonight in the 1,500 in Oregon, may try the 800/1,500 double at NCAAs.

Thursday: "Everyone has a cause and that is what makes London so unique and prompts envious glances from the New York City Marathon organisers, who would like their race to embody the highs and lows of human life but know it is really about getting nice calf muscles. Running in the United States is a vanity project, but in London there are 35,000 higher aims."
- Times writer Rick Broadbent from London, the land where people run for the good of others.

Wednesday: "The Russian coaches won't decide until the actual year of the Games who is going but I really hope I get picked because I think I can win there. At the Olympics, I will know the course and I think that will help me having won on it now."
- Chicago and London Marathon champion Liliya Shobukhova. She's our pick in any upcoming marathon because her closing speed from 40-42.2km has never been seen before in women's marathoning. In London, she closed in 6:53, in Chicago 6:36!

Tuesday: "It was actually a terrible morning to run by the hotel on two occasions, the half-way point and the 22-mile point. At both of those times I had to fight with myself to keep moving as opposed to dipping into the hotel to shower up and catch some sleep, or something. I did not have it today and I have no idea why."
- American marathon star Deena Kastor talks to David Monti about her 2:36 performance in London that started a big debate (here and here) on the LetsRun message boards. Monti is the elite athlete coordinator for the New York City Marathon, where Deena will run her next marathon.
Last Week's Homepages
*Mon (May 3) *Sun (May 2) *Sat (May 1) *Fri (April 30) *Thur (April 29) *Wed (April 28) *Tue (April 27)
---
Runner's World &
Running Times



Combined Only $22
a Year
Save $87

---

Running & Track and Field Posters
---

Running Shoe Savings: Nike Lunar Glide 20% Off Super popular shoe from Nike featuring Flywire and Lunar Foam
---