World XC - A Story Almost Too Good To Be True
LRC Training Talk 7: Joseph Ebuya's Coach And Manager Talk With LetsRun.com

Joseph Ebuya's story is truly remarkable - from a nomadic existence in Turkana, to signing a Nike contract when he didn't even know what the clock on the track meant, to Kenya's greatest sporting hero - read or listen to the entire story of an inspiring figure.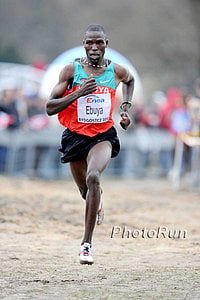 *LRC Transcript Of Interview With Ricky Simms And Noah Ngeny - Managers Of World XC Champion Joseph Ebuya

LRC Photos From World Cross Country 2010 Photos of the Americans jumping the logs on the course in Poland.

BBC Sports Statistician Mark Butler Wonders What Is Behind Europe's XC Decline He credits Kenyan "organization, management and coaching" for the shift.
College Action
Texas Relays: *Results
*Ashton Eaton Misses NCAA Record in Decathlon at Texas Relays
*Chelsey Sveinsson Runs 10:07 3200m to Break State Record at Texas Relays

Florida Relays: *Results
*Jeff Demps Runs 10.11 at Pepsi Florida Relays
Wilfred Bungei Makes A Lot Of Sense
*Wilfred Bungei Says Kenyan Defections Will Kill Athletics If Kenyans keep defecting, Bungei says, there will be 12 Kenyan-borns in every distance final at the major events. 3 Kenyan males who didn't even make their team have run 27:22 or faster on the roads this year.
*Bungei Says David Rudisha Can Break WR And Cautions Media In Dealing With Athletes
Caster Semenya's Comeback Compared To Tiger Woods'
Sergey Bubka Will Head IAAF Commission Intent On Studying Athletes And Their Entourage Proponents of the amateur days of track and field, have fun with this one.
Employee #1 Saves Your Time And Gives His Friday Top 5
1. Old LetsRun.com Favorite - He even trains in Flagstaff.
German Jan Fitschen - 2006 Version Of Billy Mills - Hopes To Relive 2006 10,000m European Champs Magic
*LetsRun Page From Kitschen's 2006 Win: "This morning I was hoping to be top 10. Now I'm the top of the top 10."

2. Recommended Read: Why Jamaica's Champs Is One Of The Best Track Meets In The World We keep a list of "meets to see before we die." This one is in about the top 3.

3. Decathlon News: The Old And The New
*Roman Sebrle Approaching Ripken-Esque 100th Multi-Event Appearance
*Eaton's Windy Season-Opening Decathlon Falls Just Short Of NCAA Record One of these days you'll hit it big, kid. Oh, my bad ...

4. Lisa Koll - With the World XC madness, some of you might not know she ran an NCAA record on Friday night.
Lisa Koll Wins USATF Athlete Of The Week

5. IAAF Nightmare Scenario Continues
*Semenya Barred From Running As Unexpected Announcement Causes Stir
*Semenya May Race Next Week If "She Talks To The Right People"
*Clever Headline: Semenya's Lawyers Planning Legal Action What else do lawyers plan besides a $300/hour bill?
*Suspended South African Athletics Officials Won't Face Hearing For Few More Months Anything the IAAF can do, the South African legal system can do better.

Bonus: Kenya swept all 8 World XC golds. They easily won the men's senior team title. And look at guys not even on the team. Micah Kogo, Moses Masai and Martin Mathathi (see video, right) have all run road 10ks in 27:22 or faster in the past few weeks.
LRC The Week That Was
In breaking down the greatest distance race on the planet for you, we try to put the US women's bronze medal in perspective, we wonder if we have another Asbel Kiprop in the making and we scour the results for the first non-African-born finisher. Along the way, we remember the last US men's team to medal at World XC and then we move on to talk about Lisa Koll's amazing run and then talk about Usain Bolt's future rival at 400 meters.
Interview With Bernard Lagat Where He Says He Wants To Run 12:50 And Shares Training And Mental Advice Lagat says he's going to Flagstaff to train himself to get ready to break the American record in the 5k. He also discusses why he's so good at 35 and his A sample EPO positive from 2003.
Spring "Marathon Major" Updates
LRC How Non-African-Born Athletes Fared At 2010 World XC Some prompting from track writer Alfonz Juck prompted us to look back at World XC results. Only 2 non-African-born men finished in the top 30 in the men's junior and senior races in Bygdoszcz. The fastest-ever American 5k/10ker, Shalane Flanagan, finished 12th in the women's senior race but was still 54 seconds from a medal.
World XC - Kenyan Men Basking In Hero Status
American Road Race Section
*Recommended Read: Ryan Hall Chats With Runner's World - Can He Win Boston In Try #2? From the sound of things, Hall has done everything right, though fans squirm at his only pre-marathon race where he got crushed by Simon Bairu in a half marathon.
*Meb K Talks To Running Times, Hopeful For American 1-2 Meb has the 16th-best PR in the strong field.
*Boston Elites

World XC Champ Emily Chebet To Race Meseret Defar At Carlsbad 5k On April 11 Race organizers deserve major credit for getting this matchup, though Defar (with a track 14:12 and road 14:46) has to still be a big favorite.

Saturday AM: New Orleans Crescent City Classic Organizers Bring In Strong Fields
Japanese News From The Man In Japan
Marathoner Arata Fujiwara Quits Team In Unprecedented Move For Japanese Elite JRN's Brett Larner's take: This is big news. As far as we are aware, Fujiwara is the first Japanese man ever to make this kind of move at the peak of his marathoning career.

*Martin Mathathi Plans Half Marathon And Marathon Debuts After Outstanding 10k Success Mathathi's manager talks about his latest road 10km in a video to the right.
Running Greats Interviewed
Recommended Read: Kids, Read About Dave Wottle And How Track Used To Be Münich 800m champion Dave Wottle gives a long and interesting interview with Gary Cohen. Outside of running, he talks about water skiing naked with Steve Prefontaine.

*Extensive Interview With Irish Distance Great Sonia O'Sullivan
Usain Bolt Daily Bulletin
*Bolt/Gay/Powell In Brussells Will Be Most Expensive 100m In History
*Usain Bolt Commits To 10-Year Partnership Of Supporting His Local Hospital It's good to see not all the money is going to fast cars and the local nightclubs.
American Buzz
*Bernard Lagat Joins Usain Bolt In adidas Grand Prix Field Lagat will run the 1,500. It was also announced that the world's best all-around athlete, Jessica Ennis, will be in the US to compete with Hyleas Fountain. Get your tickets here for the Diamond League meet in New York City.
*Lagat To Open Outdoor Season With Mile At Drake Relays

*Brief Chat With American World Indoor 1,500 Finalist Garrett Heath He(ath) led the first few laps of one of the most entertaining professional races you will ever see.
*Vega And Lehmkuhle Announced To Run New Orleans' Crescent City 10k Classic US road race.
*Andy Baddeley And Erin Donohue Will Headline BAA Mile Also get some news and notes from RRW desk including amazing Rotterdam Marathon lineup.

Bryan Green Gives His Top 50 US Distance Runners In Terms Of Trade Values 5 out of the top-6 are women and German Fernandez is #7 with Alan Webb #16.

Sanya Richards-Ross To Compete On Special Track In Manchester City Games
*See The Richards-Ross Wedding Photos

ESPN April Fools Headline: Texas Runner Trains With Cheetah Was it the cheetah that Bolt adopted?
So Amazing, It Almost Sounds Like An April Fools But It's The Actual Truth: World XC Champion Joseph Ebuya's Dad Didn't Watch World XC As He Was Up All Night Trying To Keep Elephants From Trampling The 2.5 Acres His Son Had Purchased For Him Even if he was able to watch, it would have been hard as he doesn't have a television as well. We are going to give you more insight into the amazing life story of Ebuya tomorrow, as we just did a LetsRun.com Track Talk with Ebuya's coaches Noah Ngeny and Ricky Simms. We'll have a recap tomorrow.
The Kenyans ... Are Happy ...
*Kenyan President Kibaki Honors Cross-Country Victors And Offers Them Bonus Prize Money Video on the right of some of the celebrations.
*Heroes' Welcome At Airport For Kenyan Cross-Country Runners
Preview Of South Africa's Two Oceans Ultra Marathon
IAAF To Caster: Keep Waiting
Caster Semenya Told She Must Wait Until June For IAAF Test Verdict
Caster To IAAF: Make The Decision
Semenya Emphatically Announces Return To Competitive Running In a media announcement where she read a speech seemingly prepared by lawyers hoping to put more pressure on the IAAF, Caster Semenya described her saga and announced her intent to compete.

*Official Transcript Of Caster Semenya's Media Announcement

*Athletics South Africa And IAAF Say Semenya Will Not Compete Until Decision Is Made What would you decide if you were the IAAF? See the poll results to the right.
North American Road Race Times - 27:59, 27:49, 28:26 ...
Kenyans and Ethiopians weren't just dominating in Poland this weekend ...
Alabama: *John Kemboi Wins Alazea Trail Run Road 10k In 27:59
*Press Register Writer Tells Readers To Stop Whining About Kenyans Winning Races

South Carolina: Simon Ndirangu Overcomes Harroufi, Regassa To Win River Bridge 10k Run In 27:49 Regassa won $300,000 earlier this year at Zayed and only got 3rd here despite running sub-28:00 on the roads.

Richmond And Canada - World Junior Medalist Alene Reta Double Wins: *28:26 Wins Ukrop's 10km In Richmond On Saturday
*1:32:22 30km Course Record On Sunday At Hamilton's Around The Bay
Global News