LRC The Week That Was
In breaking down the greatest distance race on the planet for you, we try to put the US women's bronze medal in perspective, we wonder if we have another Asbel Kiprop in the making and we scour the results for the first non-African-born finisher. Along the way, we remember the last US men's team to medal at World XC and then we move on to talk about Lisa Koll's amazing run and then talk about Usain Bolt's future rival at 400 meters.
LRC How Non-African-Born Athletes Fared At 2010 World XC Some prompting from track writer Alfonz Juck prompted us to look back at World XC results. Only 2 non-African-born men finished in the top 30 in the men's junior and senior races in Bygdoszcz. The fastest-ever American 5k/10ker, Shalane Flanagan, finished 12th in the women's senior race but was still 54 seconds from a medal.
World XC - Kenyan Men Basking In Hero Status
African and American Women - Ho Hum?
OK Fans, So World Cross Isn't Our Thing - At Least We Have The 4 x 4
19-Year-Old MSU Freshman Tavaris Tate Runs 44.86 To Open Outdoor Season Miss. St. doesn't have indoor track, so Tavaris Tate, a true freshman, qualified for the US Worlds team and won a 4 x 4 relay gold medal in the 4th-fastest time in history a couple of weeks ago.

*Interview With Tavaris Tate After His World Indoor Team Experience With Tate and U. Georgia stud Torrin Lawrence, the US shouldn't lose a 4 x 4 for the next 10 years.
*Profile On Tate After Running Shocking Leg Of USA 4 x 4 Qualifying Team
Excited Organizers Say Diamond League Will Be Like Formula 1 Series Uhhhhh ...
Men's Senior Race - A Hero Made In Poland As Kenya's Wait Is Over *Team *Individual *Photos
Ebuya! Kenyans Complete Perfect Day!
All 8 gold medals are going home to Nairobi as new national hero Joseph Ebuya put the exclamation point on a day of total domination for team Kenya by winning their first senior men's individual title in over a decade.

*Team Results Kenya 1, Eritrea 2, Ethiopia 3, Morocco 4, Uganda, Spain, Tanzania, Bahrain, USA 9th.
*Canada's Simon Bairu 13th Individual Top American Patrick Smyth is 36th.

3 Articles On Inspiring Figure Joseph Ebuya
*The Story Of Joseph Ebuya Ebuya, managed by Usain Bolt's manager Ricky Simms, ran 13:03 in his 2nd 5k race. He made headlines by defeating Kenenisa Bekele earlier this year in cross-country.

*Ebuya And Sister Alice Aprot Train Together On National Team Ebuya's sister Alice Aprot was 9th (the 6th Kenyan) in the women's junior race today.

*How Ebuya Ran Away From Cattle Rustlers To Running Glory Aprot and Ebuya hail from Turkana, a region not known to produce top runners.
Another Kenyan Sweep! 10 points for Caleb Mwangangi Ndiku and Kenyans.
*Top American Trevor Dunbar In 29th
*Trevor Dunbar On Africans: "We'll catch up with them eventually. But it won't be tomorrow."
*Japanese Team Outperforms Americans
ESPN Guest Column: The Second Coming Of Marion Jones
Lisa Koll Runs 31:18.07 To Crush Kipyego's Collegiate Record Koll's remarkable return from a disappointing 2009 continues as her 10,000m pace would have won the top heat of the 5,000. *Koll's World Leader
*Brief Article With Quotes
More Stanford Talk On The Boards:
*D2 Jessica Pixler runs fastest 5k in the COUNTRY *Women's 5k Results
*Freshman Jordan Hasay wins Stanford 1,500 Results and discussion as Hasay runs 4:14.
*David McNeill!!! Aussie David McNeill crushed the field in a mostly solo effort, running 13:25 and closing in 2:32 for the last km. In other news, former U. Arizona star Robert Cheseret is now running for the US Army.
Props: Army's John Mickowski Wins 1,500 Over Post-Collegiates
Spring "Marathon Major" Updates
Caster To IAAF - Make The Decision
Semenya Emphatically Announces Return To Competitive Running In a media announcement where she read a speech seemingly prepared by lawyers hoping to put more pressure on the IAAF, Caster Semenya described her saga and announced her intent to compete.

*Official Transcript Of Caster Semenya's Media Announcement

*Athletics South Africa And IAAF Say Semenya Will Not Compete Until Decision Is Made What would you decide if you were the IAAF? See the poll results to the right.
North American Road Race Times - 27:59, 27:49, 28:26 ...
Kenyans and Ethiopians weren't just dominating in Poland this weekend ...
Alabama: *John Kemboi Wins Alazea Trail Run Road 10k In 27:59
*Press Register Writer Tells Readers To Stop Whining About Kenyans Winning Races

South Carolina: Simon Ndirangu Overcomes Harroufi, Regassa To Win River Bridge 10k Run In 27:49 Regassa won $300,000 earlier this year at Zayed and only got 3rd here despite running sub-28:00 on the roads.

Richmond And Canada - World Junior Medalist Alene Reta Double Wins: *28:26 Wins Ukrop's 10km In Richmond On Saturday
*1:32:22 30km Course Record On Sunday At Hamilton's Around The Bay
Global News
World Track And Field Leaders
*Russia's Sports Minister Admits 343 Doping Positives In 3 Years While President Medvedev Threatens Criminal Charges Against Winter Olympic Coaches Translation: if we're going to blatantly cheat and spend millions in gov't money doing it, we better win some medals.
*Last week: US May Be Stripped Of 4th Olympic Relay Medal In '00 Decade
Women's Senior Race - Americans Nab Only Non-African Medal Of The Day *Team *Individual *Photos
Flanagan's 12th Leads Americans To Team Bronze Molly Huddle and Magdalena Lewy-Boulet came in 40 seconds after Flanagan to secure the only non-African team or individual medal on the day.


Emily Chebet Surprise Over Masai, Dibaba And Melkamu In Women's Race

*Full Results

David Monti: Kenya Dominates World XC

*Chebet And Masai Trump Melkamu And Dibaba
R.I.P. Alberto Arroyo - Mayor Of Central Park
Europe Weekend Update
LRC Prague Half Marathon Photos Joel Kemboi won by a huge margin and Rose Kosgei won women's race.
LRC Berlin Half Marathon Photos Pasalia Kipkoech made sure home favorite Sabrina Mockenhaupt didn't win her 2nd in a row and Ethopian Eshetu Wondimu ends the Kenyan string. *Recap
Japan-based Kenyan Martin Mathathi runs 27:22 to beat Micah Kogo by :30 at Parelloop road 10km
*Kenya Goes 1-4 Led By Mercy Cherono 4 runners make up a team at World Cross and Kenya scored a perfect 10 to start the day.
*Americans Take 6th Team Slot With Emily Sisson In 18th
*Individual Results
LRC Profile - Moses Kipsiro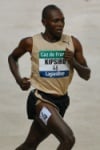 LRC Moses Kipsiro And The Legacy Of John Akii-Bua Kipsiro is Uganda's top runner and was the runner-up at last year's World XC Champs. Thanks to PJ Browne, we go behind the scenes to try to put a story and a face to Kipsiro so he is not just another nameless "African runner."
LRC Can't Miss: Training Talk #6 With Craig Virgin Two-time World Cross-Country champion and two-time American record holder Craig Virgin joined us for Training Talk #6 and talked about a wide range of subjects, including his high school and college training, his time with Nike and Athletics West, racing 3 times in 4 days during a "front-loaded" career, and Jimmy Carter and the 1980 US Olympic Boycott that cost Virgin his best shot at an Olympic medal. Virgin is a true ambassador of US distance running and one of the greatest-ever US distance runners - whether you're looking for training advice, inspiration or entertainment, his stories and opinions are a must-hear.