Moses Kipsiro And The Legacy of John Akii Bua
By PJ Browne
March 24, 2010

Editor's note: Moses Kipsiro of Uganda was the runner-up at last year's World XC Championships, and was fourth place at 5,000m at the 2009 World Championships and 2008 Olympics. Hopefully, this bio helps you know a bit more about Kipsiro the man.
In the 1972 Olympics, the favourite for the 400m hurdles final was Great Britain's David Hemery, the reigning gold medallist and world record holder. But it was the unheralded John Akii-Bua of Uganda, who arrived in Munich with no expectation except from himself and his coach, who would emerge as the victor. Akii-Bua was a young man who had emerged from searing poverty, living in a hovel, struggling for one meal a day. He had trained maniacally for this day and it was a dramatic contest.

Akii-Bua drew lane one, the worst of draws in the final. It scarcely mattered as he produced one of the great Olympic performances, eclipsing Hemery in the home straight to win in 47.82, a new world record. The win was a defining and life changing achievement for Akii-Bua, but it was to be his only Olympics and the pinnacle of his athletic career.

He returned a hero to his homeland, acclaimed by Idi Amin, who seized power a year earlier and had already embarked on his genocide, "Africa's unspeakable atrocity," Akii-Bua remarked later. Ultimately Akii-Bua was forced to flee Uganda and died at the age of 51. His Olympic win had earned for him the status of a legendary icon.

Akii Bua is today part of Uganda's Primary Schools Syllabus. They teach where he was born, his struggles, the city of his gold triumph. There are streets and a stadium named after him befitting a man who is Uganda's only track gold. "Everyone is gripped with so much nostalgia when they mention his name," says Julius Baribangba, sports writer with The East African.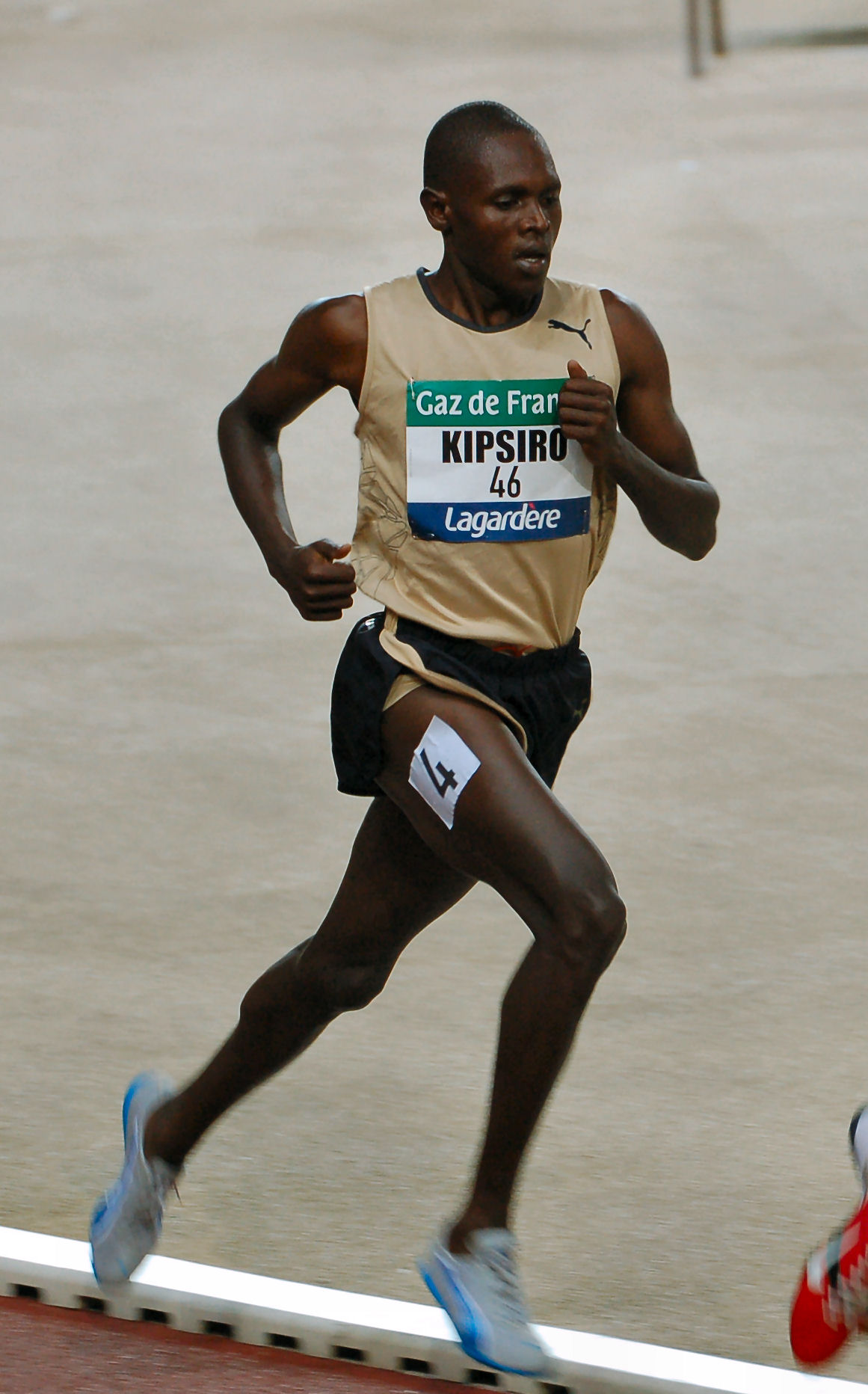 Moses Kipsiro in Belfast
Uganda 2010 - The Nation Awaits
The background from which 23-year old Moses Kipsiro, the 2007 5,000 meter bronze medallist as well as 2008 world cross country runner-up, came to prominence is both disjointed and bewildering, but strikingly similar to Akii-Bua's. The tour guides depict a country of lush scenery, breathtaking mountains and lakes, and an abundance of wildlife and parks. Not only does the River Nile have its source in Uganda, but the climate is reputed to be the best in the world. Winston Churchill once called Uganda the 'Pearl of Africa.' Uganda may well be Africa condensed with the best (and worse) of everything the continent has to offer, packed into one small destination.

Poverty, hunger, crime and violence are not mentioned in the tour guides.
Idid Amin may be gone but poverty is rampant. Julius Baribangba, explains:

"Few people in Uganda can afford a decent meal. Fewer have access to basic medical, school and other social services. The Kipsiros have grown up amongst this lot. Uganda is one of the poorest countries in Africa. Only a small fraction of 30 million go all the way through school and get a university degree with no promise of employment after graduation.

"Many tend to look for short cuts and sport is one of them. The average salary of a soccer player is about $75/week. Unfortunately, athletics (long distance running) is not a very appealing sport. Athletes live in the shadow of footballers here.

"The country's few successful athletes in recent times like Kipsiro himself, Boniface Kiprop (former world junior 10k record holder) and Dorcus Inzikuru (2005 steeple world champ) are all school drop outs who sought the track as a shortcut to earning a living. Moses is highly regarded and the level of expectation is higher since the others have not delivered.

"The country had hinged all its hope on (Boniface) Kiprop but his failed promise has put added pressure on Moses. You might say the country is desperate for an Olympic gold. Moses has not done too badly; he remains in the shadow of the Ethiopians and Kenyans, but he will get his break one of these days. That is what the expectation down here is. This nation awaits."

"I always wanted to be an athlete," Moses Kipsiro says quietly. "I wasn't even born when Akii-Bua won his gold medal, but my parents and family would talk about it and we learned about his greatness at school. I don't think anyone will ever emulate his achievement. He is an inspiration to so many in this country."

Kipsiro showed some early promise but nothing striking. His improvement gave him a belief that perhaps he could be a successful athlete. He didn't have the robust physique required for soccer so his early foray into athletics was seamless and agreeable.

"I am famous now in my country," he says, and he has several sportsman of the year awards. He is recognised and becoming more of a role model as his success continues but this recognition doesn't give him immunity from the threats of violence and attack so he always remains alert.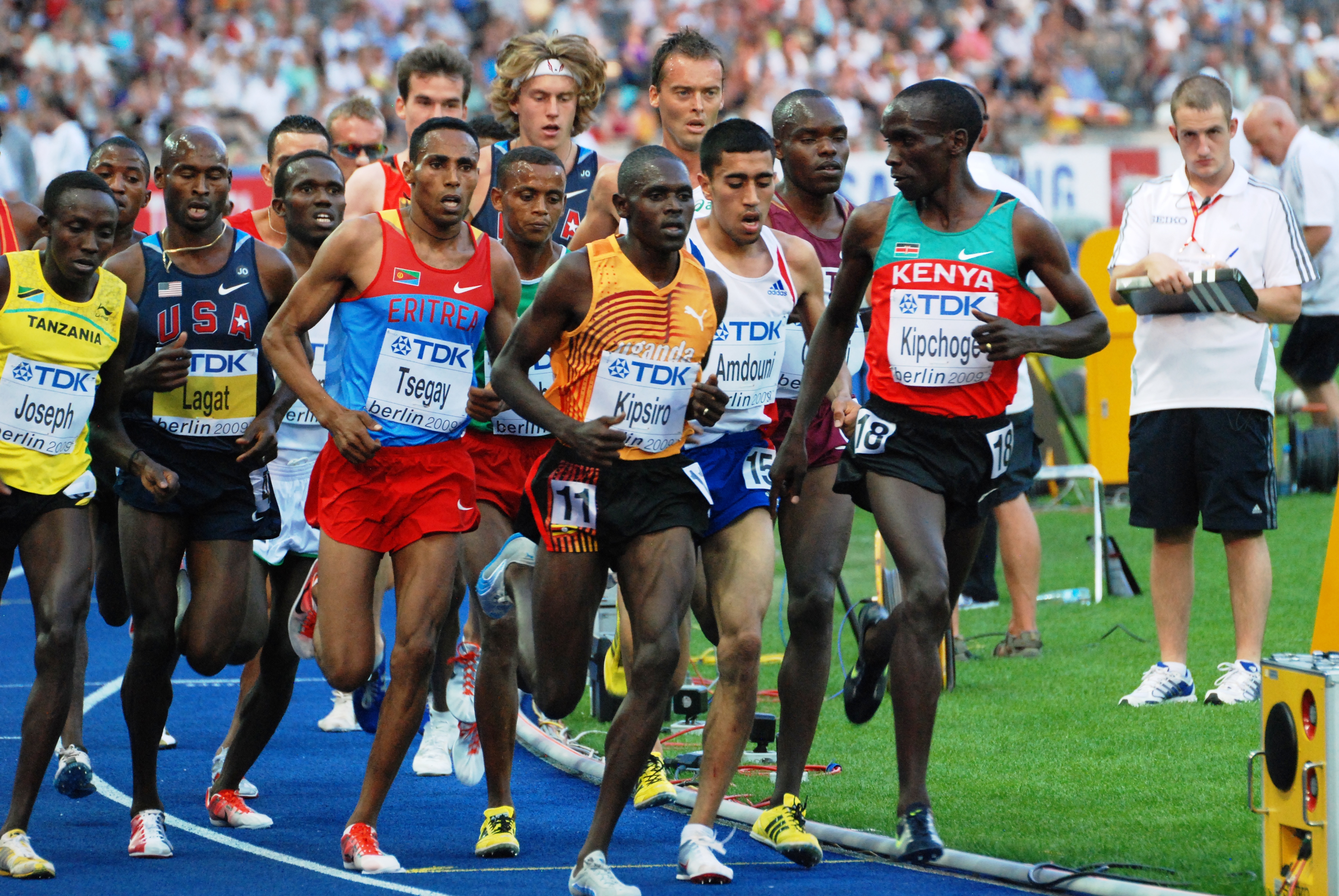 Moses Kipsiro in Belfast
Kipsiro at Home
Kipsiro is mentally resilient, and pragmatic as is evident from a recent journey from Limerick, Ireland back home to Uganda. When he left Limerick to return to home, he took a flight from Shannon to London/ Heathrow where he boarded a plane to Kampala Airport. After collecting his bags he walked the 3 miles to where his car was parked grateful that it was still there and undamaged.

The final leg of his journey home is a five hour drive by car. Two hours from home, the road becomes a pot holed dirt trail, difficult to negotiate, and a seemingly endless climb. Kipsiro accepts the rigours of his journey with equanimity.

He is greeted by his wife and young son, his parents, four sisters and eight brothers. They are relieved to see the athlete home safely. His success will provide them with a comfortable if hardworking farming life. Kipsiro is a quiet unassuming man and an intensely religious man.

He carries this lightly, and is not given to making bold declarations. His running he hopes will be the statement that counts. For all that, he is enjoyable company and loves to talk boxing and soccer. He keeps to a simple but wholesome diet that includes Ugali. There is an air of serenity about him, a sense of quiet conviction. He smiles easily and is very popular in Limerick among people who don't know he's an accomplished athlete. They have taken him to their hearts.

"I know I can do something special with the right training and by staying free of major injuries. Gerard (Hartmann) is also working with me on this." The world-famous physio Hartmann is employing what he calls 'prehabilitation' -building the core muscles that will enable Kipsiro to train unimpeded during his preparation and competitive phases.

Typical track workouts that Kipsiro would do in the spring/summer

4 x 4 x 400m (60) 3 mins between sets
Times between 56-60
Depending on the racing schedule he may also do three sets slightly faster.

1600m (4), 1200m (3), 800m (2), 4 x 400m (1)
Times in the region of 4:06/8, 3:00/3, 1:58, 56-58

5 x 800m (2 mins rec)
Times 1:56-1:59

4 x 600m (90 secs) + 6 x 300m (60 secs)
Times 1:28 and 40-42 secs

7-10 out from a major race he will do something like
3 sets of [800m (1 rec), 400m (5 rec) where he runs the 800m steady e.g. 2:00/02 and the 400m fast 52-54)

These track sessions are run in London, with up to 15 elite athletes taking part.
Kipsiro's Training
His training in Uganda is determined necessarily by the terrain, the environment and the time of year. In keeping with the African approach, Kipsiro doesn't count mileage. Rather than running specific distances, he normally runs for time. Kipsiro will run for an hour or ninety minutes each day. He is flexible on this and he can go twice a day as and often has multiple 1 hour runs, Included in this programme are tempo runs of 40-50 mins at a decent pace and hill sessions. Normally it adds up to 80-100 miles per week but some times it is considerably less. He usually rests on Sundays. Kipsiro trains alone, at altitude, without the presence of his coach and agent Ricky Simms, who is better known for being Usain Bolt's agent as well. But the coach is keenly aware of what Kipsiro is doing each day and is satisfied that he will not over train. (See Sidebar for more training specifics).
When it's compatible with his own training, Kipsiro trains with the elite staple of Kenyans under Simm's tutelage (Simm's Kenyan's are incredibly accomplished as shown by their bios listed here. Top names include Joseph Ebuya, Micah Kogo, and Abraham Chebii). There is mutual respect among all the athletes. The Kenyans see Kipsiro as a legitimate rival and respect what he has done to this point. However, the ethnic linkage between the Kenyans and Ugandans will heighten the rivalry in competition. These sessions allowed Kipsiro to mingle with the Kenyan athletes whom he admired, namely Daniel Komen and the great Moses Kiptanui. "He gets on well with them," Simms says. "However, it is every man for himself when they get on the start line."

Simms's task is to fine tune and maximise Kipsiro's exciting potential.

"A Very Big Talent"
"Moses is a very big talent. His outstanding strength is his ability in the last lap. He's a very fast finisher. He is very comfortable running 59/60 secs per lap. I'm not sure how he would handle 52-53 second laps. How fast he can cover a final lap depends on how fast the race is up until then. Off a slow pace the best guys close in 51/52. He certainly has a good kick and is confident in it but we are trying to practice different tactics.

"He is a good racer; he likes to sit a little off the pace and keep an eye on what is going on. We have been working on him being able to establish himself on races and we started to see signs of this in 2009 (in Monaco and Gateshead (Editor's note: In Monaco, Kipsiro ran a Ugandan national record of 7:30.95 to win. He also won in Gateshead, defeating Bernard Lagat in the process).

Kipsiro's plans for 2010 will include the World Cross country and the African and Commonwealth Games in summer. As he is coming off an injury, it may take him a few months to get back into top shape. In addition he would like to go sub 7:30 and 12:50 for 3k and 5k. "My favourite distance is the 5000m and I hope to get my time down to 12:45," says Kipsiro who in addition to his bronze in 2007 was 4th at the 2008 Games and 2009 world champs in the 5k.

Unlike Akii-Bua, Kipsiro has a comprehensive supporting team. "You cannot underestimate the contribution made by Puma both to the Uganda Federation and to Moses. They treat him very well," Simms acknowledges. This includes his own line of footwear and generous financial support and incentives.

Simms is cautiously optimistic about this talented athlete. "It's silly to be making bold predictions. What I can say is that he may or may not dominate middle distance running but he will certainly be a contender. Like all the African athletes, he is a great ambassador for sport, and his success is a huge positive for Uganda. His stock continues to rise so hopefully he will have a long career."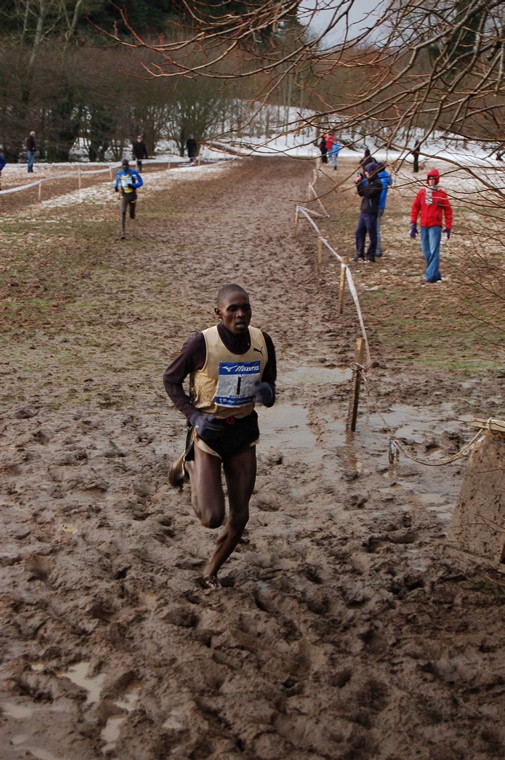 Moses Kipsiro in Belfast
Coming To America - Dreaming of A New York City Victory
Kipsiro has yet to race in America (he has raced in Puerto Rico at the World's Best 10k where he was 5th on March 1) but that will change. After the 2012 Olympics, we can expect to see him compete in several quality races in the US. When he moves away from track racing his plans include a number of big city marathons. Where better to start than in the Big Apple "I think I would like to compete in New York," he says quietly, gazing into the distance and perhaps the future. "I have heard a lot about it like many running fans back home."

"Ugandan athlete wins New York city marathon," he adds wistfully. "That has a nice ring to it."

Should Kipsiro fulfill the full arc of his athletic career he will have created a considerable legacy. He is ever mindful of the impact that Akii-Bua has made.

"His place in Uganda athletics is untouchable. He was one of a kind and would have achieved so much more in athletics but circumstances dictated otherwise. You don't displace a giant like Akii-Bua. The man is a legend and rightly so. To be mentioned in the same sentence is an honour. I am not competing against him; he is my inspiration."

"I hope that my career will be longer than his and that my legacy will be uniquely mine. I have time to build such a legacy. But I have family matters to attend to as well. I want to develop my farming and business interests.

"If I can be an inspiration to young athletes, a role model, that they might want to follow, that would be a source of deep and enduring satisfaction. I am not interested in having streets or stadiums named after me. I hope I can say when I am finished with my athletic career that I made a contribution to the positive image of Uganda and that I made a difference."
---
PJ Browne divides his time between the US (New Jersey)and Ireland (Limerick). He now writes faster than he runs.

He has written before for LetsRun.com. In 2002, he dared to ask Regina Jacob's about drugs at the Millrose Games and was told by a USATF employee, "Don't you know that Regina is idolized in this country, and she is the most popular female athlete that we have?"
In 2006, he wrote an article discussing whether Irish athletes should pursue scholarships in America.
In 2009, he wrote about Alistair Cragg being thrown under the bus by the Irish after a poor showing at the Olympics.
---
Runner's World &
Running Times



Combined Only $22
a Year
Save $87

---

Running & Track and Field Posters
---


More Nice Offers: Nike Lunar Glide Savings Super popular shoe from Nike featuring Flywire and Lunar Foam

*Nike Air Max Moto Sale $69.99 for this shoe from our partner.
---