LRC The Week That Was After a Christmas break hiatus, The Week That Was is back in full force. This week we praise two US debutante marathoners before telling you why one of them will never PR again, we introduce you to a film about the great Brother Colm O'Connell, before giving you scientific evidence that "elite athletes are different from the general population, especially on desire to win." We even give you a test to see if you have the psychological makeup of an elite. Along the way we talk about Frank Gagliano, Jenny Barriner, Lukas Verzbicas, Craig Virgin, Haile G, Chris Derrick and others.
Coming Tomorrow at 8 PM EST - Episode #3 of Training Talk With Brett Gotcher & Greg McMillan Training Talk is back with it's first edition of 2010 and we've moved it up to Wednesday so we can feature the 4th fastest US debut marathoner in history Brett Gotcher and his coach Greg McMillan. Email us your questions in advance or call them in when you listen in live on Wednesday at 8pm EST.
News From The Top - Wanjiru And Haile
Wanjiru Says Haile Won't Race Top Kenyans And Shut Him Out Of Berlin Last Year
Wanjiru is saying what we've been saying all along about Haile in his marathon career: race the world's best marathoners in a real race! We're going to find out if real,-Berlin actually had a contract with Haile that allowed him and his agent to hand pick the field for a World Marathon Major.

We Missed This: Watching TV In Hotel Room Caused Haile's Back Injury
According to The Emperor, watching TV the night before his marathon in Dubai caused him to sleep on his back and suffer to a 2:06:09 win.

*Sammy Wanjiru Thoroughly Beaten In X-Country In Kenya Today Wanjiru is just coming back from a back injury sustained after the Chicago Marathon and finished 39th in the Kenyan Armed Forces XC. Back injuries don't usually bode well for marathoners.
Japanese Hoping For Win In Tokyo Marathon With Atsushi Sato
Sato got 6th at the '09 WC marathon.
Weekend In Review - Photo Edition (Our Favorite Way To See What Happened In Races We Couldn't Watch)
*LRC Photos: Top Races From NYC's New Balance Games Andy Baddeley and Erin Donohue pick up pro mile wins (see which college stars are running post-collegiately).
*LRC Dubai Marathon Photo Sequence - How Race Unfolded It's a disgrace Haile wasn't on television or the internet, but our photo sequence is the next best thing to watching the race (or the official message board thread).
Look At The Team That Keeps Heptathlete Jessica Ennis Rolling
We are amazed by how much press Jessica Ennis gets.

Briton Ricky Stevenson Off To Good Start In 2010 With Edinburgh Short Course XC Win And 3:56 Mile At New Balance Games
UK Media Company Launches Campaign To Give Regina Jacobs' 2003 Indoor Gold To Dame Kelly Holmes
This prompted us to look back in the old days for a LetsRun.com classic - Rojo's Regina Jacobs Answers A Few Drug Related Questions - that we remember reading using dial-up internet.
LRC Boards: The REAL Story About The Oregon HS XC Situation
Thousands of XC fans from around the country have responded to the OSAA, who discussed eliminating or significantly altering the team aspect of Oregon HS XC (there's a facebook group with 3,600+ members).
*DyeStat Article: Oregon's OSAA Hears From XC Fans, Loud And Clear
800m World Medalist Jenny Meadows - Training In South Africa - Describes Semenya's Treatment As Inhumane
We don't understand why this article assumes Caster Semenya will win in London 2012 if she's allowed to compete. Nobody would ever have thought a certain female named Pamela Jelimo would be a non-factor in 2009, would they?
National Pro Ekiden Recap And Results From Japan
Almost 1/3rd Of Top 100 At Chinese Marathon DQed For Cheating This isn't some minor scandal. It was a big one because if you're under 2:34 in China, you get extra credit for the incredibly competitive college entrance exams. *LRC: MBoard Thread On Chinese Cheating For College
Interview With America's 2:10 Marathon Debut Surprise Brett Gotcher
Stanford grad Brett Gotcher was on pace for 2:09 or faster until the last couple miles in Houston. Looking back, he "only" ran 28:51 for 10,000m in college but he also ran 28:59 in his sophomore year at the age of 20.
If 600 Is Your Favorite # - You Are In Luck
*Batman Vs. Quow Makes Interesting Matchup At 600y At Millrose A former 400h world champion versus the current 400 bronze medallist.
*Meanwhile, The 600m In Moscow On February 7th Might Be Even Better, As Olympic 800 Meter Champ Wilfred Bungei Will Be Making Comeback From Injury The article is a few weeks old, but LRC has learned Bungei, who is coming back from a torn Achilles, will be in a great 600m race in Moscow on February 7th with Borzakovskiy, Ismail, Belal Mansour and Milkevics.
Kenyan XC Buzz
*Nice Profile Of The Man Who Slayed Bekele - Josesph Ebuya The story starts with the following great opening line: "He left his fellow herdsmen and travelled over 400 kilometres to Eldoret with a dream - to run and earn money to buy land and settle away from cattle rustlers."
*Undefeated In 2010, Linet Masai Returns To Kenya Dreaming Of World XC Gold She ended up with silver last year but wants gold this year.
*A Brief Look At Saturday's Armed Forces Championships
Preview Of Saturday's 6th IAAF XC Meet In The Uk Newly-crowned European XC champ Hayley Yelling, who just turned 36 this week, is one of the biggest headliners of a good field. *Yelling Named European Athlete Of Month
Xavier Carter Quadruple Failure
XMan Arrested Again, The Fourth Time Since He's Turned Pro The X-Man was legendary for quadrupling at NCAAs and pulling off the incredible 100-400 double at NCAAs. Now he's pulled off a much sadder quadpruple- his fourth arrest. As we said the last time, "Somebody help him fast."
LRC Archives:
*Arrest #1
*Arrest #2 (We actually expressed some sympathy for him after this one)
*Arrest #3
LRC MB: Jenny Barringer ... Over Before It Started
Some are arguing that Barringer signing with New Balance and staying with coach Wetmore (rather than going with Nike and living in an altitude house in Portland) is the end of her career.
We like this post by "hoopla": This reliance, or assumed need, of resources is a huge issue with the state of running in the U.S. A pair of shoes, some healthy food, and being surrounded by positive people is all that is needed for a super talent to succeed. running is simple.
*LRC Photos: Jenny Barringer Signing Ceremony In New York City Armory
Results Wire
Congrats From LetsRun: Cal Poly SLO Grad Brian Baker Hits Oly Trials In Debut Marathon With 2:18 In Carlsbad
Wesley Korir won the half marathon in 64 flat.

Westly Keating Gets Austin 3M Half Marathon Win, Running 63:22 On Windy Day

Oklahoma State's Tom Farrell Ran Fastest Indoor 3,000m (8:02) By A British Teen In 16 Years
As if Oklahoma State's team needed another stud.
Belarusian Hammer Throw Medalists Begin Appeal Of Olympic Testosterone Drug Test Failure
Miles Highlight New Balance Games *Results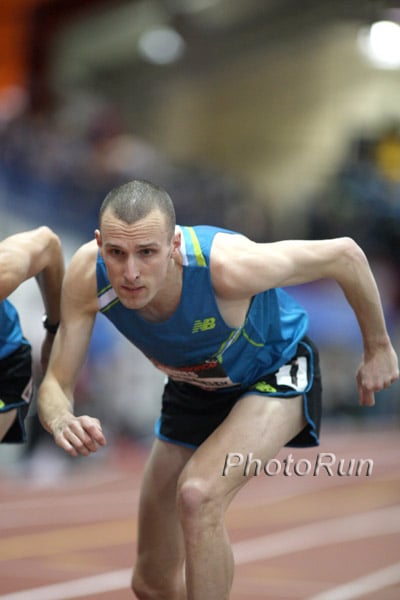 Baddeley And Donohue Win New Balance Miles
Next up for the flying Brit? A chance to stop Bernard Lagat from passing Eamonn Coghlan for most ever Wanamaker Mile wins on Friday in Madison Square Garden.

*Coaching Erin Donohue Keeps Gagliano Going After Losing Daughter-In-Law
A good read about the duo that are keeping each other going. Gagliano says Erin Donohue will run a fast 800 this year. She opened up with a solid 4:28 rust buster in the Armory.
3 Amazing Early Season Results
1. Georgia Phenom Torrin Lawrence Runs World's 5th-Best Time Ever In 300m (32.32) ... Without Blocks
Lawrence didn't need blocks to run a time for 300m that most of us would be pretty hard-pressed to run for 200m. (for the record, Employee #1 ran a 32 for 200m the other day and it wasn't easy).

2. Sergio Sanchez Runs 4:52 For 2,000m On 180m Track - Only Bekele And Haile Are Faster All-Time
Sanchez's time bests Eamonn Coghlan for best ever European. That's a 3:52 1,600 plus a 60-second lap. This might be a bad week for Coghlan if Bernard Lagat gets his record 8th Wanamaker Mile title on Friday night in MSG.

3. Ivan Ukhov High Jumps Remarkable 7' 9.3" (2.37m)
The drunken high jumper strikes again. Highest-ever jump in Czech territory.
Brief Chat With US Half Marathon Champ Antonio Vega
His first marathon was a 2:23.
This Weekend's NCAA Results The NCAA now has all the results in one place where it's easy for you to see any result from D1, DII or DIII.

*Mary Cullen And Mike Kigen Take Antrim XC
Big-Time XC Race In Kenya - Police National Championships
*Sammy Wanjiru Thoroughly Beaten In X-Country In Kenya Today
*Battle Of Giants As Vivian Cheruiyot Downs Linet Masai In Stacked Kenyan Police National XC Champs You won't see Cheruiyot in Poland for World XC, as she is sticking to the track. Looks like Masai will be the top challenger to the Ethiopians.
*Sammy Wanjiru Talks Some Trash, Saying Haile Is Over The Hill Wanjiru is targeting Berlin in September as the place where he can lower the marathon world record, saying London's course is probably too difficult.
*Press: Top Men "Fail To Perform" In Police Championships
Geb Runs 2:06:09
Geb's record attempt came up way short, as he got caught in the race by two Ethiopians but was able to obliterate them in the sprint. The women's race also was close, as Mametu Daska (2:24:18) ran herself to exhaustion but was able to prevail over Aberu Sheway (2:24:26).
AP: Geb: "I wasn't feeling very good this morning because I had a back problem but I'm very happy to win the race. I think I slept in a different position, on my stomach, and that caused the problem."
IAAF: Geb Needed Physio Treatment Prior To Race