LetsRun.com: The Week That Was March 30 - April 5, 2009
By: LetsRun.com
April 7, 2009

Last week we saw marathoning enter the 2.0 era, April Fools Day and much, much more.
Welcome To A New Era In Distance Running - Marathoning 2.0
The last week in the world of running provided us with official proof of just how much the world of distance running has changed in the last 30 years. Given the fact that last weekend was the World XC championships, we found Pat Butcher's quote on how much World XC used to matter to be enlightening. His quote says it all:

Quote Of The Week #1 - Pat Butcher On World Cross-Country And Why It Used To Really, Really Matter
"When the London Marathon was launched in 1981, and staged on the same day as the world cross country championships in Madrid, no self-respecting athletics writer or fan had to think twice about which event they would attend. It was, as the Yanks say, a no-brainer, the world cross was the greatest long-distance race in the world.
Finally, when former winner Zersenay Tadesse of Eritrea finishes third, as he did in Amman, the reports consider that this is good preparation for the London Marathon later this month. So much for the greatest long distance race in the world!"

World XC clearly isn't quite what it used to be because the biggest names in the sport don't always show up? Why is that? Money. An elite marathoner can garner a six-figure appearance fee just for starting a race. World XC offers $30,000 to the winner. Not too hard to figure out.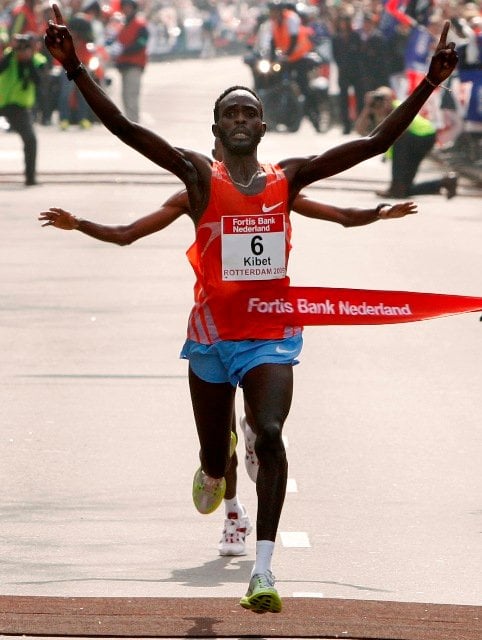 Unbelievable Race
Watch It/Highlights Here

The biggest change in running over the last 20 years and even the last 10 years may very well have been the increase in the prize money/appearance fees of the marathons. As the money in the big races has gotten bigger and bigger, the times have come down and down and the African/Kenyan domination has gone up and up.

We can remember when Ibrahim Hussein became the first Kenyan to win in Boston in 1988. Up until 1988 it was said the Kenyans hadn't mastered the marathon and it was relatively rare for them to do well in major marathons. Why was that? Well, there wasn't a whole lot of money in it and it was very risky to train for half the year for an unsure paycheck.

A rare Kenyan victory in 1988 has now turned into a commonplace occurrence, as Kenyans have won 16 of the last 18 Boston races.

A New Era In Marathoning And The Greatest Day In Marathoning
So Kenyan domination of major marathons is nothing new, but what we do think is that we are entering a new era of marathoning. In the past, the start of April meant it's normally time to get ready for the big-time major marathons of the spring - Boston and London. If that's the way you think, then it may be time to think again as after last weekend, it appears that any race with decent prize money, pacesetting and Kenyans can be considered a major marathon.

Paris and Rotterdam were held over the weekend and the performances that came out of those races were staggering. Rotterdam is nearly always very fast as the course very well may be the fastest on the planet. Three times the world record has been set in Rotterdam - Carlos Lopes (2:07:12 in 1985), Belayneh Densamo (2:06:50 in 1988), and Tegla Loroupe (2:20:47 in 1998). Belayneh Densamo's 2:06:50 there in 1988 was viewed as a total outlier that was the world record for 10-plus years.

Duncan Kibet's Colorful Pre-Race Interview

Kibet talks about his 2 iphones,
life in the city and more

Well on Sunday, Rotterdam had a race for the ages as James Kwambai, the guy who pushed Gebrselassie late in his world record run in Berlin, and Duncan Kibet (who came to life to LetsRun.com viewers before the race thanks to the video on the right) waged an epic duel all the way to the finish line. Twice Kwambai had Kibet on the ropes as he opened up a gap between 35 and 40k and then in the last 500m. However, both times, just when it looked like it was over Kibet was able to respond. In the end, Kibet led the race for maybe 5 steps - but he led for the only five steps that mattered - the last five - as he got the win as both men ran 2:04:27 - a time only bettered by Haile G.

Kibet is not your normal Kenyan running success story. He grew up in a city, got a late start to running and is now a marathon star. 30 years old, he only ran his first marathon last year when he ran 2:08:33 for 2nd in Austria and then ran 2:07:53 for the win in Milan. We highly encourage you to listen to his pre-race interview on the right as he's quite a character. After coming back from World XC, we at LetsRun.com as a website are going to make a concerted effort to show you the personalities of the African stars as it's clear they aren't going away - in our minds, the African domination is only going to get greater. Races and agents need to put a human face on the sports stars. Thanks to Dutch version of LetsRun.com for the video above. Solely because of it, we were rooting for Kibet and jumped for joy yelling, "Yes" when Kibet won. Editor's note: We have just received word from University of Oregon star Shadrack Kiptoo Biwott that Duncan Kibet is his brother. Pretty cool.

If you missed the race, you can watch it in its entirety or just the last minute at our partner Universal Sports here.

Duncan Kibet Post Race Interview

We don't blame him:
"I'm really happy, I'm really happy... I'm happy"

Duncan Kibet's personality came to life in the post-race interview at the right. He's got a big smile on his face as he tells the interviewer, "I'm really happy, I'm really happy ... I'm happy." He also said, "Actually I was expecting Kwambai to win because I was a little bit tired and I didn't know Kwambai was tired," but then talks about trying to break Gebrselassie's world record.

Abel Kirui ran 2:05:04 for 3rd and Patrick Makau ran 2:06:14 in his debut for 4th.

In Paris, the winning times weren't as fast (Vincent Kipruto's 2:05:47) but the depth was unreal as the race set a new record for most sub-2:09s in a single race (11) and tied last year's London with most sub-2:07s (6).

So taken altogether, 13 different Kenyans broke 2:09 in a single day. How many Americans have done it in history? Six.

Youth Patrol
To see the revolution in running, look further at the Paris results. The winner, Vincent Kipruto is 21 23 years of age, the runner-up, Bazu Worku Hayla, is 18 years of age. Yes, ladies and gentleman, an 18-year-old ran 2:06:15. Race Results Weekly's David Monti has a copy of his passport, which has his date of birth as September 15, 1990.
(Editor's note: The Official IAAF recap of the race said Kipruto was 21, but Tim Hutchings, the television commentator for the race emailed us to say that Kipruto speaks great English and they were talking afterwards and Kipruto told him he was 23).

Taken together, the results were just staggering. Big money is now in the marathons and the results have finally started to show it to the same degree one used to see the African domination of the 5ks and 10ks. That brings us to our message board post of last week. Portlandspirit predicted the transformation of the marathon before it even happened.

Message Board Post Of Last Week By Portlandspirit On The New Era Of Marathoning (he called it before the races took place):

"Expect a couple 204s in rotterdam tomorrow, maybe even wr!
All these guys running under an hour in the half are going to make 206 look as commonplace as under an hour has become The marathon is finally starting to get as fast as it should be based on the 5k and 10k in recent years by the africans. 207 aint gonna mean sh!t for anyone by 2012"

And Let Us Introduce You To The Greatest Coach In The World & A Guy We've Never Heard Of Until Today
Why were amazed by Portlandspirit's post, we've since come across a second post on the message board from famed coach Renato Canova on a similar topic. Speaking of the past weekend in marathoning, Canova called last weekend "a historical Sunday that changed the marathon in the world." So don't take our word for it that the world of marathoning has forever been altered, take Canova's.

In the post, Canova goes on to talk about the coaching of Kibet and Kwambai. They both are coached by the same man, 27-year-old Claudio Berardelli. Canova calls Berardelli the best coach in the world currently for mid-d and long distances, and the roster of talent Berardelli has assembled seems to back that claim up, as Canova says he also coaches 5-time world marathon major winners Martin Lel and Robert Cheruiyot, Evans Cheruiyot (3rd in Paris yesterday), Olympic 1,500 champion Nancy Lagat, World 800 meter champions Alfred Kirwa and Janet Jepkosgei, and the runner-up in the Kenyan XC trials, Matthew Kisorio. Unreal. Kwambai, Lagat, Jepkosgei, and Kibet were all virtual unknowns until they burst onto the world scene. Their coach now has done the same.

We're calling Canova's Post our Message Board Post of This Week as he goes on to list the training ideas he's exchanged with Berardelli.

Message Board Post Of This Week - Renato Canova Talking About Claudio Berardelli

More: *Paris Marathon Recap *21-Year-Old Kenyan Runs 2:05 In Paris (and an 18-year-old runs 2:06).
*Duncan Kibet Edges James Kwambai In Thrilling (And Fast) Rotterdam Marathon

More Proof Of Just How Deep Distance Running Is Now in Africa

German Fernandez got a big break because Ethiopian Feyisa Lilesa was opting to run the senior race instead of the junior race.

After the race, we never commented on how Lilesa ended up running at World Cross-Country. So how did he do? He got 12th in the senior race, which is almost certainly better than any American on the planet could do. Where was he this weekend?

Running the Cherry Blossom 10 Mile Run in Washington, DC, where he ended up second in 45:53.

If he were American, the teenager Lilesa would be hyped as the possibly the greatest distance prospect in history, running the junior races at Worlds, and he probably wouldn't run a road race any time soon as it would hurt his long-term development. But since he's Ethiopian, he's getting 12th in the senior race and looking for a paycheck on the roads the very next weekend. Running 10 miles at basically 28:30 10k pace.

*In DC, Ridouane Harroufi ended up the winner for the 2nd straight year in 45:51.

Maybe It Isn't So Easy To Be A Kenyan Runner After All
And since we've spent the entire Week That Was basically telling you how dominant the Africans runners are, we thought we'd include a note that might make you appreciate them a bit more since that's a new goal of ours. The Kenyans don't have it so easy. Need proof? We found the following story on the 3rd track meet held Athletics Kenya to be fascinating on a number of fronts.

The big news from the meet came from the fact that Olympic 1,500 meter silver medallist Asbel Kiprop dominated the men's 1,500 - running 3:40 from the front. The part that was fascinating to us was that the meet was run on a dirt track. Click here to see a great photo of the track. Can you imagine an Olympic silver medallist running on a dirt track in America? Secondly, the meet was ended early as a Kenyan premier league soccer (or football) match was being held in the stadium later that day.

So clearly the Kenyans aren't good because running is so popular in Kenya, as apparently it's less popular than a B-level soccer match.

Speaking of Kiprop, he also made news for the wrong reasons last week as he was kicked out of Kip Keino's camp for sneaking in a female.

Kenyan Distance Running Part I: Kenya, The Land Of Opportunity. Or see the highly praised photos)


April Fools Day
In case you missed it, we had our annual April Fools Day edition last week. We seemed to fool a lot of people once again when we told everyone we were shutting the site down. The April Fools Day page is always one of our favorites, but unfortunately the 2009 edition may be our last. Our lawyers are strongly considering forcing us to cease the practice next year as they fear we could be sued if someone reads the April Fools edition, has a heart attack because their life will be ruined if we shut down, and then their family could sue us for causing their death. Oh, wait - someone did threaten us in 2004 with a lawsuit.

The highlight of the April Fools edition for us, however, wasn't the jokes that we had on the site. Rather, it was the list of things that we had on the site that all happened in the last year but you would have sworn were pranks if we told you it would happen a year ago. These things included:

American High School Freshman Runs 14:18.42 for 5k, LetsRun.com Gets Emails Wondering If He's Doping
LetsRun.com Rojo Wins NCAA Regional Coach of the Year Award
Jeremy Wariner Dumps Coach Clyde Hart Just Before Olympics
Marion Jones Gets Out of Prison for Lying to Federal Prosecutors, Tells Oprah She Never Knowingly Doped
LetsRun.com Redesigns Homepage
Usain Bolt Runs 19.30 and 9.69 (Letting Up 20 Yards From the Finish)
Wejo Advocates Performance Enhancer in NY Times
Galen Rupp Has Most Impressive NCAA Meet Ever, Shows Incredible Finishing Speed *April Fools Day Page *April Fools Day Reactions

Other News - Fam Narrowly Misses US 5k Road Record - Let Us Introduce You To Christian Taylor - Teen Sprint Phenom Jeff Demps Impresses
Carlsbad 5,000
Domestically here in the US, there were a lot of interesting events. Leading the way was the fastest road 5k in the US and often in the world - the Carlsbad 5k.

Before we talk about this year's race, we think it's worth taking a trip down memory lane and remember how much publicity the race got last year. The race certainly didn't garner the same attention as last year when Alan Webb debuted there. Isn't it interesting to think about how high hopes were for Alan Webb just 365 days ago and how low they are now?

Anyway, this year's race was won by Aheza Kiros on the women's side, as she held off American Shannon Rowbury 15:38 to 15:41. In the men's race, Daba Bekana edged Ethiopian compatriot Abreham Cherkos as both were timed in 13:19. The big story though was that Marc Davis' American 5k road record of 13:24 from 1996 still stands as Anthony Famiglietti came up just short in sixth in 13:28. Australian Collis Birmingham, who was 29th at World XC and has already run 13:16 this year, was 5th in 13:27 (Carlsbad 5k *Recap *Results *Photos)

Florida Relays *Results
At the Florida Relays, 10.01 US HS national record holder Jeff Demps blazed in the 4 x 100. Good to see the phenom running without the football pads on. Damu Cherry ran a world-leading 12.69 in the hurdles (video below).

But the real story may have been the unveiling of freshman phenom Christian Taylor. The 18-year-old won the NCAA TJ crown indoors, but he's a hell of an athlete as he anchored Florida's 4 x 400 to a 3:02.84, holding off Olympic gold medallist Angelo Taylor in the process, a day after running 45.34 in the open 400. He was pretty studly as a prep (Georgia records in the LJ (25-6), triple jump (52-0) and 400m (47.19)), but a 45.34 and an NCAA TJ title - that's truly ridiculous.
*Videos: Demps In 4 x 100 *Video Of C. Taylor
More: Demps Helps UF Pass Competition
*Florida Wins Six Events To Conclude Florida Relays
*Video




Texas Relays *Results *Video
At the Texas Relays, Andra Mason took a crack at the American record in the HJ but came up short.

Distance-wise, it looks like there may be yet another teen prodigy as sophomore Craig Lutz ran a 9:03 for the win in the deuce a week after running 30:46 on the roads. A big Thumbs Up to Craig for that performance. Let's just hope he continues to focus on the process, getting better and not trying to run 2:06 for the marathon in three years like his African counterparts!!!
Message board thread: Texas Produces A High School Prodigy, Craig Lutz The sophomore ran 9:03 for the 3,200m win and ran 30:46 for 10k on the roads last week.

But the biggest prodigy in Texas is sophomore girl Chelsey Sveinssen, who pulled off a 10:12 in the 3,200 and 4:46 in the 1,600. She's already won of the best in the country as shown by her Nike XC win. *3,200 Video *1,600 Video
More: *Texas Relays Recap (Andra Mason Takes Crack At American Record In High Jump)
*Destinee Hooker Jumps World Leader In HJ Then Gets Engaged At Texas Relays

NCAA Scored Meets
And while we're always trying to give praise to NCAA college teams that have scored meets, we do understand 100% why there are so few of them. Because when you score a meet, someone loses and someone wins and if you lose, the AD may not be real happy. We have perfect proof of that this week, although the AD certainly won't care.

In Oregon at the Pepsi Team Challenge, the NCAA champion Oregon Ducks didn't run Wheating or Rupp or Centrowitz or Acosta from what we can tell and they lost the men's 800, 1,500 and steeple as a result and handed the meet to Indiana.

The solution? Only do scored meets for traditional rivals or run your bigger name people. What's the point of keeping score if by not running everyone you lose a meet to a team that you know you are better than? That implicitly says the score doesn't matter (which is in fact sadly the reality of track nowadays save for conference and NCAAs). Oh well. We still like the USC vs. UCLA and Harvard vs. Yale types of meets and scored meets.


Micah Kogo Sets New Road 10k Record (27:01)

Last week, we devoted our entire Week That Was to commenting on the World Cross-Country. Since Olympic 10k bronze medallist Micah Kogo's 10k set a new world record of 27:01 the Parelloop 10k in Brunssum, Holland on Sunday, March 29th, he got ignored. But how can we ignore a new 10km world record? We can't. Below are the official splits for each km of Kogo's record run.
Official splits - Km- Micah Kogo:
1 km: 2.41"00
2 km: 2.39"96
3 km: 2.46"29
4 km: 2.49"24
5 km: 2.36"26
6 km: 2.40"36
7 km: 2.42"61
8 km: 2.42"81
9 km: 2.43"41
10 km: 2.38"04
*Micah Kogo Breaks 10k World Best In Brunssum Holland Kogo got the bronze at 10k last year at the Olympics and had run 27:07 on the roads in 2006.
Race Report On Dutch TV: http://www.l1.nl/popups/mediaplayerpopup/_rp_comm_lsvideoId/1_3622664
Recommended Reads:
*Catching Up With Belayneh Densamo - The guy who's 2:06:50 world record stood for 10-plus years is now 43 and living the American dream in Cambridge, MA.
*Recommended Read: The Observer Magazine Spends 4 Days With "The Dwain Event" In Turin It might be the best piece we've seen on Chambers and has some great quotes, including his thoughts on running for another country in 2012.
*Great Seb Coe Interview: He Talks About His Father's Role In His Life
*Behind The Scenes At The Jamaican Boys & Girls Athletics Championships 38,000-plus in the stands and 1.2 million out of a population of 2.8 million will watch it on television.
*X-Man Working With Brooks Johnson To Get His Career Back On Track
*Edwin Moses Speaks Out On Drugs And Dwain Chambers
*Pat Butcher On World Cross-Country And Why It Used To Matter
Quotes Of The Day - Day-By-Day Last Week:
Sunday: "When I looked at results from the past, I thought that maybe I could be the top American at this race. But that was before I knew how many top American runners were going to be here .... 'm hoping I don't get completely annihilated on Sunday. But it's the first race of the year, and you never know how that's going to go. My training has been going well, but I don't want to make any proclamations I cannot achieve."

- American Scotty Bauhs on his Carlsbad 5k debut on Sunday where 8 of the 22 male elites are Americans.
Saturday: "We [Usain and Dwain] trained together in Jamaica in '06 for a while. He'd never admit it, but I would beat him up to 80 metres. We were tussling. If you look at what I have done over the 60 it equates to a low 9.80 for 100m. That's close... I know Usain Bolt; he parties hard, and he trains hard. He's where I thought I would be many moons ago. He's at the top of the ladder, and there are a lot of people wanting to chop him down. I know something of how that feels."

- Dwain Chambers on whether or not he can beat Usain Bolt.
Friday: "Talent is not his issue because he's inordinately gifted. But God doesn't give anybody the total package. There's always a piece that the athlete has to put together themselves. Nobody has it all. Tiger Woods has to practice and Michael Jordan had to shoot thousands of shots. There's always a point where closure has to take place and only the athlete can do that. In Xavier's case, he's totally blessed and he just has to put it all together."

- Legendary sprint coach Brooks Johnson on his charge Xavier "X-Man" Carter.

Thursday: "It really comes down to the fact that, for whatever reason, he [Dwain Chambers] has been singled out. You can't say we don't want this athlete because he's dirty and then have another 20 athletes who are dirty, too. The authorities were saying they wanted these athletes to come clean and tell us what they know. He's done that and I always believed he has some knowledge about these matters. There's been a whole host of Olympic champions and athletes who have taken drugs since 2000 and been on the podium, so you can't discount what he has to say, much as you may not like him or have negative feelings about him,and it would be judicious to listen to him [emphasis ours]."

- American 400m hurdles legend Edwin Moses at a Flora London Marathon event.
Wednesday: April 1st, 2009 - April Fools Day
"We didn't think this day would come, but the economic conditions created by the policies of George W. Bush are far more dire than we thought. It kills us to say this, but it is no longer financially feasible to operate LetsRun.com. We will continue to operate through this month's Boston Marathon. To all of you who loved and hated our website, we want to thank you. It has been a fun ride."
- LRC Co-Founders Rojo and Wejo.
Monday/Tuesday: Even before the global event starts, people already know the winners would come from Kenya or Ethiopia."
- Okoth Omulo writing in the East African standard on the future of World XC and the lack of interest due to the Kenyan and Ethiopian domination. A separate AFP article tackles the same question and has WR holder Stephen Cherono with some interesting comments:
---
Update: In last week's World XC recap, we talked about how brutal the course was and how tough it was on a runner's feet. We now have photos to prove it. Ladies and Gentlemen ... Ed Moran and his feet (in the sake of decency, we decided to leave out the close up of Bobby Curtis' feet):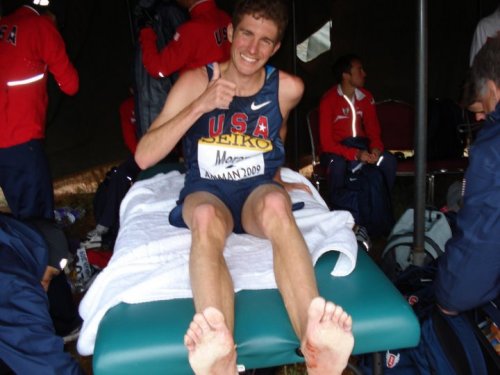 Not sure if Rojo left this here from last week or what. But if you've read this far you're pretty hard core so we'll hype Gregson some more.
Ryan Gregson's Post-Worlds Comments

"Top 25. I'm pleased, I think the depth every year is getting stronger and stronger ... I wasn't far behind Derrick and he's been running great over 5k."