The Week That Was January 26 - Feb 1, 2009
February 3, 2009
*Last week's week in review can be found here.
By LetsRun.com
The last week of January was a big one as action heated up all over the globe. We start our Weekly recap with the granddaddy of them all - the Millrose Games in NYC - before looking at some great US college action. Then we go over the pond, and in between we pause to think about what an awesome year in marathoning it's going to be.
In regards to Millrose, we're going to assume you know the #1 story of the meet - that Bernard Lagat got his record-tying 7th Wanamaker title. If not, you can read any of the following: *Lagat Wins 7th Wanamaker Mile *Lagat Wins Mile At Millrose, Tying Coghlan's Record LRC: Our Brief (And Incomplete) Millrose Recap
---
Thumbs Up and Down From The 102nd Millrose Games
Thumbs up to HS Boys Mile winner Robby Andrews. It's pretty obvious that Andrews isn't going to be a guy whose career highlight was to win the HS mile at Millrose. His last lap (145.45 meters) at Millrose was simply sensational. He absolutely destroyed the field with an amazing burst of speed that took him from third at the bell to an easy 2 plus second win. The guy was clearly very confident in his speed as he was content to run way back in 5th place with only a quarter to go. In the post-race interview on ESPN2, when Andrews was asked what he was thinking when the pace was 3:18 at 3/4 mile for the leader, he replied honestly with, "I was licking my chops."
And for good reason. We had his last 145.45 in 18.7, which equates to 25.7 speed for 200 meters on the notoriously-tight Madison Square Garden track.
Of course, one probably didn't need to watch Millrose to realize that Andrews is a bit more special than your average pretty good HS miler. College coaches are known to exaggerate but one told us the other day that Andrews ran a 4:12 mile the first time he ever ran it. And where is Andrews going? To UVA to run for Jason Vigilante. Vin Lananna may forever have the title of Greatest Recruiter in the NCAA but Vig may well deserve the title of Greatest Recruiter under the age of 40.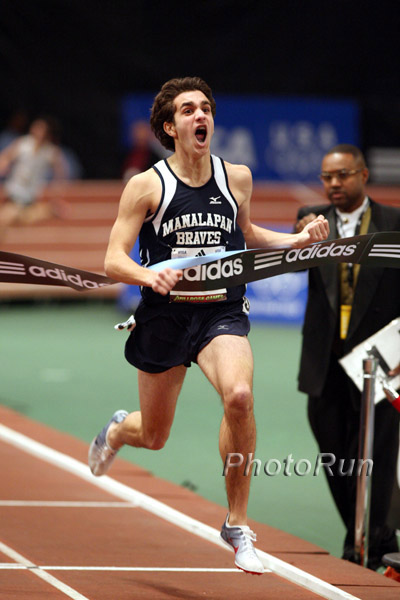 Don't believe us? Bret Johnson, the 2nd placer at Millrose, who ran 4:09 to win the NJ MOC last year, is also going to UVA.
Event 22  Boys 1 Mile Run High School
===============================================================
    Name                    Year Team                    Finals
===============================================================
Finals                                                         
  1 Robby Andrews                Manalapan              4:17.42
  2 Bret Johnson                 Ocean City             4:19.61
  3 Mark Feigen                  East Greenwich         4:20.43
  4 Tyler Stutzman               Western Albemarle      4:21.11
  5 Marco Bertolotti             Paul D Schreiber       4:21.31
  6 Bobby Peavey                 Floyd E. Kellam        4:21.54
  7 Doug Smith                   Gill-St. Bernard's     4:21.66
  8 Nick Ross                    East Greenwich         4:24.39
Star-Ledger:

 

New Jersey's Jill Smith And Bobby Andrews Win Millrose HS Titles

 

*Lap-By-Lap Boys

 Photos
---
Thumbs Up to Southern Regional HS coach Brian Zatorski for coaching the adidas Millrose Girls Mile winner for four straight years. Jillian Smith got the win this year for the 2nd straight year and before that, Danielle Tauro, who now runs for Michigan, got the win two years in a row. We don't follow the high school ranks all that closely but that is very, very impressive.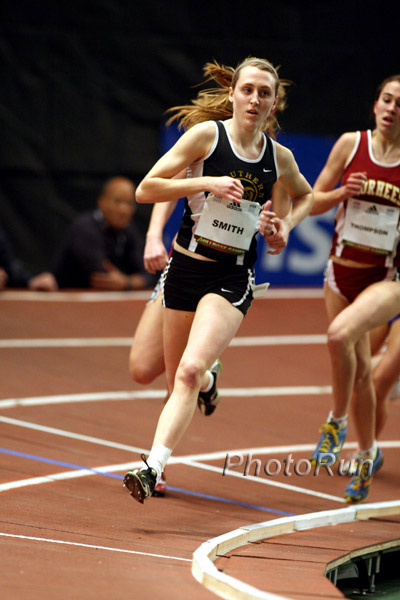 Event 16  Girls 1 Mile Run adidas
===============================================================
    Name                    Year Team                    Finals
===============================================================
Finals                                                         
  1 Jillian Smith                Southern Regional      4:51.88
  2 Cory McGee                   Pass Christian         4:54.59
  3 Emily Lipari                 Roslyn                 4:57.70
  4 Juliet Bottorff              Tatnall                5:04.76
  5 Emily Menges                 Garden City            5:04.78
  6 Melanie Thompson             Voorhees HS            5:06.96
  7 Ariann Neutts                Roxbury                5:10.38
  8 Ann Carey                    St. John The Bap       5:11.60
 -- Grace Rodriguez              Hanover                    DNF

*Lap-By-Lap Girls Photos
---
Thumbs Down To NY Times ... And US (NYC Metro) Track Fans ...
We found it a bit embarrassing that the New York Times had virtually nothing on the Millrose Games prior to Friday's meet. Admittedly, the Times track writer Frank Litsky recently had surgery, so maybe it was hard for them to get much on it as it's hard to write about track if you don't really understand it.
They finally wrote something about the meet on Friday and it was an article on the brilliant Steve Hooker of Australia, who more than lived up to the hype by almost setting a world record in the pole vault. But there was nothing on the Wanamaker mile or the rest of the meet and for that we've gotta give the Times a Thumbs Down. (We encourage you to email the Times at [email protected]).
We were going to go totally off on the Times until we got to the meet. Once we were there we changed our tune a bit. Maybe we can't blame them for not writing too much. The one major pro meet of the year in New York and the arena had to be less than 2/3 full. If Northeast track and field fans can't even bother to show up for Millrose, why should the Times spend much effort on it?
The official attendance was 11,543. The average WNBA game supposedly brings in 7,931 per game. Can't track get a sellout once per year?
We're thinking about formally releasing the LetsRun.com Track Fans Code of Conduct and one of the Commandments would be "PAY to attend at least one US pro meet each year."
And while we're at it, how about a Thumbs Down to college track coaches as well. Why more college teams wouldn't be begging to show up and run is beyond us. There were only two teams in the women's 4 x 400. We guess teams would rather run faster on some oversized track in front of 200 people instead of let their kids compete in New York City in front of 11,000+ and possibly a national television audience.

*NYTimes Finally Covers Millrose & Does Nice Feature On Hooker We still think it's embarrassing that, from what we can tell, Bernard Lagat wasn't mentioned in the Times prior to the meet. Email them at: [email protected]
---
A funny story:
On Friday night, LetsRun.com co-founder Rojo and his Cornell squad were making the short walk from the Official Meet Hotel - the Athenia (from which you can see MSG, as they are across the street) - to get ready to warm up for the college 4 x 800. There seemingly are a thousand entrances to MSG and the Ivy Leaguers were having a hard time finding the athlete/coach entrance. Rojo was getting a little antsy about not being able to get inside but then Rojo saw Kara Goucher and Alberto Salazar a few feet ahead and quickly whispered to his runners, "Follow them. They certainly know where they are going."
A few wrong turns later and Rojo's crew finds out that Goucher and Salazar had apparently walked around the entire MSG building looking for the entrance. Goucher was laughing about it and didn't seemed stressed at all.
Goucher may not have known her way around the outside of MSG, but once inside she certainly knew her away around the track as she looked sensational, making a mockery of the women's mile field by 4+ seconds in 4:33. And to think she's getting ready for the Boston Marathon. What a talent. Keep up the good work, Kara. A big-time Thumbs Up to Kara Goucher.
Finals                                                         
  1 Kara Goucher                 USA                    4:33.19
  2 Marina Muncan                SRB                    4:37.77
  3 Mestawot Tadesse             ETH                    4:38.30
  4 Barbara Parker               GBR                    4:38.64
  5 Shayne Culpepper             USA                    4:38.92
  6 Courtney Babcock             CAN                    4:39.56
  7 Kelly Macneice               IRL                    4:56.99
 -- Korene Hinds                 JAM                        DNF
*Kara Goucher Pleased With Her Dominating Women's Mile
---
2009 World Marathon Majors Are Gonna Be Awesome

This week confirmed 2009 will almost certainly be an amazing year for major marathon races. Specifically we are referring to London, Boston, the World Championships in Berlin, and the Berlin Marathon. We'll start with the race that is the farthest off, but perhaps the most mouth-watering - Berlin. This week we received further confirmation of an almost "too good to be true" face-off between world record holder Haile Gebrselassie and Olympic marathon champion Samuel Wanjiru. Kenya vs. Ethiopia. Pupil vs. Master. Olympic champion on the roads vs. Olympic champion on the track. All of these cliché comparisons are apt if this showdown were to actually materialize. Wanjiru continues to talk of taking down Geb's record, and to do it in a head-to-head battle with the Emperor would be Paul Tergat vs. Geb raised to a whole new level.
But before we get to Berlin there will be at least 3 savory road battles over the marathon distance. The other big marathon news this week was the addition of 2008 Boston champions Dire Tune and Robert Cheruiyot to the 2009 John Hancock Boston fields. Normally this would not be huge news, but Boston clearly made an effort to attract the top American talents to their race this year in debut record-setter Kara Goucher and 2:06 man Ryan Hall. We give Boston a Thumbs Up for not doing what we feared they might: water down the field to ensure victories by Americans. The addition of Tune and Cheruiyot doesn't make the Boston fields on par with New York or London, but it means that for an American to win, they'll have to beat not only the defending champions, but two of the world's top 5 marathoners in the process (top 5 in their respective genders, though this, we admit, is debatable). Cheruiyot, in particular, will be incredibly difficult to take down.
Robert Cheruiyot, the 2007 World Marathon Major champion after wins at Boston and Chicago, seems to be full of confidence as he came out this week stating that he plans to take down Geb's marathon record in Berlin at the World Championships this year. The marathon right now almost seems like the mile was back when Roger Bannister broke 4:00 for the first time in human history. After Bannister finally broke 4:00, suddenly runners around the world KNEW that they could do it too. Geb and Wanjiru (and to a lesser extent Martin Lel, Hall, Marilson Gomes Dos Santos, even Paula Radcliffe) have raised the marathon performance bar by leaps and bounds in the past 12 months, with new world records and Wanjiru's other-worldly Beijing marathon performance. And now the major players think that they too can run 2:03s, 2:04s, and 2:05s in almost any conditions; even 2:02 would not surprise Geb or Wanjiru if everything is perfect.
As stated above, the Berlin World Championships marathon is shaping up to be a monster, especially if Cheruiyot believes he can set the world record there without a pacemaker. Throw London into the mix, with Paula & Co. on the women's side and the men's stacked field, including Wanjiru and Lel, and it is very, very difficult not to look at 2009 as the year when marathon performances that previously were few and far between to become startlingly mundane.
More:
Robert Cheruyiot And Dire Tune Will Defend Titles In Boston The Boston Marathon and John Hancock are making sure that if an American (Hall or Goucher) wins Boston, it will be against top competition.
2007 World Marathon Major Champion Robert Cheruiyot Reminds Us Not To Forget About Him - He Vows To Take Down Geb's Record At WCs In Berlin '09
"It will be nice to run against Haile. He skipped both the London Marathon and the Beijing Olympics, and one's real test is known when tested against such great runners."
- Sammy Wanjiru echoing our sentiments on the great Haile G. It looks like Wanjiru will try to win London and then go after 2:03:59 vs. Haile in Berlin.
---
Collegians Start To Run Fast
Barringer Runs World Leader
We're always amazed at how quickly collegians come out of the gate firing during the indoor track season, and 2009 has been spectacular with sub-4:00 miles, sub-8:00 and sub-9:00 3ks, and sub-9:30 DMRs being announced around the country. German Fernandez and Lisa Koll got a much-deserved week off, allowing the spotlight to shine on some other spectacular performers. Runners from distance powers Arkansas, Oregon and Colorado provided the biggest highlights. We'll start with the return to action by Colorado Olympian Jenny Barringer, this time in the flat 3k. Barringer ran a world-leading 8:53 3k in Washington. Last year, Barringer and Anna Willard took turns lowering the steeplechase national record as they both looked dominant in qualifying for Beijing.
The best performer of the week, though, might be Arkansas' Dorian Ulrey, who last week famously finished second to Fernandez, running 3:57 in the process. This week, Ulrey wasn't playing the supporting role to anyone, not even Oregon Olympian and NCAA XC champion Galen Rupp. Ulrey reportedly grabbed the baton 20 meters behind Rupp for the 1,600m leg of the DMR on Washington's oversized indoor track, only to work his way up to Rupp. Though Rupp, a 4:00 miler, ran a commendable 3:57 split, he couldn't hold off Ulrey, who split 3:54 (wow) en route to a 9:28 school-record performance by the Arkansas Razorbacks (who ran without their best 800 man, Andy McClary, who had an injury). It's almost a fairy-tale week for Ulrey, whose 3:57 the week before was only good enough for 2nd place to a freshman and only 9th all-time on the Arkansas indoor list. Can you imagine? And to top it off, Ulrey came back the next day to run 7:50 for 3000m.
Arkansas reportedly had a rough trip up to Washington with delayed flights, then had to shuffle their line-up at the last minute, and they still managed to defeat an Oregon DMR with two US Olympians on it (1:44 800m guy Andrew Wheating led off the 1,200 leg for the Ducks ran a great 800 leg (Editor's Note: We incorrectly reported initially that Wheating ran the 1200)) and set a school record at a school where indoor distance school records don't come very easily (just ask Ulrey). Definitely a well-deserved Thumbs Up for the whole Razorback team.

UW College Meet
Colorado's Jenny Barringer Runs World-Leading 8:53!
*Dorian Ulrey Runs 7:50 And Shawn Forrest Runs 7:51 For Arkansas

UW College Meet
Arkansas' Dorian Ulrey Runs 3:54 And Walks Down Galen Rupp As Hogs Run 9:28 School Record (Oversized Track) DMR
*Stanford Frosh Chris Derrick Runs Solo 13:44!
*Arkansas Runs School Record DMR
*Oregon Sets Lots Of School Records As Lindsey Scherf Runs Sub-16:00 Yet another example of an ex-Ivy Leaguer doing well. Too bad Ivies can't have a 5th year at home.
Trackshark Interviews Most Overlooked 3:57 Collegian Dorian Ulrey
---
Meet Promoter Of The Week: Dwain Chambers
We spent a good portion of the early part of The Week That Was for ripping US Track fans for not showing up at the Millrose Games in larger number. Part of the reason fans don't show up any more is track has moved away from rivalries and man-to-man (or woman-to-woman) competition and instead has just become a chase for times except for the one championship of the year. In the year 2009, almost by definition, all meets are meaningless practices unless a world record is set. Which leads us to a shocking Thumbs Up.
We're giving a Thumbs Up to drug cheat Dwain Chambers. LetsRun.com has prided itself as one of the leaders of the anti-drug movement in the US (whether with Regina Jacobs or Steve Mullings) but Chambers is to his credit making things interesting. The Brit ran fast this weekend. He ran a 6.52 60m PB in some obscure meet in Britain as he's been basically blackballed by most major European meets.
What made the 6.52 interesting is that he declared before the race that he would beat Craig Pickering's time from 5 Nations Cup meet, which had excluded Chambers from the meet given his prior drug suspension. Chambers was proven correct as he ran 6.52 to Pickering's 6.57. By injecting a bit of mano-a-mano intrigue, Chambers made us (a distance-focused site) care about some obscure sprint in another country.
If not for Chambers talking it up, we wouldn't have cared less, as we don't even really know the difference between 6.52 and 6.72. It's just a meaningless time. By making it personal and a rivalry, Chambers is helping promote the sport the way it needs to be promoted. Carl Lewis and Ben Johnson had a sprint rivalry and captivated the public at large just like Rafa Nadal and Roger Federer currently captivate the public at large in tennis. Rivalries bring non-aficionados of the sport into the fold and track and field needs more rivalries.
After living up to his promise to beat Pickering's mark, Chambers then did the unthinkable. He talked smack about Usain Bolt.
"I beat him a few times in training but he would never admit that. That's something I've got up my sleeve. I know him. But then again, that was a few years ago and he's gone way up the ladder and I've got a lot of catching up to do. But I'm patient about it and I know that every man has his day."
He added in another article, "He won't be doing any showboating with me on his tail."
Talking smack about the closest thing the world has ever had to a Sprint God is basically sacriligous but Chambers is a smart man. He's building intrigue and for a man with no sponsors, he needs intrigue. All we can say is we wish the average fan or promoter in the world understood track marketing half as well as Dwain Chambers. And we know one other thing: if Chambers ever races Bolt or Pickering this year, we'll certainly pay attention.
More: *Chambers Sets Sights On 'Man To Beat' Bolt *Chambers: Bolt Won't Be Celebrating With Me In The Race *Chambers Will Give Up Relay Spot If Teammates Object *Dwain Chambers Runs Fastest 60m (6.52) Of His Career *Desperate Dwain Chambers Prepared To Play Race Card *Chambers Makes Good On Vow To Beat Craig Pickering's Time At 5 Nations Cup
---
Runner-Up Meet Promoter Of The Week: Texas A&M
The Aggies have a fantastic new indoor track which just opened last week and the facility will host the NCAA indoor meet in March. But what impresses us about the Aggies is that they are actually trying to put meets in their new facility that would attract spectators. They opened the building with the Texas vs. Texas A&M Dual on the men's side.
Then this week, they had the SEC vs. Big 12 Challenge. A scored meet by conference featuring good teams from two conferences. A great idea. And what happened? More than 4,000 peole showed up to watch over two days as the Big 12 won both the men's and women's meets. Impressive. The Ivy League and Big East had a simlar meet a few years earlier but for some reason it was cancelled. More dual meets between traditional rivals and more scored meets. Very simple.
More Than 4,000 Show Up To Watch Big 12 vs. SEC Track Meet *Meet Results
---
Alan Webb Sighting
To be popular in America, Track and Field needs big-time American stars and Alan Webb has long been the American public's hope for a white American distance star. His sensational 2007 was followed up with a terrible 2008. How will he respond in 2009? We'll start to find out this weekend when Webb takes on Olympic bronze medallist Nick Willis and others in the mile at the Reebok Boston meet.
In his preparations for his first competitive race of the season, Webb ran a 4:04/1:52 double as a workout last week. You can watch the race video yourself to see how he looked or hear from Webb after the "workout."
Alan Webb & Training Partner Moise Joseph Run 4:04/1:52 Races As Workouts Webb will be racing at Reebok Boston next week. *Video Of Webb's Race *Video Of Webb's Post-Race Comments
Message Board: ALAN WEBB races @ George Mason Indoor Meet
---
Newsworthy European Action: Shaheen Is Back, Borzakovskiy Runs 2:17 & Loses, Twell Loses And Farah Gets The British 3k Record
There wasn't much professional road running action last week but there was some great action overseas on the track and on the cross-country course. In terms of a long-term perspective, the biggest news of the week probably came from Italy where the world record in the steeplechase Saif Saaeed Shaheen earned a comfortable victory over 8-time European champ Sergey Lebid in cross-country.
After the race, Shaheen was very upbeat. It seems that his injury problems are a thing of the past as he told the IAAF, "I have great respect for Lebid who won eight European titles. Now I feel that I can run at the same level as before the injury or even faster. I will run at the World Cross Country Championships in Amman. If I finish in the top ten, it will be fine."
We'll certainly find out how fit he is in a few weeks at World XC.
In the women's race in Italy, Britain's teen prodigy Stephanie Twell was upset by Hungary's Aniko Kalovics in a thrilling race. Kalovics hammered hard from the gun as she didn't want it to turn into a kick with Twell and Twell was forced to play catchup. Catch up she did and she looked like a certain winner with 800 meters to go before Kalovics found a second wind and hammered home for a 4-second win in the see-saw affair.
On the track, in Russia, 2004 Olympic 800 meter champ Yuriy Borzakovskiy shattered the Russian national record in the 1000 meter run by more than 4 seconds by running 2:17.10 - and he LOST. Yes that's right. You shatter your country's natioanl record and run 2:17 and get beat. Haron Keitany of Kenya ran 2:16.76 for the win.
"Who the hell is Keitany?" you ask. Just another obscure Kenyan who has never competed in a world or Olympic championship but is fast as hell. Except Keitany is no longer obscure. Keitany is a great story. The 25-year-old entered last year with modest PRs of 1:50 and 3:37. He had a great year last year, however, as along the way he won the African champs, was runner-up in the Dream mile and won the Wetlklasse 1,500 in 3:32.06 before winning again in the World Athletics Final. Shockingly, despite the fact that he didn't race in the Olympics (as he was only 4th at the Kenyan Trials), he earned Track & Field News #1 World Ranking for the Year. In the midst of that, he did lose a lot of races but still managed a better seasonal record than any of the other contenders for the top ranking.
Amazingly, his 800 PR is still officially 1:50.46. He certainly had to split faster than that in Russia.
The other meet in Europe that we wanted to talk about from last week was the Aviva 5-Nations Cup, where the Commonwealth team got the victory over the US, Great Britain, Germany and Sweden. The highlight of the meet came from Britian's Mo Farah, who has certainly put his Olympic disappointments behind him (Farah failed to make the 5k final). Fresh off a training stint in Kenya, Farah ran a huge PB of 7:40.99 to set a new British 3k record.
Very well done, Mo.
More: Kenyan Haron Keitany Runs 2:16.76 For 1km And Beats Yuriy Borzakovskiy *Results
Italian XC
World Steeple Record Holder Shaheen Is Back As Stephanie Twell Falters
Aviva 5 Nations Cup *Full Results
Mo Farah Breaks British 3k Record (7:40.99) As Commonwealth Team Edges Britain
His training in Kenya is paying big dividends. Amy Begley was 2nd in the 3k in 9:02. *Message Board Thread On Farah's Record Run
---
Bored At Work? Hopefully Not as Bored As This Guy Working At Comcast In Tucson
Did you watch the Super Bowl on Sunday? It was a great game. The last few minutes were full of amazing drama. Unbelievably exciting. When Larry Fitzgerald scored the go-ahead touchdown with less than 3 minutes left, the long-suffering Arizona fans probably couldn't imagine life could be any better. What could possibly be better than an imminent Super Bowl victory?
Well non-sports fans might say "sex" and apparently aren't the only ones thinking that, as for some still unexplained reason, Comcast cable subscribers in Tucson, AZ had their channels switched to a porno with, like, real nudity with 2:30 left in the game!
We're not making this up. Click here to read about the mix-up. Click here to be taken to a site that has a video of the mixup - warning: the video has frontal nudity.
---
Recommended Reads
There are several books out there by the world's coaching legends that we consider must-reads for any serious runner or coach. First, one hasn't really read about distance running unless they are familiar with Arthur Lydiard's training methods. This week Flotrack provided us with an interview with athlete/coach/author Keith Livingstone, a lifelong Lydiard disciple, who has written a book titled "Healthy Intelligent Training" that at the very least sounds informative, well-studied and innovative.

One can tell from the interview that Livingstone is incredibly passionate and experienced with athletics, training, and the Lydiard way. We give a hearty Thumbs Up to any author who keeps the teachings of Arthur Lydiard fresh in the minds of today's distance coaches and athletes.
Fantastic Interview With Keith Livingstone, Author Of "Healthy Intelligent Training" His book is described as a modernized Arthur Lydiard book on training. It sounds like the latest "must read" for any serious coach.
Unbeknownst to us or, seemingly, anyone else, there were cameras set up to record and save every single 100m split from every race at the Beijing Olympics from 800m up in distance. As dull as sifting through thousands of 100m splits sounds, the article below is actually fascinating (plus it trims down enormous amounts of data to a very manageable size). Read it yourself to discover where the greats made their moves (you might be surprised) and to ogle at the ridiculous speeds the men and women were able to accomplish in the latter stages of races like the 1,500m and 10k. The biggest shocker to us was the speed of Ethiopian Tirunesh Dibaba at the end of a very fast and gruelling (well, apparently for her not THAT gruelling) 10,000m race.
100m Splits At The Olympics Have Amazing Story To Tell You have to read this article, you will be amazed at some of the splits they found. For example, Tirunesh Dibaba ran a faster 100m split at the end of her blazing 10k than any woman ran the same 100m split in the 1,500m.
Following one recommended read based on statistics comes another with tables and charts analyzing distance runners. We of all people know that comparing splits between runners in different races is akin to the apples and oranges line, but Brett Larner of japanrunningnews.com makes a very interesting comparison. Larner puts the 5k splits of Paula Radcliffe and Kara Goucher in New York side-by-side with the splits of Japanese women marathoners Yoko Shibui and Yukiko Akaba from Osaka. Shibui won the Osaka Women's International Marathon last week in a slightly faster time than Radcliffe and with a similarly impressive negative-split effort. Shibui closed incredibly fast and was jumping, laughing and filled with energy as she crossed the line, returning to the form that made her the world's fastest debut marathoner back in 2001. Akaba ran her debut marathon in a slightly faster time than Kara Goucher. The Japanese, who used to be a dominant force in marathoning, have been less effective in recent years but perhaps they will be a force again this year and in 2012.
Compare 5k Splits Of Radcliffe And Goucher vs. Japanese Women Shibui And Akaba From Osaka
Other Recommended Reads:
An Awesome Article On The Late"Bullet" Bob Hayes
Poignant Brief Chat With 44-Year-Old Super Mom Colleen De Reuck She was amazingly 3rd behind Kelly Jaske in Houston. For someone who no longer considers herself elite, De Reuck can still perform with the best.
Sad News: 2-Time Olympic Gold Medalist Glenn Davis Dies At 74 The guy had morals. He turned down $125,000 in 1960 to pose in a cigarette ad.
Steve Hooker Just Staying Himself After Olympic Gold Hooker went on to clear a US all-comers record 19'8" at Millrose and came darn close to an indoor world record 20'2" with the MSG crowd fully enthralled.
---
Looking Ahead: Reebok Boston & US XC
This weekend is full of great US action as the US XC champs will be in Maryland and Reebok Boston meet will obviously be in Boston. We'll have more on what to expect in both places later in the week.