The Week That Was January 19-25, 2009
January 27, 2009
*Last week's week in review can be found here.
By LetsRun.com
---
Marion Jones May Be The Biggest Liar Ever
Let's start recapping last week by highlighting something we didn't even have on the site last week as we missed it. Jonathan Littman of Yahoo! Sports wrote a great piece that once and for all should prove to anyone that Marion Jones knowingly took drugs. It really, really rankled us to see Jones making public appearance after public apperance after getting out of prison and see her say she never knowingly took drugs. She thought that she was taking Flaxseed oil.
Considering that both her ex-husband and the father of her child knowingly took drugs, it was laughable that she said had no idea she was on drugs.
Her denial was comical, but Oprah Winfrey let her get away with it. We didn't let her get away with it when we ripped her back in November in our Week That Was Recap but, sadly, much of the popular press (except for Phil Hersh of the Chicago Tribune who ripped her perfectly) did let her get away with it.
Thankfully Mr. Littman and Yahoo! Sports got the judge to unseal some 30,000 previously unreleased pages from the Barry Bonds perjury case and the evidence isn't kind to Ms. Jones. The info that Mr. Littman has uncovered is fantastic. Her ex-husband, CJ Hunter, had 99 pages of testimony, with CJ saying what anyone with a brain already knew - Marion knowingly took drugs. Yahoo has published her doping calendar and much, much more.
Cheating (as well as lying) is one thing. But lying about cheating after you just got out of prison for lying ... it absolutely sickens us. Marion is in our minds as big of a liar that exists on the earth. And now we finally have proof that our belief that Marion may be the biggest liar in the world is true. Littman quotes the lawyer of Dan Pfaff, Marion Jones' former coach, who successfully sued Marion for not paying him $240,000. Pfaff's lawyer, Edmund (Skip) Davis, said the following about Jones:

"I have taken over 50 depositions, ranging from complex litigation to simple divorces to business contract disputes. I have never encountered anything as obnoxious or as blatantly deceitful as Ms. Jones and her lack of concern regarding telling lies. She can cover the full range, from the little white lie to the mind-numbing whopper."

So there you have it. We couldn't have said it better ourselves. We highly encourage you to read Jonatham Littman's piece - and we give him a big-time thumbs up for nailing Jones.
---
Race Director Of The Week

While we're giving out big-time praise to things that didn't get a lot of attention week, let's give another thumbs up to the race organizers of the ING Miami Marathon. Why? Well, their marathon was marred by a mishap where the leader of the men's race, Jynocel Basweti, followed a video truck that took a turn at mile 20 after being ordered off the course by a policeman. The ultimate winner of the race, Morocco's Benazzouz Slimani, also ran off course but got back on course first and got the win. While it's very possible that Slimani might have won anyway, the fact of the matter is we'll never know what would have happened, as running off course is going to cost a runner a ton of emotional and physical effort.
Race organizers can say all they want about runners needing to know the course, but if a press truck turns off and no one keeps you from following, they are to blame in our mind, as it's mile 20 of a marathon and your brain isn't really thinking all that clearly. Thankfully, the race organizers did the right thing in this case. They gave Basweti an extra $2,500 - the difference between the first place prize of $5,000 and 2nd of $2,500. $2,500 goes a long, long way in Kenya and Mr. Basweti was very appreciative. Well we are appreciative of the race organizers for doing the right thing. Next time ... make sure everyone stays on course!!!
---
Way To Go USA
Last week was a very emotional week for Americans and people across the globe as Barack Obama was inaugurated as the first African-American president of the US. Whatever your political persuasion, it was hard not to be moved by what Obama's inauguration represented (Editor's note: the co-founders of this site's parents both worked in the Bush administration).
From a track and field perspective, two people who would appreciate more than just about anyone as to how far the country has come would be Tommie Smith and John Carlos, who raised black-gloved fists on the medal stand 40 years ago at the 1968 Olympics. On Tuesday, 14,706 days later, they raised their hands again, this time in victory and not in protest.
Forty years ago, Smith and Carlos thought they might be shot on the victory stand; while that didn't happen, they were kicked out of the Games. Now the country has a black president. Remarkable. And it was great to see the Boston Globe catch up with Smith and Carlos.
Further proof of how far this country has come in 40 years also was revealed last week when we learned that legendary long jumper Bob Beamon was kicked off the UTEP track team in 1968, days after Martin Luther King's assassination, for refusing to participate in a track meet against BYU as a way of protesting the Mormons' refusal to let blacks be priests.
Beamon would go on to shatter the world record later that year. Unbelievable. We wonder if UTEP has ever apologized to Mr. Beamon.
But these two stories and Obama's inauguration make us feel that we need to give a thumbs up to the United States of America for coming so far in 40 years.
An Absolute Must Read 14,706 Days Later, John Carlos And Tommie Smith Raise Their Hands Together Again The country has come a long way in 40 years and it wouldn't have been possible without courageous men like these two. Both men reveal they expected to be shot on the medal stand.

Legendary Bob Beamon Was Cut From UTEP Team For Protesting BYU's Treatment Of Blacks
---
"Stanford Still Sucks" (In honor of Ryan Grote)

Okay, the love-fest of thumbs up needs to come to an end. Now who should be our first victim? We're sure Ryan Grote will be pleased if we give a Thumbs Down to Stanford University for saying they may cut sports given the global economic slowdown. Whether they ultimately cut sports in our minds is irrelevant. The fact that a school with an endowment of $17.2 billion as of last June 30th would contemplate cutting sports because of finances is in our minds absolutely ludicrous.
Either the sports teams are good for the university or they aren't. If they are good for the school, they should be there. If they aren't, they shouldn't have been there in the first place.
The whole thing seems preposterous to us. It's so ridiculous we are wondering if the Athletic Director is just looking for an excuse to cut certain minor sports to free up admissions spots elsewhere or perhaps to try to get alums to give more money. One of those conspiracy theories seems better than for us to believe they have to cut sports when in reality their endowment spending is just being reduced "to where it was three or four years ago."
But maybe the AD is serious. Stanford has already fired a bunch of employees (49 in the business school alone) In our minds, a school with an endowment of over $15 billion shouldn't be canning anyone. While the market is down and things are tight, they should eat a little bit into the endowment so people can keep their jobs and the economy won't totally crater.
More: Facing Financial Losses, Stanford Athletics May Be Forced To Cut Back Facing $5 million in less revenue in the coming years, the USA's best overall university sports program debates staff and possibly program cuts.
---
Weekly Drug Update

Not much to report this week other than the fact that greatest in a long line of Manhattan shot putters, Milan Jotanovic of Serbia, tested positive for Salbutamol. We incorrectly reported that he is a former Manhattan thrower. Jotanovic took the Olympic year off last year from Manhattan but is on Manhattan's roster and apparently planning on competing this spring.
We didn't believe it when we heard it but apparently the first-time suspension for Salbutamol is only 8 months, so Jotanovic is eligible for competition come April.
We hope at least they'll take away his school record throw from the Serbian Nationals. He tested positive at that meet where he threw the farthest.
---
German, You Were Amazing, But Now It's Time For Us To Bring You Down To Earth
Yes, now we'll talk about Mr. German Fernandez. We put off talking about him as that's all we thought we did for two straight days. Since we spent two days helping create more German mania and even turned the homepage black in his honor (Full Disclosure: Excitement for American distance stars is good for business), we now will take the opposite approach and try to dampen people's expectations. Sure, German's 3:56.50 mile was shockingly good on a number of fronts - it was an unoffiical junior world record, it was his first indoor race ever, it came just 8 weeks after he was carted off the NCAA cross-country course in big time pain - but that doesn't mean he should be thinking "making the US team for August's world championships in Berlin should be a realistic target" as Britain's Steve Cram suggested.
Let's not go overboard or do what the Brits always do which is overhype their prodigies (we don't blame them as they don't have too many of them). Fernandez clearly is something special. Everyone knew that last year when he pulled off arguably the greatest double in HS history - 4:00 and 8:34. But it's critical that he not get carried away here. We remember when Alan Webb was at Michigan and hearing from a teammate (or was it Chris Lear?) that he talked about running something like a 3:45 mile that year as a freshman. Maybe he figured he'd come down from over 4:00 to 3:53 the year before so why not keep it going?
It's overly grandiose thoughts like those which get prodigies in trouble. The key to running is to focus on the process, train properly and progress from year to year.
Fernandez is a great American hope but future international stardom is far from a sure thing. LetsRun.com visitor Bryan Green wrote a fantastic blog showing just how difficult of a task Fernandez faces.
Let's just summarize the facts for you quickly. The world junior records outdoors for the 3k (7:28.79), 3k steeple (7:58.66), 5k (12:52.61) and 10k (26:41.75) are all significantly better than the American records at the same distances. A scary thought indeed.
Regardless, Fernandez's mile was fantastic, as was 2nd placer Dorian Ulrey of Arkansas, who ran 3:57.
Those guys even upstaged the pros, who also ran a mile at the Amory in New York City. It ended up being a good battle between Rob Myers, Steve Sherer and Adrien Blincoe. Sherer kicked too soon once again and a patient Myers got the win in 3:59.
In the process, we learned that Myers is now training under the tutelage of Ron Warhurst. That will add great drama to more Alan Webb races, as every time Webb races Nick Willis or Nate Brannen, people still view it as a test of Warhurst vs. Raczko.
In terms of domestic US women's action, the highlight came from collegiate 10k record holder Lisa Koll, who opened up after red-shirting cross-country with an impresive 9:09 3k. Very well done. Any concerns whether the long layoff would hurt her certainly are officially over. A big thumbs up to you.

More: Rob Myers Wins Battle With Sherer And Blincoe To Capture New Balance Title In 3:59 Blincoe, who was the only guy that went with the rabbit, was very disappointed after the race as he was hoping for the meet record of 3:54.
*IAAF Recap Of New Balance Pro Action
*Lisa Koll Opens Up After Long Break With 9:09 3k
Saturday: OSU's German Fernandez Sets Junior World Record, Runs 3:56.50
Ok. State coach Dave Smith summed it up perfectly: "He looked like a million bucks - looked smooth as ever. He ran a really smart, intelligent race. He sat back and just waited until about 400 to go and put a move on the guy who was leading (last year's 1,500-meter NCAA runner-up Dorian Ulrey of Arkansas, who competed for Northern Iowa a year ago). He just blew by him and looked like a million bucks. It was unbelievable."
*German Fernandez Gets Some Love From Steve Cram
*German Fernandez Gets Some Love On IAAF Site
*Fernandez Gets Some Love From AP
From the LRC Boards:
*German Peaking at Wrong Time *German vs Wottle 800 meters!
*GERMAN FERNANDEZ MAKES ALAN WEBB LOOK LIKE AN ABSOLUTE CHUMP *MARK MY WORDS: German Fernandez WILL go sub 13:20 in the 5k this year *Mile Results for the Arkansas Invite *German Fernandez Is Running in Arkansas
---
Bored At Work?
Then please read the following article and help some high school runners out in Maine. A CALL TO ACTION
Help Keep Maine HS In New England XC Meet Some idiot thinks it will save money to prevent them from going to New Englands. Support the cause - Brandon Bonsey, Sintayehu Taye, Ben True, Matt Lane, Louie Luchini and Anna Willard already are on board.
---
Best Quote From The Week That Didn't Make Quote Of The Day:
Kelly Jaske, the 32-year-old Harvard law school grad who never ran in college or high school, who was 2nd at the recent US Half Marathon championships, talking about how she manages to run 120 miles a week while working as a full-time lawyer:

KJ: I just get up early and run in the morning, go to work, and then run at night. Itís like anything else: You can make time for what matters. I think everyone does that in their lives. Some people have kids, and I donít. I know having kids takes a lot of time and is a big commitment, and so they make time for that. I make time for this. I think everyone does it in their own way.

We love her humble attitude and we apologize for not talking about her or any of the women in last week's Week That Was. Both her performance, as well as the third place finish of 44-year-old Colleen De Reuck, were inspirational.

Meet The Unbelievable Kelly Jaske *Latest Jaske Thread She didn't run in high school, she didn't run in college. Now the 32-year-old Harvard law school grad is banging out 100+ mile weeks and just got 2nd in the US Half Championships while working a full-time job.
Plus: Poignant Brief Chat With 44-Year-Old Super Mom Colleen De Reuck She was amazingly 3rd behind Jaske in Houston. For someone who no longer considers herself elite, De Reuck can still perform with the best.
---
Yoko Shibui Hammers Home To Big Win At The Osaka Women's International Marathon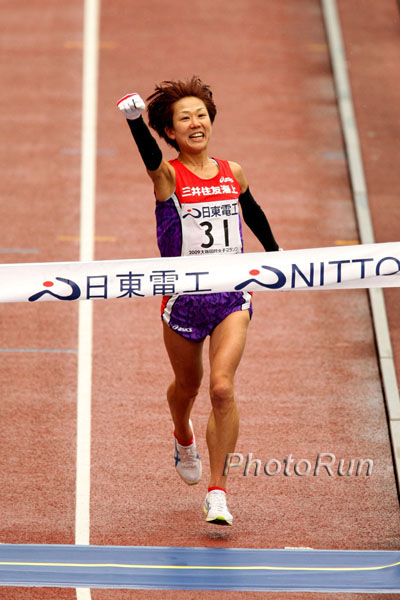 Yoko Shibui got the win in Osaka as she hammered home a 2:23 after a slow first half. 2:23 may not be that impressive as a final time, but the last part of Shibui's race certainly was as she went 16:11, 16:33 and 7:02 (for the last 2.195k) to get the win. Shibui, who has run 2:19:41 in Berlin in the past, certainly can't be discounted for a medal at next year's world championships.
Brett Larner, who writes the blog Japan Running News, wrote a great piece that compared the end of Osaka for Shibui to Paula Radcliffe's end in New York. He also compares the splits of Osaka runner-up Yukiko Akaba to that of New York third-placer Kara Goucher. In both cases, the splits are eerily similar.
Definitely worth reading.

Yoko Shibui Finally Runs A Conservative Race And Destroys Osaka Field
*Comparison Of Osaka Women's Marathon and NYC Marathon By Brett Larner. He compares Yoko Shibui to Paula Radcliffe in NY.
---
Maybe Jeremy Wariner Wouldn't Break 1:50 After All
In the middle of last week, we made mention of the fact that Washington State sophomore sensation Jeshua Anerson would be opening his 2009 season with an 800 but we never mentioned the actual time that he ran.
Now we are primarily a distance-based website, so why are we talking about the guy who won both the NCAA and world junior titles at 400 meter hurdles? Well, because for years there have been popular threads on our message board along the lines of "What could Michael Johnson run an 800m in" or "What could Jeremy Wariner run an 800m in?" And the guesses have been all over the place. Rojo has seen near-fights break out in the Cornell locker room as sprinters and 800 guys have argued over the "correct" answer.
Well, Anderson is very fast and you'd think as a 400 meter hurdler, he'd be stronger than your average 400 meter runner, although to be fair, he is coming off of a football season and not fall track training. So maybe he'll shed some light on the answer.
And the verdict is: ................ Make a guess to yourself and then click here to find out.
Although he did get 2nd so we have no idea how the race went out.
Freshman NCAA 400m Hurdle Champ Jeshua Anderson To Run 800m Saturday *Results Here
---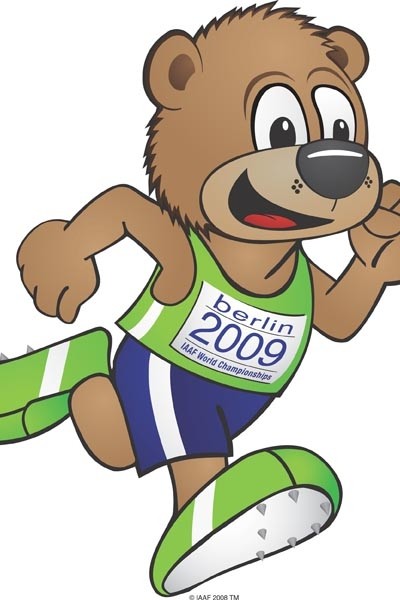 And We Save The Biggest News Of The Week For Last
The mascot for the Berlin world champs this August was unveiled last week. Take a look at the creature to the right. We kind of like it. They actually have him running. Imagine that - a mascot that runs - for a track and field world champs. We feel the Olympic mascot would be a lot more popular if he or she was required to be a runner as well.
The Moment You've All Been Waiting For, The Berlin 2009 Mascot Is Unveiled!
---
Looking Ahead: Millrose, Millrose, Millrose
All of you East Coast running fans, it's time for your actions to speak louder than words. Stop complaining about how track isn't popular and get your butts in the stands for the granddaddy of all track meets - the Millrose Games. The 102nd edition takes place Friday night at Madison Square Garden and is highlighted by Rojo's Cornell squad competing in the men's 4 x 800 a great Wanamaker mile matchup between Nick Willis and Bernard Lagat.
Willis had a nice interview last week on runnersworld.com where he talked about his preparations for Millrose and his first ever race there last year.

If you do go, Rojo asks that you cheer for Cornell in the men's 4x800.

102nd Millrose Is On Friday *Entrants/Schedule
*Travis Padgett Gearing Up For Pro Debut Padgett says he wants the 60m world record this year.
Interesting Read: At Age 33, Amy Acuff Hooks Up With Long-Forgotten Former Famed Arizona Coach Bob Myers To Try To Revitalize Career After Olympic Flameout
*Inside Track: Acuff's Big Apple Farewell
Visa Championship Series Kicks Off Friday With Famed Millrose Games At MSG
*Pick Who You Think Will Do Well & Win $2,100 In Visa Pick-N-Win Fantasy Game