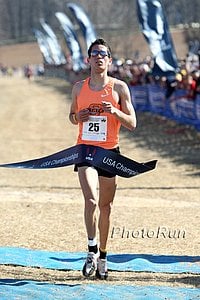 *Terre Haute Paper: Nice Women's Preview
*Terre Haute Paper: Chelanga Happy That Nice Weather May = Fast Times
LRC Nation Final Voting Here.
Men: 1. Stanford (306) 4919 2. Oklahoma State (195) 4695 3. Oregon (7) 3217 4. Portland 2596 1. Chris Derrick (199) - Stanford 4256 2. Sam Chelanga (229) - Liberty 4240 3. German Fernandez (21) - Oklahoma State 2369
Women: 1. Washington (358) 4404 2. Oregon (14) 3559 3. Villanova (77) 3444 4. Colorado (9) 2570 1. Jenny Barringer (392) - Colorado 3998 2. Susan Kuijken (4) - Florida State 3206 3. Jordan Hasay (3) - Oregon 2360
LRC LetsRun.com Previews The 2009 NCAA Men's XC Meet
LRC LetsRun.com Previews The Women's NCAA Meet
*Back By Popular Demand: Grote Poll Ranks Top 31 Men's XC Teams
*LetsRun.com NCAA XC Polls/Predictions You all have ranked all the teams and the top individuals. Voting still open.
NCAA Profiles, Press Conferences And Interviews:
*Chris Derrick Focused On Team Title
*OSU's Dave Smith: "We don't need guys to run well above their head ... We've got the guys to win a national championship."
*Stanford Student Newpsaper: Men Are Hungry & Confident Heath says nothing but a national title will suffice, while Derrick says the Cardinal won't beat themselves. Jacob Riley will run.
*Denver Post: Win or Lose, Barringer Is Most Accomplished CU Harrier
*UW Women Are Seattle's Great Sports Hope For Fall After Yet Another Disastrous Football Season
*Daily Camera: Barringer Wants XC Title
CU: Barringer Chases 'Storybook' Finish
*Sam Chelanga Interview Prior To NCAAs Chelanga: "The only thing I want is to be a champion." Chelanga's Coach: "I would anticipate that we see his best race at the national championship."
*Eugene Register Guard: "There is no doubt that the Oregon men have underachieved this season."
*Nice Profile Of Hometown's Eric Shultz He almost led the Sycamores to NCAAs as a team and they were were without their #1 guy from the year before, who was out with an injury.
*Q&A With Indiana's #4 Samantha Ginther
*Recommended Read Great Article On Twin Power Between Oregon's Mercado Twins Running Last XC Race Together Monday We know all about twin power here at LetsRun.com. The clutch performance of the unheralded Mercado twins were the reason Oregon won their first team XC title in 30 years in 2007. Vin Lananna made a tough call and decided to run them and they came through big time.
*Press Conference Transcript With Mick Byrne Byrne is the craftiest coach in the NCAA.
*Jenny Barringer Hopes To Achieve Ultimate NCAA Dream Of XC Champ
*Chris Derrick And Elliot Heath Confident In Stanford Paper

Recommended Read: Brief Chat With Oklahoma State Coach Dave Smith Dave Smith talks about his top 5 in detail and you might be surprised to find out who he predicts to be their strongest runner. Also, he downplays his team's chances against Stanford and talks training and recruiting. Chris Derrick, Smith's favorite to win the championships, is USATF athlete of the week.

Translated Dutch Interview With Florida State's Susan Kuijken Indicates She May Be Ready To Test Jenny Barringer Some experts are saying NCAA 1,500m champion and XC runner-up Susan Kuijken is the only runner out there who can challenge Jenny Barringer. Kuijken seems to think she has the speed to do it. The question is can she keep up in the middle of the race?World Marathon Major Series Champions Wanjiru And Mikitenko Will Run In Melbourne 15k Next Week Wanjiru's getting back to racing less than two months after a cold, windy marathon in Chicago.
Nick Arciniaga Writes About What He Was Feeling In the NYC Marathon Normally we wouldn't put up every blog written by a runner, but we found this one interesting. Arciniaga, former US #1 finisher at Boston and true blue collar Hansons-Brooks runner, beat most of the big US names in New York by not blowing up when the going got tough.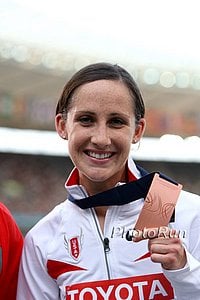 LRC: The Week That Was Last week was an interesting one, as the NCAA cross-country field was set, Tirunesh Dibaba set a world record and one of the top 10 US milers in history announced his retirement to the world on the world-famous LetsRun.com message board. We break it all down for you and tell you who are the biggest surprises and flops in NCAA cross-country, plus we celebrate the 10th birthday of WADA, introduce you to the future of ultra marathoning and read Ryan Hall's and Shannon Rowbury's blogs.
DII XC Champs Preview Jessica Pixler and Neely Spence are set for a great race on the women's side.
Hot Weather Slows Runners In Deep Ageo City Half Marathon Last year, if you ran 73:00, you didn't finish in the top 500 and sub-65:30 was necessary for a top 100 finish in this insanely deep Japanese half marathon. This year, unexpected hot weather took its toll on the runners.
IAAF XC Hopes For Return Of Stars Tirunesh Dibaba And Kenenisa Bekele After Season Missed Due To Injury *IAAF XC Calendar: Season Stretches From Nov - March
USATF Announces Hall Of Fame Nominees Joetta Clark Diggs won seven Millrose Games 800m championships.
Recommended Free Online Documentary: "There are no miracles in sport. You know where there are miracles? In training." - Quote from a documentary on the man behind Hungary's hammer-throwing success: Pál Németh. We found the video thanks to a hammer-throwing LetsRun reader who sent us his review of the film. LetsRun Fan Writes Review Of Rare Film About Hammer Throwing

Scandal Berlino The Bear Is Unveiled The man behind the mascot of the year is 33-year-old actor Oliver Seiffert.

Priscilla Lopes-Schliep And Coach Win Canadian Athlete/Coach Of The Year

Insane: Bill For 2014 Commonwealths In Glasgow Headed Toward$ A Billion These huge bills can't be sustainable. How about not just having "green" events but making them affordable?

Austrian Drug Cheats Could Face Up To 10-Year Prison Sentences Harsh punishments are proven to deter crime-doers, right?

Historical Article On Australian Soldier Taken From the Front Line To The Olympic Marathon Start Line
2009 NCAA D1 XC Selections Are Announced The screwy NCAA XC selection system didn't produce screwy results, as only 1 nationally ranked team didn't advance (#26 Butler) on the men's side. On the women's side, the 4 lowest-ranked teams (#27 Cal, #28 Arkansas, #29 Tennessee and #30 Iowa) didn't advance. More: *Oregonian Recap Of West Regional *Jordan Hasay & Trevor Dunbar Have Made Their Marks As Freshmen
Ryan Gregson Wins 3k In Australia It was a tactical affair and Gregson blasted the field to win in 8:00 to capture his first open state title. He'll have one more race as a junior before he turns his attention to making the Australian Commonwealth Games team.
Sprint News
Usain Bolt To Have 9.58 SuperParty On December 4/5 & It Looks Like Everyone Is Invited He's already invited Tiger Woods, Emmit Smith, Deion Sanders and Michael Jordan. *Official SuperParty Website
*Dwain Chambers Writes About What It's Like To Compete Against Usain Bolt And Says He Knew Bolt Was Something Special Back In 2006
*Daniel Bailey Says Move To Jamaica & Glen Mills Was Key To His Success
Steph Twell Wins XC Race & Then Looks For Funds To Pay Her Coach Her coach was sacked in a recent UK Athletics restructuring.
Japan Does Well As Asian Games Conclude And a bunch of ex-Kenyans dominated the 10km. *Day 4 Recap *Full Results
Non-NCAA News
Ridiculous: Jamaican Coach Stephen Francis Wants Tax Exemptions For Jamaican Athletes
*Geoffrey Mutai Runs 59:30 To Win Valencia Half Marathon
*UK Athletics Chief: Diamond League Will Benefit Britain And May Save Athletics In UK
*Sanya Richards & Usain Bolt Are Named IAAF Athletes Of The Year
*Stars Come Out In Monaco To Honor Bolt/Richards & To Launch Diamond League
DIII, DII And NAIA XC Nationals
DII Men: Adams State (23) Dominates Western State (86) As Adams State's Ruben Mwei Gets Individual Title *Complete Men's Results
DII Women: Adams State Wins 7th Straight Title It was a tight battle as they prevailed by 8 points over Grand Valley State, as Seattle Pacific's Jessica Pixler got her 3rd individual win while Neely Spence blew up after trying to go with Pixler and finished 43rd. *Complete Women's Results
*Pixler Wins Historic 3rd XC Title The first D2 athlete to be a 3-time champ. *Awesome Pre-Race Profile On Pixler
DII: *D2 LRC Mboard Thread
Pre-Race: Neely Spence Set For Showdown With 2x Champ Jessica Pixler
*NAIA Results
Final LRC DII NCAA XC Predictions You all cast your votes and here they are.
DIII Women: #3 Wisconsin Eau Claire Women Win 1st Team Title By 9 Over #6 St. Lawrence, Which Was Led By Individual Champ Wendy Pavlus *Eau Claire Release *Team Results *Individual Results
DIII Men: North Central College Wins 13th Team Title In Dominating Fashion Individually, Ricky Flynn of Lynchburg got the shock win as pre-race favorite Peter Kosgei totally bonked in the last 500 to finish 43rd. Second-ranked Wisconsin LaCrosse was only 10th as 10th-ranked Williams was a distant 2nd.
*Team Results *Individual Results
*Article From North Central Website
Recommended Must-Read #1: Meb Kefleizghi Profile In Wall Street Journal Meb talks about religion, running and what it means to be an American in an absolute must read. Meb's victory is garnering him some big-time publicity and perks as well, as he'll be in the Macy's Thanskgiving Day Parade on a float next to Miss America.
Recommended Read #2: Yusuf Kamel: I Want The World Record The 1,500 world champ may be one of the all time greats in terms of talents. He admits in this candid interview that he used to go dancing before semifinals and finals at major events. Now he's focused and says that the 1,500 is easy. Kamel: "I want to attempt a World record in the 1,500 and run sub-1:42 in the 800m.
Bolt & Gay To Race At Least 3 Times In Diamond League, As Stars Like Them & Kenenisa Bekele Are Signed For 2010 The league is going after the big names, as at least one of the "Big 3" men's sprinters in Bolt, Gay and Powell will be at each meeting. Kenenisa Bekele is signed on early as well.
*Bolt & Gay Are Excited About New Diamond League Format Bolt: "It's going to be good for the fans. There's not going to be ducking."
*IAAF: Track and Field's elite endorse IAAF Diamond League at sparkling launch.
*Tyson Gay & Sanya Richards Win Jesse Owens Award As America's Top T&F Athletes
Usain Bolt's Training Partner Daniel Bailey Is Suing A Swedish Newspaper That Erroneously Claimed He Failed A Drug Test At World Champs
IAAF XC Season Gets Started With A Bang As Reigning World XC Champ Gebregziabher Gebremariam Gets Victory In Portugal
*2011 World XC Meet Is Given To Punta Umbria in Andalucia (Southern Spain) 2011 is the last of the every-year World XC. After that, we skip to 2013.
Recommended Read Matt Fitzgerald Interviews Kara Goucher On Training Details Kara talks about running easy days easy, trying to hit mileage, writing workouts on the fly and everything training with experienced athlete and writer Matt Fitzgerald. Every article on Kara usually has some sort of agenda, but Fitzgerald actually paints the whole picture, not calling Salazar a science-only or feel-only coach.
Gender
IAAF: No Gold Medal Deal Has Been Made
South Africa/Media: Caster Semenya To Keep Gold Medal
The media is acting like this issue has been resolved, but it is far from over. The gender tests have yet to be finished and will be kept private. All that is resolved There is still doubt as to whether Semenya will keep her gold medal, her world title and prize money. Also to be resolved: 1) whether Semenya will be allowed to compete in the future as a woman and 2) whether the other medallists will be moved up in the standings (you could have two gold medal winners if the IAAF concludes Semenya had an unfair advantage). This is the IAAF saving face and saying Semenya did nothing wrong and does not deserve to be punished. But as one message poster said, "why are they announcing that she will keep it when they don't even have the results of the test? This is outrageous."
On The Boards: Caster Semenya Will Keep Gold
LetsRun.com 2009 NYC Marathon Prediction Contest Winners Revealed The contests always bring out the best in LetsRun.com visitors. This one was no different. We had an astrophysicist become a double winner and a former CU Buff, Keenan Robbins, come out on top. Plus, our runner-up tells you who will win NCAAs and what will happen to Alan Webb in 2010. If you didn't do so hot in this prediction contest, you have another chance coming up. Click here to get your predictions in for the LRC Men's and Women's NCAA XC Championship Prediction Contest.
SI Journalist David Epstein Tells Us Why Scientists Are Just Starting To Speak Out On Pistorius Technicalities prevented the research that may ban "Blade Runner" Oscar Pistorius from able-bodied Olympics from coming out pre-2008.
Wall Street Journal Article On Nutty Obsessive Distance Runners "It's an obsession. No different than gambling, drinking or doing drugs." - Lawyer Eugene DeFronzo.
Drugs
Moroccan Drug Cheat Rashid Ramzi Officially Stripped Of Olympic 1,500m Gold Medal *LRC Boards: Ramzi Out! Asbel Kiprop is officially an Olympic gold medal winner - a nice consolation after a subpar championship season for the young Kenyan. Of course, rehabbing Kiwi Nick Willis gets silver and Frenchman Mehdi Baala gets bronze.
*Show Me The Money - Gulf States Buy Place On World Stage
More Off-The-Track News
IAAF Issue Statement On Caster Semenya In perhaps the most-watched case in IAAF history, track and field's international governing body is taking every step cautiously. This announcement simply says: we're not ready to announce anything yet, but we're working on it.
New Study Shows Oscar Pistorius Gains Advantage From Blades "Pistorius is able to reposition his limbs 15 to 16 percent faster than the last five 100-meter world-record holders." - Associate professor of applied physiology and biomechanics Peter Weyand, who studied Oscar "Blade Runner" Pistorius' running mechanics.
South African Track & Field Big Wigs Locked Out Of Offices As Police Are Summoned To Remove Stubborn Senior Leader
International Stallions In The News
"Usain Bolt was Shergar, Sea the Stars, and Nijinsky rolled into one." - Quote from apparent thoroughbred horse handicapper Dwain Chambers, who writes about trying to convince himself he could beat Usain Bolt.

Craig Mottram On His Comeback, His New Coach And His Race Plans The Big Mazungo should make things even more interesting in the men's 5,000m with his return.

Brit Triple Jumper Phillips Idowu Is Euro And British Athlete Of The Year And Says He's Still After Jonathan Edwards Idowu loves to chat it up in the press.