LetsRun.com: The Week That Was In Running: November 9 - November 15, 2009

By LetsRun.com
To read last week's LRC Week That Was, click Here.
To read any 2009 LRC Week That Was, click Here.
November 16, 2009 - Last week was an interesting one, as the NCAA cross-country field was set, Tirunesh Dibaba set a world record and one of the top 10 US milers in history announced his retirement to the world on the world-famous LetsRun.com message board. We break it all down for you and tell you who are the biggest surprises and flops in NCAA cross-country, plus we celebrate the 10th birthday of WADA, introduce you to the future of ultra marathoning and read Ryan Hall's and Shannon Rowbury's blogs.
Last Week's Homepages
*Mon (Nov. 16) *Sun (Nov. 15) *Sat (Nov. 14) *Fri (Nov. 13) *Thu (Nov. 12) *Wed (Nov. 11) *Tue (Nov. 10)
*****
Ryan Hall And Shannon Rowbury Blog (And We Actually Read Them)
As we got ready for the NCAA regional cross-country action last week, not much else was happening, so we got to reading some athlete blogs (if you think that every employee reads every article we link to on the site, you are crazy as that would take days). World Championships bronze medallist Shannon Rowbury blogs on the Huffington Post of all places. We found her comments about what it's like to actually have won a World Championships medal to be interesting: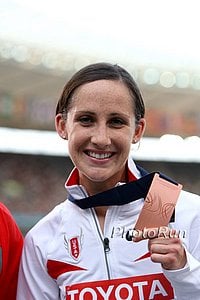 Yet it's funny, because although I have fantasized my entire life about what it would feel like to own a medal, not much has changed now that I have one. As soon as the awards ceremony was over, I had to rush to do my cool-down and to go to drug testing. Less than a week after that, I was racing again in Zurich. Now that I'm home, my medal sits on my dresser in the tin case it came in and I'm back to base training in preparation for the 2010 track season. In this way, I have come to realize that it's not about the medal at all. Instead, what matters most is the sense of pride in accomplishing a goal I had worked so long towards and the joy of sharing that success with the people that helped me to achieve it.
Like life in general, after a big event - whether its a wedding, graduation, funeral (assuming it's not your own) or medal ceremony - life simply goes on.
More: Shannon Rowbury Blog

*****
Another blog that we read was Ryan Hall's blog for Nissan. Definitely worth a read if you have a little bit of time. It was good to see him in a much more positive frame of mind, as at the post-race press conference, he seemed unbelievably down despite his 4th place showing.
In some fashion, Hall's post-New York reaction was very similar to way he ran the race. In the race, Hall had big hopes, but the leaders started to pull away and that must have been unbelievably disappointing. But instead of wallowing in misery and bagging it, he decided to focus on staying upbeat and make the most of the situation: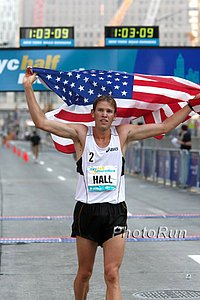 "Over the last 10k I made it my goal to let out whatever was inside of me. I had trained very hard for this moment. Too hard to let it completely slip by despite not having the run I had hoped for. This is when the battle becomes about personally overcoming your own body and not giving in to the desire to completely fold when the chips are down."
Not folding when the chips are down is a key ingredient in the elite world of marathoning (unless you are named Sammy Wanjiru). Elite level marathoning is a cruel, cruel sport. Train for 6 months to have at a one in five chance of winning. Then repeat. And oh yeah, sometimes you are going to get injured and not even get to race.
Meb Kefleizghi has run 12 marathons and only won one. Hendrick Ramaala has run 24 and only won 2.
Even one of the all-time greats like Martin Lel has to overcome a ton of disappointment. Hard to believe that Lel himself has a win rate below 50%. He has started 11 marathons, finished 10 and won 5. And that doesn't count that fact that he was a late withdrawal at both London and New York this year.
The good news is Hall knows that he has to be resilient, as in part II of his blog, he wrote the following:

"When I was a little kid watching the Olympics on TV I always wondered what it took to be an Olympian. Now that I am one I know that one of the biggest characteristics that it takes is resilience. It is not never failing that measures greatness it's about how many times one can get knocked down and keep getting back up. One of my favorite verses in the Bible says, "Though a righteous man falls seven times, he rises again." I have fallen many, many times throughout my career and I haven't always been able to pop back up right away but somehow, through the grace of God, I have found a way to get back up. That's where I am now, stumbling back onto my feet."
More: *Ryan Hall Writes About New York (Part 1) For Nissan *Ryan Hall Part 2
*****
Meet Another Rapidly Improving Sprinter Who We Don't Think Is Dirty
Last summer, Daniel Bailey was one of the revelations of the summer track season. The then 22-year-old sprinter from Antigua and Barbuda (he turned 23 on September 9th) lowered his PR from 10.12 to 9.91. In the year 2009, a drop like that is going to raise some eyebrows and drug rumors certainly surfaced about Bailey. It is good and a fine thing that people be suspicious, but a nice drop certainly doesn't mean one is on drugs.
An article came out last week in the Jamaica Observer on Bailey, who trains under the supervision of Usain Bolt's coach Glen Mills in Jamaica, and it gives people who want to think he's clean reason to do so.
First of all, it needs to be remembered that Bailey, like Bolt, was a child prodigy. The guy ran 10.19 way back in 2004 at the age of 17. Yes, 10.19 at age 17. A 10.19 guy at 17 running 9.91 just before his 23rd birthday doesn't seem abnormal at all. Plus, the article last week in the Jamaica Observer revealed that at age 17, Bailey wasn't even taking track seriously - he wasn't lifting weights at all and he only ran 3 days per week.
Check out this quote from Bailey:
"First of all, I wasn't doing any gym work in Antigua, I was only training three days per week, and I wasn't taking any supplements, so by coming to Jamaica and training six times a week, taking my supplements, and having a solid gym programme, that has changed everything completely."
Additionally, Bailey was hurt in 2005 and 2006 and the knee injury led him to having only a seasonal best of 10.35 over those two years. The injury may have been a blessing in disguise made Bailey realize he needed a real big time coach and thus in 2006, he moved to Jamaica to train under Mills. And the progression has been very steady every since then. From 10.38 in 2006 to 10.25 I 1007 to 10.12 in 2008 to 9.91 in 2009.
More: BAILEY ATTRIBUTES SUCCESS TO MOVE TO JAMAICA *Dangerous Daniel, I'll show them who I am (article talks about knee injury)
*****
Breaking Down The NCAA D1 Regional Action

The Men
The NCAA division cross-country regionals were held last week and the amazing thing was the incredibly stupid system the NCAA uses to pick the teams that go to Nationals ended up working out very well in 2009. There were very few surprises, as 29 of the 30 nationally-ranked men's team advanced to the field of 31. #26 Butler missed out, as the only screwy thing really happened at the Midwest Regional. There, unranked Michigan State, which was a diastrous 8th in the Big 10 meet two weeks ago and was only ranked 10th in the region, shocked everyone and advanced automatically. So kudos to them and unranked Texas for making the big dance.
We'd also like to give out props to Indiana State. They Sycamores, who every year host NCAAs, were a surprise 4th in the Midwest. It's a shame they didn't get pushed into the big show by Butler, but congrats to them for the big upset. They came into the Great Lakes only ranked 8th in the region.
Looking Back
Before we look ahead to NCAAs, we thought a better way to analyze the rankings would be to look at the 1st NCAA poll of 2009 to see what teams didn't live up to expectations. The last poll prior to the regional meets should be pretty accurate, as you've had 2 months of races to analyze.
But coming into the season? A number of men's teams had high expectations that never materialized. Six teams that were ranked in the first poll of the year didn't make the big dance - #11 Tulsa, #20 Butler, #21 Cal Poly, #22 Michigan, #27 Notre Dame and #28 Penn State. And it's not like most of those teams were anywhere close to making it to NCAAs. Cal Poly lost a tie-breaker to ASU and was close, as they were 5th in the tough West region and Butler was 5th in the Great Lakes, but Tulsa (7th in Midwest), Notre Dame (7th Midwest), Michigan (10th Great Lakes) and Penn State (16th in the Mid-Atlantic - that's not a typo) all struggled at the end of the year.
With 6 ranked teams not making it, that means that 7 unranked teams at the beginning of the year did make it - Arizona State, Duke, Louisville, Michigan State, Ohio State, Oklahoma and Texas. Oklahoma has to be the biggest surprise of the bunch. Last year, they were embarrassingly bad for a major conference team, as they finished dead last at Big 12s as nearly everyone redshirted. This year, they are going to the show.
Looking Ahead
Looking ahead to NCAAs, it's definitely going to be a two-team race between Stanford and Oklahoma State for the NCAA title. Stanford has to be full of confidence as they took 1-2-3 at the West Regional to dominate. #2 Oklahoma State didn't go all out at their Regional, but they were impressive as all 7 of their runners finished within 2 seconds of each other, as Dave Smith decided to have the squad tempo the race.
More: *Complete NCAA Regional Results *LRC Thread: Great Lakes Results *7 Oklahoma State Runners Finish Within 2 Seconds Of Each Other
Women's Regional Breakdown
In terms of the women's action, there were very few surprises as well, as only the 4-lowest ranked teams in the top 30 (#27 Cal, #28 Arkansas, #29 Tennessee and #30 Iowa) failed to get out of Regionals, as the five unranked teams advancing to the dance are Baylor, Indiana, Notre Dame, Ohio State and UTEP.
Thumbs Up to the Big 10, which sent a ridiculous 8 schools to NCAAs.
Looking Back
Like the men, a number of men's teams had high expectations based on pre-season rankings that never materialized. Four teams that were ranked in the first poll of the year didn't make the big dance - #15 Wisconsin, #16 NAU, #20 Rice and #27 Arkansas. That means 5 unranked teams at the beginning of the year did make it - Arizona, Indiana, Ohio State, SMU and UTEP.
Looking Ahead
In terms of what to look for at NCAAs, it's clear that if anyone can unseat the defending champs Washington, it will be the the #2-ranked Villanova Wildcats. Villanova was very impressive at the Mid-Atlantic Regional, where they crushed both #4 Princeton and #7 West Virignia. 'Nova put 4 runners ahead of both Princeton and West Virginia's #1. They also had all 7 in before Princeton or WVU had their third in. Very impressive.
*****
Quote Of The Week #1

"I told (the team), 'This is regionals, we're just here to advance. You make your name at nationals.'"
- Portland cross country coach Rob Conner talking in an Oregonian article after his 7th-ranked Pilots temporarily made a name for themselves by defeating 3rd-ranked Oregon at the NCAA West Regional.

*****
Quote Of The Week #2
Leading up to the regional races, there were some nice pre-race features. The best of the bunch may have been the one in The Oregonian by Doug Binder on freshmen stars Jordan Hasay of Oregon and Trevor Dunbar of Portland. We loved the following quote from Dunbar, who said the following about Hasay's fame.

"She's more well-known than I am, for sure. I'd be nervous going up to talk to her."
What a great quote. Sounds like Dunbar might even have a little crush on Hasay.
More: *Jordan Hasay, Trevor Dunbar Hit High Gear As College Freshmen *Hasay Has Ducks In Hunt
*****
Quote of The Week #3

Is March Madness really better than XC Nats? No, because to watch it you have to sit in front of the television for about 100 hours and endure terrible officiating, free throws, sketchy coaches and 35 timeouts per game. The Super Bowl is awesome but to most people it's more about the commercials. Most of the Pro Bowl (aka All-Star) players don't shine in the Super Bowl as their teams aren't there. Most of the exciting teams don't even make the Bowl because "defense wins in the playoffs."
XC Nats are like the All-Star game, the entire playoffs and the Super Bowl all in one cold, remote town (Terre Haute, Indiana and the LaVerne Gibson XC course). And it happens on a Monday afternoon and takes all of 30 minutes. AND if you go you can run all over the course and get right up close to the athletes.

- LetsRun.com's Emory Mort writing in his Regional XC preview as to why the NCAA cross-country championships are the greatest championships in all of American sports.
*****
Meet The Future Of Ultra Marathoning
Last week, we praised/sympathized with Cornell grad Max King's overly ambitious start to the New York City marathon as after a 65:56 start, he blew up and came home in 2:19:11, as at the end he was totally crawling. Given the fact that Max ran for Cornell, we were tracking his splits online as they happened and were wondering if anyone could defy the #1 law of marathoning: "If you go out way faster than what you are capable of running, you will pay for it big-time."
Given the fact that Max is famous for his toughness (in college, he once pinned a race number to his bare chest), we think we have proof that the #1 law of marathoning always wins out over toughness.
But Max proved how tough he once again, as 6 days after running 2:19 in New York, he decided it was a good idea to run the US Trail Marathon champs on a course that features a 4,500 altitude gain. The result? King won in 2:40:23. Next up for King? Hopefully another spot on the US team at World Cross before he turns his attention to ultras and Western States. We know very little about ultras but can't imagine that someone of King's ability, toughness and proven trail ability doesn't win Western States.
It's also interesting to note that at the US Trail Marathon champs that 40-year-old coach Greg McMillan was 4th in 2:54:50.
More: *King Wins Lithia Loop Marathon
*****
WADA Turns 10

WADA recently celebrated its 10th anniversary and USADA head Travis Tygart used the anniversary as an opportunity to talk about how far the anti-doping movement has come in track and field. In an AP article, Tygart was correct to point out that huge strides have been made in the doping front over the last decade. By-and-large, institutionalized doping by a country or federation are things of the past (except maybe in Russia) and cheating is now viewed as the exception, not the norm (at least in track and field circles - we have no idea about the NFL).
Yes, cheats still do exist as there are "rogue doctors" out there, but Tygart is right in stressing that clean track and field athletes now at least have reason to be optimistic that they can win and that the governing bodies are on their side. So a major thumbs up to WADA for helping save the sport. And we give you a quote from Tygart as our Quote Of The Week #4.
"We've come in and we've changed the culture within track and field. That's not to say there may not be cheats out there or that the temptation to cheat is not there but what it means is that we've given those clean athletes, who want to do it the right way, hope that they can get on the starting line and be successful without having to cheat."
And in our minds, a big part of not wanting to cheat is to have very Draconian penalties. As a result, we were pleased that last week former Turksih world championship silver medallist at 1,500m, Sureyya Ayhan Kop, was re-banned for life for her 2nd major doping offense. Kop had been banned for life but an independent tribunal had reduced the ban to 4 years but thankfully the Court of Arbitration for Sport re-instituted the life-time ban.
In our mind, a single major offense for a drug that couldn't possibly come from an innocent source should result in a lifetime ban.
More: *USADA chief: rogue doctors, laboratories the biggest threats *WADA Has Made A Huge Difference In 10 Years Track and field has gone from the WWE to ... well, something slightly more pure. *Turkish Star Kop Handed Life Ban
*****
Sorry, We've Already Judged You

"I'm just scared. I'm worried that people will judge me and won't want to know me, you know? It's just embarrassing."
- EPO cheat Liza Hunter-Galvan talking in an interesting San Antonio Express News article on the disgraced New Zealander's desire to run again. Prominent New Zealanders Peter Snell and Lorraine Moller have offered words of encouragement to Hunter-Galvan. Moller went as far to say she didn't think she was a "cheat at heart." Quite honestly, we don't care whether she is a cheat at heart - injecting oneself with EPO is an offense we simply can't forgive an athlete for. It should carry an automatic lifetime ban. *More: Pressure, pain drove runner to use drug
*****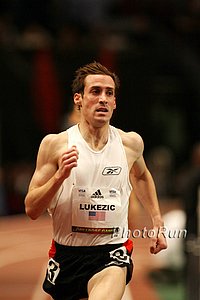 A Top 10 All-Time US Pro Announces His Retirement On LetsRun.com
+ Weekly Free Training Advice (Running Can't Be Everything)
Once again, we'll give you some free training advice. And once again, we'll state to all of you who think that being a professional runner would be a glorious - it's not nearly as easy as you think. LetsRun.com istelf owes its very existence to the fact that it's very hard to just run, sleep, run. Many people need an intellectual outlet.
Anyway, this week's free training advice comes from 25-year-old Chris Lukezic, who threw the US distance running community for a loop when he used the LetsRun.com message board to announce he was retiring last week at the ripe old age of 25.
A few days after his announcement, runnersworld.com had a great Brief Chat with Lukezic, who admitted he struggled as a pro, as he found it hard to thrive when his only priority was running.

"(The) year that I had my best races, so many things were going on in my life that running was just something that I was doing. It wasn't everything to me. And I really built running in to my entire world, which became a detriment. If there's anything I can blame, it's myself for making running such an important aspect of my life - making it way too important. And that really hurt me, because when I had a bad race, I took everything so personally ..."
Additionally, he talked about how little he was doing training-wise in 2006 (when he ran 3:33) as compared to 2009 (when he ran 3:37):
"I used to talk all the time about how little I was doing to run 3:33 and how much, in comparison, I was doing in 2009 and not getting anywhere. When I ran 3:33, I was still in college. I had turned pro at that point, but I was still a full-time student. I was actively involved in extracurricular activities. I was on a committee at Georgetown. I was mentoring a junior high student. I had all these things going on in my life. I had recently turned 21, so I was partying. I was living the life a college senior has - and I was also training. And I wasn't training all that hard. I was doing amazing workouts, but for my training runs, I would wake up for 30 or 40 seconds and then hit the road. In the afternoon, I would do my workouts and do my lifting. But once it was all over, it was all over. It was a pretty laidback approach."
So there you have it - our free training advice. Don't stretch, barely train, party and go run the equivalent of 3:51-2 in the mile. Or make running your life and struggle to run 3:55.
On a serious note, it's a bit sad to see Lukezic go at such a young age. We understand that he was frustrated by not cracking 3:37 the last two years. But it's a shame to see the 9th-fastest US miler in history (and 120th fastest in the world's history - using 1,500 times) retire at the age of 25. Lukezic's PR of 3:33.28 is basically the same as Jim Ryun's 3:33.1. We certainly understand how it's frustrating to work harder than ever and get no results, but to us, that means one needs to either change coaches or back off on the training.
We wonder how much finances played a role in Lukezic's decision, as we imagine that his huge initial contract is over. A guy that was certainly making 6 figures might have been offered close to nothing.
And while we hate to see college guys go pro early (we feel like it should be a law that shoe companies can't pay people to go pro early until they win an NCAA title), Lukezic will be perhaps forever be known as the #1 poster boy as to why many people feel an athlete must go pro early if the money is right.
Back in 2005, Lukezic went pro after finishing as the runner-up at USAs, a year after finishing 4th in the 2004 US Olympic Trials at the age of 20. A mini-bidding war erupted, as it appeared Lukezic might end up being the Alan Webb slayer and he was very, very well paid despite the fact that he was only 6th at NCAAs that year as a junior. Well, that big contract is now a thing of the past, as is Lukezic's running career.
Next up for Lukezic? The good news is Lukezic has found a calling and his plan is to use the letsrun.com audience to propel his start-up to millions in profits.
More: *LRC MB: I, Christopher Lukezic, am officially retired. Peace out! *A Brief Chat With Chris Lukezic
*****
Dibaba Breaks 15km World Record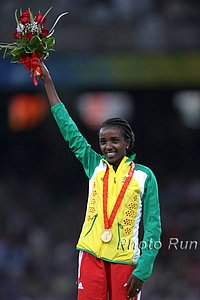 The big pro racing news belonged to the women, as there was a hot 15k in the Netherlands and a good marathon in Japan. At the Zevenbeuvelenloop 15k, Ethiopian double gold medallist Tirunesh Dibaba took 27 seconds off the 15km world record, as she ran 46:28. That's just under 5:00 flat per mile and is a very strong performance which equates to 29:59 for 10k and 2:20:43 for the marathon according to the McMillan calculator (30:12 and 2:22:43 according to John Kellogg's decade-old chart). In recent months, we've been decrying the total lack of depth in women's marathoning and a 46:28 makes us want to beg Dibaba to move up. Zevenbeuvelenloop now has hosted the men's (Felix Limo clocked 41:29 in 2001) and women's world record.
Speaking of a lack of depth in women's marathoning, the gold and silver medallists from the Beijing Games ran in Japan and none of them ran faster than 2:29, as Russia's Inga Abitova got the win in 2:27:18.

More: *Tirunesh Dibaba Shatters 15km World Record Her husband Sileshi Sihine won the men's race for the 3rd time in a sprint over Uganda's Nicholas Kiprono, who set a new national record of 42:14. *LRC MB: Tirunesh Dibaba 46:30 WR In Dutch 15km *Video Highlights Of Race *Pre-Race Press Conference Video *Inga Abitova Wins (2:27:18) As Catherine Ndereba And Constantina Dita Falter At The Inaugural Yokohama Women's Marathon
Recommended Reads/Watches From Last Week
*A Brief Chat With Katie Follett
*A Brief Chat With Nick Arciniaga A true feel-good story. Out of college, he had nothing - no shoe deals or offers - but he trained on his own and ran 2:16 and now he's part of Hansons-Brooks and running 2:13 and 8th in New York.
*Chris Lukezic On Frustrating 2008 And 2009 And Why He Announced Retirement At Age 25 Chris Lukezic, who ran 3:33 as a 22 y/o, talked with Runner's World's Peter Gambaccini and spelled out why his last couple years of total dedication to running have been frustrating. He also talks about his new business called AirBnB, which sounds like it could be a big thing for travelers.
*Pressure, pain drove runner (Hunter Galvan) to use drug
Interesting Message Board Threads
*Hellebuyck is racing and stealing prize money
*Chris Lukezic Retires
Remembering The Last Week With The Quotes of the Day - Day-By-Day:
Monday: "It was a big pleasure to entertain you as Berlino this summer. But it is only my job. I'd done some mascot stuff in the past and they just called me up. You are the first people to know it was me."
- 33-year-old actor and Berlin native Oliver Seiffert revealing himself as being the man behind the Berlino costume in a Guardian exclusive. Berlino is officially LRC's greatest mascot ever.

Sunday: "Props to Portland for beating the most well-funded college cross country team in the history of the sport. Gravity treadmills, tutors, world class facilities, and all of Nike's support gets trumped by a bunch of guys who log sick mileage in Forest Park."
- Anonymous LRC message board poster "transplant" after Oregon got crushed by Stanford and nipped by Portland on their home course at regionals. Read quotes from Luke Puskedra, Vin Lananna, Jordan Hasay and others in this article from the Oregon Athletics website.
Saturday: "I think the year that I had my best races, so many things were going on in my life that running was just something that I was doing. It wasn't everything to me. And I really built running in to my entire world, which became a detriment. If there's anything I can blame, it's myself for making running such an important aspect of my life - making it way too important. And that really hurt me, because when I had a bad race, I took everything so personally."
- An honest Chris Lukezic explaining why he chose to retire at age 25.

Friday: "I think we gave them a good scare at PAC-10s. It's good for the sport that we can have that rivalry going."
- Oregon freshman Jordan Hasay on the Ducks' narrow 42-35 loss to #1 Washington at PAC-10s. The article is all about Hasay having a good start to her college career despite, as Vin Lananna said, "the focus all year being on track." Catch all the regional action this Saturday and read our Top 10 Things To Watch (including Hasay) on regional weekend.

Thursday: "We've changed the culture within track and field. That's not to say there may not be cheats out there or that the temptation to cheat is not there but what it means is that we've given those clean athletes hope that they can get on the starting line and be successful without having to cheat ... What I'm worried about doing and what we're spending our $13 million on is protecting the clean athletes' rights. If they're second-best that's fine, as long as they're playing by the rules. And so I think you have to absolutely take away the sports' interest in running its own program."
- United States Anti-Doping Agency chief executive Travis T. Tygart speaking on the 10th year anniversary of WADA. We at letsrun.com want to thank WADA, USADA and all anti-doping bodies and $upporters and say, "Keep it up."

Wednesday: "I think Usain and the rest of the Jamaican athletes showed us that ... 'you run fast when you just have fun and relax.'"
- Sanya Richards (Jamaica-born American), known as a choker until this year, when she was unbeatable at 400m, especially on the biggest stages. Richards - working with coach Clyde Hart - won an individual World Championship, every Golden League meet, and became the most prolific sub-50 performer of all-time.

Tuesday: "I had taken a few short stints at the front but was trying to conserve energy by staying at the back of the pack. This was one of my big mistakes."
- Ryan Hall writing about his race in New York.