LetsRun.com Preview Of The 2009 NCAA Men's Cross-Country Championships
Stanford vs. Oklahoma State And Derrick vs. Chelanga

by: LetsRun.com
November 19, 2009


The men's 2009 NCAA Cross-Country Championships are all about one thing on the team side of things: #1 Stanford versus #2 Oklahoma State. Barring a miracle, one of those teams will win it. If they don't win, we have no idea who would, maybe the Kenyan-dominated Alabama squad.

Of course, just as in the 1990s when the magic of Arkansas and John McDonnell could never be counted out, the same probably should be said about the two-time defending champion Oregon Ducks. But the 8th-ranked Ducks realistically have almost zero chance to win and if they do, we propose that they erect a bronze statue of Duck Coach Vin Lananna in Terre Haute.

On paper, the debate as to who will win on Monday in Indiana - Stanford or Oklahoma State - really shouldn't even be up for discussion. Every way you look at Stanford and OSU on paper in terms of accomplishments achieved prior to this fall, Oklahoma State is significantly better.

Looking At Last Year's NCAA Place
Take a look at what the two teams have returning from last year's NCAA Championships using the table below.
| | | | | |
| --- | --- | --- | --- | --- |
| Stanford Runner | NCAA Place 2009(Team) | OSU Runner | NCAA Place 2008 (Team) | Edge |
| Chris Derrick | 6 | John Kosgei | 7 | Stanford (1) |
| Jake Riley | 45 | Girma Mesecho | 14 | OSU (31) |
| Elliott Heath | 91 | Ryan Vail | 18 | OSU (73) |
| Brendan Gregg | 161 | Colby Lowe | 63 | OSU (98) |
| | | | | Overall: OSU by a ton |
And please realize that we didn't include Oklahoma State star German Fernandez, who was a DNF last year at NCAAs due to an injury. When he went out with an injury, German was running with John Kosgei and almost certainly would have been a top-10 finisher.
Fernandez certainly 100% would have been a top-20 finisher. So Oklahoma State returns 4 guys from the top 20 of NCAAs last year, plus they have Colby Lowe, who was a top 65 finisher in team standings last year when he was the 6th frosh across the line in Terre Haute.
Looking At Track PRS
In terms of established track PRs, the comparison between Stanford and OSU favors OSU as well.
Up front, the two teams are similar, but NCAA titles are normally won on the heels of the 3rd, 4th and 5th place finishers and that's where OSU has the advantage on paper in terms of prior credentials.
| | | | | |
| --- | --- | --- | --- | --- |
| Stanford Runner | Track PRs | OSU Runner | Track PRs | Edge |
| Chris Derrick | 7:56/13:29 | German Fernandez | 3:55/13:25 | Tie (they traded the AJR last year) |
| Elliott Heath | 7:53/13:42 | Ryan Vail | 7:52/13:37 | Tie (very similar) |
| Jake Riley | 14:01/28:46 | John Kosgei | 7:55/13:49 | OSU by 12 seconds in 5k |
| Justin Marpole-Bird | 3:44/8:05 | Girma Mesecho | 13:50/28:26 | This is where it starts to really favor OSU |
| Brendan Gregg | 14:07/29:44 | Colby Lowe | 13:57/29:16 | 10 second 5k edge to OSU |
| | | | | Overall: OSU |
The facts show that OSU's 4th-best man on paper in terms of track PRs is Girma Mesecho, who has run 13:50 and 28:26 and was 14th in the team standings at NCAAs last year.
Very impressive.
On paper based on previous accomplishments, the Stanford versus OSU debate isn't even close. OSU has way better proven talent in terms of both track PRs and cross-country accomplishments.
As a result, earlier in the year, we infamously stated in a Week That Was recap the following about Stanford, "No way Stanford wins it." But the reality is the race isn't run on paper and Stanford has a very good chance of winning it on Monday. There is a reason why they are ranked #1 in the land and Oklahoma State is #2. Stanford has had the best 2009 season so far.
Stanford has been on fire each and every week this year. They dominated the pre-NCAA white race (outdistancing 2nd-place Colorado 47 to 130), crushed Oregon at PAC-10s (28 to 45) by putting four in the top-7 and then took the top-3 spots in the West Regional, which they won in a rout over Portland (27 to 84). Oklahoma State, meanwhile, was beaten at home when they rested a few of their top guys before they won the Big 12s and the Midwest Regional. People act like they've been struggling but in reality they went 1-4 at the Big 12s.
Mythical Stanford Vs. OSU Regular Season Matchups
The best way to try to compare Stanford and Oklahoma State is to analyze how the two teams stack up against Colorado. Stanford trounced them at the Pre-NCAA white race while OSU took care of the Buffaloes two weeks later at Big 12s. LRC has analyzed the results and created the ultimate fantasy result.
Looking at how much Oklahoma State's #1-5 finished ahead of Colorado's #1-5 at Big 12 (it was 19.7, 26.6, 27.5, 24.2 and 1.4 seconds, respectively, for each man) and looking at how much Stanford's #1-5 finished ahead of Colorado's #1-5 at Pre-NCAAs (it was 36.9, 27.7, 16.,3, 15.5 and 12.5 seconds, respectively, for each man), we placed Stanford into the Big 12 results.
The results are as follows (click here to see a page with the actual mythical results so you can check our work):
2009 Pre-NCAA White Race
Stanford 59 (1, 3, 14, 15, 26)
Ok. State 69 (4, 5, 7, 11, 42)


2009 Big 12 Championship
Stanford 36 (1, 3, 8, 10, 14)
Ok. State 39 (2, 4, 5, 6, 19)
So there you have it. The rankings are right and Stanford is a slight favorite going into the meet.
If they ran the race a few weeks ago, Stanford would have won. The question is, "Will they win on Monday?"

The race looks like it could be very close, but they have a very good chance of pulling off what pre-season would have been a total, total shocker.
The Cardinal have a very good top-2. The Cardinal's #1 and #2 in Chris Derrick and Elliott Heath are established NCAA individual stars who have scored individually in track. Remember, Heath was an 8:46 guy in high school. Their #3 guy at PAC-10s, Jake Riley, is pretty established himself, as he was 45th in the team scoring last year. However, he didn't run at the regional meet for Stanford. We hope he was just taking the weekend off or out with a minor illness because it's hard to see Stanford winning without Riley.
Assuming Riley runs, the meet will come down to how Stanford's #4 and #5 perform. So far in 2009, Stanford's #4 and #5 have totally stepped up their game in 2009 under the tutelage of coach Jason Dunn. Redshirt junior Justin Marpole-Bird came into the year as a 3:44/8:05 guy, but now he is a major player for Stanford, as he was 10th at Pre-NCAAs and 6th at PAC-10s. Junior Brendan Gregg was only a 8:08/14:07 guy coming into the year, but he was 22nd at Pre-NCAAs and 12th at PAC-10s.
If Gregg or Marpole-Bird falter, the Cardinal may have to rely on redshirt freshman Miles Unterreiner, who was #5 for Stanford at both PAC-10s (11th overall) and the West Regional (12th overall). He is the most improved of the bunch, as the former Foot Locker finalist only had PRs of 4:07 and 8:25 coming into the year. But if the Cardinal have Unterreiner in their top-5, they may be in a bit of trouble, as he was only 48th at Pre-NCAAs as their sixth man in a race when the top-5 scored a total of 47.
The Oklahoma State Cowboys have been a bit off this year because their current #5 in transfer Girma Mecheso has been struggling. It needs to be remembered that Mecheso was the SEC champ as well as 14th at NCAAs individually as a true frosh last year for Auburn. Now running for Oklahoma State, he was only 14th at Big 12s.
The crazy thing is he is their 5th runner. Each of the Cowboys' top-4 looks very good. After all, they went 1-4 at Big 12s. Mecheso could be the one holding them back from lifting the trophy on Monday.
I Want To Be The Underdog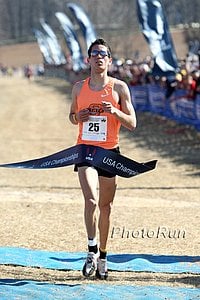 It definitely will be a team race worth watching on Monday. Stanford might be the favorite based on what has happened so far in 2009, but please don't believe Oklahoma State coach Dave Smith, who tried to recently paint his team as huge underdogs when he said the following about Stanford in a interview on Runnersworld.com:

"So I think they're very clearly the favorites and there's a pack of us chasing them, hoping that they make a mistake or we have a miracle day and something happens and we can beat them. We have a team that, if we fire on all cylinders on the right day, can run with Stanford. But they've got a little more wiggle room and some room for error because they are above everybody else right now."

Oklahoma State doesn't need a "miracle day" to win. In reality, they should win based on the talent and age on their team. They have a ton of talent and a ton of experience as they have 3 seniors in their top-7.

In reality, Stanford for once can claim the role of underdogs. Over the years, particularly when under the direction of Vin Lananna, Stanford got a lot of flack for having all the talent in the world, but not this year. If they win, all the credit in the world needs to go to Jason Dunn. But if they don't win this year, watch out for Stanford next year, as they have zero seniors in their top-7.

Individual Title
In terms of the individual battle, Chris Derrick has been running well all year. He beat pre-season favorite and last year's runner-up in Liberty's Sam Chelanga. But Chelanga said he'd just started running a few weeks prior to the race and was coming into form. It looks like he likely learned his lesson from 2009, when he was on fire in the middle of the season.

LRC Predictions: Look for a repeat of 2007, when Galen Rupp led Oregon to the team title but had to settle for individual runner-up honors.

Stanford wins the team title (in what really should be regarded as a monumental upset), but Derrick gets 2nd to Chelanga.

As an American-based site, we'd love to see the precocious Derrick win it. But a 24-year-old 27:28 guy from Kenya shouldn't lose to American who will be just 19 years and 37 days old on Monday. American distance fans should just enjoy the fact that Derrick has a chance to win it.

In terms of the team action, OSU should win but we always love to pick the underdog and that's Stanford in our book. In reality, the race is a tossup and, in cases of tossups, emotion often sways our picks. Last year, we picked OSU as the upstart underdog (and they bombed). This year, they aren't the loveable underdog anymore, as their title chances are totally reliant on a 6th-year senior and a transfer, so it's hard to pick them.
---
Below you will find famed LRC coaching guru John Kellogg's picks for Monday. Compare them to the LRC visitor's picks to the right. For updated visitor's picks or to see below the top 10 picks, please click here. The picks below were accurate as of 7:55 PM EST on Thursday. The LRC visitors are picking Stanford at a 2 to 1 rate over OSU, but the individual battle between Derrick and Chelanga is basically a dead heat.
JK's Picks - Team
1. Stanford
2. Oklahoma State
3. Alabama
4. BYU
5. Portland
6. Oregon
7. William & Mary
8. Colorado
9. Oklahoma
10. Wisconsin

LetsRun.com Men's Super Poll Results
1.
Stanford (181)
2608
2.
Oklahoma State (84)
2449
3.
Oregon (2)
1710
4.
Portland
1359
5.
Colorado
1265
6.
Alabama
899
7.
Wisconsin (2)
882
8.
Northern Arizona
682
9.
Syracuse
391
10.
Iona
306

JK's Individual Picks

1. Chris Derrick
2. Sam Chelanga
3. David McNeill
4. Elliott Heath
5. Felix Kibioywo
6. Ryan Vail
7. Barnabas Kirui
8. Hassan Mead
9. Andrew Bumbalough
10. Tommy Betterbed

LRC Visitor Picks - Individual

| | | |
| --- | --- | --- |
| 1. | Chris Derrick (108) - Stanford | 2181 |
| 2. | Sam Chelanga (110) - Liberty | 2135 |
| 3. | German Fernandez (7) - Oklahoma State | 1141 |
| 4. | David McNeill (5) - NAU | 1000 |
| 5. | Ryan Vail (4) - Oklahoma State | 915 |
| 6. | Luke Puskedra - Oregon | 857 |
| 7. | Elliott Heath - Stanford | 772 |
| 8. | Hasan Meade - Minnesota | 666 |
| 9. | Andrew Bumbalough (1) - Georgetown | 481 |
| 10. | John Kosgei - Oklahoma State | 360 |