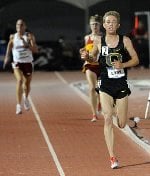 Day 3: LRC: Nothing Can Stop Rupp. The perfect senior season ended in style and more than made up for the first 3 years as a 4:00.08 final 1,600 gave him his 6th NCAA title of the year.
Plus Jenny Barringer with a meet record in the steeple, and the men's steeple final and the women's 5k final.
LRC: Sprint Recap: Trindon Holliday & Alexandria Anderson Go Out In Style The seniors had done it all but win the big one. Now they've won it all, including Anderson, who had been All-American 17 times without an individual title. Who says we don't love sprinters? We even interview Ahmad Rashad's dad.
LRC: Team Title Update: Unbelievably Tight Team Battles To Be Decided On Saturday We have the Oregon men losing by a single point to A&M and the Oregon women winning narrowly over A&M. Track & Field News has the opposite happening (Duck men winning over A&M, Duck women losing to A&M).
LRC: Field Recap We must admit it's a bit sparse.
LRC: Friday Photos
Updated: 5k Interviews and Quotes Added to Recap
More:
*Oregonian Men's Recap
*Eugene Register Guard Recap Jordan McNamara: "I'm a little devastated right now, I lost two points for the team in those last five meters. I didn't know those guys were there, and that was my fault."
*Oregonian Women's Recap
*Alberto Salazar Interview
Day 2: LRC: NCAA Day 2 Recap: Rupp Wins 1st Outdoor Title With Style As Lisa Koll Fails To Score In an unbelievably exciting men's 10k that featured a 63-second first lap and a 75.99-second 22nd lap (including a 42-second 200), Shawn Forrest & Sam Chelanga teamed up and threw everything they could at Galen Rupp but Rupp more than handled it all as his storybook senior season continued, as he won his 1st NCAA outdoor title. In the end, Rupp closed in 1:58.9 and 3:01 to get the win. If he had to go sub-4 to win, he very well might have done it. Unbelievable. It also was unbelievable that the favorites in the women's 10k and men's 1,500 failed to score and advance respectively. Oregon's Matt Centrowitz, Jr was last in his semifinal heat, tightening up the team competition. We recap the action from Thursday.
*Day 2 LRC Photos
*Oregonian: Tag Team By Forrest & Chelanga Can't Stop Rupp From Winning 1st NCAA Outdoor Title After Centrowitz Fails To Advance In 1,500
*We Agree AP: "There are times Galen Rupp looks as if he's toying with opponents."
*Oregon's Title Hopes Take Body Blow As Favorite Matt Centrowitz Finishes Last In 1st Round Of 1,500 All we can say at letsrun.com is "you're welcome" for reporting the "rumor" that we heard he had a stress fracture. People come here for the inside info which we consistently produce.
*Updated Men's Team Battle Thanks To T&FN They have it too close to call between A&M And Oregon with A&M winning now after the 10k.
*Updated Women's Team Battle Thanks To T&FN Oregon is now a projected winner over A&M thanks to Jamesha Youngblood's surprise 3rd in the LJ.
LRC: NCAA Day 1 Track Recap
*LRC: Field Event And Multi Recap The big story on Day 1 was a 3 hour and 15 minute rain delay which pushed everything late into Wednesday night/Thursday morning. Galen Rupp had to stay up late (his 5k prelim started at 12:40 am), but he was rewarded with as easy a qualifying round as possible, as it was much cooler than expected due to the rain and late start. Rupp's quest for history will have its toughest test tonight in the 10,000m final versus NCAA record holder Samuel Chelenga. Perhaps the other big news on Wednesday was the return to action for Colorado's Jenny Barringer after her shocking 3:59 1,500 at the Prefontaine Classic on Sunday. We have an 8-minute video interview with her and it seems apparent after talking to her that perhaps no one in the world predicted her stunning run on Sunday. In other action, the first round of the men's and women's 100s sizzled, but the rain made things much slower in the semis. Plus recaps of round 1 of the 800s, steeples and 5ks. More coverage coming.
*LRC: See Whom LetsRun.com Visitors Have Picked To Win Here
More NCAA Day 1:
Previous NCAA Coverage:
Rupp All Over The News:
*LRC: Pre-Meet Report From Arkansas: Does Matt Centrowitz Have A Foot Injury?
*LRC "Pardon The InteRUPPtion" Employee #1's take on Galen Rupp's amazing senior season.
*Rupp On The Front Page Of USA Today Sports Dick Patrick wrote a great article, including quotes from Alberto, Lananna, Rupp's Dad and Sam Chelanga.
News From Oregon Papers:
*Indoor Debacle At NCAAs Motivates Hog Jumpers
*Lananna Thrilled To Be In Hunt For Triple Crown He's trying not to be intimidated by the name John McDonnell on the scoreboard.
*Jumps Are Key To Arkansas
*Lengthy Oregonian Article On Rupp It mentions the "Haters" on LetsRun.com.
*The Register-Guard Preview: Rupp, Centro & Wheating Lead The Way As Ducks Favored To Win First Title In 25 Years
*AP Preview: New Coach Bucknam Trying To Make His Own Mark At Host Arkansas
*Watch Out For Oregon's Big-Meet Long Jumper Jamesha Youngblood Oregon will need points from unheralded stars like Youngblood if they want to upend a strong Texas A&M squad.
*John McDonnell And Arkansas Excited To Host NCAA Outdoors And Hope To One Day Host Olympic Trials
LRC: 2009 NCAA Men's Preview We break down the men's mid-d and distance events plus the relays, 100, 400 and team competition for you.
LRC: 2009 NCAA Women's Preview We break down the women's mid-d and distance events plus the relays, 100, and team competition for you.
LetsRun.com's 2009 NCAA Prediction Contest After reading our previews, we dare you to see how your knowledge stacks up against that of the very brightest - the LetsRun.com community. Who has truly the best knowledge of NCAA track and field? Enter the contest and find out. Get your friends and compete in your own group. And because we are kind-hearted souls, a perfect distance ballot will net you $20,900.