LRC Week In Review This week we give praise to Scott MacPherson, tell you why it may be okay to dislike the French after all, give you free coaching advice, and marvel at how a running book is actually on the New York Times best seller list. Speaking of NY, we also start to get ready for Reebok Grand Prix. Plus we announce the arrival of Deriba Merga as a true great, and mourn Pamela Jelimo's first-ever loss at 800.
Dick's Sporting Goods Bolder Boulder 10k: Results: Men Women
Men: 19-Year-Old Tilahun Regassa With Smashing Victory Over Central Park 10k Record-Setter Tadese Tola Boulder Daily Camera 28:17 for Regassa as the Ethiopian men dominated and the US men, led by James Carney in 29:53, got 2nd. The Kenyan men did horribly as the fastest Kenyan of the day was Simon Cheprot in the Citizen's Race.
*Men's Photos At Bolder Boulder

Women: Mamito Daska Runs Fastest Winning Time Since 1999 Denver Post Not a good showing for the US women (5th) as the first was Tera Moody in 14th. On the men's side, James Carney led the US team to a relatively narrow 24-19 team loss to Ethiopia.
*Women's Photos At Bolder Boulder
Good News: Bolder Boulder Still Doing Very Well Financially www.dailycamera.com
Mo Farah Sets New GB Road 10km Mark At 27:40 27:50 In Winning BUPA London 10km Kim Smith won easily on the women's side, running 31:38. Our original info gleaned from the BBC was wrong, as this thread pointed out. Mark Scrutton held the old record at 27:55.
*University Of Oregon Applying For Nike Town "Track Town USA" Trademark Good thing, because Carson, CA was trying to steal that name.
*Eugene's Register Guard Has A Bunch Of Articles On The OR State Track Championships This Weekend The Eugene newspapers certainly give comprehensive coverage of track and field.
Cheruiyot Wins 4th Ottawa Marathon *Photos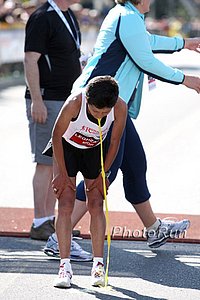 *Champions Defend In Ottawa, Coolsaet Qualifies For World Marathon Team
*Pre-Ottawa Article On Canadian Reid Coolsaet After leading the Canadian ranks for a long time on the track, Reid Coolsaet wanted to try the marathon. Despite a broken foot along the way, Coolsaet had a successful first go with a great 2:17 and a World Championships qualifier. The women's winner lost her breakfast right across the finishing line.
Deriba Merga Blitzes 27:24 10k On Roads In Ottawa, Sets 8k World Record En Route, And Isn't Happy Afterwards In case winning the Boston Marathon did not make him a bona fide star in the sport in your mind, this race should do it. Merga is far from a 10k specialist, was coming off his stunning win in Boston, yet after the race he was upset because he missed the $100,000 world record bonus. Sick. LRC Thread: Deriba Merga - How Does He Do It? Who Else Has Had (sic) Done This?
Rabat, Morocco Meet
WE ARE STUNNED - Pamela Jelimo Is No Longer Unbeaten For Her Life, As Britain's Jenny Meadows Wins 800 In Morocco We were somehow hoping Jelimo would remain undefeated for her life but she only finished 6th in 2:02.46 to Meadows' 2:01.78. The meet was very strong as there was a 13:05 5k, 8:07 steeple, and Abubaker Kaki ran 1:44.82 to win the men's 800 as Steph Twell ran 4:09. *Full Results Here
*Message Board Thread On Pamela Jelimo's Shocking Loss Sadly, idiots are throwing out drug innuendos. How about the fact that she won a million bucks last year and got married. She's probably not in top shape yet.
*Bahamian Debbie Ferguson-McKenzie Beats Olympic Champ Christine Ohuruogu For The Second Time In A Week No need to worry, as once it was at 150m and now it's at 200m.
Brazil IAAF Results 9.99 for Daniel Bailey in 100, Jesse Williams wins high jump in 2.33.
If you aren't going to D1 NCAAs, you should get your butt up to Toronto for Usain Bolt's only North American run in 2009 on June 11th.
*Usain Bolt, Perdita Felicien, Priscilla Lopes And Bryan Clay To All Compete At Toronto's Festival Of Excellence
Profile Of Britain's Top Female Sprinter Jeanette Kwakye In the Olympics, she was the first 100-meter finalist in Britain in 24 years. Now she's hoping to be the first under 11.00.
BT Paralympic World Cup
*Oscar P Has A New Upstart 19-Year-Old British Rival
*Wounded Iraq Veteran Kortney Clemons Takes On Oscar Pistorius At The Paralympic World Cup
New Balance Twilight Series Is Here!
*Meet #1 Is Saturday Night
Two Absolute Must Reads
Absolute Must Read #1: Lolo Who? Olympic Champion Dawn Harper Has An Amazing Story That Has Been Pretty Much Ignored While everyone was whining about how poorly some US athletes did, very little attention (or appreciation) was given to hurdler Dawn Harper, who stepped up for the gold. Talk about a weird sport: as she and her husband trained for the Olympics, they were living in a single room in a college fraternity house.
Absolute Must Read #2: US Marathoner Fernando Cabada Jr.'s Story Is Equally As Inspiring At age 9, he was given a knife by his drug-dealing father to protect himself. A year ago, he was sharing a room and one bed with his mom and brother. Now he's going to Berlin.
Interesting Reads: London Marathon Ranked As One of World's Best 20 Sporting Venues
*British Columnist Bemoans Fact That Marathon Is No Longer Pinnacle Of Endurance Achievement "You may not have noticed, but we're living in a golden age of machismo. It wasn't long ago that running a marathon was the ultimate hard-nut badge of honour. Now every TV presenter and her manicurist has run the course, you have to do it wearing chainmail if you really want to prove something, preferably finishing several days after the race began."
South Africa's Comrades Marathon Is This Weekend
*Two-Time Defending Champ Leonid Shvetsov Ready To Defend Crown At Age 40 The race is being held a month earlier than normal due to a soccer conflict.
*Women: Farwa Mentoor Hoping To Be Top South African As Nurgalieve Twins Should Dominate
*Almost 13,000 Will Toe The Line
*Police To Use Comrades As Test Run For World Cup - No Vodka On Course
*Many Top Celebrities Expected To Try To Run 55+ Miles Let's just hope one isn't Oprah.
*Comrades Champ and Record-Holder Svetsov Hopes To Repeat
*Mokgadi Is The South African Male Hope At Comrades
*Authorities Cracking Down On Drinking - And A Look At Russian Favorites
*Russians Svetsov And Nurgalievas Are Pre-Race Favorites
*Runners Who Would Sleep Under Trees Night Before Comrades Provided Basic Accomodations
Spaniard Josephine Onyia Tests Positive For Barnyard Animal Steroid Anabolic Agent Clenbuterol After Career-Best Year We looked up her stats and weren't surprised. Onyia was 5th in the 2008 Olympic games in the 100 hurdles at the young age of 22. Overall, she had an amazing 2008. In fact, before 2008 she had run under 12.70 once, and then she did it 8 times in 2008.
Benita Fitzgerald Mosley Named USATF Chief Of Performance *USATF's Fitzgerald Mosley Announcement We don't really know what to say about this other than - despite was USATF says - it probably doesn't matter a whole lot. Here's some classic AdministratorSpeak from the announcement: "Fitzgerald Mosley was considered an ideal choice for the post because, despite her close connection to track and field, she had remained apart from USATF politics and policies since she retired as an athlete in 1988, giving her a desirable distance and independence ... She also was considered among the most clear-thinking, incisive and diplomatic members of the nine-person panel that authored the report, the source said." Close yet not too close, incisive yet diplomatic. 30 medals here we come! (Seriously though, we wish her the best)
LA Marathon
It's Korir Day! 2:08:24 And $189,000 For The 2:13 (Formerly)/13:40 Louisville Alum Wesley Korir ... LA Course Record!
Ron Mann-coached Wesley Korir breaks away for the surprising win and huge pay day. Epic! Korir trains alone in Kentucky at 0 ft. altitude. His previous running career highlight was getting 3rd at NCAAs and now he is almost $200,000 richer.
*LRC Memorial Day LA Marathon Live Blog
*RRW: Wesley Korir Is Big Winner At LA Marathon
*LRC Los Angeles Marathon Thread
Video: Men's Highlights *Women's Highlights *Full Video

PreRace: L.A.Times Article On Frank McCourt's Struggle To Raise The L.A. Marathon's Status
*400 US Soldiers In Iraq To Run Half Marathon Or Marathon On Memorial Day
Comrades, Copenhagen And Sotokoto Marathon Results
*Comrades Marathon Results and Recap The Russian course record holder was beaten at his own game by a Zimbabwean who credits his coach for his victory.
*Japanese Sweep Copenhagen Marathon Wins
*Inaugural Sotokoto Half Marathon Won In 62 Minutes In Nairobi National Park
Doug Logan In London Times Talking About Justin Gatlin & Cleaning Up Steroid Scene
Sad News
Final Sprint Founder Adam Jacobs Dies At Age 24 Jacobs' death came way too early and reminds us how precious life is. Jacobs, in addition to running The Final Sprint, organized the Running Film Festival at last year's Olympic Trials. His passion for the sport will be missed.
*Message Board Thread On Adam Jacobs Passing Here You can also pay your respects on The Final Sprint.
Leo's Back
Leo Manzano Runs 3:55.29 Mile In St. Louis
*Message Board Thread
*Video
Kenyan News
Remember This Name - Nickson Chepseba
*Unknown Kenyan Coached By Brother Colm O'Connell Crushes Field, Including World Jr. Silver Medallist, To Win Kenya's Rift Valley HS Champs St. Patrick's may soon have another famous name as Chepseba ran a 3:43 to the 2nd place's 3:46 ... and the 2nd place guy is a 3:39 guy.

Kenyan Armed Forces Champs
*Is She Back? - Olympic 1,500 Champ Nancy Lagat Completes 800/1,500 Double At Kenyan Armed Forces Championships Earlier this month in Doha, she was only 8th in the 1,500, but the competition in Kenya wasn't exactly that formidable, so we're not sure what it means. In other events, supposedly-unknown sprinter Kipkemoi Soi ran a new national record of 10.00. All we can say is - check the FAT as we have never heard of him. Actually, we just realized the first article says hand times were used, so it won't count.
*Top Results From KAF Champs, Including Amman Captain Mark Kiptoo's Victory In 5k
Recap Of Chinese Women's Championships: Throwers Dominate
IAAF Recap Of Asian Grand Prix
$150,000 At Stake At L.A. Marathon - Men (Africa) Vs. Women (Eastern Europe)
*Virtual Unknown Olaru Going For Another Big L.A. Payday It will be her 5th marathon in 183 days but she's doing it as the L.A. Marathon has a gender challenge and the winner takes home $100,000. The most interesting entrant might be former Louisville runner Wesley Korir, who - despite not starting with the elites - ran a time that would have put him in the money at Chicago.

Doug Logan Read This
Christian Smith Reflects On 2008 Trials Success - Seeks More In 2009 Smith: "Without (the trials), I would give myself a C-minus or a D. There are things that I need to improve on, and I need to prove that I can do it for a full season and repeat year after year." Logan needs to realize Smith most likely wouldn't have made the Trials under a streamlined approach.
*An Open Letter To Doug Logan Alan Abrahamson says Track & Field needs an organized circuit where USATF runs all meets.
*Logan Responds
LRC says: The attendance in LA was awful but the meet organizers have tried everything outlined in the propopsal including rappers/music, etc. We say ... only meets in smaller towns.
Good Read From Dyestat On HS 800 Stud Elijah Greer He looks like the real deal and ran 1:47 as a junior.
Score One For Coaches: Coach Hart 1 - Jeremy Wariner 0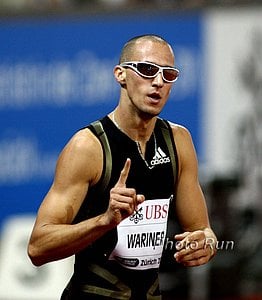 Clyde Hart Tells USA Today's Dick Patrick How He Got Back With Jeremy Wariner Hart is a proud old man and only agreed to coach him again because Wariner offered a full apology. Wariner realized he's got a lot better shot at being "#1" (and getting PAID like #1) with Hart's help. But as Wariner said: "LaShawn is a great athlete and is going to make it difficult for me."
Big 12 Schools Trying To Use Economic Crisis As Excuse To Get Rid Of Track & Field Regionals They claim that it costs some schools $100,000, but that's only because they give some guys something like $75 per day in meal/housing money. Everyone knows the big power schools just don't like the little guys joining their party. $100,000 is too much for track but, meanwhile, the Big 12 is paying out a record $130 million to its member schools this year.
Asafa Powell Ready To Run In New York Looks like the reports coming out yesterday or the day before are bogus. Powell is back healthy and will run in NYC barring an unforseen occurrence.
Article On US Olympian Christian Smith The KSU star had a pretty bad last year except for one race - The Olympic Trials - where he dove for 3rd and an Olympic spot.
Big Deal In Kenya - Kip Keino And Others Retain Olympic Committee Posts
*Day 1 Kenyan Armed Forces Results
Amazing Mid-Distance Fields To Be Assembled For June 7th Pre Classic Kiprop, Jelimo, Webb, Keitany and many other top runners to face off. The meet is not for a few weeks but a quick glance at the mid-distance fields will get you pumped.
Marathoners In The News: *Geb Going For His Marathon World Record In Sold-Out Berlin Marathon On Sept. 20
*Kara Goucher Q&A From NYTimes
*Tergat Coming To Seattle For Rock 'N' Roll Half!
Memorial Day Special: Bolder Boulder 10k Preview From David Monti The Ethiopian teams will be tough to beat Monday in Boulder, CO.
Upcoming Races
*Boniface Kiprop, Mo Farah And Others To Race BUPA London 10k On Monday May 25
*Next High Performance Brazilian Meet Lined Up With Stars Vili And Savigne
*Reebok NYC Meet To Feature Dibaba vs. Kim Smith And Other Top Races
*South Africa's Comrades Ultra Is Earlier This Year - Sunday May 24
Click For Details
We're bringing back our summer training programs and are using our original banner from 2001. Learn from LetsRun.com's world-renowned JK and a former pupil of the LetsRun.com initital summer training program who went on to be an NCAA All-American. Yes, ladies and gentleman, that is right - we've had one summer training program in the past and it produced one All-American.
Non-D1 Collegiate Nationals This Past Weekend
NCAA DII: St. Augustine Stops Abilene Christian's String of 7 Straight DII Crowns, Lincoln Women Win 6th Title in 7 Years
*DII National Results
Previous: *Day 1 Recap Queens' Tanya Zeferjahn won the 10,000 in 35:38 while Harding's Daniel Kirwa won in 29:46 over Adams State's Brian Medigovich. *Tons Of Articles Available Here Thanks To Great Coverage By San Angelo Standard-Times
NCAA DIII Wartburg ( Iowa) College Wins Nationals On 4 x 400, University Of Wisconsin-Oshkosh Men Win
*Info *Men's Results *Women's Results *Video Interviews Of All Event Winners
*LRC: Message Board Thread On DIII NCAAs As It Takes Place *Hamilton's Peter Kosgei wins 3rd straight steeple title and then wins the 5k even though he lost his shoe 4-6 laps into the race.
NJCAA Outdoor Meet At Hutchinson *Meet Website *Results
NAIA Nationals *Aron Rono Gets 4th Straight 10k *Live Results And Info
Great Way To Waste Time
Peruse The NCAA D1 Descending Order Lists! *Men *Women *By Regions
Random News
*Recap Of Day 1 Of Kenyan Armed Forces Track Meet Men's and women's 10k highlighted.
*European Whisper Loudest Race Walk Cup To Be Held Sunday
*Kelly Holmes Says You Don't Have To Be Skinny To Be A Champion
*A World Record In Saturday's MDS Nordion 10km In Ottwa Will Net Merga Or Makau $100,000
*IAAF Preview Of Pre Classic
*Recap Of Brazilian Meet With Lots Of Olympic Field Event Medallists
*Preview Of Sunday's Brazil Meet Sheena Tosta is a late addition.
*Mark Lewis-Francis To Return In June The guy missed the last year with a torn Achilles tendon.
*Nearly All Incumbents In National Olympic Committee Of Kenya, Including Chairman Kip Keino, Win Reelection *Assistant Minister Alfred Khang'ati Cries Foul After Losing
Recommended Reads
Recommended Read: Pat Butcher's Blog A Gem Again - Professor Craig Sharp On Lasse Viren, Doping, Stretching and Other Topics
Recommended Read: Interview With Athlete/Coach Who Is "More Lydiard Than Lydiard" - New Zealand's Barry Magee With all the information out there, we always find it refreshing to read one of Arthur Lydiard, Barry Magee and LetsRun.com's favorite lines on training: "Train, don't strain."
LRC: The Week That Was May 11-17 Conference Action, adidas Carson, Edwin Moses and more.
LRC Review: Must Read Kenny Moore's Best Efforts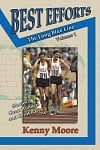 Kenny Moore's Best Efforts Is Back In Print When this book showed up at LRC corporate headquarters to be reviewed, the response was, ""Holy sh*t! That book is one of the top 2 running books I've ever read." The offical LRC review is in and it is very positive: "I believe a great work only receives the label 'great' if it has passed the test of time. Best Efforts passes the test because it will refresh the man or woman who was following the runners of the 60s, 70s and 80s." Also as a special to LRC readers, you can buy an autographed copy of the book for only $14.95.