Olympic Rosters Being Announced:
USA: US Olympic Track Team Announced
*Flanagan and Goucher to Double in Beijing, Lauren Fleshman Left off Olympic Team
*Breaux Greer Named to Olympic Team
UK: Wave 1 of British Olympic Team Announced Not sure why they don't announce all the team minus Dwain Chambers now but the 1500 only has 1 person on it.
*Dwain Chambers Hearing Pushed Back Until Thursday
*Dwain Chambers May Still Not Run Relay if He Wins His Olympic Appeal independent.co.uk
*Craig Pickering Speaking Out Against Dwain Chambers Times of London
Ethiopia: Bekele Tentatively Scheduled to Double in Beijing
*Gebrselassie Has Injury May Not Be Fit for Beijing (But It's not Affecting His Marathon Preparations) Not sure if it's a convenient way for him to prepare for Berlin or not.
Canada: Former World Champ in Hurdles Perdita Felicien to Give Up on Chance to Qualify for Beijing after Injury
Botswana: Chinese Embassy to Offer Cash Incentives for Botswanna Medals at Olympics ($7,800 for a Gold) They could offer $780,000 and it wouldn't make a difference.
Paula Radcliffe Has Fitness Checkup on Tuesday We're not sure if it's a doctor's appointment or a time trial.
Craig Mottram Now Training in Switzerland, He Won't Run a 5k Until Olympics Mottram said of the US champs: "I'm in St Moritz so we don't have English television, and internet is limited. I have seen the results. I haven't and don't intend to [watch it]. It's irrelevant" Just in case he wants to watch the races, here is the 5k final at the US champs, here is the 1500 final. Too bad NBC makes them very hard to find.
Webb Compared to Steve Holman Although Holman was ranked #4 and #5 in the World, Webb's career has probably already surpassed Holman's. Somehow Holman only won 1 US Title, Webb has 3, plus 2 World Champs finals and a Golden League win.
Rome Golden League: *Photos
*Yelena Isinbayeva Is Pumped And Excited After New PV World Record The reigning Olympic champ said "anger" at talk that Jenn Stuczynski might be the favorite fueled her to the record.
LRC Recap: Wariner over Merritt, Jelimo Dominates 800, Asbel Kiprop in 1,500, Sihine and Dibaba in 5k, Isinbayeva World Record
*Results Merritt walked down Wariner in the final 100m and appeared to have him at the line but he leaned too soon, giving Wariner the victory by the slimmest of margins. Canada's Nate Brannen ran 3:34.6 to get the Olympic qualifier in the 1,500.
*Asafa Powell Suffers Groin Problem and Pulls Out of Final The Jamaican had the lead in his heat but then pulled up and didn't run the final.
*IAAF Recap of Rome Golden Gala: Yelena Isinbayeva Sets World Record
*AP Recap of Golden Gala - Portugal's Francis Obikwelu Wins 100m In 10.04 He was 2nd in 2004 to Gatlin.
Pre-Meet News
*IAAF Preview Merritt vs. Wariner is the highlight but it should be a great meet.
*Golden League Betting Wariner Favored over Merritt
Photos from Kenyan Olympic Trials
How is Jamaica So Good at Sprinting?
Demssew Tsega Going for World Record at Crazy 8s 8k This Weekend
Andrew Rock Skipped Trials But Now Is a Hurdler
Obadele Thompson, Marion Jones' Husband, to Go for Olympic Qualifier in Georgia July 19
Video of 1,500m Final at Olympic Trials
NBC Olympic Schedule in More Detail
2008 US Olympic Trials*Results *Race Videos
Washed Up: Scott Anderson Writes Scott, famous for his LetsRun.com journals "Dream Deferred or Dream Denied" in 2000 and his subsequent Business Week journals, returns to letsrun.com after a 7-year hiatus to contrast the 2008 Olympic Trails with the 1996 Olympic Trials. Scott, a true renaissance man, has got it all covered from Gags, Johnny Gray, drugs, partying, to working out with Alan Webb this year before nationals. Tomorrow in part 2, we'll have another journal from another over-the-hill athlete. Plus we discover a letsrun.com video from 2001.
Paula Radcliffe's Training Going Better Than Expected
World 400m Champ Jana Rawlinson Out of Olympics After Reinjuring Her Toe BBC

Afghanistan's Lone Olympic Female Athlete Shows up in Norway, Will Seek Aslyum After Death Threats
Philip Hersh Says Mary Wittenberg for USATF CEO
Kyle King Found Out at 6:30pm Before His 8:05 Final That He Was Running
To Beat the Heat, Exercise In It New York Times
*Alberto Salazar And Dennis Baker Confirm Salazar Didn't Offer $5k to Rabbit Goucher in 5k Final
*Alberto Salazar Talks about the Trials, the Appeals Controversy We've got no problem with Goucher being in the final if the rules allow for exceptions to be made (for the Trials it might just be best to not allow exceptions). But if you read this thread, you'll see not much has changed in the last 12 years, and you can see that the process that is supposed to be fair to athletes in reality seems to rest on the mercy of one man: John Chaplin.
*Philip Hersh Looks at the Winners and Losers from the Olympic Trials Torri Edwards pulled out of the 200 final because she didn't like her lane?
*Nike Dominated Olympic Trials We were wrong earlier and misread the article. Asics had 20 athletes at the Trials (including the marathon). 7 made the Olympics (including America's top marathoners Ryan Hall and Deena Kastor).
On the boards: *Wheating - Would be have made the 1,500 team?
*Olympic Trials Racist Remarks by Announcer
Profile on the Godfather of Running - Gags Gags wanted to be a football coach. He's still waiting.
Australian Athletes Not to be Gagged on Human Rights Issues at Olympics
Post Trials Hangover: *Eugene Exhales after Trials www.registerguard.com
*How Can 2012 Trials Eclipse 2008 Trials? The Trials were a success for sure, but USATF should have bid out the 2012 Trials.
*Gay Said He Felt a Twinge In His Hamstring Before the Race
*Flanagan and Goucher Expect to Double in Beijing


LRC: Recap of Final Day of Olympic Trials: Lagat Cruises, Rowbury Dominates, Alan Webb & Treniere Clement Left Off Beijing Team In both the men's and women's 1,500s, those having the best 2008 seasons made it to Beijing as the 3-time US champions Alan Webb and Treniere Clement picked a horrible time to have bad years. The US men's 1,500 team is all foreign-born, with Bernard Lagat, Lopez Lomong and Leo Manzano. We recap all of the action on the final day of a fantastic 2008 Trials.
*LRC Sunday Photos
On the boards: Webb: How Did It All Go So Wrong?
Rowbury Dominates Women's 1,500
More on Men's 1,500: Steve Sherer on Webb: "Going from world leader to not making the team, that's sad."
*Bernard Lagat Talks About Alan Webb Finishing Fifth
*Update: Tyson Gay Has Mild Leg Strain, Will Miss 2 Weeks The big news in the prelims was Tyson Gay falling over in his 200m quarter and 3-time World Champ and Olympic champ Allen Johnson stopping in the hurdle quarters.
*Video of Gay Falling
*Time Catches Up with Allen Johnson (Video and article)
*Tyson Gay's Family Says He'll Run In Beijing
Shocker:Current CU Star Billy Nelson Makes It, Former Buff Steve Slattery Comes Up Short Nelson peaked when it mattered most as he set his 2nd straight PR and got the Olympic A standard.
*Anthony Famiglietti Has Mixed Emotions on Beijing The guy loves the city but also feels for Tibet.
*A Look Back At How Lindsey Gallo and Morgan Uceny Did In Semis
*ESPN.com: Race Walk Gets No Respect
*1996 Olympic Champion Allen Johnson Bows Out of Hurdles He's been battling injury and says he hopes to be back next year.
A Look Back At Men's 10k.
*Rupp Rises To The Occasion.
*Column: Don't Get Carried Away About Rupp's Run This positive article on Rupp points out the allusions to Prefontaine are too much.
*Sports Illustrated Looks at Rupp's 2nd Place Run
*LA Times looks at Torres Twins' Quest For Olympics

Thursday: LRC Anna Willard Sets American Record, LaShawn Merritt over Jeremy Wariner Willard was super-impressive in the steeplechase as she got the American record before the appreciative crowd. Merritt defeated Wariner for the 2nd straight time (after getting some advice from Alan Webb) and then Wariner didn't go on the Olympians lap and skipped the post-race press conference, although he did come back to address the press and we have a video with him. The other distance action on Thursday was the men's and women's Round 1 of the 1,500s and Round 1 of the men's steeple, which we recap below:

LRC Round 1 of 1,500, Men's Steeple: Webb Returns and Impresses, Lomong Points His Finger, High Schoolers Advance (link fixed) We've got it all covered, from the return of Alan Webb to fine form to two high school girls advancing to round 2 to Said Ahmed talking about his new training group with 800 sensation Kaki to Steve Slattery talking about his new training group. Text, photos and video.
*Anna Willard Wins Olympic Trials With New American Record Willard: "It's amazing. I can't even comprehend it. Especially four years ago, thinking about where I was. I sucked four years ago. So to see how far I've come, it feels really, really good." Willard isn't lying when she says she sucked 4 years ago. 3 years ago her steeple PR was 10:35. Now it's 9:27.
*Wariner Loses Again As Clyde Hart Coaches Richards To Women's 400 Title Dumping his coach wasn't too smart, was it?
*7-Year Itch? New York Times Looks at Alan Webb 7 Years After He Crushed HS Mile Record
*ESPN Columnist: "Why did we have to wait so long for the trials to return to Pre Country?" We agree but are worried they are going to oversaturate Eugene with track. In our minds, they ought to have the Trials here every 4 years and NCAAs in one of the middle two years, so there is a championship meet in Eugene every two years.
*Great Read: Sports Illustrated's Tim Layden Reflects On 1st Half Of Trials And Looks Ahead To The Men's 1,500
*Controversy Erupts In Eugene As Adam Goucher is Let Into Field For 10k Field With 32nd Best Qualifying Time While Runners 25-31 Are Left Out USATF doesn't seem to have a clear policy in place. And the USOC seems to be concerned about a lack of due process for the athletes. We wonder if ultimately the USOC will look at the no-bid awarding of the 2012 Trials as well.
*SF Chronicle Looks Back at 1st Half of Trials
*NY Sun Looks At 2nd Half of Trials & Rips NBC's Coverage of Trials
1,500s Start Thursday
*Chris Lukezic Hoping to Avoid 4th Place Again The former Georgetown runner was 4th in 2004 as a 20-year-old. He also was 4th in 2006 and 2007 but amazingly at only age 24 isn't viewed as being the future of the sport as he wasn't even invited to the USATF press conference for the event. He hopes to changes those sentiments this year. Lukezic: "I couldn't have asked for better training. I've had no hiccups."
*Nice Profile Of Bernard Lagat in Boston Globe
*Alan Webb Profile in NY Times
*Jordan Hasay Added to 1,500 Field


More on Men's 800: *Video of Men's 800 Final
*Men's 800 Sweep was Validation of Bringing Trials, Lananna to Oregon Registerguard.com
*Oregon Goes 1-2-3 in 800 Registerguard.com

Alan Webb, Bernard Lagat, Lopez Lomong Press Conference Result
*Jenn Stuczynski Hoping for World Record at Trials USA Today
*Doping Has Taken Away Belief of Amazing Performances
*Olympic Coach Bubba Thornton Throws Down Gauntlet To Usain Bolt
*Meet Earning High Marks At Halfway Point
*Bryan Clay Just Misses Dan O'Brien's American Record in the Decathlon
*5k Victory a "Walk in the Park" For Lagat USA Today
*High Schooler Jordan Hasay on the Bubble for the 1,500

Trials Photos: *Monday (800s, 5k men)
*Sunday (Men's 100)
*Saturday (Bunch of Prelims Women's 100)
*Friday (Womens' 10k)

Upcoming at the Trials: *PCS at Villard Street Pub Tons of stuff and a free coaching clinic Saturday.
*Running Film Festival Thursday through Saturday.
*Daily Eugene Running Co. Events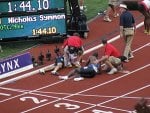 Monday: Men's 800 - Nick Symmonds Leads Eugene Sweep
The men's 800 more than delivered on its pre-race hype as the Eugene crew came through big time. Nick Symmonds got out of a box with 160 to go and catapulted to a 1:44.10 dominating PR victory. Wonder boy Andrew Wheating charged late for 2nd, and Christian Smith (the 29th seed out of 30 coming into the meet) outleaned three-time defending US champ Khadevis Robinson for the third Olympic spot.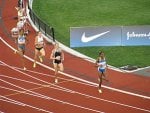 Women's 800: Hazel Clark Goes Wire to Wire as Everyone Staggers Home USATF put 12 people in the final and as a result it went out in 56.8 (we had the split wrong earlier) seconds. The final 200 wasn't pretty but Hazel Clark held on for the win to make her third Olympic team, Alice Schmidt was second to make her first, and Kameisha Bennett was third. Bennett, however, was not under the Olympic qualifying time of 2:00.00 and as a result, Nicole Teter made her second Olympic team.
*More Monday LRC Recap: Women's 5k and Steeple Semis, Mens and Women's 400 Semis
*Jenn Stuczynski Profile In USA Today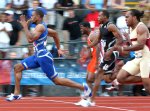 Sunday:LRC Sprint Recap: Tyson Gay 9.68, Bershawn Jackson Storms Back, World Leader LaShinda Demus Comes up Short Gay ran the fastest 100m ever under any conditions (although the wind was 4.1 mps) as Walter Dix showed he's the real deal and Darvis Patton continued his fine 2008. World leader Lashinda Demus failed to make the team in the 400m hurdles. Queen Harrison and Tiffany Ross-Williams both made the team over Demus with their fathers in prison.
*Race Videos from Sunday
LRC Sunday Field Event Recap Olympic Champ Dwight Phillips Comes Up Short, Jeff Hartwig Makes Team at 40, Momma Power in the Discus Defending Olympic champ Dwight Phillips didn't make the team in the long jump. 40 year old Jeff Hartwig made the team in the pole vault and the US is only sending two to Beijing in the triple jump.
*Race Videos from Sunday


Day 2: LRC Tyson Gay 9.77, Muna Lee 10.85 Maybe the greatest US day of 100m sprinting ever as six men went sub 10.00 in the QUARTERFINALS of the men's 100, not to mention Gay's 9.77 in his new beautiful adidas uniform and Jeff Demps blistering a 10.01 high school record. Muna Lee won the fast women's 100, Reese Hoffa got the shot, and the Olympic spots in the women's heptathlon came down to the wire.
*Muna Lee Overcomes Car Accident, Wins 100m Up until May 31st, she'd never broken 11.00 for 100m.
*Great Article on Tyson Gay Aiming High
*IAAF Recap of Day 2 Gay amost cried after barely advancing in round 1o f 100m. He more than made up for it in round 2.
*Hyleas Fountain Produces World-Leading 6667 To Win Heptathlon
*ESPN: Will We Ever Be Able To Enjoy Track?
*Ex-Drug Cheat Torri Edwards Moves Closer To Olympics By Finishing 2nd


OlympianDay 1 Women's 10k: Flanagan, over Goucher but Amy Yoder-Begley Steals the Show Shalane Flanagan outkicked Kara Goucher for the 10k win, but the story of the night was Amy Yoder-Begley running one of the gutsiest races ever at storied Hayward Field to make the US Olympic Team. Yoder-Begley squeaked under the Olympic A standard by 1.6 seconds after running 10 seconds off her 5k PR the second half of the 10k in the hot Eugene conditions.
Recommended Read:16-Yr-Old Laura Roesler Gets Much Deserved Praise In NY Times The 3-time winner of 100, 200 and 400 at the ND state meet advanced to the 800 semis with a 2:03.
*Katie McGregor Agonizingly Finishes 4th For 2nd Straight Trials
*Dick Patrick's 10k Recap For USA Today
*Blood Testing Occuring at Track Trials

Awesome Read: Tyson Gay Profile In LA Times Philip Hersh wrote an excellent profile on America's sprint sensation Tyson Gay. Read about the man who is pleased to be the underdog in the 100m and who used to take two bags to Europe - one bag of clothes and one of junk food.
Previous:
Recommended Read: HS Stars Beware: A Profile Of One Of The Stars of the 1984 & 1988 Trials - Roy Martin The guy was a stud HS sprinter (10.18, 20.13) who absolutely killed Michael Johnson on a weekly basis. Pro stardom eluded him. 20 years after his Olympic performance, the Dallas paper catches up with him. This guy was a legend in our hometown. Great read.
*1968 US Olympic Team Greatest Ever?
*Sacramento Paper Looks at Trials Returning to Eugene
*Eugene Is Spending $6.5 Million - St. Kitts & Nevis Is Spending $45,000 On Their Trials
*World Champ Lauryn Williams Profile
*USATF OT Distance Preview from Norwich, CT This preview is full of inaccuracies but it's good to see the Trials getting publicity in small papers.
*Plenty of Activities in Eugene During OT's
Again, Who Are The Idiots That Schedule USA Jrs and NON For The Same Weekend???
USA Jrs. *Schedule/Results
*8:34.40!!!! German Fernandez Breaks Jeff Nelson's 2 Mile Record *Results 64.2, 2:10, 3:14.9, 4:19.4, 63.9, 64.7, 63.3, 62.9
*Message board thread
*Nice Recap from Dyestat Fernandez played basketball Friday afternoon before breaking the record.
*Videos of Race
On the boards: How long till Fernandez record goes down?
*Photos
*Neely Spence Won Girl's 2 Mile at NON
Elijah Greer 1:47.68 The high school junior dropped his PR nearly 3 seconds (1:50.3 prior to the meet). Sick.
*NCAA Champ Jeshua Anderson Wins 400m Hurdles
*Day 2 Recap
*Video of Greer's 1:47.68
*USATF Recap of Day 1. Florida's Terrence Wilks ran 10.19 in the 100m as Centro Jr. won the 5k in 14:44 (his first 5k ever). Today, NCAA 400h champ Jeshua Anderson faces 2007 World Youth Champion William Wynne. *IAAF Recap Of Day 1
*Jamaica's Sprint-Heavy Squad Picked For World Jrs.
NON: Friday Recap*Live Results
*Girls HS Record in DMR Broken
There aren't many in-depth recaps of any of the races but you can try dyestat and milesplit. There is an excellent recap of Fernandez's run here.
*Saturday photos from NON
LRC Rankings Updated:
*Men's 800 & 1,500 A decent amount of change in both events. Duane Solomon moves way up as several new faces enter the rankings.
*Women's 800 & 1,500
*Men's & Women's Steeple As a result of us rewarding the NCAA champs and moving them up on the rankings, we have a new #1 on the women's side.
*Men's & Women's 5k Not a whole lot of change, but both the men and women have new #2s.
LRC Each Day at NCAAs:
*Day 4: LRC Hernandez Edges Wheating, Manzano Wins, Hannah England Runs NCAA Record
*Day 3: LRC Barringer, Kipyego Romp, Bobby Curtis Surprises, Kyle Alcorn Wins Again, LSU & Trinidad Sprint
*Day 2: LRC Lisa Koll Dominates, Shadrack Songok Repeats
*LRC Day 1 Recap and Video Highlights
LetsRun.com London Men: Lel Leads 3 Under 2:05:30!!!, Ryan Hall 2:06:17
Ryan Hall Goes Through Halfway on World Record Pace
The 2008 Flora London Marathon will be remembered for a long time. The lead pack of 9 went through 5k at 14:21 (2:01 pace). They continued together (yes, all 9) through halfway on world record pace (1:02:13). Ryan Hall then went to the front soon after and asked the pacemakers to go FASTER. Soon Hall was off the back, but he would catch the leaders briefly again and go on to run 2:06:17. Until Sunday, only 7 guys had ever run under 2:06:15, now 11 have. Up front, it came down to a 3-man battle over the final mile before Martin Lel got his 3rd straight World Marathon Major win over the final quarter mile as he led 6 guys under 2:07 and to $50,000 bonuses each. Recap, photos, video above
This Guy Has Totally Won Back Our Respect
Maasai Warriors Finish Marathon link fixed One of them went back to the course and finished the race a day after being forced to go the hospital after a ceremonial wrap cut off his circulation. He said, "It was very important for me to do this. This is what I came to England for."
LetsRun.com Ryan Hall Reflects On His Incredible Run We tell you (and let you watch) what Ryan, his dad, his granddad, his coach and even Martin Lel had to say about Ryan. Lel was full of praise for the American and shocked by Ryan's attempt to get the pacemakers to go even faster. If Hall didn't already have your respect, he does after reading this article, as he pays homage to a throwback type of guy - Steve Jones. Text and Video.
LetsRun.com Video: Ryan Hall Talks About His 2:06:17 at the 2008 Flora London Marathon
*More LRC London Videos Here
*Photo Gallery