2023 Florence DL Recap: 13 Men Break 13:00 as Fred Kerley Keeps Rolling
By
LetsRun.com
The 2023 Golden Gala Pietro Mennea, the Italian Diamond League meet that was relocated from Rome to Florence this year, produced a pair of stunning distance races on Friday night. The capper was the women's 1500, in which Kenya's Faith Kipyegon took almost a second off the world record with a stunning run of 3:49.11 (that story gets its own article here). The men's 5,000 meters was not as fast, comparatively (Spain's Mo Katir won it in 12:52), but the depth was astounding as 13 men broke 13:00 (a record for any race), including Americans Woody Kincaid (6th, 12:54), Joe Klecker (7th, 12:55), and Grant Fisher (11th, 12:56).
In other action, 18-year-old Sembo Almayew of Ethiopia ran a world-leading 9:00.71 to win the women's steeple as American Emma Coburn fell again, while world champ Fred Kerley stayed undefeated in 2023 by winning the 100 in 9.94.
We recap it all for you below starting with the distance races.
Men's 5,000: Katir takes down a stacked field as 13 (!) men break 13:00
Embed from Getty Images
Before the race, the men's 5,000 meters in Florence had the feel of a World Championship final as the field included many of the top contenders for this year's world title in Budapest (2022 world champ Jakob Ingebrigtsen and 2022 bronze medalist Oscar Chelimo were the major exceptions). And it certainly felt like a championship final over the final kilometer as there were a staggering 13 men still in the lead pack at the bell despite a fairly quick pace.
Article continues below player.
Spain's 1500m bronze medalist Mohamed Katir emerged with the victory, taking the lead just before 200m to go and holding off Ethiopia's Yomif Kejelcha in a terrific home-straight duel to win in 12:52.09 thanks to a 54-second last lap as Kejelcha clocked 12:52.12.
The final 1600 featured some incredibly quick running as the leaders hit 3400m in 8:56, meaning Katir ran his final 1600 in 3:55 and the top 11 all closed in 4:00 or faster. Leader-to-leader, the final four laps were 61.52, 60.60, 59.05, and 54.65.
Former NAU runner Luis Grijalva of Guatemala was sensational as he showed his 4th place showing at Worlds was no fluke. He lowered his pb from 13:02.94 to 12:52.97 to place third. A record 13 guys broke 13:00 (previous record was 11 from 2012 Paris DL), including all three Americans. Woody Kincaid took top American honors with a wild 54-second final lap. He entered the bell 15th – some 10 meters behind the 13-man lead pack – and ended up sixth in 12:54.4 as Joe Klecker ran 12:55.16 (7th) and Grant Fisher ran 12:56.99 (11th).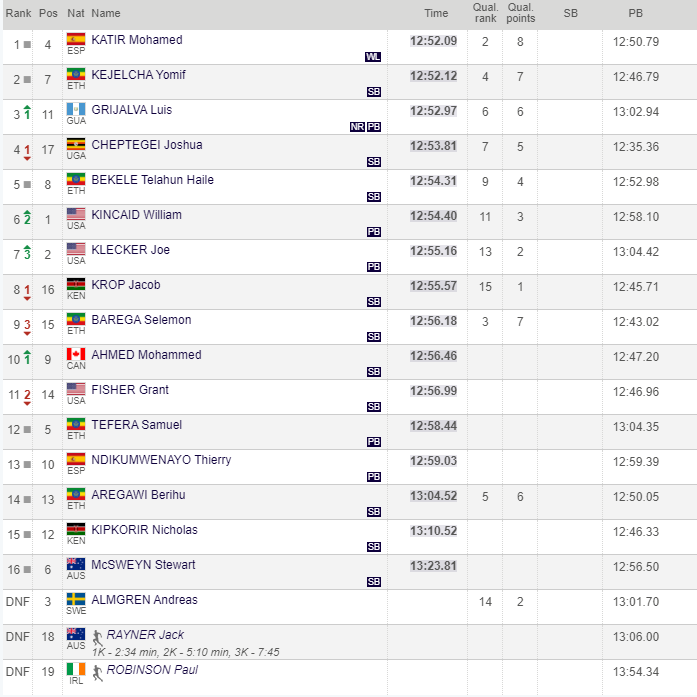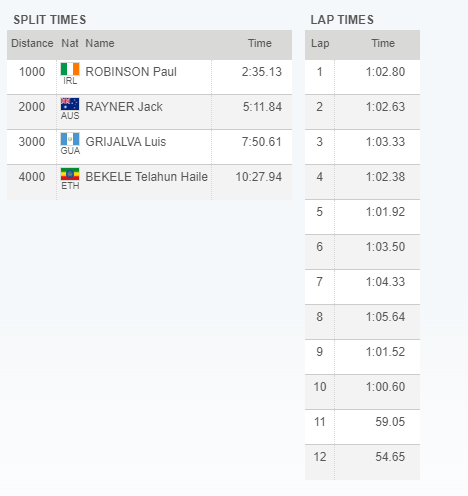 Quick Take: It's a wild time to be a 5000 fan, but don't read too much into these race results
The reality is in the year 2023, a 12:52 race can feel somewhat tactical. And an American (Grant Fisher) can run 12:56 and his fans view it as a huge disappointment as he's only the third American (and 5th North American) in the race. But with super shoes and training groups with top-notch coaching all over the globe, that's the reality. Three guys today ran 12:52 – one of whom was born in Guatemala — and there was a 65-second lap in the middle of this one (13:00 is 62.4 pace).
The results were entertaining but we'd urge you not to read too much into them.
As we pointed out in our preview, last year, there were eight DL 3ks/5ks on the circuit and seven different winners. There is a lot of parity in this event (except it's possible Ingebrigtsen owns it, particularly in championship settings). What you do in Italy in early June likely won't be remembered come August. 
Don't take our word for it. Take 2021 Olympic 5000 champ Joshua Cheptegei's word. After the race, he said, "This was a good season opener for me: I remember in 2021 before the Olympics I ran here and was disappointed because I came sixth. So, to come here and be 4th is special for me. This race was more like a championship race. I have a lot of endurance, now I need to work more on my speed."
That being said, this race has to make world champion Jakob Ingebrigtsen feel pretty good. Once the rabbits stopped, the pace slowed dramatically and the guys that went 1-2 are the contenders with the best mile speed as Katir is a 3:28.76 1500 man and Kejelcha is the indoor mile WR holder (3:47.01).
Quick Take: Yomif Kejelcha, Joshua Cheptegei, and Woody Kincaid were all moving really fast at the end of this one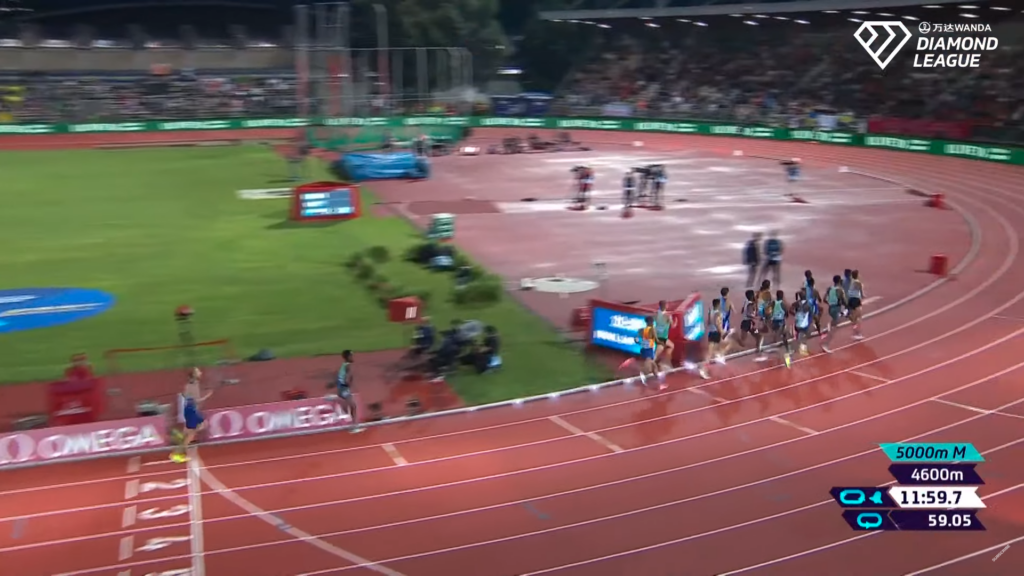 It's crazy that Kejelcha was battling it out for the win at the end considering he ran so much extra distance in this race. When you have 13 guys in the lead pack, not everyone is going to be able to be on the rail, and over the final kilometer, Kejelcha ran four of the five turns in lane 2 (he finally got to lane 1 on the final turn, where he ran on Katir's shoulder). On a typical track, lane 2 is 7-8 meters longer than lane 1, meaning Kejelcha likely ran about 15 meters extra – or around 2.5 seconds given the pace he was running at. Cheptegei also did well to get up for fourth considering he also ran a ton of extra distance late and was even in lane 3 at one point.
Kincaid, meanwhile, demonstrated his big kick once again as he was only 15th at the bell but passed nine guys on the last lap to finish 6th. We had him at 54.5 for his last 400 – the same as what Katir ran to win.
Between his 26.27 final 200 at BU in a 12:51 race and his 54.5 today in a 12:54 race, Kincaid has shown that his kick is going to be there for him at virtually any pace. But if he wants to medal, Kincaid can't afford to get dropped before the bell, as he was at USAs last year and as he was again tonight in Florence. Kincaid knows this, and today was a strong result for him – a definite improvement from where he's been in the past. But the work is not done.
Quick Take: The US championships are going to be awesome
It was great to see some of America's top 5,000 runners battle it out in a big race before USAs, because it doesn't always happen. To see them fly out to Florence and mix it up with the world's best – and to see them all run well below 13:00 – was really fun.
It also showed that USAs is going to be an absolute war in the 5,000. Between Kincaid, Klecker, Fisher, Abdihamid Nur, and Paul Chelimo, some very good runners may have to watch Worlds from home this year (assuming they all run the 5,000 at USAs – some might choose to focus on the 10,000).
And while we said above not to read too much into the results from this race, one thing is clear: Kincaid and Klecker have stepped up their games in 2023. Though Klecker beat Fisher at USAs in the 10,000 in 2022, Fisher was clearly the top American the rest of the year, both at Worlds (where he was 4th in the 10k and 6th in the 5k) and on the Diamond League circuit, where he consistently finished near the front of packs.
Today, Kincaid and Klecker were more competitive with the world's best and Fisher was only 11th – a step back after finishing 3rd, 2nd, and 3rd in his three DL races in 2022. You'd be foolish to write Fisher off the rest of the year, but he may not be the lock to make the US team that we assumed he'd be.
Women's Steeplechase: 18-Year-Old Almayew Almost Breaks 9:00
Ethiopia's Sembo Almayew, who last year at age 17 was second at World Juniors and in the Paris DL, earned the first DL win of her career tonight as she powered away from the field with around 650 meters to go and won in a personal best and world leading time of 9:00.73 (previous pb of 9:05.83). 2021 world junior champ Jackline Chepkoech of Kenya, who was only 7th in Doha, ran much better today as she was second in 9:03.07 as 20-year-old Zerfe Wondemagegn of Ethiopia ran 9:04.61. World record holder Beatrice Chepkoech ran aggressively early on, leading at 1200, but faded to fifth in 9:10.0.
American Courtney Wayment, who had opened at 9:24 a month ago, was also greatly improved as she ran the second fastest steeple of her life, finishing 8th in 9:11.41 as she passed three people in the last lap. Emma Coburn, who fell in Doha when another runner took her out, fell yet again today but this time the blame was all on her as her foot slipped on the water jump barrier just before 1k. She still was ahead of Wayment until the last lap but Coburn's last lap was horrific (77.8) as she was 12th in 9:18.17. Since Coburn did run ahead of Wayment for most of the race, we aren't ruling out a 9th straight US title for Coburn, but it's certainly not a guarantee at this point.
Bahrain's Winfred Yavi, who has been 4th at the last two Worlds and won the Doha DL a few weeks ago, was only 7th in 9:18.12.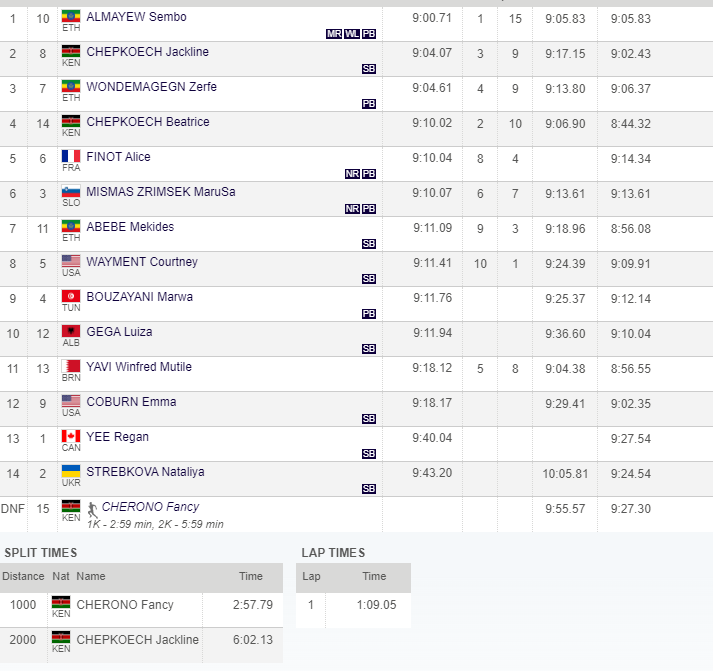 Quick Take: Might we have a teenage world champ?
The top two finishers here were 18 and 19. And the third placer in Doha, Faith Cherotich of Kenya, won world juniors last year and is still just 19.
Sprints
Men's 100: Fred Kerley wins again
World champ Fred Kerley once again proved he's the best sprinter on the planet as he won his second Diamond League in six days, running 9.94 (0.0 wind), the same time he put up in Rabat on Sunday. No one else in the field broke 10.00 even though four men (counting Kerley) on the start line had run 9.93 or faster this year. The fastest man of 2023 – Kenya's Ferdinand Omanyala – was second in 10.05.
"The secret of my success is being consistent. I ran 9.88 already this year, so when my time will be sub-9.80 the world will be surprised, but I will not be surprised. I feel good, I feel good in my training. It was a good, open race for me, so I knew what I had to do," said Kerley.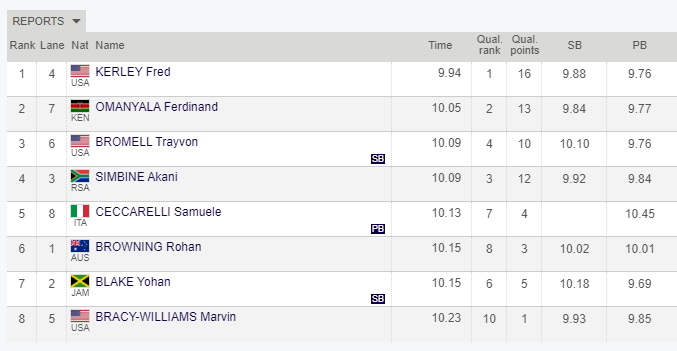 Women's 100: Ta Lou wins easily
Marie Josée Ta Lou of the Ivory Coast won the women's 100 comfortably in 10.97. She was the only woman under 11.00 as none of the four Americans in the race were even able to break 11.20. Dina Asher-Smith was a late scratch.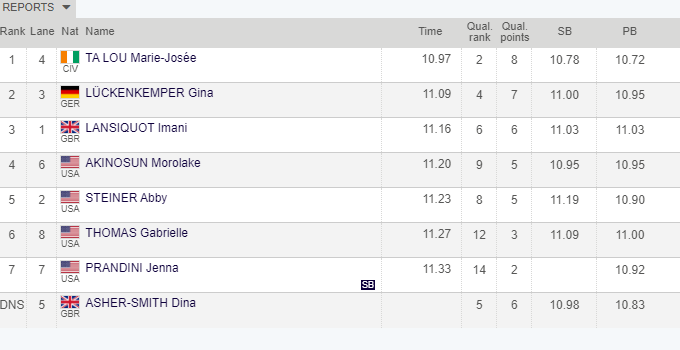 Men's 110H: Holloway returns to the winner's circle
After finishing second in Rabat, Grant Holloway returned to the winner's circle with a 13.04 win. Switzerland's Jason Joseph, who broke the Swiss 60 hurdles record six times indoors, broke his own 110 hurdles record by running 13.10 for 2nd (previous pb of 13.12).
Men's 200m: Knighton finishes fast to win 2nd career DL race
In his first meet of the outdoor season, 19-year-old Erriyon Knighton won his second career Diamond League in a time of 19.89. Knighton ran a strong curve as he usually does, but distanced himself from the field in the final 70 meters of the race. Training partner and NCAA champion Joseph Fahnbulleh had a disappointing race finishing sixth in 20.51. Alexander Ogango of the Dominican Republic was DQ'd from the race with a false start.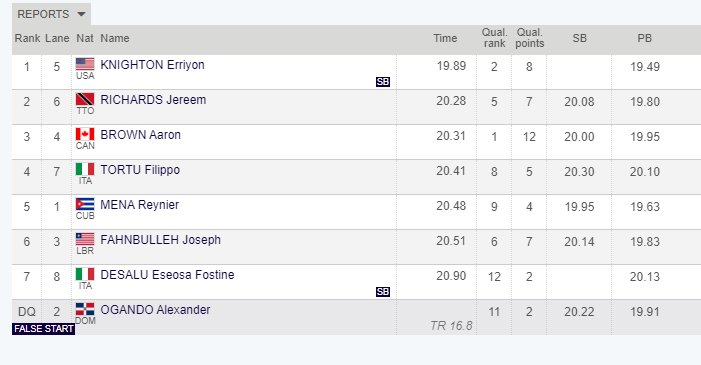 Women's 400m: Kaczmarek wins in 50.41
Natalia Kaczmarek, an Olympic champion in the mixed 4x400m relay, won in a time of 50.41. American Lynna Irby-Jackson came in third in 50.84.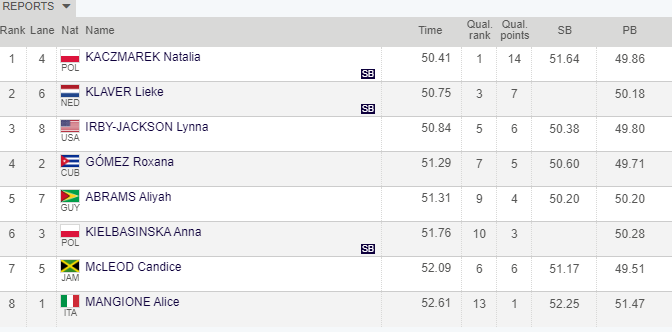 Women's 400 hurdles: Bol cruises to world leader
After opening up with a 53.12 win in Oordegem on Saturday, the Netherlands' Femke Bol took a huge chunk off that time to run her second world leader in a week, cruising to a 52.43 meet record out of lane 6. Bol really assumed control during the second half of the race, her long strides carrying her well beyond runner-up Shamier Little (53.38). American Anna Hall, who last weekend became the fifth-highest scoring heptathlete in history, ran a pb of 54.42 in her Diamond League debut to finish 3rd.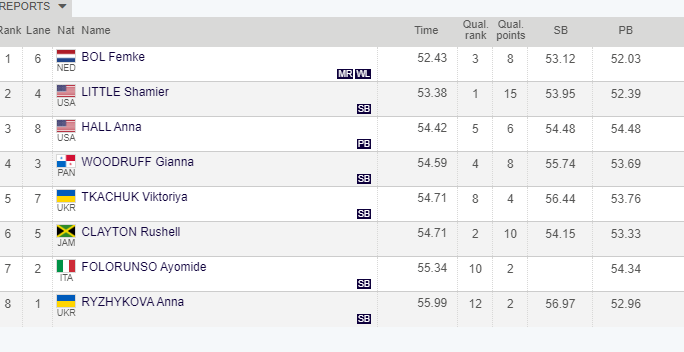 Field Events
Men's Triple Jump: A PB from Diaz Hernandez wins it
Cuban Andy Diaz Hernandez won the triple jump in a pb of 17.75 meters in round 1. Two-time Olympic champion and four-time world champion out of America, Christian Taylor, jumped poorly, finishing seventh out of eight with a best jump of 16.32 meters. 2022 American triple jump champion, Donald Scott, also performed beneath his usual standard, finishing fifth with a jump of 16.46 meters. Finally, Italian hometown hero and 3-time NCAA champion Emmanuel Ihemeje finished 4th with a best jump of 16.69 meters.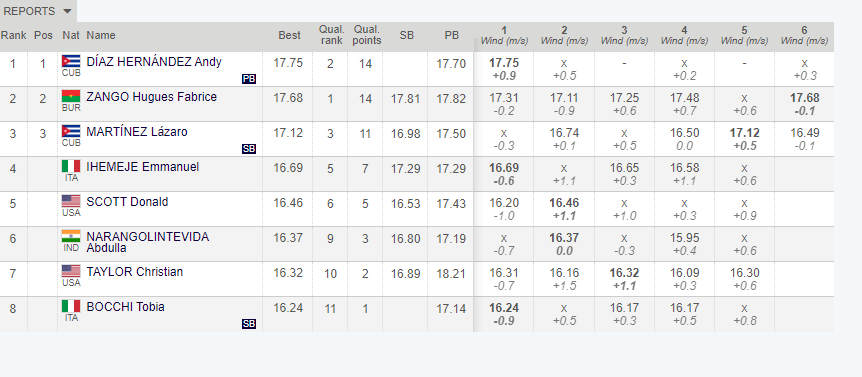 Men's High Jump: JuVaughn Harrison wins his 2nd career DL
Former LSU Tiger and four-time NCAA champion JuVaughn Harrison won with a best jump of 2.32 meters. Harrison cleared 2.32 on his final attempt to prevail in a close matchup with world silver medalist Sanghyeok Woo of South Korea, who had a best of 2.30.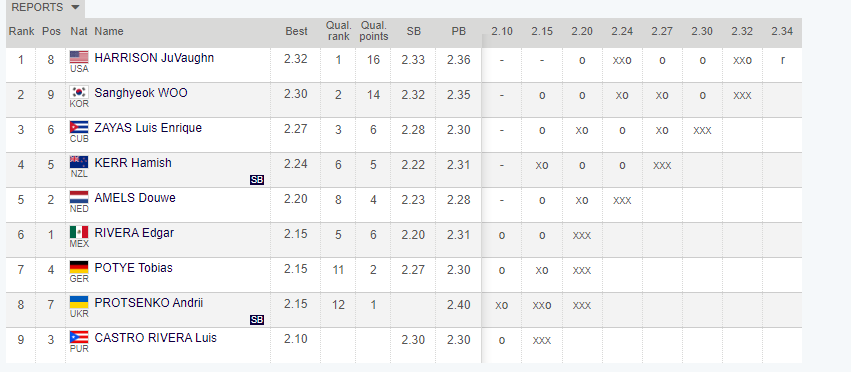 Men's Shot Put: Leonardi Fabbri gets biggest win of career before home crowd.
Joe Kovacs, the 2-time world champ, took the lead in round 1 but never improved and would end up a surprising 4th as Italy's Leonardi Fabbri got the biggest win of his career by throwing 21.73 in round 4.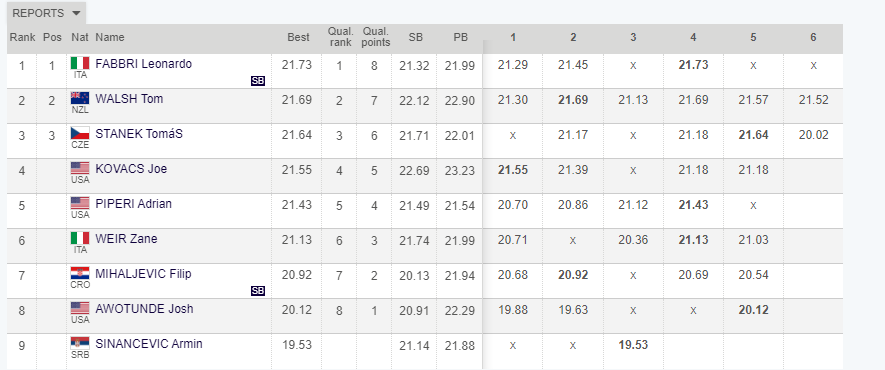 Women's discus: Allman takes down the world champ
With China under strict COVID measures in recent years, world champ Feng Bin of China had not competed on the Diamond League circuit since 2019. Today she got some serious competition in Olympic champ Valarie Allman of the US, and in the end Allman handed Bin her first defeat since 2021, throwing 65.96 in round 5, just five centimeters better than Bin's mark from the same round.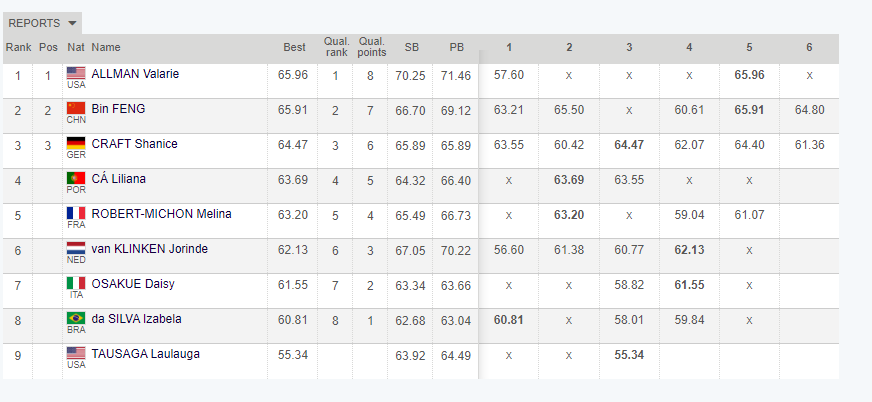 Women's Long Jump: Hometown favorite Iapichino wins
Italian Larissa Iapichino, 3-time national champion and European junior champion, won the long jump with a jump of 6.79 meters. American and NCAA champion Tara Davis-Woodhall came in second with a top jump of 6.74 meters.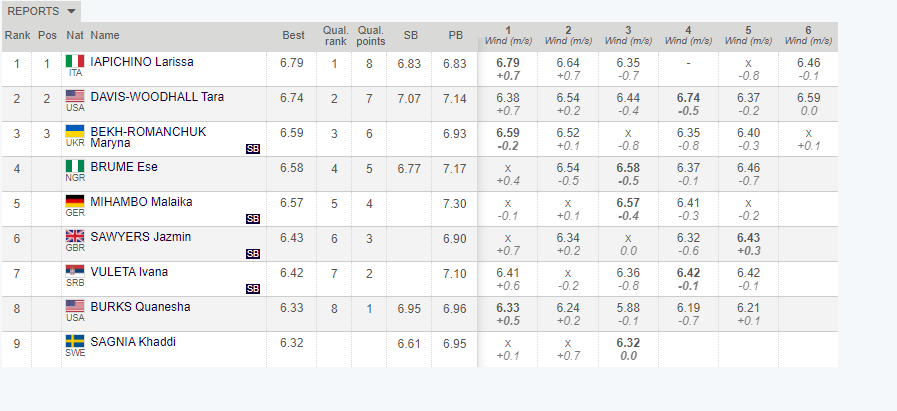 Women's Pole Vault: Olympic Champion Katie Moon battles Tina Sutej for victory
American Olympic and World champion Katie Moon won the women's pole vault with a clearance of 4.71 meters. Tina Sutej of Slovenia also jumped 4.71 meters, but did it in one extra attempt, giving Moon the victory. 2-time World indoor champion Sandi Morris of the US tied for fourth. Former Olympic champion and World champion Katerina Stefanidi uncharacteristically placed dead last with a jump of 4.41 meters.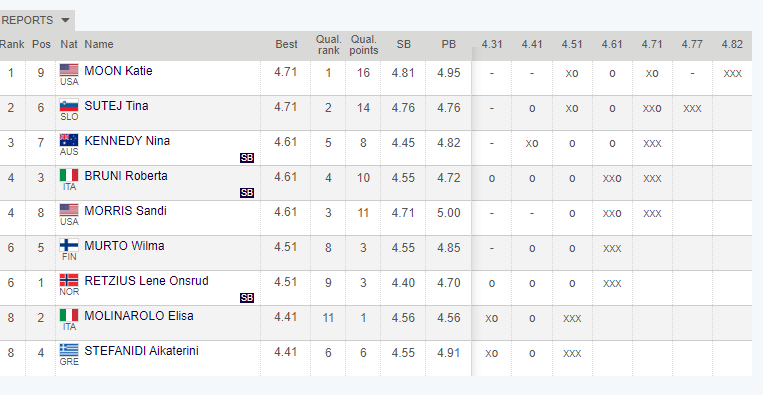 Talk about the meet on our world-famous fan forum / messageboard.