Sam Prakel Completes the Double*, Nikki Hiltz, Nia Akins Get First USATF Track Titles
By LetsRun.com
February 19, 2023
The 2023 USATF Indoor Track and Field National Championships came to a close on Saturday before a national TV audience and the three-day event crowned 11 new USATF indoor champions, including Sam Prakel who emerged as a double USATF champion, as he got got a controversial win in the 1500m to go along with his win in the 3000m on Friday.
While hopefully some of the 11 new champions go on to become stars, their multitude likely is more a result of what the top American athletes think of USATF indoors in Albuquerque in a non World indoors year – not much. The vast majority of the big name stars in the sport skipped USA indoors.
Article continues below player
The biggest name who showed up, Noah Lyles, ran the 1st round and semis of the 60m, but then pulled out of the final on a precautionary note, due to some tightness and pain in his hip flexor.
We recap Saturday's distance action below. The biggest story of the meet however was Aleia Hobbs running 6.94 to break Gail Devers nearly 30-year-old American record in the 60m (6.95). Hobb's mark is the #2 all-time behind Irina Privalova's 6.92.
In other non-distance action, new American record holder in the pentathlon Anna Hall won the 400 in 51.03, and a global star who did show up Joe Kovacs won his first USATF indoor title on a day where his main rival Ryan Crouser was setting a world record in an exhibition put on in the middle of a high school mee in Idaho. 
Men's 1500: Sam Prakel Completes the 1500/3000 Double*
USATF indoors in Albuquerque is perhaps most known for a disqualification controversy. If you don't know about the 2014 DQ controversy, Alberto Salazar and Jerry Schumacher having to be separated, and the women's 1500m runners walking off the track in protest, you've got some reading to catch-up on.
The record books will show that Sam Prakel had a tremendous USATF indoors in 2023. Prakel won his first USATF indoor title by taking the 3000 on Friday, and then followed that up by winning the 1500m on Saturday. The only problem is Prakel crossed the finish line second, well beaten by Josh Thompson.
Then at some point after the results were posted, after the athletes had done all their interviews, after the broadcast was off the air, after World Athletics had imported the results, Thompson was disqualified for violating USATF rule 163.4 which says an athlete "shall be liable to disqualification" if they are responsible for "jostling" "or "obstructing another competitor". 

As for the race, Drew Hunter led for most of it and it was anyone's race until just over 400 to go when Kasey Knevelbaard of Under Armour made a power move and opened up a gap on the field. Knevelbaard still had a gap on the field at the bell as Henry Wynne, Thompson and Prakel were in pursuit. Wynne went by Kenvelbaard first and had the lead around the final turn as Thompson was tracking him. On the banked turn, Thompson went by Wynne and cut in slightly on Wynne. Wynne hand checked him and Thompson pulled away for the win with Prakel moving up for second.
Standard indoor racing in our book. 
Yes, Thompson jostled Wynne. But if you are going to DQ each and every athlete "responsible for jostling", then at least 50% of  indoor 1500m races should have a DQ. That's why there is a clarification in the rule book that says the "severity of the infraction and resulting consequence" should be factored in.
As for the severity here, Thompson barely touched Wynne (but yes it was in the final 100 of the race), and as a result we don't think it impacted the outcome of the top 3 at all.
But we assume the rules officials think it did impact Wynne's finish and potentially prevented him from beating Prakel. But if they are going to be rules sticklers, then why don't they demand that the race be re-run which is clearly listed an option in the rule book. Yes, we've never EVER seen this done before, but why should Prakel be made a national champion for a foul that did not affect him?
Watch the video yourself. The vast majority of track and field fans would agree this should not result in a DQ.
MB: USATF Indoors – Josh Thompson – DQ'd?? 
Results (Note Thompson ran 3:42.31)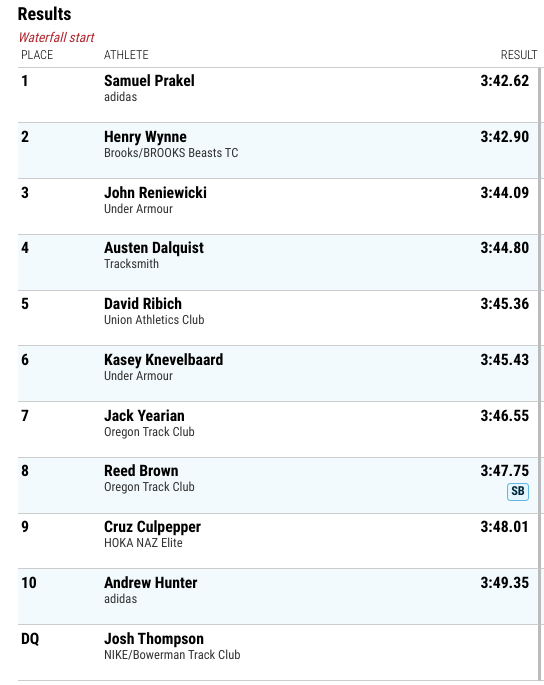 QT: This shouldn't be a DQ in our book.
QT: DQs need to be settled within 5 minutes of the conclusion of any race
Real sports are settled on the field of play or soon after. Not in some room well after the competition. If there is going to be a challenge or DQ, the competitors should know it before they leave the track (let the coaches have a challenge flag) and the decision should be announced before competition resumes.
Women's 1500m: Nikki Hiltz Wins First USATF Track Title
Nikki Hiltz and Sage Hurta-Klecker were the two most credentialed runners in this field and it showed. After NAIA star Adidson Wiley led for most of the race, Sage Hurta-Klecker got the lead at the bell but Hiltz stalked her the final lap and got their first USATF track title on the home stretch.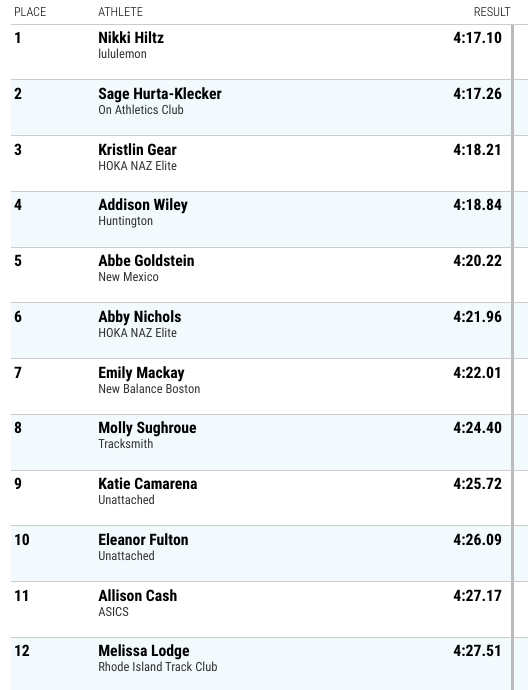 QT: OAC may have won indoors, but it won 0 USATF titles
Just shows how little importance USATF indoors is an off-year.
Women's 800: Nia Akins Gets USATF Title #1
Kaela Edwards had the lead on the final lap but Allie Wilson was trying to pass her on the final turn so she drifted wide. That opened up just enough space for Nia Akins of the Brooks Beasts to get the win on the inside as Wilson pulled ahead of Edwards.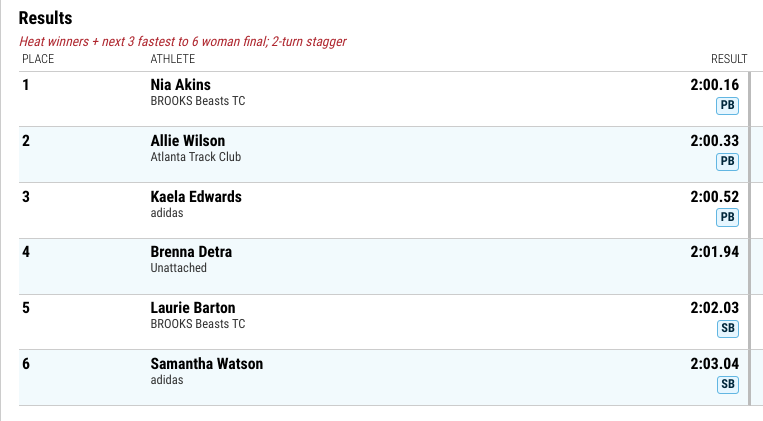 Men's 800: Season's Best for Bryce Hoppel to Get the Win
Isaiah Harris made his move with more than 300m to go to get the lead and kept powering at the front. Only problem was he totally ran out of steam off the final turn, and Bryce Hoppel who had appeared to be struggling to stay with Harris on the backstretch coasted to the win on the homestrech in a season's best time.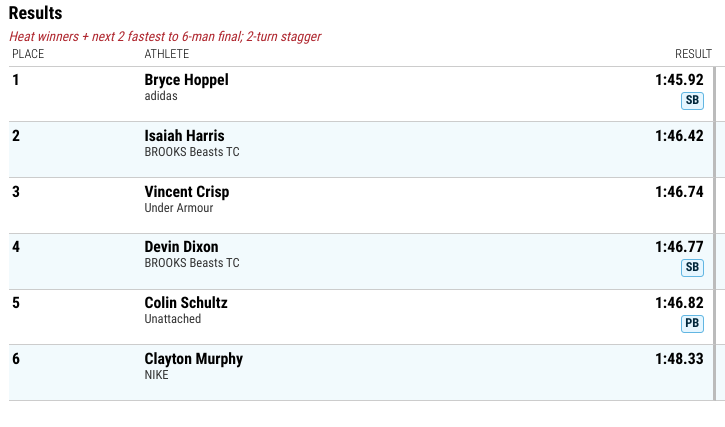 QT: Outdoors is super important for Clayton Murphy
Indoors didn't go too well for the new dad and outdoors could be pivotal for him.
Talk about the meet on our world-famous fan forum / messageboard.