Val Constien and Sam Prakel Win Their First National Titles – USATF Track Indoors Day 1 Recap
By LetsRun.com
February 17, 2023
Val Constien and Sam Prakel both unleashed furious kicks on the final lap to win their first USATF track titles, as they won the women's and men's 3,000m at the 2023 USATF Indoor Track and Field Championships in Albuquerque, New Mexico.
Recap of Friday's action. Saturday the action is 4-6pm eastern on NBC.
Article continues below player
Constien Gets First USATF Title and Facility Record
Up first was Constien in the women's 3000m. Elly Henes of adidas served as the unofficial rabbit for nearly the entire race, keeping the pace very honest as she clipped off 35 and 36-second laps like a metronome. With four laps to go, she ran her first 34 second lap (34.87), but the lead pack of now four  (Henes, Constien, Whittni Morgan of adidas, and Emily Mackay of New Balance Boston) was about to start the real racing.
Morgan went by Henes and led with 500m to go and upped the pace even more. With 2 laps to go, Henes was out of contention. Morgan led at the bell and going into the final turn it was a race between her and Constien, as Mackay fell back. Constien went wide on Morgan's shoulder as they were passing lapped runners. Coming off the final turn they both were in lane 3 and Constien had enough left to get by for the win in a facility record of 8:48.29, thanks to a 30.29 final lap.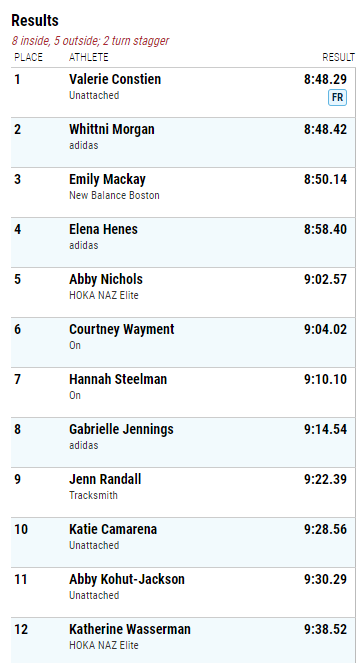 QT: Olympian, USA Champion and Unsponsored
Constien raced in a Colorado Buffalo jersey. Despite being an Olympian in 2021, she's unsponsored and today's win can't hurt the negotiations. Someone was destined to walk away with their first USTAF title today as no one had won a title before, but to get a facility record was very impressive because some big names have run USATF indoors here before as this was the 9th time USATF indoors has been held in Albuquerque since 2010.
Sam Prakel Crushes Final Lap for USATF Track Title #1
Prakel of adidas has won a road USATF title before, but he delivered big time as the favorite.
This race was wide open and the pace was very, very slow to start (4:42 at 1600, just 8 seconds faster than the women's race). Allen Sumrall threw down a 30.69 lap to take the lead with a kilometer to go and a lap later was in 12th place as nearly the entire field was still in contention. John Reniewicki led with 400m to go and would finish 9th as it was still any man's race.
On the penultimate lap, Prakel took the lead and then David Ribich tried to make a power move and go from 7th to 1st, but Prakel held him off and had the lead at the bell. Then he took off like a rocket, running a super impressive 25.75 final lap to get the win with ease. Former CU runner Eduardo Herrerra got second, former NCAA champ Olin Hacker third, and Ribich settled faded to 5th.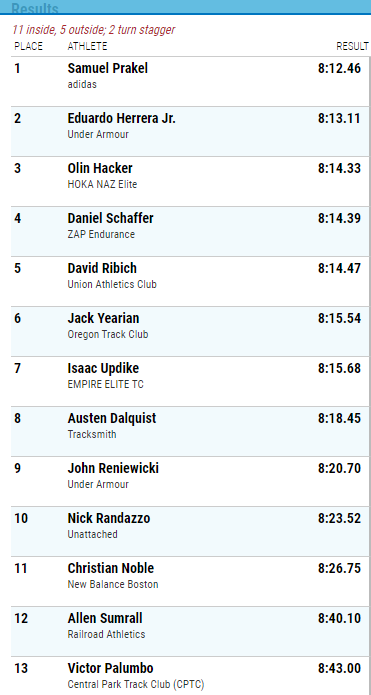 QT: Prakel was the most accomplished runner coming and he ran like it
Congrats on USATF Title #1.
800 All Favorites Advance in 800 Qualifying
All the big guns made it to the final and the only surprise was Clayton Murphy having to get in on time in heat #3. He was leading on the homestretch but Devin Dixon was going from last to first and would pass Murphy right at the line (they both had the same time of 1:47.27).
World "record" for DeAnna Price, World Leader for Tara Woodhall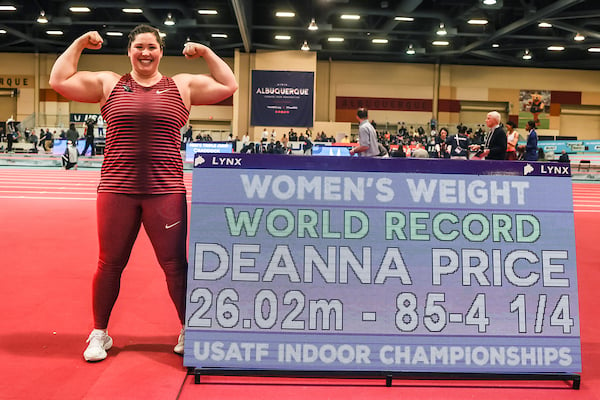 The 20lb weight throw isn't recognized as an event by World Athletics and primarily done in America, but DeAnna Price threw further than anyone ever clocking 26.02 (old record was 25.60)
Vashti Cunningham got an indoor pb of 2.00 meters in the high jump, and Tara David Woodhall got a world leader and indoor pb of 6.99 in the long jump.