Kelvin Kiptum (2:01:53) & Amane Beriso (2:14:58) Surprise to Win Super Fast 2022 Valencia Marathon
Kiptum Ran The Fastest Second Half Ever En Route To The Fastest Debut Ever; Was Beriso Denied A World Record As The Rabbits Didn't Go With Her After She Dropped Gidey?
By Jonathan Gault
December 4, 2022
VALENCIA, Spain — Near-perfect conditions at the 2022 Valencia Marathon Trinidad Alfonso created an opportunity for fast times, and the elite fields answered the call on Sunday morning. Kenya's Kelvin Kiptum won the men's race in 2:01:53, the fastest debut in history, after breaking the race open with a savage late-race move at 32 kilometers. Kiptum ran the 2:01:43 by ripping the fastest second half ever, 60:15 for his second half (and 28:05 from 30-40k), to become just the third man in history to break 2:02 after Eliud Kipchoge (2:01:09) and Kenenisa Bekele (2:01:41). In the women's race, Ethiopia's Letesenbet Gidey was expected to challenge the world record of 2:14:04 in her debut and was on 2:14:10 pace through 30k. But, shockingly, Gidey still had company at that point of the race as her countrywoman Amane Beriso was still with her. And in the end, it was Beriso who would hold on best as she won in 2:14:58 to move to #3 on the world all-time list. Gidey would fade over the final 10k but still hold on for second in 2:16:49, the fastest debut ever by a woman.
Both Kiptum and Beriso were surprise winners and had done little recently to indicate they would challenge for the win in Valencia. Kiptum, who turned 23 on Friday and owns a half marathon best of 58:42 from Valencia in 2020, had not finished a race over any distance since October 2021 (he DNF'd the RAK Half in February 2022). The 31-year old Beriso, whose pb of 2:20:48 dates from her debut in Dubai in 2016, did not race at all from January 2020 to August 2022. In her return to action, she won the Mexico City Marathon on August 28 in 2:25:05 at an elevation of over 7,000 feet. On Sunday, just 14 weeks later, she ran a pb of almost six minutes to become the third-fastest woman in history.
Conditions could scarcely have been better for running, with temperatures in the high-40s/low-50s, wind under 5 miles per hour, and a fast, flat course in Valencia. In the men's race, the top four all broke 2:04 while on the women's side, seven athletes broke 2:19 — the most ever in a single race. Also notable, 45-year-old Sinead Diver ran 2:21:34 to finish 12th, a pb by almost three minutes and an Australian record.
You can catch up on the race as it happened by reading our live blog here.
Men's race
A large group of 19 men hit halfway in 61:38. Once the pacemaker dropped off at 26k, pre-race favorite Tamirat Tola, the 2022 world champion, took over the lead and started to pick things up, running 14:27 from 25k to 30k, the fastest 5k split of the race to that point.
But the race would get much faster from there. At 30k (1:27:34), the lead pack had dwindled to seven, and two miles later, it was down to three: Tola, Kiptum, and Gabriel Geay of Tanzania (2:04:55 pb, 7th at 2022 Worlds). Kiptum motioned to both men to pass him and help set the pace, but when neither did, he took it upon himself and ripped the 5k segment from 30-35k in 14:00 to open up a 15-second lead on Geay. He wouldn't slow much from there to the finish, covering 35-40k in 14:05 and the final 2.195k in 6:14 (14:11 5k pace).
Geay took 2nd in 2:03:00, a pb of almost two minutes, with Alexander Mutiso of Kenya 3rd in 2:03:29 and Tola 4th in 2:03:40. It was just the second time in history four men had broken 2:04 in the same race; the other instance also came in Valencia in 2020. Mutiso's time of 2:03:29 would have been the fastest debut ever had Kiptum not run faster. 
Women's race
Article continues below player.
Through the first 33 kilometers, the race proceeded exactly the way Letesenbet Gidey and her coach Haile Eyasu drew it up (save for the first drinks station, where Gidey took the wrong bottle and was forced to drink water). Gidey, running with a trio of pacemakers amongst a large group of sub-elite men, ran her first 5k in 16:08 (2:16:08 marathon pace) but gradually picked it up, splitting 15:55 and 16:00 for her next two 5k segments to take her to 48:03 at 15k (2:15:09 pace).
From there, Gidey locked into a pace to bring the world record closer and closer. She split 15:47 for each of her next three 5k segments (WR pace is 15:53 per 5k), hitting halfway in 67:18 in the process. The world record seemed set to fall. Gidey's plan had always been to go out conservatively before closing hard at the end – the same strategy she had employed to break 5,000 and 10,000 meter world records on the track. Now, at 30k (1:35:24), Gidey was on 2:14:10 pace. A few more 15:47 5ks and the record would go.
But Gidey had two problems. First: she was getting tired. Second: she was not alone. Beriso, whom no one had been talking about prior to the race, had run every step with Gidey. What was expected to be a solo world record attempt was now a genuine race. 
At 33k, the two were on 2:14:08 pace, just four seconds off the world record. But they would start to slow, running 3:12 for the 34th kilometer, then 3:14 for kilometers 35 and 36 (WR pace is 3:10.6). Gidey, usually so smooth, was showing signs of fatigue, and just after 36 km, she broke as Beriso opened up a gap. The group of four men who had been running with them – which included one official pacemaker – did not follow, hanging back with Gidey.
Without anyone else to run with, Beriso faded slightly to the finish but still hung on to join Brigid Kosgei and Ruth Chepngetich to become just the third woman to break 2:15 (and the first to do it outside of Chicago). Gidey would struggle home, running 35:29 for her final 7.195k (7:56 mile pace).
Kenya's 64:36 half marathoner Sheila Chepkirui ran 2:17:29 to finish 3rd in her debut, the fourth-fastest debut ever (but also the fourth-fastest debut of 2022). 21-year-old Tadu Teshome of Ethiopia took more than six minutes off her 2:23:53 pb to run 2:17:36 for 4th.
Full analysis and results (Results are here at bottom of article).
Women's quick takes
Where did Amane Beriso come from?
On Saturday, as is typical at major meetings, there was a technical meeting for race organizers, athletes, agents, and coaches to discuss final details for Sunday's race. One of the topics is always the pace groups – how fast the pacemakers intend to run, and for how long. 
Except Gidey's pace group was never discussed on Saturday. The organizers said there would be a group running 69:30 through halfway, but it was common knowledge that Gidey would be running faster than that and Gemedu Dedefo, coach of Beriso, wanted to know how fast. Dedefo also coaches Tigist Assefa, who ran 2:15:37 to win Berlin in September, and knew Beriso was running faster in training for Valencia than Assefa had before Berlin.
"[When] they say that Letesenbet Gidey can do world record, we think also in our minds, [Beriso] can do world record," Dedefo said.
Dedefo was eventually able to find out from broadcaster Richard Nerurkar (who had heard from Gidey's agent Valentijn Trouw) that Gidey would be targeting 67:00 through halfway and instructed Assefa to go with it.
Beriso's performance today prompts an obvious question: how was a woman with a 2:20 pb who had barely raced for the past two years able to run faster than all but two women in the history of the marathon?
Dedefo said that after running 2:22:15 at the 2017 Prague Marathon, Beriso dealt with a series of injuries to her leg and knee. He said she was never fully healthy over the next five years, even though she ran some marathons during that span (2:28:56 for 6th at 2018 Toronto, 2:24:51 win at 2020 Mumbai). But this year, Dedefo said Beriso has been able to train healthily and that she was 100% fit for Valencia buildup after running 2:25 at altitude in Mexico City in August.
Dedefo also noted that when Beriso ran 2:20:48 in her debut in Dubai, she was not wearing supershoes; that time is worth around 2:17-2:18 with the shoes. The weather was absolutely perfect for running in Valencia on Sunday. 
Dedefo is one of Ethiopia's top coaches with a long record of success, but it should also be noted that this was the second historically fast out-of-nowhere performance by one of his athletes in three months, following Assefa in September (granted, it wasn't out-of-nowhere to Dedefo, who believed each woman was capable of running fast after observing them in training). Assefa and Beriso also share the same agent, Gianni Demadonna.
Beriso's coach believes she could have broken the world record today had the pacemakers stayed with her
Dedefo was peeved after the race that the one remaining official pacemaker did not go with Beriso when she took the lead late in the race, instead opting to stay behind with Gidey.
"The last part, the pacemaker, nobody is helping her," Dedefo said. "If somebody comes with her, pushing, if she has a personal pacemaker, she can do today world record…The pacemaker did not treat us equivalent. Four pacemaker[s] for one athlete (Gidey)."
The issue of how male pacemakers should handle the end of a women's race can be tricky if there is more than one woman in contention: you don't want to create a situation where one athlete has an advantage over the other in a close race. But that doesn't really apply here, because Beriso was clearly going to beat Gidey at the end, with or without a pacemaker. 
The goal was for a world record, and there was only one woman at the end of the race still trying to run a world record. The pacemaker(s) should have gone with Beriso.
Dedefo still believes Beriso can run the world record one day – "she can run 2:12, I have big confidence." he said. But an athlete may only get one or two marathons in their life with conditions as good as we saw in Valencia today. This may have been her best shot.
Letesenbet Gidey was a little disappointed to miss the WR, but believes she will break it one day
The expectations on Gidey were incredibly high for this one, as you might expect for a woman who holds world records in the 5,000, 10,000, 15k, and half marathon. Gidey was aiming high as well, as she wanted to break the world record. That she did not – and that she "only" ran 2:16:49, #5 all-time and the fastest debut ever – is no failure.
Gidey and her coach had a good plan, and they executed it almost perfectly until almost 35k. The problem was a simple one.
"After 35 kilometers, I am tired," Gidey said with a chuckle.
Yes, even the best athletes in the world get tired. But overall, this was a solid race for Gidey. And now that she knows what goes into training for a marathon and what it feels to get to 35k on 2:14 pace, she'll be better prepared for her next attempt at 26.2 miles. She still has no doubt that she will break the world record one day. 
"I will make another time the record, no problem," Gidey said.
Plus the next time Gidey runs a marathon she'll be more used to the high mileage which she bumped up a lot for this race, getting up to 115 mpw versus the 81 mpw peak mileage when she was training for the track.
(Note: Gidey had difficulty understanding some of our questions in the interview below but we applaud her for doing her best to answer in English)
What a day for Sinead Diver and Australian marathoning
A few hours before the Valencia Marathon, Brett Robinson ran 2:07:31 in Fukuoka to break Rob de Castella's 36-year-old Australian men's record in the marathon of 2:07:51. Later in the day, Sinead Diver ran 2:21:34 in Valencia to take almost three minutes off her 2:24:11 pb and break Benita Willis' 16-year-old Australian women's record of 2:22:36.
The most amazing thing about Diver's performance is that she did it at the age of 45. Diver, who was born and raised in Ireland, didn't run her first marathon until age 37 in 2014, the same year she switched allegiances to Australia, where she has lived since 2002. She got down to 2:24:11 in London in 2019 at age 42, then finished 10th at the 2021 Olympics at age 44. Now, at 45, she has run faster than ever, and way faster than any 45-year-old in history. The previous 45+ record was 2:28:34 by Italy's Catherine Bertone in Berlin in 2017. Diver improved that mark by exactly seven minutes today.
2012 Olympic champ Tiki Gelana fizzles in return
Tiki Gelana was a surprising name on the entries considering the 2012 Olympic champ hadn't run a marathon in more than six years. She was well off her 2:18:58 pb today as she finished 29th in 2:33:59.
Men's Quick Takes
Kelvin Kiptum ran the fastest second half in history
Kiptum, who is only 23 years old, came into this one as a half marathon speciality. He had run some fast half marathons the last few years, clocking 58:42 in Valencia in 2020, then 59:35 to win in Lens and 59:02 for 8th in Valencia in 2021. All together, he'd broken 60:00 six times in his career (twice each in 2019, 2020 and 2021), but he had won just two of those six races had raced just once since October 2021 – a DNF at the RAK Half in February – before his 2:01:53 stunner today.
Kiptum, who trains on his own in Chepkorio, just outside of Eldoret, said he didn't race since RAK because he had a groin injury in April. Clearly, he is healthy now, because he just ran the fastest second half of a marathon ever (not counting Kipchoge's second half at the INEOS 1:59 Challenge). Previously, the best close was Kipchoge's 60:33 but Kiptum blew that out of the water today with his 60:15, including an insane 28:05 split from 30-40k.
58:42 is obviously no joke, especially considering Kiptum was only 20 years old when he ran that time. But there was little to suggest he was capable of such a fast close. His fastest 10,000 on the track is just 28:27, though he has only run the distance once on the track. On the roads, his best is 27:59, but that came as a 10k split at the 2019 Copenhagen Half (where he would eventually fade to 60:38).
Kiptum wasn't well-known outside of hardcore distance fans but is now in the company of some of the sport's all-time greats – Kipchoge and Bekele are the only other men in history to break 2:02. But even Kiptum isn't quite ready to tackle the GOAT. When asked whether he wanted to race Kipchoge now that they are both 2:01 marathoners, Kiptum replied: "No, I am not ready now. Not yet."
Rough day for the Americans
Two American men came to Valencia in search of fast times, 2:09 man Ian Butler and 2:10 man CJ Albertson. But neither left with a finishing time, let alone a pb. Butler hit halfway in 65:03 but didn't record a split after 30k, while Albertson dropped out before 15k. 
Albertson seemed to have suffered from serious stomach problems after the first mile as his Strava entry for the race was titled "Walking the streets of Valencia covered in your own 💩 is a humbling- but mostly embarrassing- experience."
What to make of all the fast times?
The times up front were exceptionally fast, and the athletes who ran them were not the ones who were expected to contend for the win coming in. Naturally when something like that happens, there is going to be some skepticism about the legitimacy of the times. This is running, after all.
It should be noted that neither Kiptum nor Beriso have been linked to performance-enhancing drugs, but with a number of top athletes being banned in recent years (Diana Kipyokei, Lawrence Cherono, Abraham Kiptum – who broke the world half marathon record in Valencia in 2018), it is natural to keep one's guard up.
But it's also important to note that conditions for marathoning do not come any better than what we saw in Valencia today, and the fields were very deep, particularly in the men's race. When you have 19 guys go through halfway in 61:38, at least a few of them are probably going to hold on to run something very fast (even though no on would have predicted a 60:15 second half).
Men's results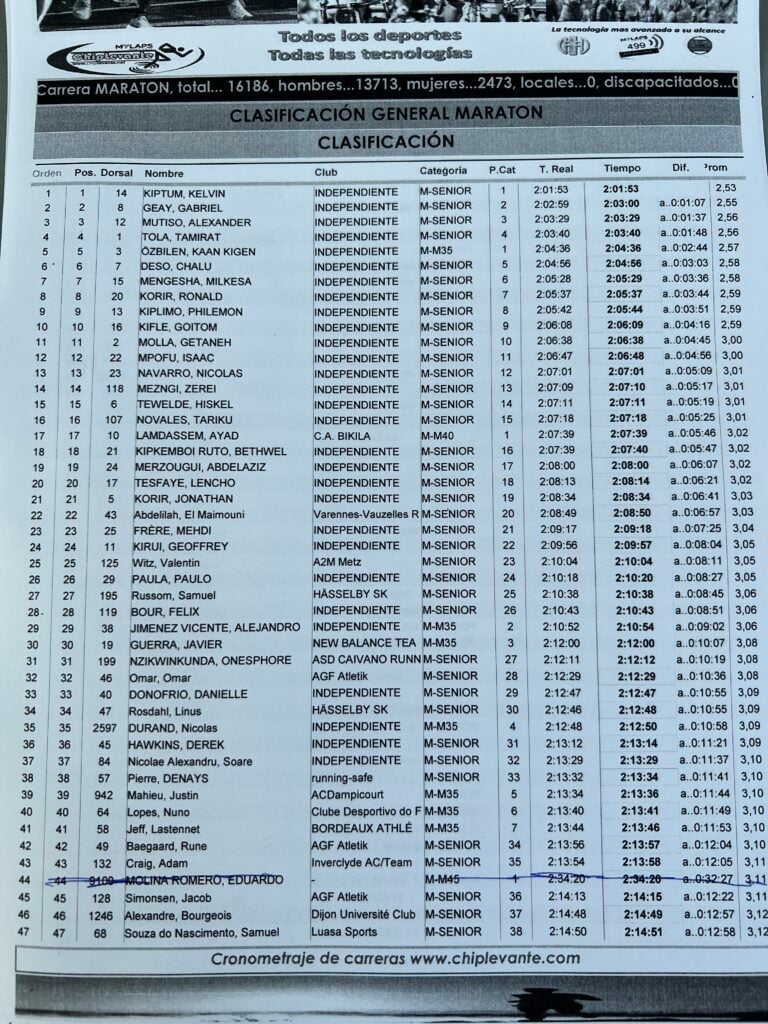 Women's results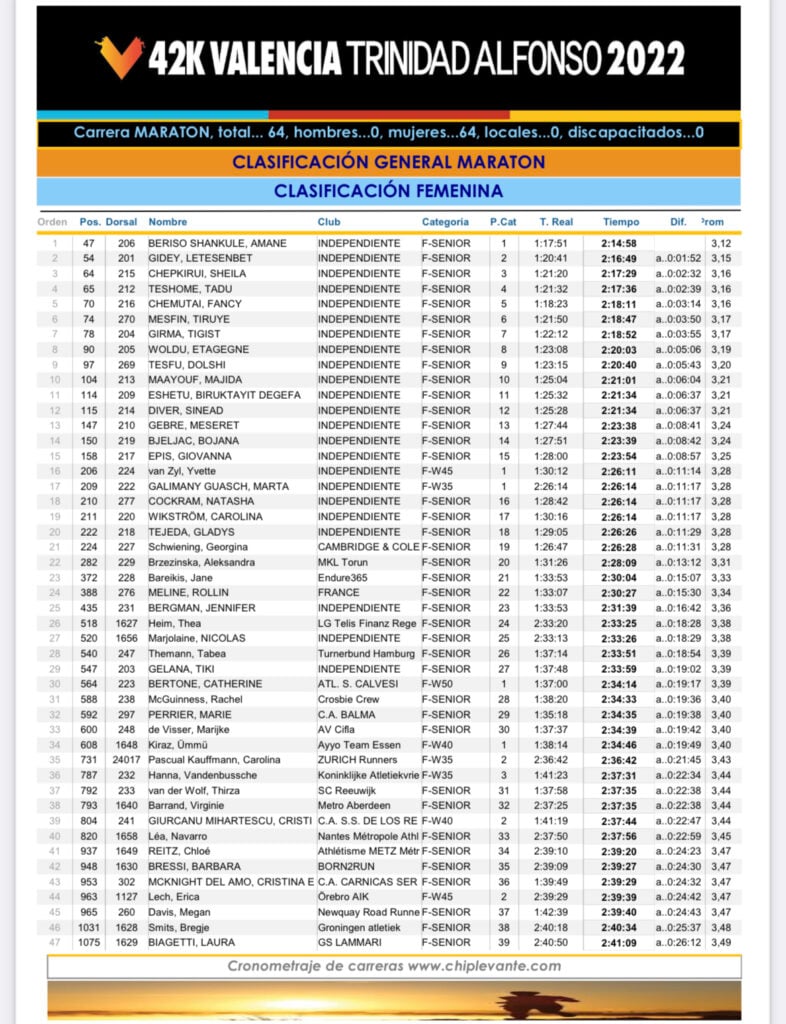 ---
Discuss this race on the LetsRun.com messageboard here: