Evans Chebet Wins Crazy 2022 NYC Marathon
Daniel Do Nascimento Collapses While Leading New York
By LetsRun.com
November 6, 2022
NEW YORK – The 2022 TCS New York City Marathon offered a reminder of what happens when you fly too close to the sun in a 26.2-mile race. For the first half of the race, Brazilian Daniel Do Nascimento ripped off crazy split after crazy split despite unseasonably warm, humid conditions (68 degrees, 81% humidity, 61 dew point at the start). He ran the second (downhill) mile on the Verrazzano-Narrows Bridge in 4:20, the first 10k under world record pace in 28:42 (2:01:03 pace), and the first half in 61:22, almost two minutes faster than Geoffrey Mutai's 63:18 split during his 2:05:06 course record in 2011. By that point, Do Nascimento had built a lead of 2:12 over second place.
But things completely unraveled for him over the second half. First, Do Nascimento took a bathroom break, ducking into a portapotty for 18 seconds at mile 18. By 30k, his lead was down to 1:07, and it would shrink further as Do Nascimento stopped and walked at mile 20. That cost him another 10 seconds, and shortly afterwards Do Nascimento would stop entirely, ducking under the police tape marking the course and collapsing on the side of the road.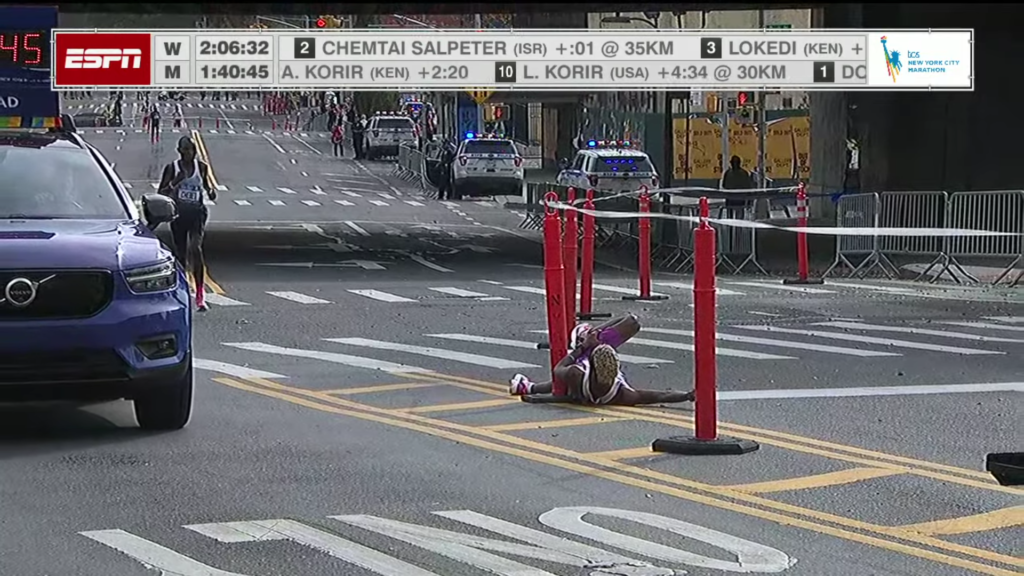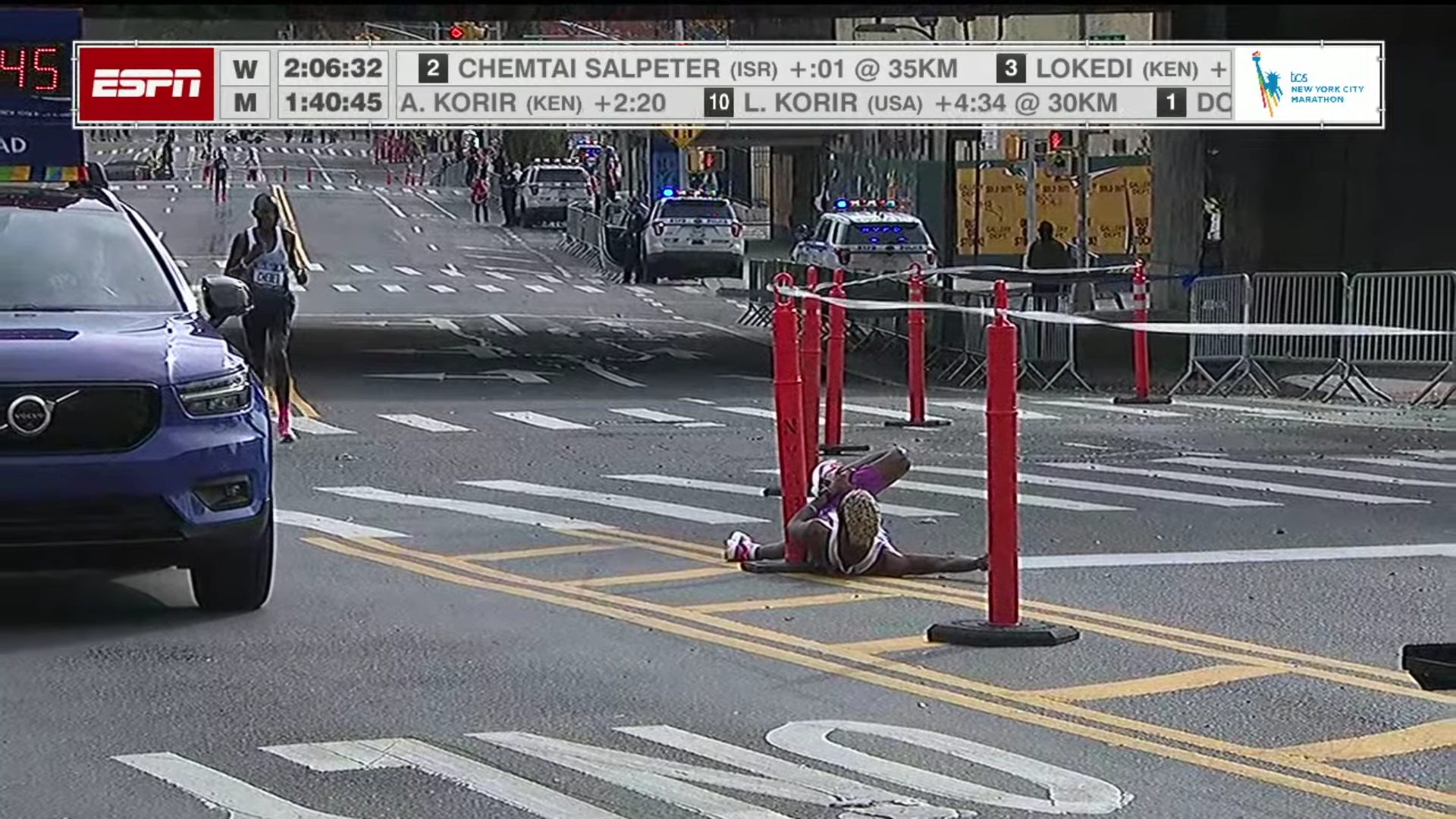 Lead runner Daniel Do Nascimento in New York City marathon collapses 21 miles into the race. pic.twitter.com/pbDHKL8zpF

— .. (@Xx17965797N) November 6, 2022
He was leading the NYC Marathon at the time.
That allowed Boston Marathon champion Evans Chebet to assume the lead by default. Chebet, who had begun surging on the Queensboro Bridge, split 14:37 from 25-30k to pull away from the chase pack. Chebet led the chasers by 28 seconds at 20 miles, but his lead was only 17 seconds at 35k (21.7 miles) over 2018 runner-up Shura Kitata. The lead was down to 12 seconds at 40k, but the warm muggy conditions were affecting everyone at this point, including Kitata, and Chebet held on to win in 2:08:41, the slowest winning time since 2017.
Chebet became just the third man this century to win Boston and New York in the same year, joining Mutai (2011) and Rodgers Rop (2002). Further back, Scott Fauble – sporting a Nike kit after agreeing to a sponsorship contract on the eve of the race – was the top American in 9th in 2:13:35. Galen Rupp, who has dealt with injuries throughout 2022, went out with the second group behind Do Nascimento and was 5th at halfway. But once Chebet made his move to break up the pack, Rupp could not respond and wound up dropping out before 30k.
Analysis and interviews below results.
Top 25 NYC Marathon Men's Results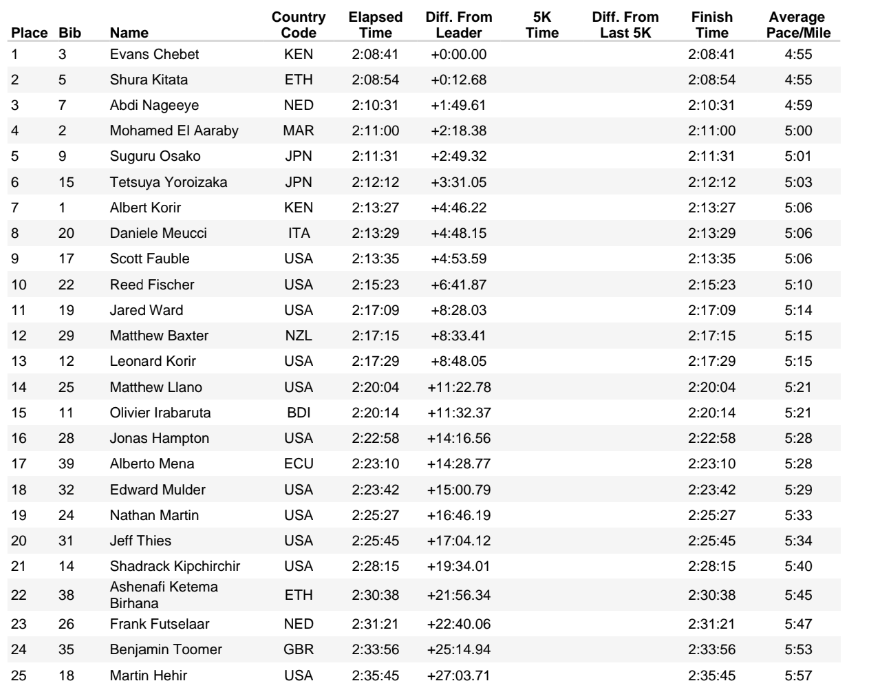 Quick Take: Evans Chebet completes a banner year for himself, his training group, and Kenya
Chebet adds the NYC crown to the Boston victory he secured in April, and while he used big moves to break open the field in both races, the conditions made this one a bit different. In Boston, Chebet made a hard push coming off Heartbreak Hill and looked great all the way into the finish to win in 2:06:51. Today, he moved earlier, just after halfway, and though he looked terrific for a while, leading the rest of the chasers by as much as 28 seconds, he had to really grind it out over the final miles as that gap would shrink to just 12 seconds at 40k.
It's rare you see someone win NYC by slowing down so much – Chebet's last three 5k splits were 14:37, 15:29, 15:58 – but the combination of Central Park's hills and the warm conditions wore everyone down today.
With the win, Chebet has won five of his last six marathons and is now firmly in the conversation for best marathoner alive not named Eliud Kipchoge. But Chebet may not even be the best guy in his own training group in Kapsabet under Claudio Berardelli. One of his training partners, Amos Kipruto, won London this year while another, Benson Kipruto, won Boston last year and Chicago this year.
Chebet's win also means Kenyan men swept all six World Marathon Majors this year – the first time any country had won all six in a single year.
Quick Take: Daniel Do Nascimento ran foolishly, and unfortunately he paid for it today
You never want to see an athlete collapse on the side of the road during a marathon, so it is unfortunate that that is how Daniel Do Nascimento's marathon ended today. But you have to seriously question the decisionmaking that led Do Nascimento to go out on world record pace through 10k and halfway in a ridiculous 61:22, on a difficult course in warm marathon weather. Except for perhaps Kipchoge, that pace was not anywhere close to sustainable by any marathoner in today's conditions and Do Nascimento's body began shutting down with just over 10k to go. An important reminder that, even if you're feeling good early, you have to take the course and conditions into account.
Word on the street is Do Nascimento was in monster shape for New York. His first half showed that, but even in the era in super shoes, especially on a warm day, the marathon distance still needs to be respected.
Hopefully, he bounces back and is a force on the circuit as his bravery or foolishness earned him no doubt many fans.
Quick Take: Scott Fauble ran a typically smart race to finish as the top American yet again
Frankly, today wasn't a great day for the American men – Fauble's 9th-place finish was the lowest by the top American since 2013. But Fauble almost never runs a bad marathon, so it is perhaps not surprising that, on a day when his countrymen struggled, Fauble was able to beat them all with another smart, solid effort.
Fauble and coach Joe Bosshard figured that, due to the heat, the course would run 3-4 minutes slow today and that 2:12 would be good enough to get him in the top five. So Fauble focused on running that pace (5:02/mile), and once he saw the leaders going faster than that, he backed off, confident that they would come back to him in the end. Fauble took over leadership of the second group and encouraged the other Americans to stay on 2:12 pace.The group broke up around 12 miles and Fauble was on his own after that.
Fauble himself slowed over the second half (he split 66:14-67:21), and not everyone came back (2:12:00 would have finished 6th today). But on a day where everyone suffered, Fauble was pleased with his effort and proud to finish as the top American, just as he did in Boston earlier this year.
"Any time you can run well on the big stage is very satisfying and being the top American is a big bonus," Fauble said.
Quick Take: Fauble didn't receive his Nike singlet until 10 p.m. Saturday night
Fauble has not had a shoe contract since making the decision to leave the HOKA NAZ Elite team at the end of 2021, and just 24 hours before NYC, he still had no sponsor, unable to reach an agreement that he felt was commensurate with his worth.
"It's tough out there to get enough money that I'm looking for," Fauble said.
But Fauble's agent Josh Cox was finally able to make some progress this week, and last night during dinner, Fauble received a text from Cox that he had a deal in place with Nike. Fauble signed off, and from there it was a mad dash to ensure he'd be fully kitted out in time for the race. He Ubered to a Nike store in New York to get some trainers and then received his singlet.
"It's quite a rush to get your singlet for the race at 10 p.m. the night before," Fauble said.
Moving forward, Fauble said it's a "big relief" to have the sponsorship situation sorted.
"It's nice to have that behind us," he said.
Quick Take: A day to forget for most of the American men
Though this race featured one of the deepest American fields ever assembled based in terms of personal best (five sub-2:09 Americans were entered, a first for any race), Fauble was the only one to break 2:15. It was clearly a tough day for running fast as only three men broke 2:11, but few Americans will be happy with their performance today. A look at how some of the notable US men fared:
Galen Rupp, DNF: Even though Rupp said the back pain he has deal with throughout 2022 had cleared up in recent weeks, he did not seem full of confidence ahead of the race, admitting that he had battled nerve issues in his leg during a less-than-ideal buildup. Rupp gamely went with the leaders behind Nascimento but as soon as there sas a change of pace, he had no response and was out of the race shortly thereafter. Rupp is still only a year removed from running 2:06 but if he wants to return to that sort of form, it's clear he needs to get some healthy training under his belt.
Reed Fischer, 10th (2:15:23): This was a solid run for the Tinman Elite athlete. After a rough start to his marathon career (he was 97th at the 2020 Olympic Trials in his debut), Fischer has improved with every race. He ran 2:10:54 in Boston in April (though that only got him 16th) and today earned his second top-10 finish in a major (he was 9th in Chicago last year).
Jared Ward, 11th (2:17:09): Though the time isn't anything to write home about, this was a step forward for Ward, who was only 26th in Boston in April.
Leonard Korir, 13th (2:17:29): Korir, in his first marathon since the '20 Trials, went out aggressively but paid for it mightily and wound up running a big positive split: 64:14/73:15).
Matt Llano, 14th (2:20:04): Llano was pleased to do so well relatively in this field as his most recent marathons have not gone well as he has struggled with a variety of issues including a pain in his side that mainly happens just when he races. He hopes this is a stepping stone to returning to his old form (2:11:04) pb.
Shadrack Kipchirchir, 21st (2:28:15): Between the course and the conditions, this was a very tough race in which to debut. Props to Kipchirchir for gutting it out and finishing as he ran an even bigger positive split than Korir (65:31/82:44).
Abdi Abdirahman, DNF: This was meant to be Abdirahman's farewell marathon as a pro but he never made it to the finish line as he didn't record a split after 35k.
Suguru Osako of the Union Athletic Club was 5th
His coach Pete Julian said he wants to keep working with him and he talked about changes at the Union Athletics Club and was full of praise for Donavan Brazier.
Talk about the race on our world-famous fan forum / messageboard.
About LetsRun.com: LetsRun.com is the home of professional running. Cited by media outlets all over the globe including the New York Times, Washington Post, USA Today, Sports Illustrated, Outside, ABC's Good Morning America, The Times (London), and the Daily Nation (Kenya). The NY Times described LetsRun as, "The influential website that serves as something of a superego for American running." If you'd like to take your fandom to the next level, join the LRC Supporters Club.