Gabriela DeBues-Stafford Explains Why She Left the Bowerman Track Club
Uncertainty over Shelby Houlihan's continuing relationship with Jerry Schumacher and the Bowerman Track Club was the key factor in her departure
By Jonathan Gault
April 11, 2022
On Saturday, Canadian star Gabriela DeBues-Stafford announced she is leaving the Bowerman Track Club and moving to Victoria, B.C., to be coached by Trent Stellingwerff of the Canadian Sport Institute – Pacific and his wife, 2012 Canadian Olympian Hilary Stellingwerff.
DeBues-Stafford, who holds seven Canadian records between indoor and outdoor track, experienced mostly success after joining Bowerman in July 2020. She finished 5th in last year's Olympic 1500-meter final (one place higher than her result at the 2019 World Championships) and this past indoor season set Canadian records at 3000 (8:33.92) and 5000 meters (14:31.38) and finished 4th in the 3000 at the World Indoor Championships in Belgrade. DeBues-Stafford's departure comes with the outdoor World Championships in Eugene just three months away.
After her win at the New Balance Indoor Grand Prix in February 2022, DeBues-Stafford, who struggles with anxiety, admitted that the suspension of Bowerman athlete Shelby Houlihan in June 2021 had been a traumatizing situation for her and "almost derailed" her Olympics. In her Bowerman departure announcement on Instagram, DeBues-Stafford, 26, displayed a level of candor rare for a professional athlete, noting that "[Houlihan's suspension] and its ongoing aftermath continued to be a major distraction and stress for me. For the sake of my athletic performance and mental health, I needed to move on." On Sunday and Monday, she agreed to answer some questions from LetsRun.com over email to further explain the rationale for her departure.
DeBues-Stafford has "no reason" to believe anyone currently on the BTC is involved with PEDs
DeBues-Stafford stressed that she never saw or heard anything during her time at Bowerman to suggest anyone on the team was taking performance-enhancing drugs.
"I have no reason to believe anyone on the team is involved in anything like that," DeBues-Stafford said.
However, DeBues-Stafford said she left the group due to uncertainty surrounding Houlihan's continued involvement with Bowerman Track Club and head coach Jerry Schumacher.
Article continues below player.
"This absence of clarity surrounding the boundaries between BTC and a banned athlete is the critical reason for my departure," Debues-Stafford said.
Under the World Anti-Doping Code, it is clear a banned coach is not allowed to continue working with athletes. But the rules regarding a banned athlete working with an eligible coach are much murkier. Rule 10.14 of the World Anti-Doping Code prohibits banned athletes from participating "in any capacity in a Competition or activity" organized by a professional team such as the Bowerman Track Club. But it does not specifically prohibit association between a private coach and banned athlete.
Lack of Clarification on Houlihan's Training Created Problems
It is well-known that Houlihan has continued to train since her ban began, occasionally posting shots of a stopwatch on Instagram after time trials. Houlihan was also spotted in Flagstaff earlier this year at the same time Bowerman TC was based there for altitude camp. None of that behavior is prohibited by the World Anti-Doping Code. But no one in Houlihan's camp has publicly clarified the exact nature of her current relationship with Schumacher.
"BTC staff and Shelby's lawyers have spent a lot of time and energy to clarify what Shelby can and cannot do during her period of ineligibility," DeBues-Stafford said. "The athletes at BTC and I are not privy to these discussions. While the [World Anti-Doping Code] has clauses relating to athletes serving bans, they are light on detail and leave some pretty key words undefined. Unfortunately, for reasons I don't fully understand, the athletes and I are not allowed to read the verbatim clarifications and guidelines given to Shelby and her lawyers by the anti-doping authorities.
| | |
| --- | --- |
| Overall | |
| Comfort | |
| Cushioning | |
| Durability | |
| Appearance | |
| Value | |
"Furthermore, my and the group's suggestions on boundaries to avoid any potential grey areas in the absence of those clarifying guidelines were rejected. I think Jerry is a great guy, and I can't imagine him putting his athletes in a position that he thinks would break any codes or any guidelines given to either himself or Shelby. However, it doesn't matter how much I like or respect someone, or if I believe that they think they are abiding by the rules, I need to personally be able to verify all relevant text verbatim to ensure I am adhering to all codes of ethics and anti-doping in our sport. I cannot outsource that responsibility to someone else."
DeBues-Stafford said that if Houlihan was going to be in Flagstaff at the same time as the team, she wanted clear separation between the group and Houlihan. She said she requested that Houlihan work out on separate days from the group, but her suggestion was rejected.
"When that suggestion for different workout days was rejected, I asked for morning/afternoon, and when that was rejected I asked for a 30min to 1 hour window between when Shelby finished her cool down and when we arrived at the track," DeBues-Stafford said. "Still, that suggestion was dismissed."
Bowerman Track Club's Silence Made DeBues-Stafford 'Nervous'
DeBues-Stafford did not say that Houlihan ever trained with the team while Bowerman was in Flagstaff, but felt the team owed fans and journalists transparency about the situation.
"I thought the team should put out a public statement, explaining how any ongoing association between Shelby and the team staff had been discussed with the AIU and how it was within the rules and the guidance of the AIU," DeBues-Stafford said. "…Not saying anything at all and then Shelby being around in Flagstaff at the same time as BTC just created confusion for the running community which isn't healthy for the sport. If everything we are doing is within the rules, then we have nothing to hide. But the fact that there was no willingness or interest in publicly explaining how Shelby is training through her ban, made me nervous."
LetsRun.com reached out to Houlihan's lawyer Paul Greene back in February to ask specifically whether she was still being coached by Schumacher and under what conditions. At the time, Greene provided the following statement:
"Shelby Houlihan has been training in a manner that is completely permitted by the World Athletics rules in compliance with the World Anti-Doping Code. She obviously hopes that she will win her appeal and be able to race again this year."
LetsRun.com also reached out to the Athletics Integrity Unit in February, and while the AIU would not comment on Houlihan's specific situation, it provided the following statement:
"If the training relationship between an ineligible athlete and a coach is a strictly private arrangement and is entirely unconnected to USA Track & Field or any of its affiliated members (such that it is not funded by USATF or the member in any way and does not involve the use of facilities, personnel or other athletes of USATF or the member), it would not appear in isolation to amount to an activity that is authorized or organized by USATF or one of its member organizations in breach of the Rules.
"If, on the other hand, as part of an ineligible athlete's training arrangements with the coach, the athlete is found to be training with or alongside other affiliated athletes or engaged in any other activity that might be considered as authorized or organized (directly or indirectly) by USATF or one of its member organizations, that might be a breach of the Rules and give rise to an AIU investigation."
For those struggling to parse the legalese, Bowerman Track Club would be considered an "member organization" of USATF. Hence DeBues-Stafford's desire to gain a clear understanding of BTC and Schumacher's current relationship with Houlihan — if Houlihan participated in an organized Bowerman TC practice, that would constitute a violation of the World Anti-Doping Code. But if Houlihan and Schumacher were engaged in a private coach-athlete relationship outside of the auspices of BTC, that would appear to be legal.
DeBues-Stafford also noted that while Schumacher vigorously defended Houlihan when her suspension was announced – he said the global anti-doping system is "broken" and "no longer protects clean athletes" – he has said nothing publicly beyond that initial press conference (he declined to be interviewed for this story).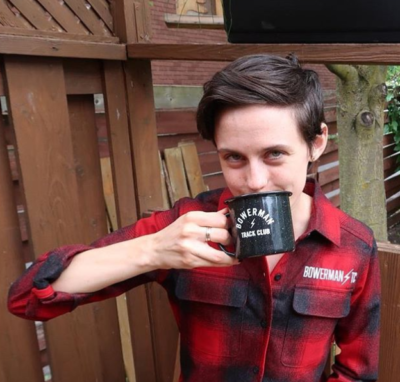 "I do not think it is healthy for the sport to so vehemently argue that the current anti-doping system is not fit for purpose, only to retreat and not follow up and try to be a part of the change to improve it and address the concerns initially brought up," DeBues-Stafford said. "The issue has been left frozen and unresolved, which simultaneously undermines confidence in all parties – both BTC and the AIU."
DeBues-Stafford said that her own thoughts on whether Houlihan is guilty or innocent was not relevant to her decision to leave the team.
"I don't help the sport by speculating on it," DeBues Stafford said. "CAS and the AIU have made their decision, and that is the decision we have to live with and respect moving forward."
***
While Schumacher and some members of Bowerman TC had known about Houlihan's positive test since January 2021, DeBues-Stafford was not among them. She did not learn about the situation until June, a couple of days before Bowerman announced the news in a press conference, but she told LetsRun.com in February she believed Schumacher made the right decision by keeping her in the dark.
"It was going to be a lose-lose situation either way," DeBues-Stafford said. "Because if I had found out earlier, then I would have been sitting with that news for a whole year."
When she eventually did hear the news, DeBues-Stafford's first instinct was to leave, in part to protect her reputation. But it was a tough call. To that point, DeBues-Stafford's experience with the group had been incredibly positive. And just a year earlier, DeBues-Stafford had moved 4,500 miles from Glasgow to Portland to join the group, with her husband Rowan putting his career on hold to move with her.
"We were highly invested in making this move stick," DeBues-Stafford said.
Though the summer of 2021 had been stressful, by the fall, DeBues-Stafford was hopeful that she and the team could put the Houlihan situation behind her. Around the same time, her younger sister, fellow Canadian 1500 Olympian Lucia, joined the team. Gabriela said she did not pressure Lucia to join the team but knew that Lucia would factor Gabriela's decision to stay into her own decision-making process.
"When Lucia made her decision to commit to BTC in the late summer and early fall, neither Lucia nor I were told that Shelby was going to keep training through her ban, nor the extent to which she was going to be around the team," DeBues-Stafford said. "There was no communication about this situation at all. Had I had a crystal ball to see what December, January, and beyond would be like, I would have left after Tokyo, and Lucia would never have joined."
DeBues-Stafford is the latest in a string of notable departures from BTC, though she doesn't believe any of the other departures are related to the Houlihan case
Every professional group experiences turnover, especially as contracts expire at the end of the year. But the exodus from the Bowerman women's team since the start of 2021 is particularly notable: Olympians Kate Grace, Marielle Hall, Emily Infeld, Colleen Quigley, and Gwen Jorgensen, NCAA champion Sinclaire Johnson, and now DeBues-Stafford. Despite the departures, Bowerman has remained one of the most successful groups in the country, with Courtney Frerichs claiming an Olympic silver in the steeplechase last year and Elise Cranny winning the US title in the 5000 and setting the American indoor record at that distance in February.
Five of the departed women (Hall, Infeld, Jorgensen, Johnson, and DeBues-Stafford) have left since Houlihan's suspension was announced, though based on her conversations with those who have left the group, DeBues-Stafford said the only common theme was that BTC's training philosophy was no longer the right fit. Grace and Johnson are both 800/1500 runners and Schumacher's system is built on strength. Hall and Infeld, meanwhile, experienced success in their early years with the group but craved more individual flexibility as they aged and their performances lagged.
"I can't speak on anyone's behalf, but I do not believe any of them left fundamentally because of Houlihan's case," DeBues-Stafford said.
DeBues-Stafford did not cite any difficulties with Schumacher's training philosophy. And while Schumacher has developed a reputation for tightly controlling when and where his athletes race, she said she actually found him less controlling than her previous coach Andy Young.
"Of course, Jerry has huge input in your racing schedule as it has to make sense in your training block, but I found that I had plenty of opportunity and input to do the races I wanted to do," DeBues-Stafford said. "My racing schedule was never a source of conflict."
A fresh start in Victoria
DeBues-Stafford had already decided to leave Bowerman by the time she arrived at the World Indoor Championships in Belgrade. And while she believed she had the fitness to medal in the 3000 meters (she finished 4th in 8:42.89), DeBues-Stafford did not think her impending BTC exit affected her performance in the race. Instead, she said her lack of experience at the distance — it was her first time racing a championship 3000 or 5000 since the Canadian university indoor championships in 2017 — and struggle to find a good position over the last four laps were the main reasons why she fell just short of the medal stand.
"Perfection is required indoors, and definitely was required to beat athletes as good as [medalists] Lemlem [Hailu], Elle [Purrier St. Pierre], and Ejgayehu [Taye], and perfection was not what I delivered," DeBues-Stafford said.
Moving forward, DeBues-Stafford will be coached by Trent and Hilary Stellingwerff and said she has already been in her new base of Victoria (on the west coast of Canada) for a week. It will be her fourth coaching arrangement in five years (prior to Bowerman, she worked with Laura Muir's coach Andy Young from 2018-20 and Terry Radchenko in Toronto prior to that) and she is hoping this one sticks.
"I was really impressed and heard good things about Trent and his adaptability in working with Melissa Bishop-Nriagu after she had Corinne (her child) and the passing of her old coach, Dennis [Fairall]," DeBues-Stafford said. "Plus, I have a ton of respect for Hilary having looked up to her as a kid growing up in the sport and then racing against her. They have a very hands on, full picture approach to the sport that I appreciate and are very ambitious."
In Victoria, DeBues-Stafford will also have access to an Athletics Canada training hub featuring physios, training facilities, and medical support.
"It might surprise people to hear it, but in terms of my integrated support team, this Victoria setup is probably the largest and most comprehensive I've had in my career, including at BTC," DeBues-Stafford said.
---
Talk about Gabriela DeBues-Stafford's BTC departure on our messageboard. MB: GDS has left BTC, cites Houlihan explicitly.
Related articles from the LRC archives:
Our weekly recap: WTW: Newbury Park Has 6 Guys at 9:02 Or Better, Abby Steiner Runs Fast Into A Big Wind, Athing Mu Slows Down & More Plus Japanese sensation Ryuji Miura says red-hot and Sam Parsons runs a historic sub-4 in Delaware.
Related: Get your Burrito Track Club Tshirt now